<![if !vml]>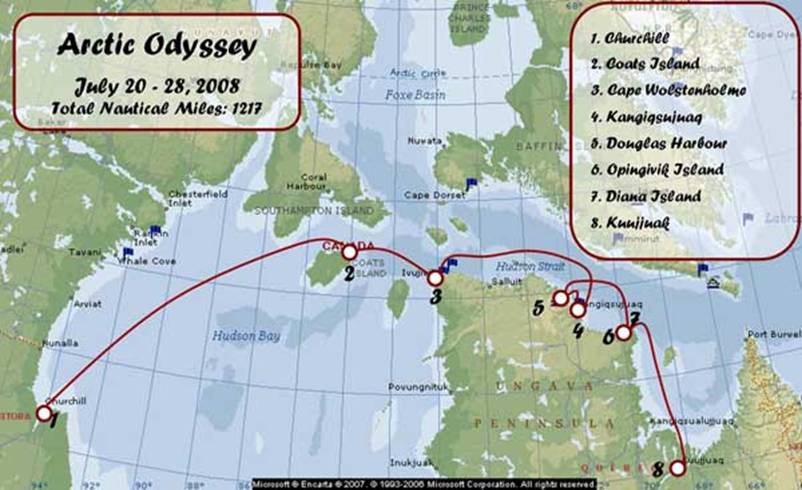 <![endif]>
Roy Lobenhofer's
Journal of the
Arctic Odyssey Expedition
In January of this year, we decided it was time to plan a trip to celebrate our 40th wedding anniversary. We had been talking about a trip to Africa for a photo safari. Unfortunately there was an election being held in Kenya . While US elections can be testy, elections there can be violent. We decided a different plan may be a good idea. Neelie Kruse, wife of my cousin and owner of Cary Travel Express agreed with our decision.
Pam had seen an advertisement about cruises traveling near the Arctic and had sent away for more information. The company, Cruise North Expeditions, offered a number of options and deciding which of them we'd like best was difficult. We finally opted for the one called Arctic Odyssey. It appeared to have the most variety of animals to see, a chance to learn about Inuit culture, and the least amount of cruising. (I don't particularly like cruising. Even with all of the activities planned by cruise lines, I find time cruising to be boring.) In this case cruising is the only way to get to the places on the itineraries.
With Neelie's help, the trip was booked and we received information about what we'd need to have to get the most enjoyment out of the trip. Since this was going to be near the Arctic and on Hudson Bay and Hudson Straight, we weren't surprised to see layers of warm clothes recommended nor waterproof gear. When we purchased the boots they recommended, we were surprised at how heavy and big they were for packing.
Another thing we noted was the lack of internet availability; therefore, I opted not to bring my laptop. (This journal was compiled after returning home from notes, pictures and memories not as it happened as was the case with our Australian and New Zealand trip.)
Friday, July 18, 2008
Everything had been purchased (we hoped), and frustration began. Cruise North indicated each passenger was limited to 44 pounds of checked luggage and 13 pounds of carry on. Showing my great estimation ability, I told Pam we wouldn't have anything to worry about. That didn't turn out to be the case. Pam (as she is the organizer and packer) ended up packing and repacking three times. Some things we thought would be good to have on the trip had to remain home, but we (Pam) did get it down so we each had one suitcase and one backpack meeting the allowed weight requirements.
Saturday, July 19, 2008
I liked the idea of having a flight around noon. It allowed us to take our time in the morning, but didn't give us so much time for twiddling our thumbs. We had no problem with check in or security. The flight to Montreal was just the way I like it – uneventful. Getting through Canadian immigration was a lengthy process due to the large number of incoming people versus the small number of agents on duty. We got our baggage, and I found a courtesy phone to the Four Points Sheraton and asked where to get the shuttle. The way the gentleman on the phone described it, the pickup was on the "other side" of the airport. I was picturing a very long walk; however, the Montréal airport is not anywhere near as big as O'Hare.
While waiting for the shuttle, we met Frankie (age 80+) and found she was going on the same expedition. We were delighted to meet her for a couple of reasons. Primarily because she was a wonderful lady, but it also meant we were not going to be the oldest people on the expedition!
We were a little frustrated after check-in at the Four Points. We were supposed to be back at the airport at 7:30 in the morning, but all of the shuttles from the motel to the airport between 5 a.m. and 8 a.m. were already booked. Since there was nothing else we could do, I ordered a cab for 7 a.m.
We had dinner at the hotel. Not only was the food very good, but we had the opportunity to meet some more people who were going to be on the cruise/expedition. We also learned ours was the only Cruise North Expedition that wasn't completely booked this year. Ours had 72 out of a possible 122 passengers.
Sunday, July 20, 2008
We were up early in order to have the buffet breakfast provided by the hotel and get our cab by 7 a.m. While it was a charter flight to go to Churchill, we still had to go through security. I received the most thorough pat down I had ever experienced. I guess I looked like a terrorist or something.
It was about a 2 1/2 hour flight to Churchill during which they served breakfast. It looked like a very nice breakfast, but since we got up early to have time for the hotel buffet, we didn't really eat it.
Although we didn't realize it at the time, we got the first glimpse of our ship as we approached Churchill.
<![if !vml]>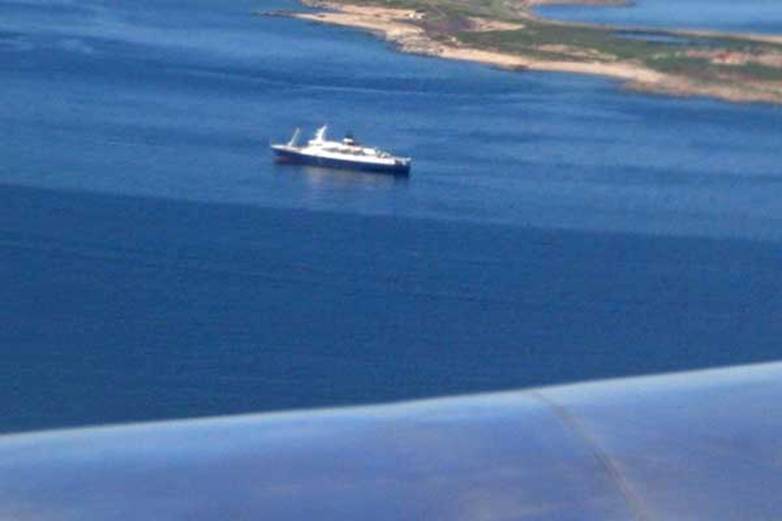 <![endif]>

Upon landing we were told our checked luggage would be delivered to our cabin. We boarded buses for a tour of the thriving metropolis of Churchill. (Population 923 -- 2006 census) As it calls itself the polar bear capital of the world, it was somewhat surprising to be shown the polar bear jail as our first stop on the tour.

<![if !vml]>
<![endif]>

According to our guide Sheldon, the bears come to Churchill in October and November waiting for the ice to form. This has become quite a tourist event for Churchill; therefore, shooting bears that show up in the wrong place isn't good for business. Bears that find their way to the wrong place are trapped, put in "jail" for a period of time, and then are relocated. This building can hold about 30 bears.

Next stop was "Miss Piggy." It's the wreck of an airplane that was overloaded and clipped some wires. That led to its crash in 1978. The fortunate thing about the crash was that the six people on board all walk away without significant injuries.

<![if !vml]>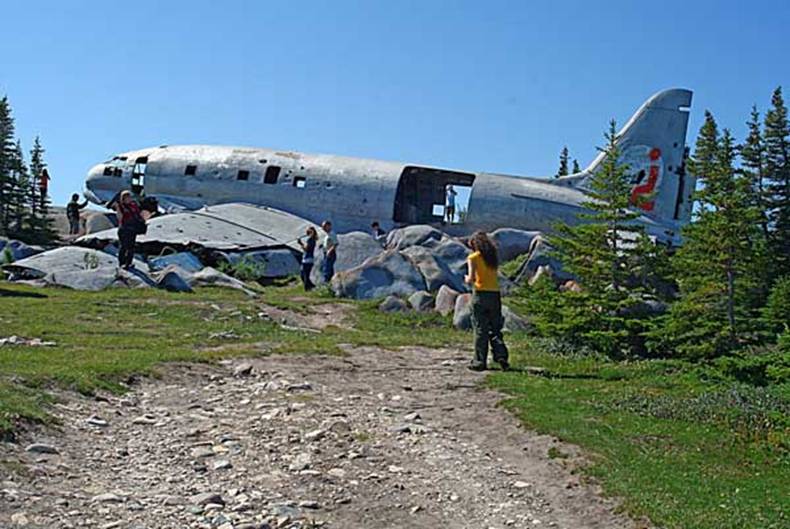 <![endif]>
What was equally or more impressive to me, was the beauty of the landscape around Churchill. Certainly, it was not what we see here in the Midwest , but the wildflowers, rocks and trees made for some beautiful scenes. (The tree line is about 8 miles north of Churchill. We wouldn't see trees the rest of the week.)
<![if !vml]>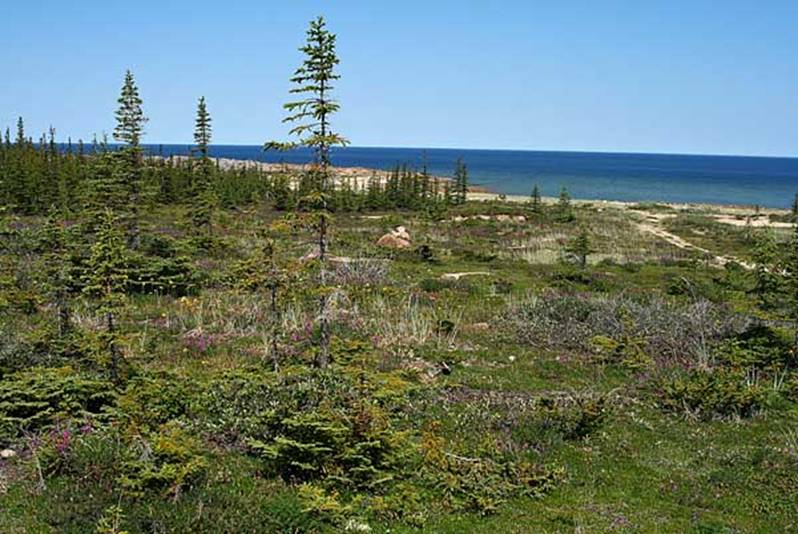 <![endif]>
We were looking at some birds when Sheldon got a call over the radio indicating there was a polar bear in the area. He pointed out this was not the right time of the year for the polar bear to be there. So, it was a doubtful sighting, but thought we could take a look.
<![if !vml]>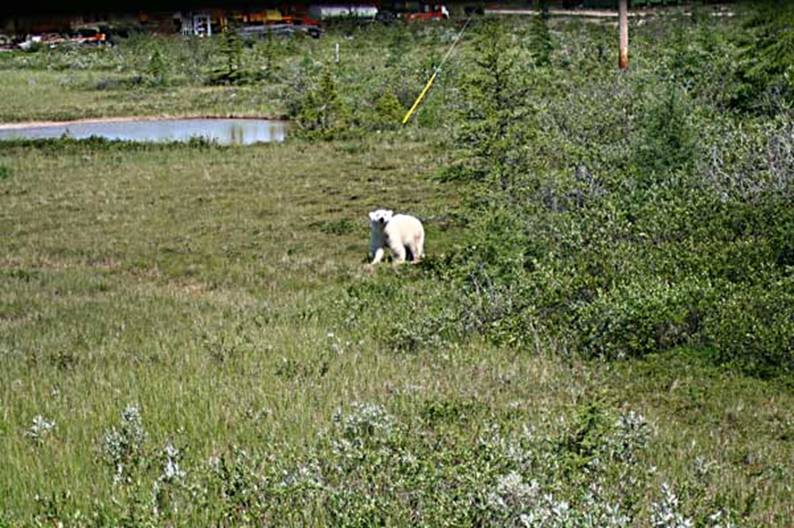 <![endif]>
<![if !vml]>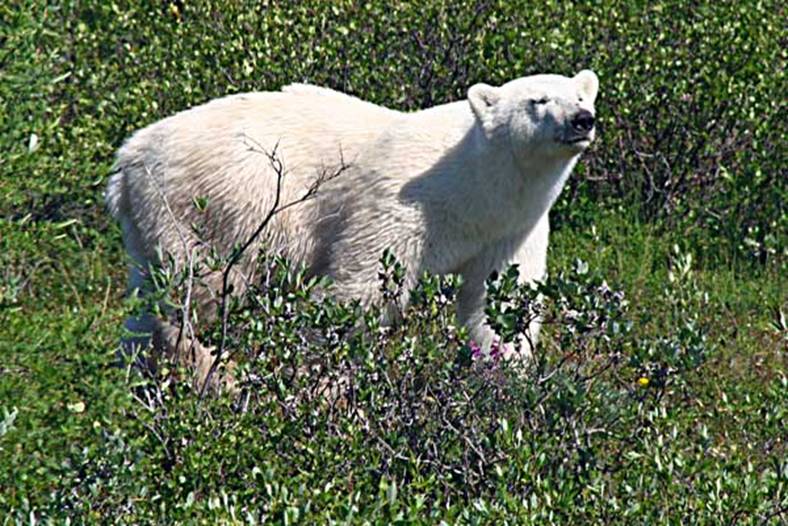 <![endif]>
Needless to say, there was a polar bear. According to Sheldon, it was approximately 2 1/2 years old and had most likely just recently left its mother. Pam thought he was "directionally" challenged. (It was very fortunate this little fellow was in Churchill at the wrong time, because it was the only polar bear we saw on the trip.)
After lunch, the next stop was where they were raising "sledge" dogs. There were over a hundred dogs, but naturally everyone was drawn to the puppies.
<![if !vml]>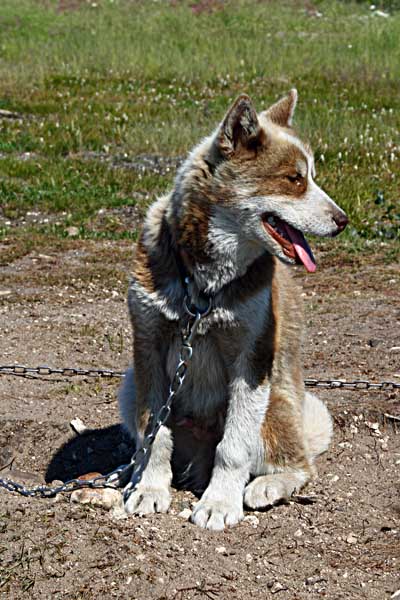 <![endif]>
These dogs became more interesting when we talked to people from the other buses. It seems each of the bus drivers had their own story about the dogs. Sheldon told us that they were true Huskies, and each dog, when properly trained would cost about $1800. Another driver said they were worth about $600. The third driver said they were a Chow mix breed. (I guess the idea is if you really don't know, make up something the Southerners will believe.) These are not the sled dogs used in races, but are sledge dogs used for hauling heavy loads for shorter distances.
From there we went to see the Cape Merry Battery of the Prince of Wales Fort. It's a National Historic Site of Canada.
Looking out at our ship (it had to wait for the proper tide to dock), was something when we noticed the beluga whales playing between it and shore. There is a large population of beluga whales at Churchill during the summer months. The scenery around this site was also impressive. I've become a huge fan of Fireweed. I wish it would grow in Illinois , but we're told it won't.
<![if !vml]>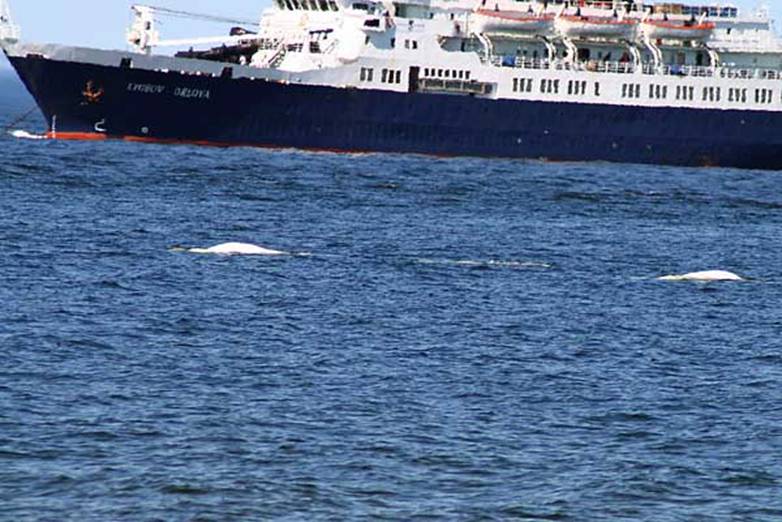 <![endif]>
<![if !vml]>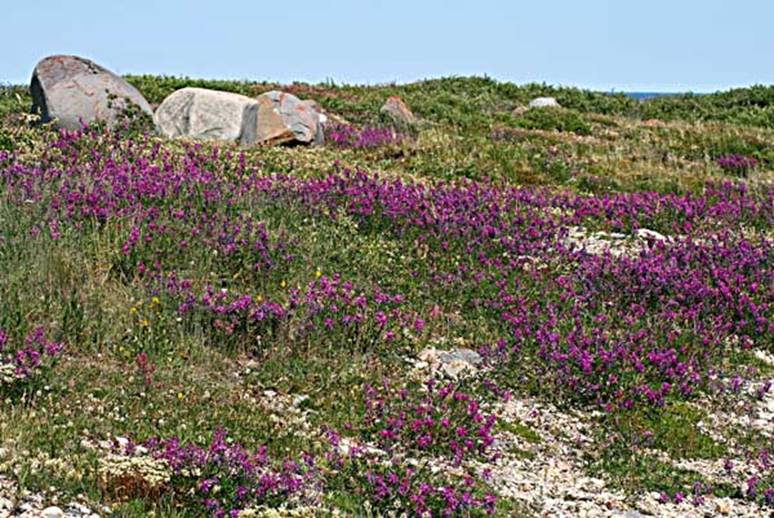 <![endif]>
From there, it was into town to do some shopping. We were greeted by an Inuksuk as we arrived. The Inuksuks have stood for centuries as sentinels to travelers, guiding them through safe passageways. Each one is unique.
<![if !vml]>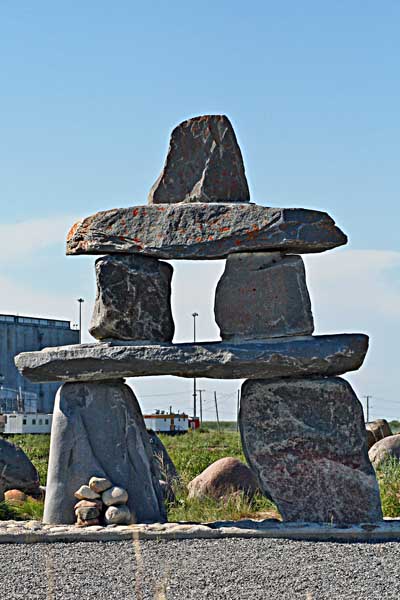 <![endif]>
Finally, it was time to board ship and have dinner. Dinner was good, but the dining room on the ship was not equipped for the unseasonably warm temperatures experienced that day. It was uncomfortably hot. (This was a problem we experienced on and off during the trip.)
While waiting for the proper tide to sail, we were given a beautiful sunset to try to photograph.
<![if !vml]>
<![endif]>
Monday, July 21, 2008
The plan for this day was cruising to our first location. The time was spent with talks about Arctic animals, birds, and vegetation as well as a general overview of what was going to be happening and the mandatory life boat drill. One of the items that really impressed me during these briefings was that the Hudson Bay is about 500 miles wide and 750 miles long and the ship is most likely the only passenger ship on the entire bay. It made me feel a little uncomfortable being so small in something so vast.
We also spent the day familiarizing ourselves with our cabin and the ship. Pam and I don't believe in getting the best accommodations when traveling because we generally make a point not to spend much time in the room. Actually, although we had the least expensive accommodations on the ship, I was impressed with the size of our cabin. The pictures below give an idea of what they were like.
<![if !vml]>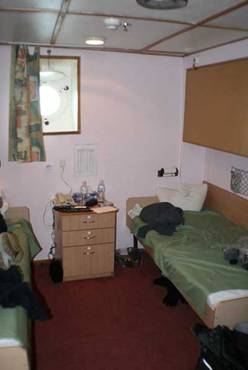 <![endif]><![if !vml]>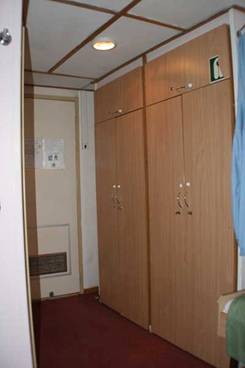 <![endif]><![if !vml]>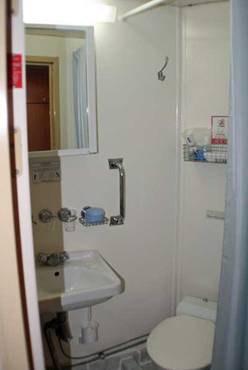 <![endif]>
As can be seen, it wasn't luxurious but certainly enough for the amount of time we were going to spend in it. Perhaps the most negative thing about the accommodations was the towels. Pam thought they were that way so we wouldn't have to use other methods to exfoliate while on board. I was concerned that we were going have to do some sanding!
We were two decks below the main deck. I think the picture below will give you a good idea of why our porthole could not be opened.
<![if !vml]>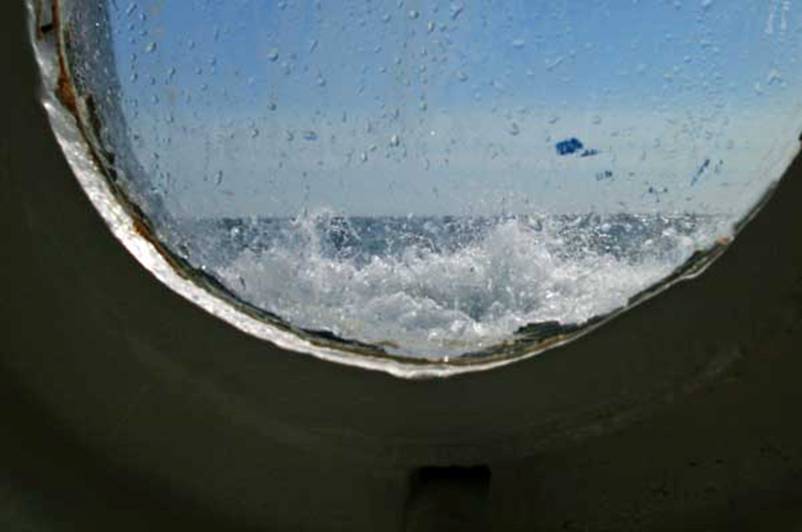 <![endif]>
Tuesday, July 22, 2008
After a day at sea (or bay), I was certainly ready to get off the ship and up close with the arctic. We were at Walrus Island , and the zodiacs were ready for us to board.
<![if !vml]>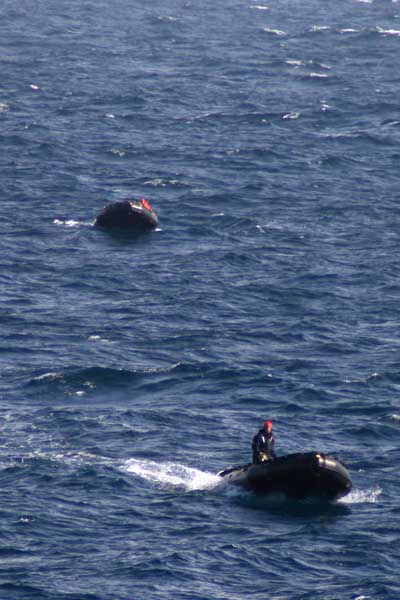 <![endif]>
And the walruses were ready for us.
<![if !vml]>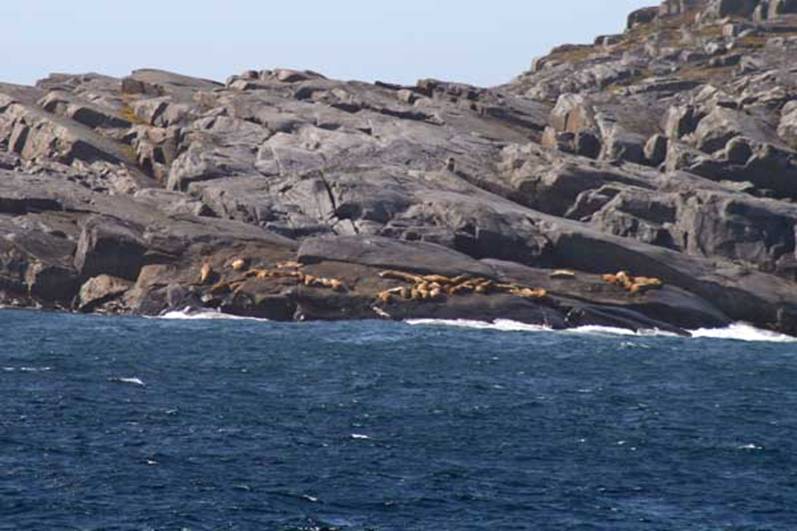 <![endif]>
What wasn't ready for us was the weather. The passengers had been divided into two groups. The zodiacs would take one group closer to walruses and then return them to the ship, and the other group would have their turn. I wasn't disappointed to be in the second group as it gave me an opportunity to see how the zodiacs were loaded. The first zodiac was loaded without much incident, but the sea kicked up during the loading of the second. Looking at the two pictures below, notice the rail at the lower left hand corner in both pictures. You can see in the second one that it is no longer attached. That was caused by the severe bouncing of the zodiac. The last person who was supposed to be on the second zodiac was sent back up the stairs, and the rest of the excursion was cancelled.
<![if !vml]>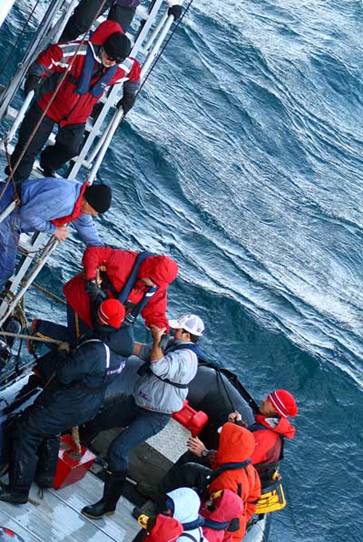 <![endif]><![if !vml]>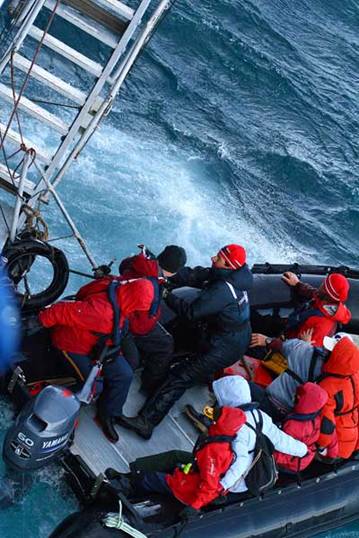 <![endif]>
This gives an idea of what zodiac travel looks like for those who were lucky(?) enough to get on board.
<![if !vml]>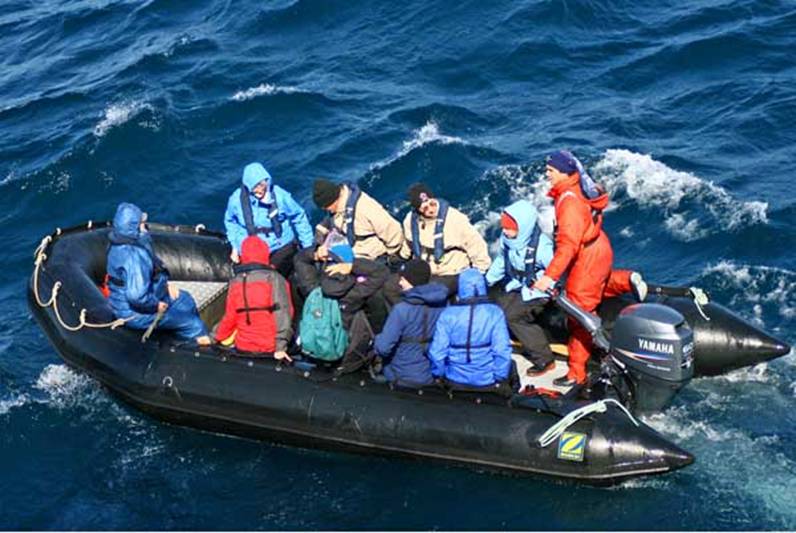 <![endif]>
We then sailed towards Coats Island . During the trip I was able to get this picture of Thick-billed Murres. They are the "penguins" of the arctic, but they can fly.
<![if !vml]>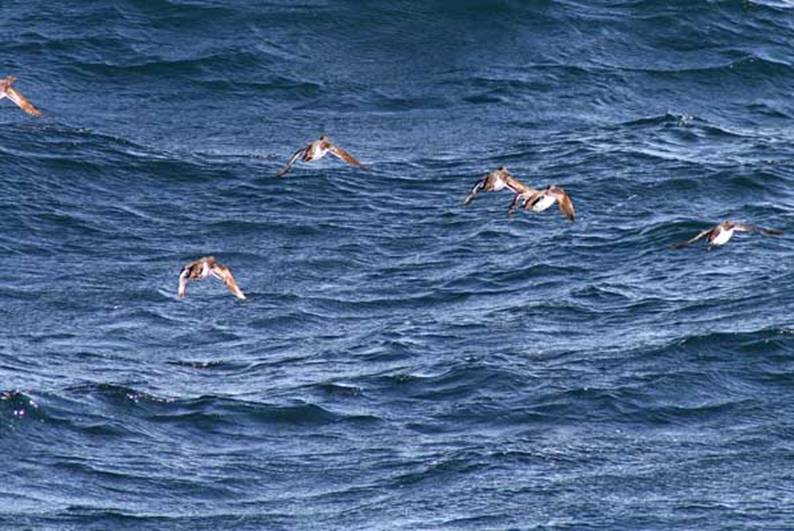 <![endif]>
We were happy the sea was much calmer when we reached Coats. Pam and I experienced our first zodiac transfer. We also found out why we needed the boots. The zodiacs do not go all the way up the beach. We got out in water that was above the ankle, but with the boots we were dry. The crew was really great helping us in and out of the zodiacs.
When all of us were there we again divided into two groups. One was going to take a long walk and the other a shorter walk. Pam opted for the short walk with the on-board botanist, and I took the long. (That was the last time I went on the long walk.) Once again I was impressed with the beauty of the scenery in such a harsh environment.
<![if !vml]>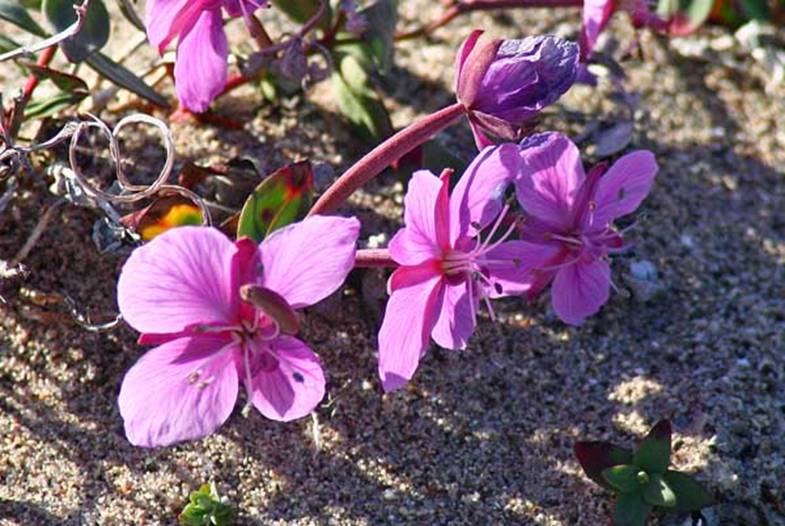 <![endif]>
<![if !vml]>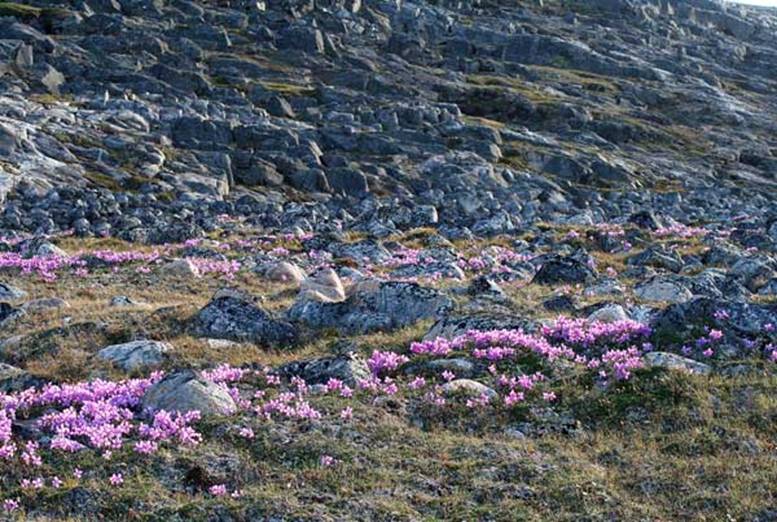 <![endif]>
Cruise North seems to expect polar bears to be unpredictable. Every time we exited the zodiacs there was someone on lookout. In this case, it's Jaiku Angnatuk one of the young Inuits helping with the expedition.
<![if !vml]>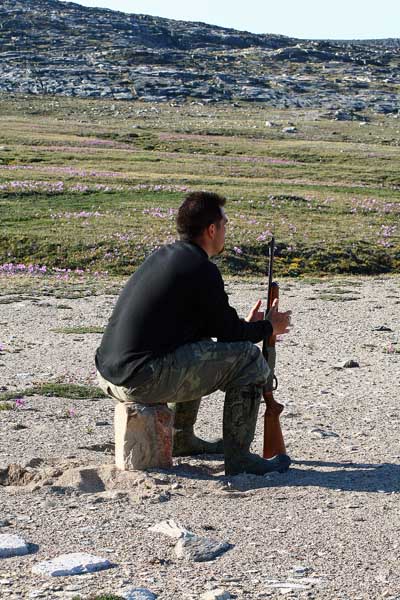 <![endif]>
When we finished with the walks, we climbed into the zodiacs and traveled a very short way to another cove where one of the staff had found walruses.
<![if !vml]>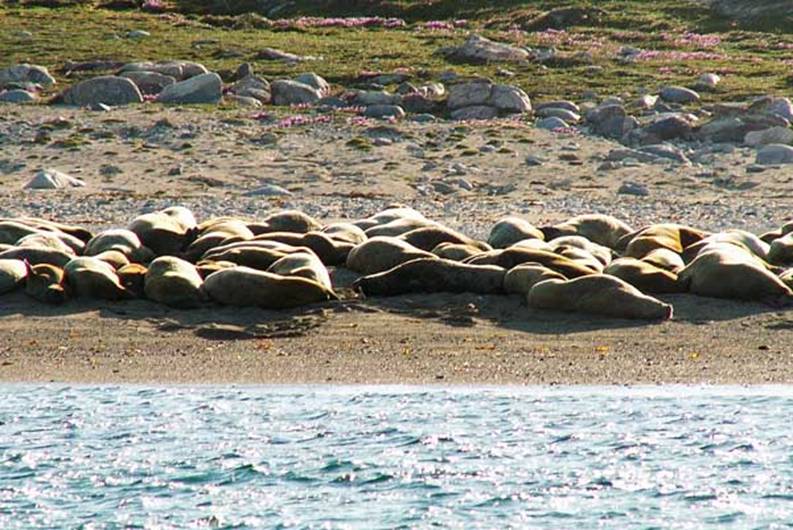 <![endif]>
Not only were the walruses enjoying the communal rest they prefer, but some were also "playing" in the water. Unfortunately, the sun was at such an angle that photos were very difficult, but it was exciting being that close.
It was then time to head back to the ship for dinner and rest. The day had started out kind of rough but had ended up a success.
<![if !vml]>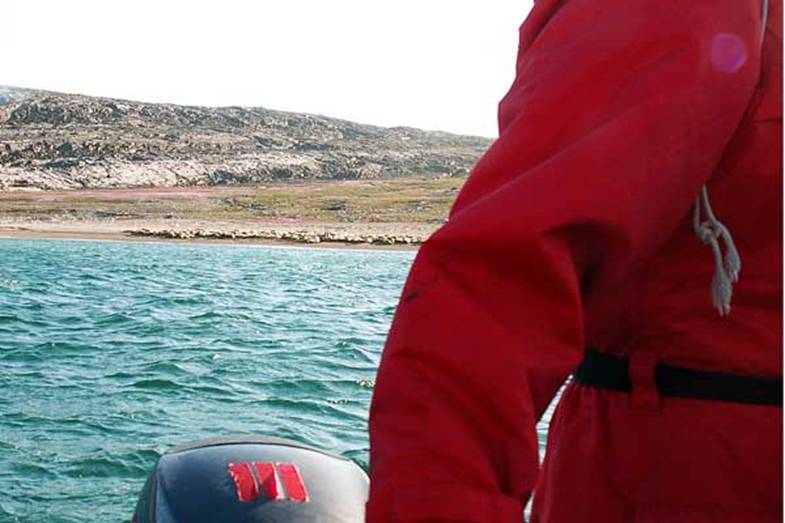 <![endif]>
Wednesday, July 23, 2008
We arrived at Cape Wolstenholme in the morning. There was an opportunity to take another zodiac cruise to see the nesting Thick-billed Murres on the high cliffs, but Pam and I opted to take a pass. The sea was rough again, and the wind was blowing at 35 knots. We didn't think seeing birds a little closer was worth it. Looking at the pictures below, I still think we made a good decision.
<![if !vml]>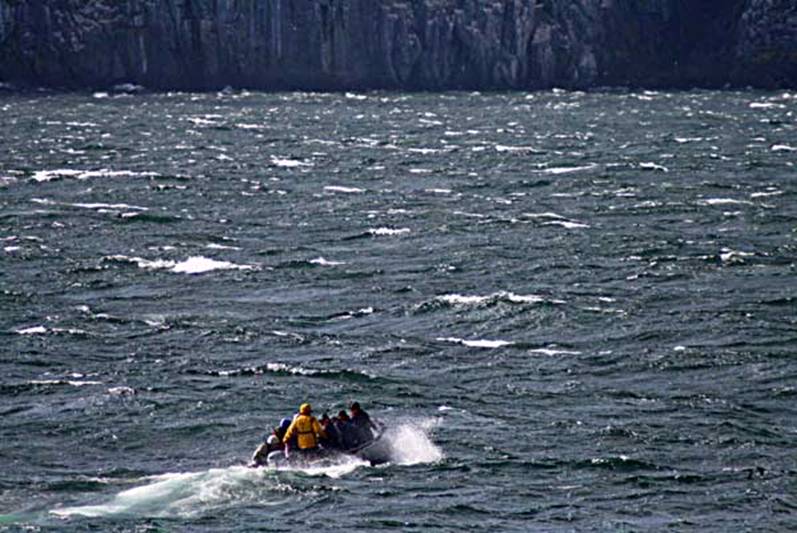 <![endif]>
<![if !vml]>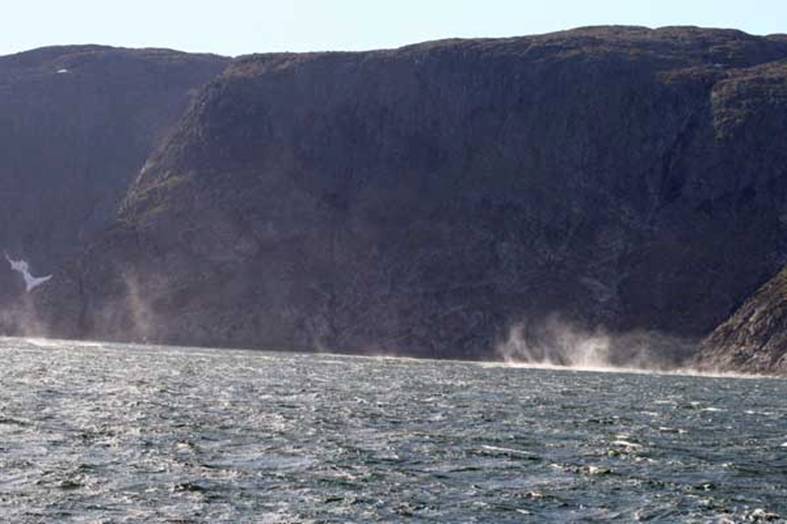 <![endif]>
Thursday, July 24, 2008
Today was the day to learn about the Inuit culture. Kangiqsujuaq (you try to pronounce it, because I can't) is an Inuit village that is very welcoming to tourists. The passengers were once again split into two groups, and the town provided guides for each.
<![if !vml]>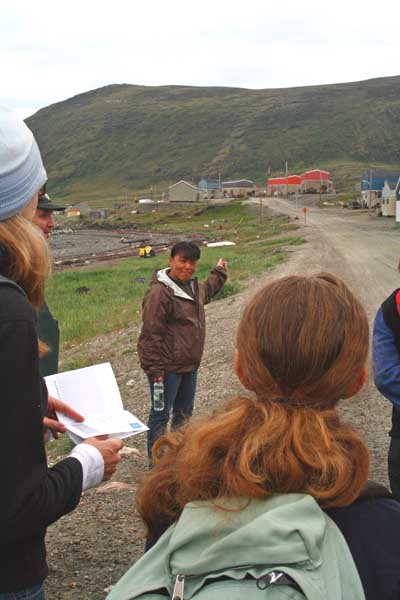 <![endif]>
The first stop for our group was their museum. While certainly not large, I was very impressed with their displays. It was sort of a cross between a history museum and nature museum. It had material from the past as well as information about the local wildlife and geography. From there we went to the local gym where we were treated to a performance of dancing and drumming by the children as an Inuit story teller.
<![if !vml]>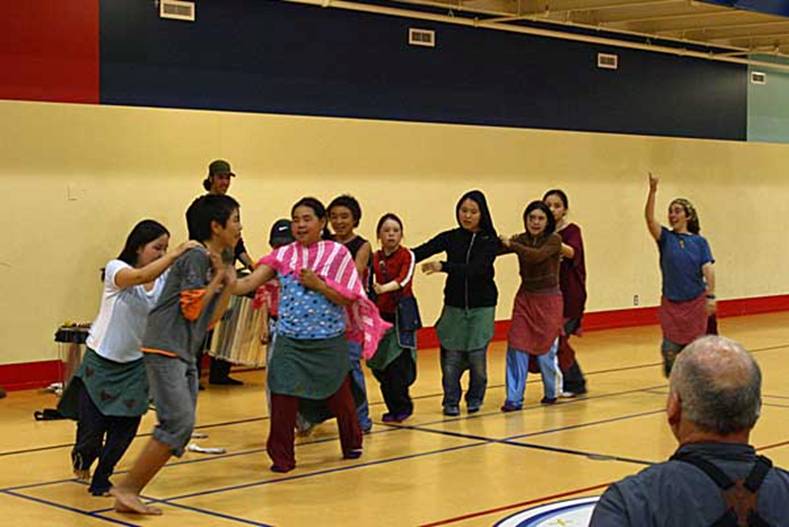 <![endif]>
The young lady on the far right was their leader and one of the most memorable people we met on the trip. She has just graduated from high school and wanted to come up to work with the Inuit even though it's just for the summer. She has a boy friend and their plans are to move to the country after finishing their education, "live off the land", and home school the 12 children they're going to have. I'm not sure whether it was nervousness from talking to two old people like Pam and me, or if it was just her natural personality, but I can't remember ever talking to young person who laughed and seemed to enjoy life as much as she did. She told us a little tidbit I found quite interesting. She lives on a farm outside of Quebec City and is taking the kids on an excursion home. As they have never been to a city before, their being excited about going to the city was understandable. What was surprising was their eagerness to go to the farm so they could see cows and pigs. They've never seen them! It's hard for me to imagine kids seeing polar bears, walruses and caribou with out getting excited about it, but getting excited about seeing cows and pigs.
It was time to leave Kangiqsujuaq (and I still can't say it) and re-board the ship.
<![if !vml]>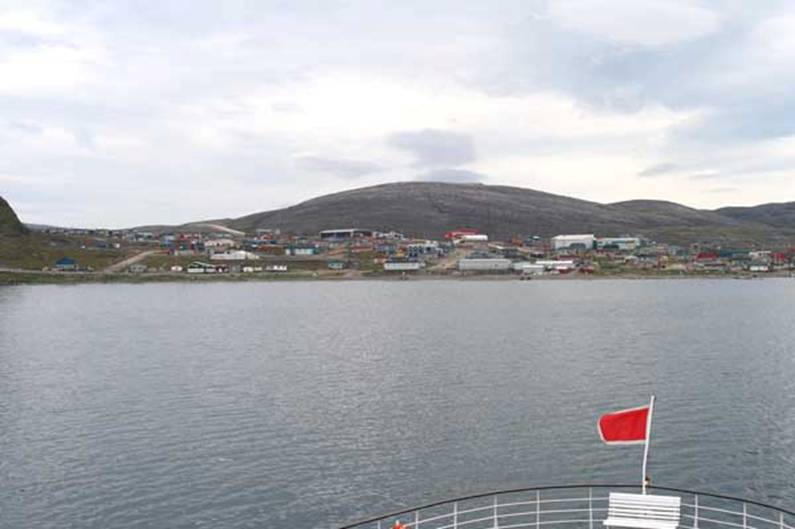 <![endif]>
After dinner, the crew surprised us with an opportunity for a zodiac cruise. Traveling along the quiet waters of Douglas Harbor with its steep cliffs provided many beautiful scenes.
<![if !vml]>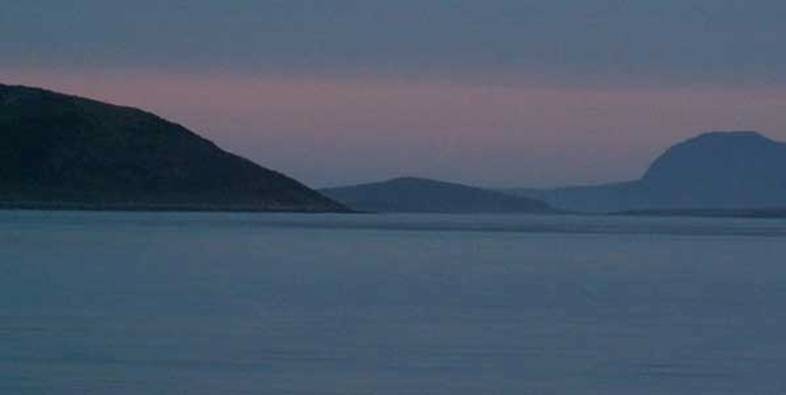 <![endif]>
Friday, July 25, 2008
This was the day of the marathon. (Yes, this was a marathon cruise. We had tried to avoid it because of the fear of being compared to the "hard bodies" who'd run a marathon, but the other Arctic Odyssey expedition without the marathon was booked.) The runners and support people were off the ship early. After breakfast, the rest of us took zodiacs to Douglas Harbour .
Once again the beauty of things growing in this harsh climate never ceases to amaze me. These are called Arctic Harebells.
<![if !vml]>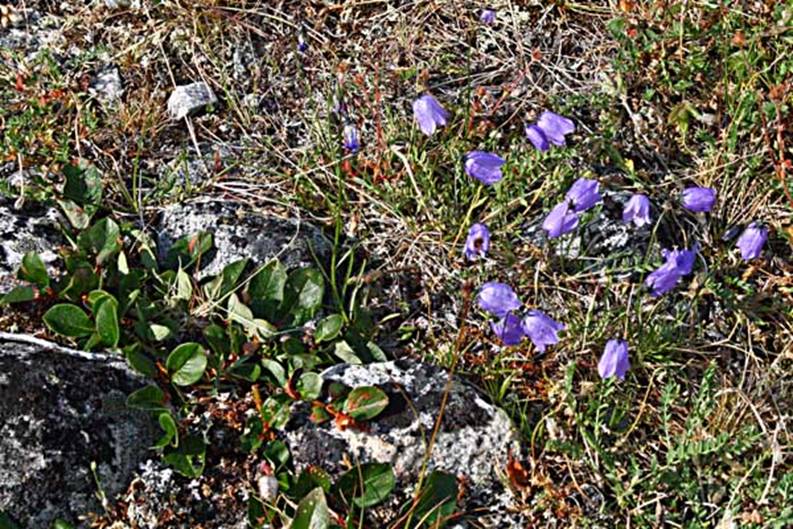 <![endif]>
<![if !vml]>
<![endif]>
While examining the beauty of the flora, we were treated to a number of sightings of the fauna. In this case, it was caribou. They are very majestic looking animals because of the way they carry their heads when running.
<![if !vml]>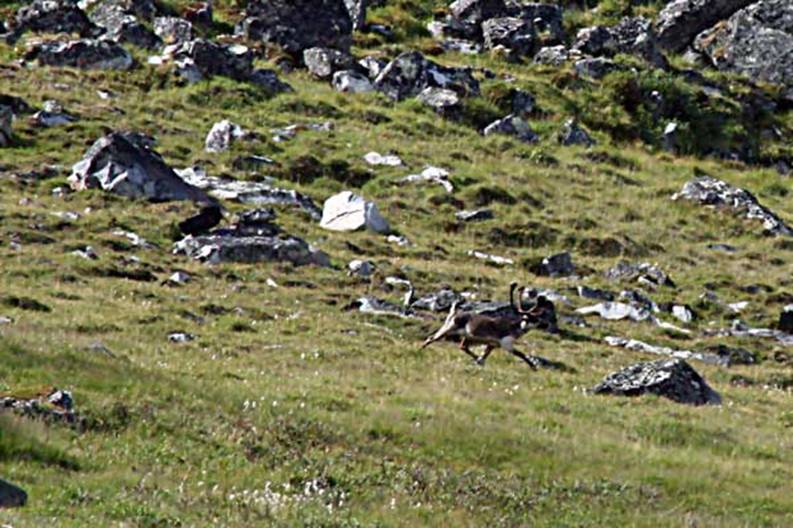 <![endif]>
<![if !vml]>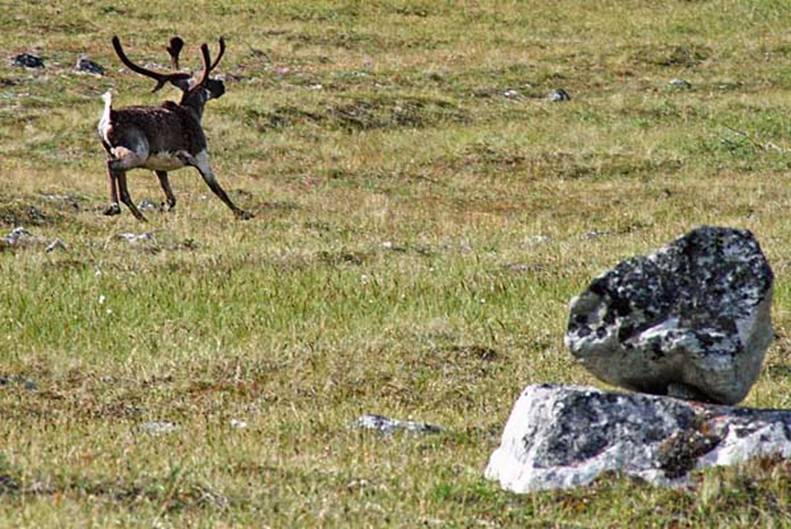 <![endif]>
Back to the ship for an on-deck, barbeque. It was quite tasty. When the crew started filling the small pool at the back of the ship, we wondered who would use it. The temperature was about 60o. We soon found out who was going to be first in. (It wasn't Pam or me!)
<![if !vml]>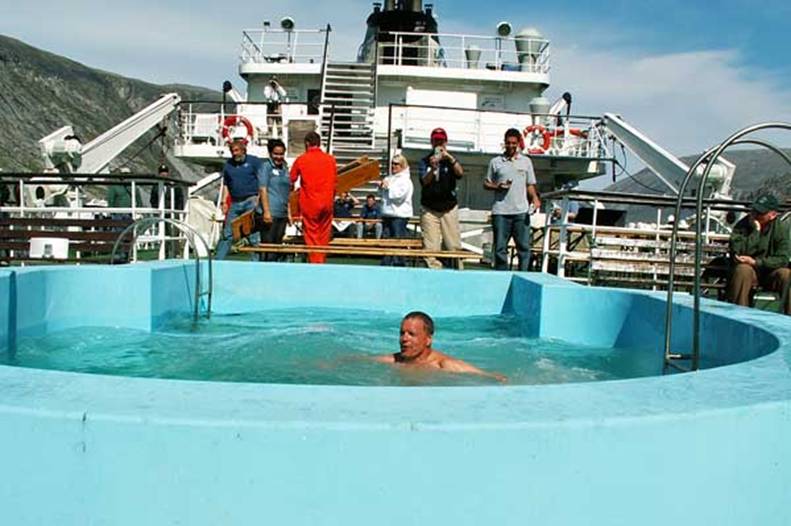 <![endif]>
Once the runners were back on board, it was time to be off to our next destination.
<![if !vml]>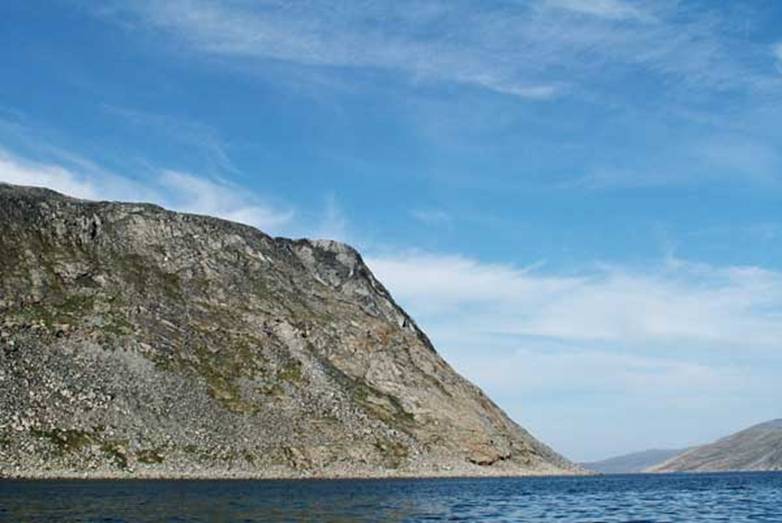 <![endif]>
Saturday, July 26, 2008
This morning featured a trip to Opingivik Island . It is quite an archaeological site. The second picture below is a tent ring left by Inuits long ago. The flowers on the upper picture were there as well. It still amazes me how so much beauty can be found in such a harsh environment.
<![if !vml]>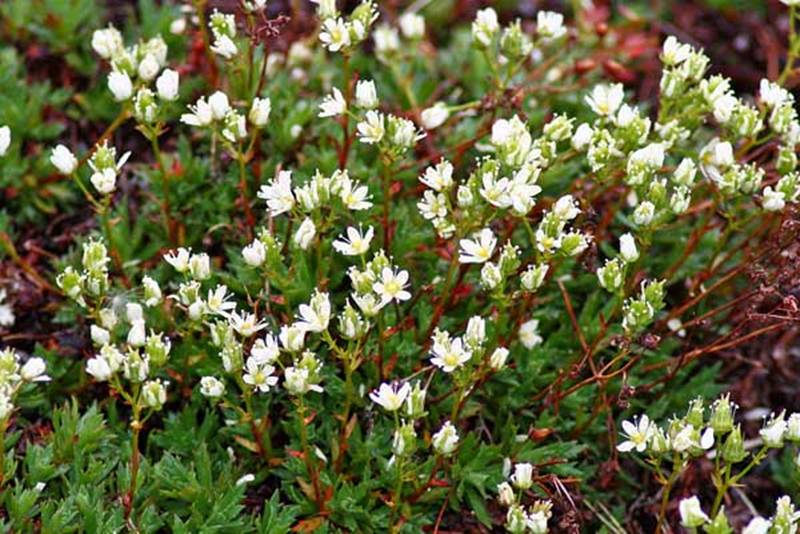 <![endif]>
<![if !vml]>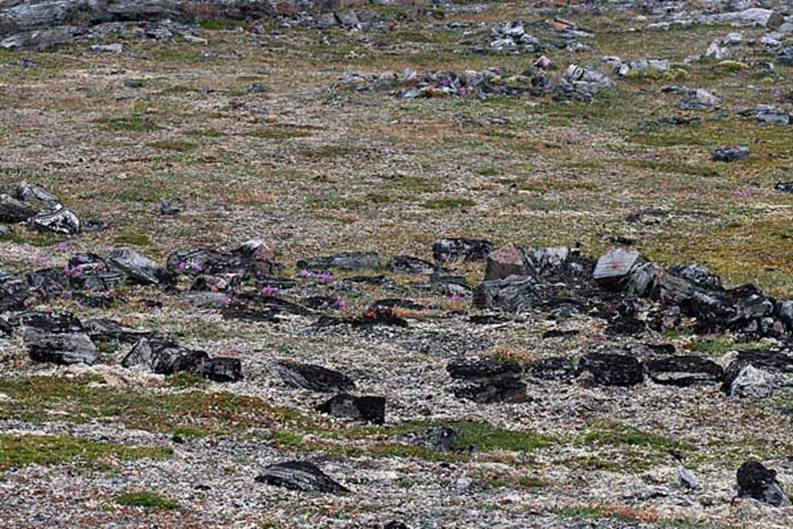 <![endif]>
The afternoon found us on Diana Island looking at musk oxen in the rain. (That's my excuse for the less than spectacular pictures, and I'm sticking with it.)
<![if !vml]>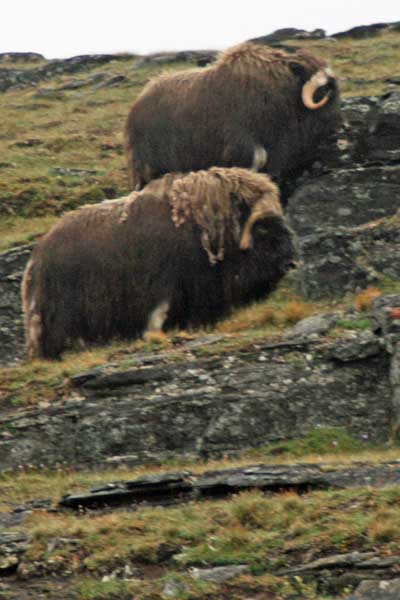 <![endif]>
<![if !vml]>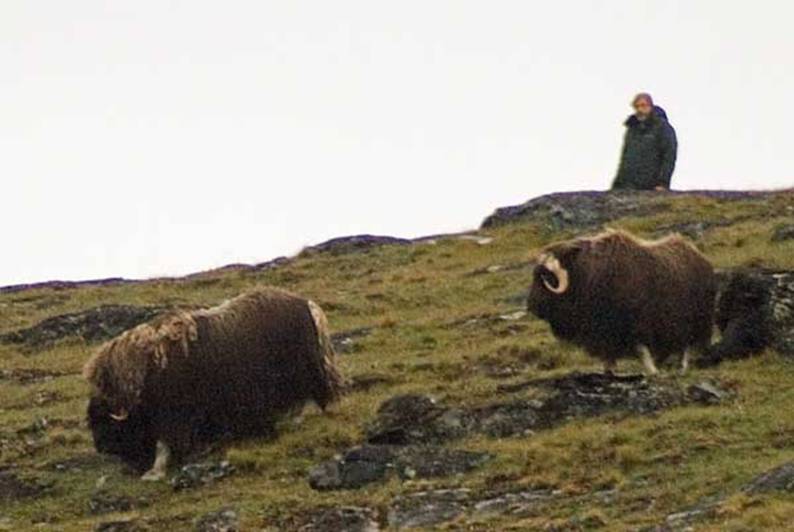 <![endif]>
I should explain that the man in the second picture is Julio, our expedition leader. He was attempting to encourage the musk oxen to come closer to the group, but only succeeded in making sure they didn't go over the hill where we couldn't have seen them at all.
Back on the ship for the recap of the day, the sea started getting "interesting." Some passengers left the recap rather abruptly; others decided dinner was not in their best interest that night. Pam was in that category. With my cast iron stomach it wasn't a problem for me I'm able to report that about 50% of the passengers made it to dinner.
Sunday, July 27, 2008
Unfortunately, the seas had not calmed enough for the passengers to do the zodiac cruise to Akpatok Island . Not only is the island home to about 1 million Thick-billed Murres, but there would have been a good probability of seeing polar bears there.
The sailing towards our final day of the expedition did give me the opportunity to photograph icebergs. It's hard to judge size when at sea because of the lack of anything to make a comparison. My feeling was the visible part of the berg shown below was about the size of our ship, perhaps even bigger. Certainly more ice than is needed for any cocktail.
<![if !vml]>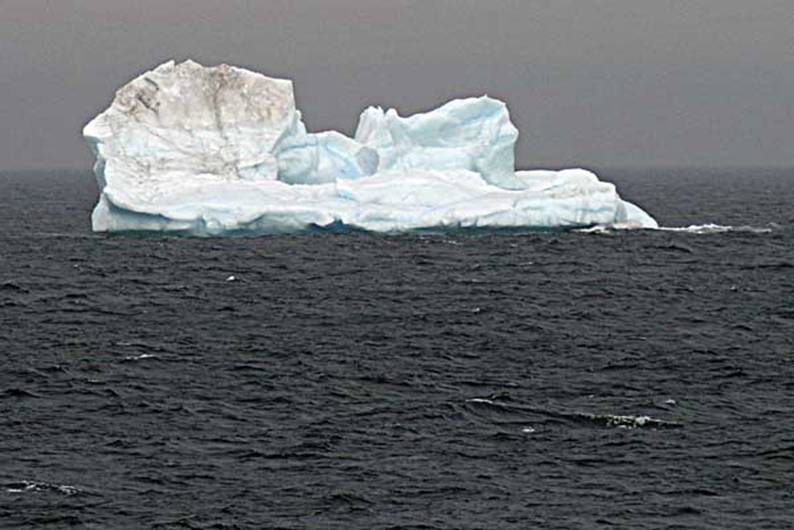 <![endif]>
Monday, July 28, 2008
Our luggage had to be outside our cabins before we left for breakfast. They were gone when we returned, and we were loaded into the zodiacs to go to Kuujjuaq (Good luck trying to pronounce that one. I never did.) in mid-morning. We were loaded into busses, taken on a town tour, to a hotel for lunch and then to the airport. Unfortunately, there was a mechanical problem with the plane that was supposed to take us back to Montréal. I think it was fortunate that the president of Cruise North was with us. I think we got a better response from First Air since he was there. First Air did send another plane for us. Of course, the delay was of concern to some who were supposed to be making connecting flights; however, it did not bother Pam and me as we planned to stay a few days in Montréal.
The additional time gave me an opportunity to reflect on our expedition. In case someone is reading this with the idea of perhaps doing something similar, I thought it might be helpful to share thoughts on some aspects of this trip.
Clothes:
Fancy clothes were certainly not an issue. It was extremely casual. The waterproof gear and boots we purchased were essential. A couple of our zodiac landings required us to get out in water that was approximately midcalf. One of our fellow passengers had not believed in the waterproof gear, and after zodiac rides in less than calm seas had to deal with drying pants.
Of course, that brings up the issue of the 44 pounds of checked luggage and the 13 pounds of carry on. I don't know if our experience was different because we did not have a full load of passengers, but I heard stories of people coming on with 44 kg (97 lb) of checked luggage, and our carry-on luggage was never weighed. It really bugs me when limits are set and not enforced.
The Weather:
We were better prepared for the cold weather than we were for the unseasonably hot weather we experienced. Their recommendations for the cold weather clothes needed kept me very comfortable, but I could have easily swapped one of the pair of pants I brought for a pair of shorts. As for the rough weather/seas we experienced, this was an expedition. Weather and wild animals are things that are not controlled.
The Crew:
I can't speak highly enough about the expedition crew! They were very informative, interesting, courteous and helpful. That was especially appreciated during the transfers in and out of zodiacs. We did make a couple of transfers when the sea was not at its calmest, but Pam and I felt safe.
The Food:
Fortunately or unfortunately, I am not one that is easily impressed with cruise ship food and this was not a cruise ship. I thought the food was good and was certainly plentiful enough for me. My only possible complaint about the food was that the lunches could have been a little less. By the end of the week, I was looking forward to having a sandwich for lunch. (Pam loved the meals, especially the dinners.)
Those coming from the US also have to get used to the idea that soft drinks do not appear to be treated the same way in Canada as they are in the US . Coffee, tea, and hot chocolate were available at no charge at all times. I expected to pay for any alcoholic beverages but was rather surprised to be paying for soft drinks. (At restaurants in Montréal pre-and post expedition, refills of soft drinks were also not free.)
Our Fellow Passengers:
I was very impressed with the diversity of our fellow passengers who came from England , Belgium , Germany and, I believe, France as well as Canada and the USA . All but one lady spoke fluent English, and I had the feeling that she understood it. As a matter fact, I believe that we were the only US Midwesterners. While there were a number of people who have traveled far more extensively than we have, there were others that had not. In general, they were a very interesting, sociable, and non-pretentious group of people.
Cruise North Organization:
I thought the Cruise North staff on board ship show tremendous organization. When the adverse weather caused plan A to be aborted, they were always ready with a plan B.
To me, their on land organization needs a little work. The Four Points not having a shuttle service adequate to the needs of the group was poor planning on someone's part. The arrival of Churchill was also a little chaotic in my opinion. Perhaps, I wouldn't be so critical if we had not had the delay at the final airport, but we did and there certainly did not appear to be a plan B. In addition, Neelie also mentioned that dealing with their office was not as professional as she was used to experiencing with other such organizations.
Overall, Pam and I are both very glad we went and are looking forward to our next adventure.