Roy and Pam's Australia – New Zealand Trip
Day 1 Thursday, March 2, 2006
Board your transpacific flight and cross the International Date Line.
The trip got off to a great start with Paul and Maxine Palmer taking us to O'Hare. Roy had been antsy all day and couldn't wait to get going. Pam was more laid back and even spent some time reading after she was ready to go. Paul and Maxine arrived right when requested and got us to the airport in plenty of time. Roy, being the seasoned foreign traveler, told Paul to drop us off as soon as we got to the United area at O'Hare because the foreign flight check in was at the north end. They had moved it to the south end. (It has been some time since Roy flew internationally.)
Pam liked the idea of having a reduced check in line because we were flying Business Class. (Actually, we flew first class from Chicago to San Francisco and Business from San Francisco to Sydney.) We also found out that there is special security check in for Business/First Class. It was a much shorter line. The flight to San Francisco was nice, but Roy wasn't that impressed with First Class. There wasn't as much room between rows as he would have liked to see for the difference in price. But, he was the one that has flown to Australia and back three times in coach. So, it was fine, just not what he expected.
The transfer in San Francisco went off well. We were walking off the plane with the San Francisco United person who greeted the plane. He had announced what gate we were going to go to, but we asked him to confirm. Not only did he do that, but he told us where to go to catch a shuttle so that we wouldn't have to go through security again.
As we arrived at the gate, almost everyone had boarded, but they were paging Pam. It seems she had two visas and that was a problem. (We had caught an error with the date of birth on her initial one and asked to have it corrected. It appears that instead of correcting it, they issued a new one so now she had two visas.) The gentleman who had been paging her spent a couple of minutes on the telephone, and it was all straightened out. We then boarded the plane. The Business Class on this 747 was the upper deck and provided far more room between rows than the First Class on the flight to San Francisco. There was enough room between rows that with the row in front fully reclined the person at the window still could get out without the person on the aisle having to get up.
The food on the flight to San Francisco was good, but the food on the flight to Sydney was very good (Pam says excellent). The flight took about 14 hours. During that time we ate two meals (dinner and breakfast), did a little wine drinking, a little reading, saw 3 movies, and even slept for a while. Roy is afraid that he'll never get Pam back to coach again.
Sydney, Australia. G'day and welcome to Australia. Hotel rooms are available for immediate check-in to relax before your Down Under Adventure.
The lines were rather long going through immigration, but it kept moving. The bags were waiting for us by the time we got out of immigration and there was no waiting to get checked through customs. Once through customs we quickly found a young lady holding up a sign with our name on it. A pleasant drive from the airport and we were soon at the Sydney Hilton. There was another minor snafu because the lady that picked us up asked if we had a travel voucher for her. We did not, but she did not make a big deal out of it.
We checked in, went to our room, showered, and decided to check with the concierge as to a location of an ATM so that we could get some Australian cash for tips and the like. He pointed us to one in the hotel. While Roy was getting the cash, Pam ran into three ladies from the tour. Two are from Canada and the other from Ohio.
With Australian cash in hand (or at least in Pam's purse), we decided on a four or five block walk to the Chinese Friendship Garden. It was quite beautiful with one thing more beautiful than the next and great to be able to walk around without a jacket on.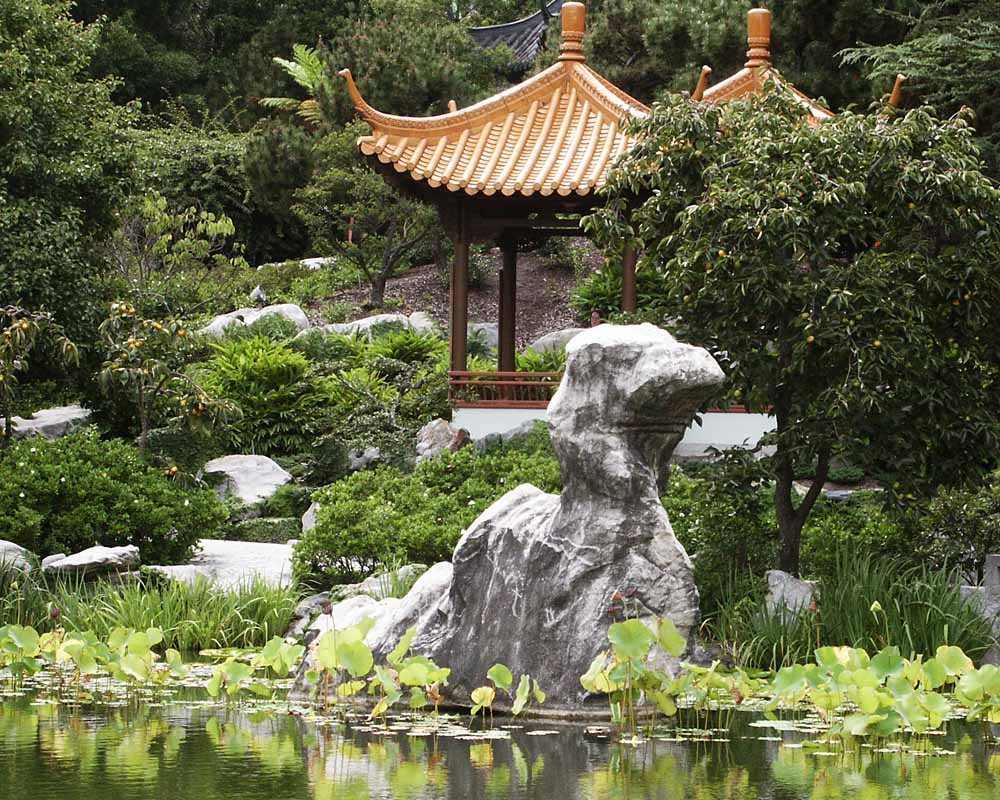 What was so amazing to us was that this little piece of serenity was in the middle of one of the most urban (and clean) cities we have visited.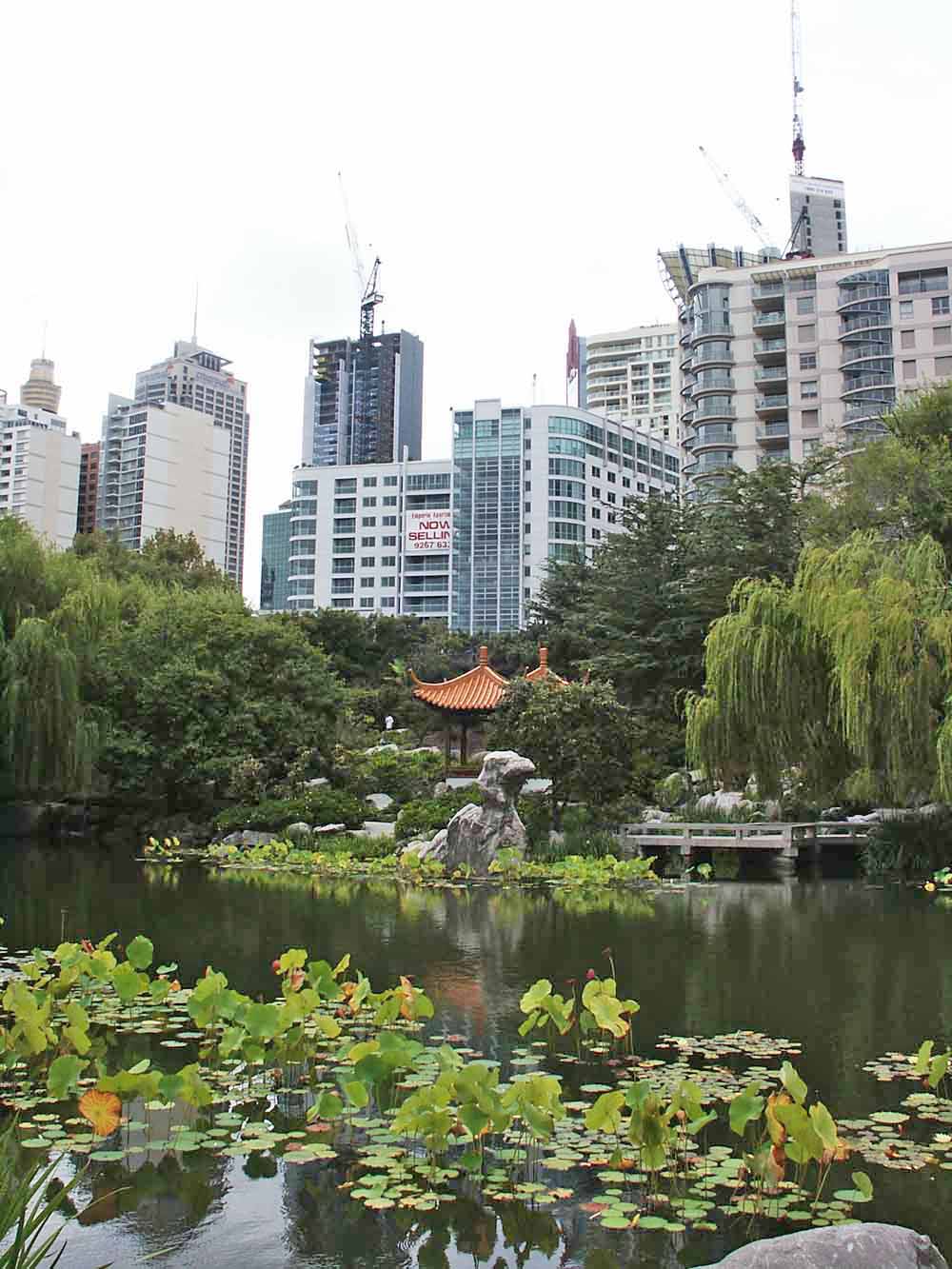 The garden provided the opportunity to rent costumes so the people renting them could then be photographed by friends or family, or as the case below complete strangers.
<![if !vml]>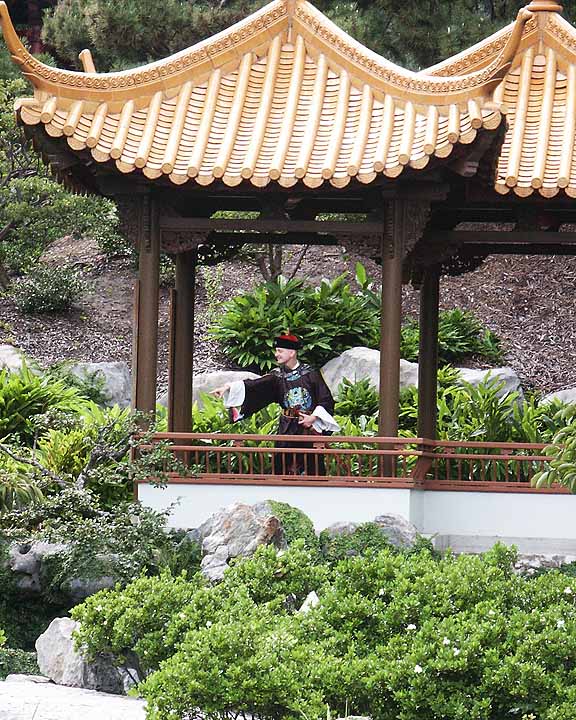 <![endif]>
(Pam and Roy didn't opt for that opportunity.) We did have a nice lunch there, purchased from the on site Tea House.
After a walk along the harbor, it was back to the hotel. Pam was very good and stayed awake reading. At least that's what she told Roy, as he took about a 2.5 hour nap. By the way, for those of you who care about such things, the way we have it figured out, Sydney is 17 hours ahead of Chicago in regard to time zones. It doesn't feel that it should be that many hours different, but that's the way it seems to work out.
Shortly after the nap, it was back to the area by the harbor for dinner. We ate in a restaurant named "Meat and Wine." It appears that it is a small chain on various continents. Pam had a hamburger and Roy had the catch of the day - salmon. Both were quite tasty.
Back to the hotel to a note from our tour guide Karen telling us that tomorrow morning we would meet at 7:45 after we had breakfast. That shall be another "real start" to the tour, but today was a lovely semi-start to it.
Sydney Join your fellow travelers to explore one of the world's most beautiful cities. Your tour includes exploring Sydney Harbour on a CRUISE that highlights this bustling waterway, visit the SYDNEY OPERA HOUSE for a guided tour of its interior, and having an expert guide escort you through the renowned SYDNEY AQUARIUM DARLING HARBOUR to learn of the South Pacific's unique marine life. Travel to Mrs. Macquarie's Chair, located in the city's botanical gardens, for a great photo opportunity of the harbor, Opera House, and Harbour Bridge See some of the city's original suburbs, followed by the historic Rocks area, home to Sydney's original convicts. Also visit one of the country's leading opal companies to discover how the beautiful gems are mined. The balance of the day is free. This evening your Tour Director hosts a special WELCOME DINNER at a waterfront restaurant. [B,D]
Even though Pam had not taken a nap, she couldn't sleep in. As a matter of fact, she was awake at 4:00 am. Roy on the other hand slept all the way to 5:00 AM. (Alarm was set for 6.) We did notice that it seemed darker here at 6:00 AM than it does by us at a similar time of the year.
While buffet style breakfasts are not Roy's favorite things, the breakfast at the hotel was great even if buffet style. Plenty to eat and all tasty.
There was a meeting at 7:45 where we met all of the tour members. There are 32 in all. There are a number of Canadians, a couple from Israel, and the rest from the States. I don't think we are the youngest of the group, but we are also not the oldest. I'd say the group is mainly about our age. Of course, that isn't too surprising. Who beside people our age could afford to be gone for a month? Our tour guide is Karen Chopping. She is a tiny Australian young woman with a lovely personality.
We set off by bus to the Sydney Opera House at about 9 AM. Once again Roy proved himself wrong. He was not looking forward to the tour of the Opera House, but found it one of the most fascinating parts of the day. One of the things learned was that Jorn Utzon, the architect who designed it was from Denmark. He won the right by entering a contest. The Opera House holds a number of venues seating from about 250 to about 2500. The construction of the Opera House included a number of firsts; therefore, it isn't surprising that the construction took longer and far more money than originally expected. Of course, it has become one of the most famous pieces of architecture in the world so was worth the wait. What we found so ironic was the man who designed it and headed up the construction for the first part, although still alive has never set foot inside the completed facility. The government had started applying heavy pressure to complete the project. Being a stubborn Dane and not willing to compromise with the perfection he was trying to achieve, Utzon quit the project and went back to Denmark. At that time the outside was nearly completed, but little had been done with the inside. The government brought in Australian architects to complete the inside. Utzon is still alive, hates to fly, and feels that his coming to the Opera House would take away from its significance. Another interesting thing is that it seems that Utzon and Australia have made up because his company has been hired to redesign some of the interiors. Utzon's son who works with him has been over. That combined with web cams have seemed to allow a suitable working relationship.
Roy, of course, took scads of pictures of the Opera House. Below is one of his favorites showing the opera house and Sydney Harbour Bridge taken from the park by Mrs. Macquarie's chair.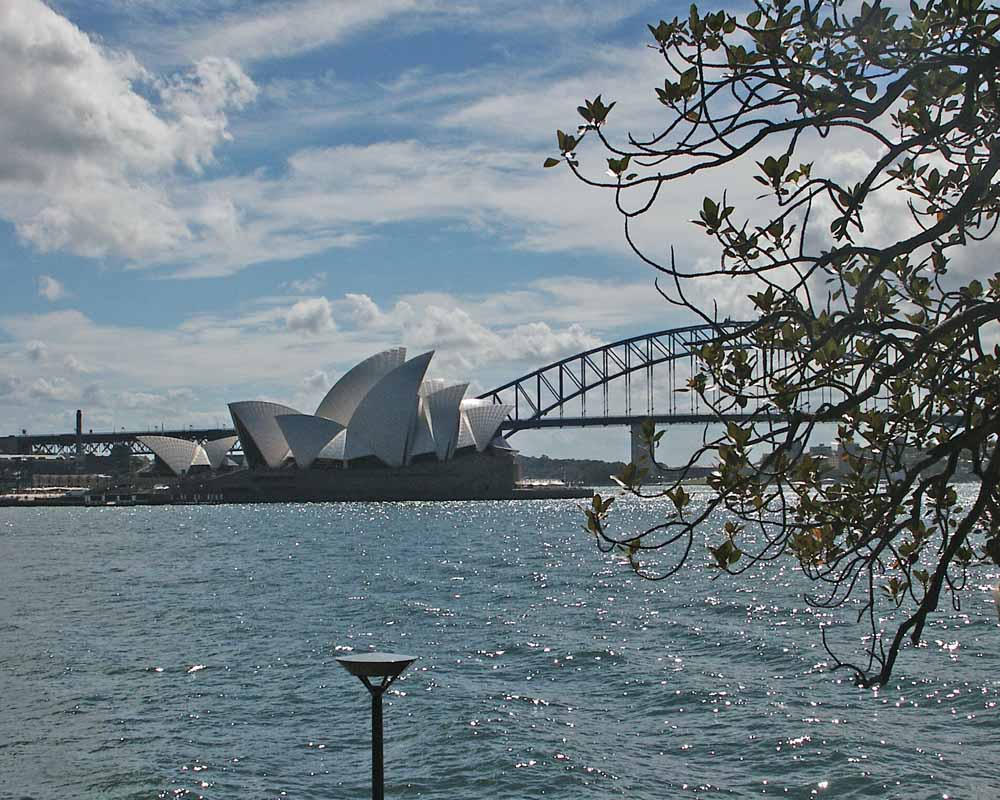 After the Opera House tour, it was on to the harbour cruise. Not only were there many interesting sites to keep us visually stimulated, but it was excellently narrated. The history of Australia/Sydney is young by European standards and is certainly interesting. To think that modern Australia was all started by prisoners and their keepers blows the mind.
After the cruise it was into the Aquarium for a 1 hour guided tour. It is a popular attraction and well worth a visit if you are in Sydney. Roy suggests not on Sunday as it was quite crowded, but then again he is rather infamous for his feelings about crowds. Pam was able to achieve one of her minor goals. She saw live duck-billed platypus (Does anyone know what the plural is? There were two of them.). Surprise, Roy tried to photograph them. He found it was like trying to photograph otters underwater in a large area with a large crowd around. In other words, there are no good pictures of a platypus to show.
From the aquarium it was on to a bus tour of the city narrated by Karen and the driver. One thing that became quite evident is that Sydney is an expensive place to live. It shares the same attraction as many of the larger cities around the world to the young people. It also shares the fact of urban sprawl. Housing becomes cheaper the further west from the city you go. (Remember Sydney is like Chicago; land east of the city is most likely pretty cheap but is a long way away.) One of the final stops on the bus tour was the park by Mrs. Macquarie's chair. Not only was the above photograph taken there, but there was also a group photograph taken that will be given to us by Globus. That should be helpful to us as we try to match faces and names as we go on.
After time to refresh ourselves at the hotel, we were taken by coach to a dinner hosted by Globus. (An interesting tidbit we learned that in Australia the word entrée is used for our word appetizer. When you think about it, it does seem more logical. It is what you use to start or enter the meal.) Anyway, there was a choice of three different entrées and three different main courses. We sat with the ladies who came from just outside of Toronto at a table for four. It sounds as if they had been on a number of Globus tours and had high praise for them.
Sydney Full day at leisure. Perhaps join our optional excursion to the Hawkesbury River for a relaxing cruise to a historic 1867 homestead. Enjoy lunch on the broad veranda while you learn of the experiences of Australia's early settlers. You may prefer a wilderness experience in the Blue Mountains, or an excursion to the Hunter Valley, one of Australia's leading wine-growing regions. You can even climb to the top of Sydney's Harbour Bridge! Your Tour Director will help you make the most of this exciting city. [B]
We opted for a tour to the Blue Mountains that included a stop at a wild life park. It took about two hours to get there, but the scenery was well worth the drive. Of course, the driver provided a lot of information about what we passing as we were driving along. As an example, the Blue Mountains are called that because of the blue haze that is usually present. It comes from the refraction of light through eucalyptus oil being given off by the trees. There were many beautiful scenes, and Roy burned a lot of electrons taking pictures. We learned that there are stone formations called the Three Sisters that is purported to be the most photographed formation in Australia and that was even before Roy got there.
<![if !vml]>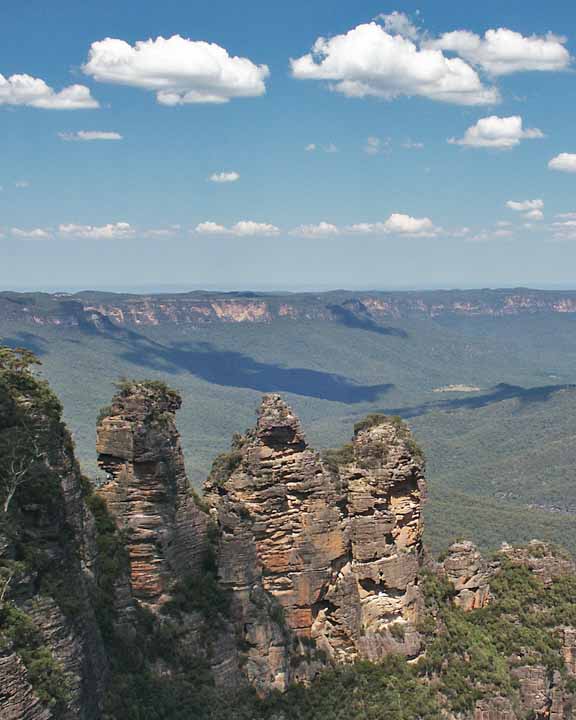 <![endif]>
Three Sisters (beautiful rock formation, as sisters?)
Besides seeing the Three Sisters in Katoomba, we visited Scenic World. After going down in a canyon in a "train" (the world's steepest incline railway), back up in a cable car, and across in a gondola car (part of the floor allowed us to see the bottom of the canyon), it was time for a drive to the Featherway Wildlife Park. Once there, we had the opportunity to interact with koalas, kangaroos, and wallabies. Pam was thrilled when she patted a koala and fed and patted the kangaroos and wallabies. We also had the opportunity to see other Australian birds and animals. Roy liked the shot he was able to get of a salt water crocodile.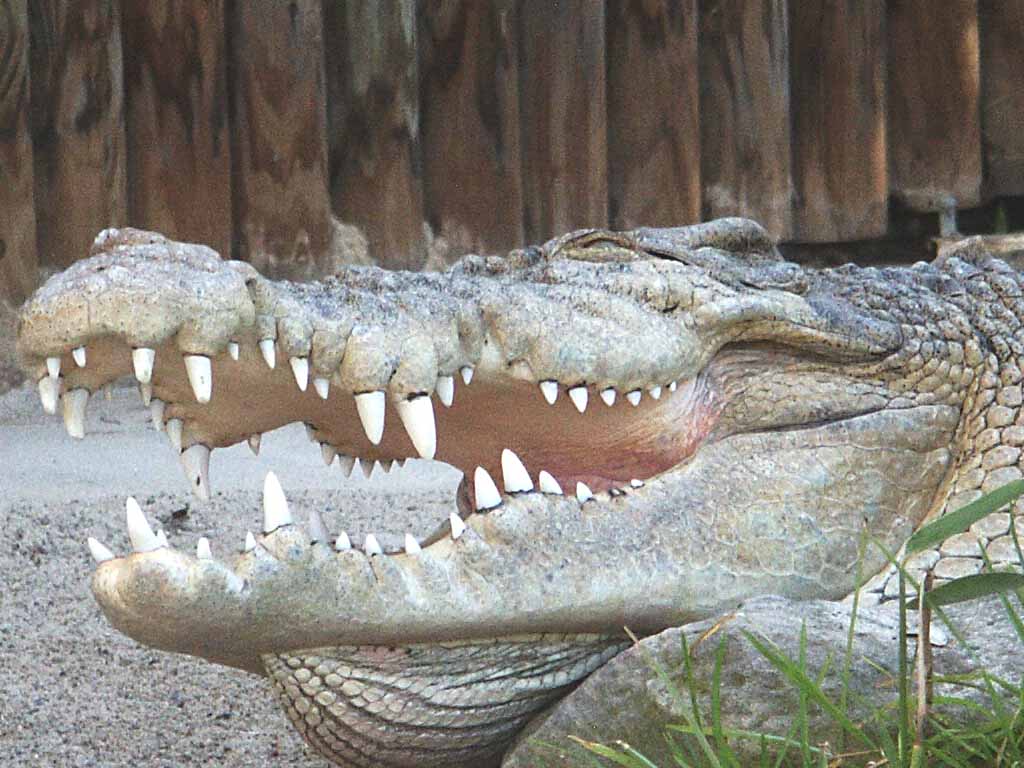 "Look at them choppers!" - from Romancing the Stone movie.
We were surprised to learn that saltwater crocs can swim almost as fast as dolphins. Combining that with those teeth, we think we are going to stay out of the water.
After the wildlife park, it was over an hour ride back to the hotel. Our biological clocks have not quite got into Australian time yet; therefore, we were exhausted by the time we got back to the hotel. Roy went out, picked up sandwiches from a place in the lobby, and we ate in the room. While we tried to stretch it as long as possible so we wouldn't wake up so early, we were both in bed 10:00 PM.
Sydney-Brisbane Fly to Brisbane, one of Australia's fastest growing cities. Enjoy an orientation tour en route to your hotel. [B]
It was time to say goodbye to Sydney this morning. We met at 8:30 in the lobby. The luggage was picked up from our room and put on the bus. Karen had everything organized at the airport so that things went without a hitch. The flight out of Sydney provided Roy one last chance to photograph the Opera House and Harbour Bridge.
<![if !vml]>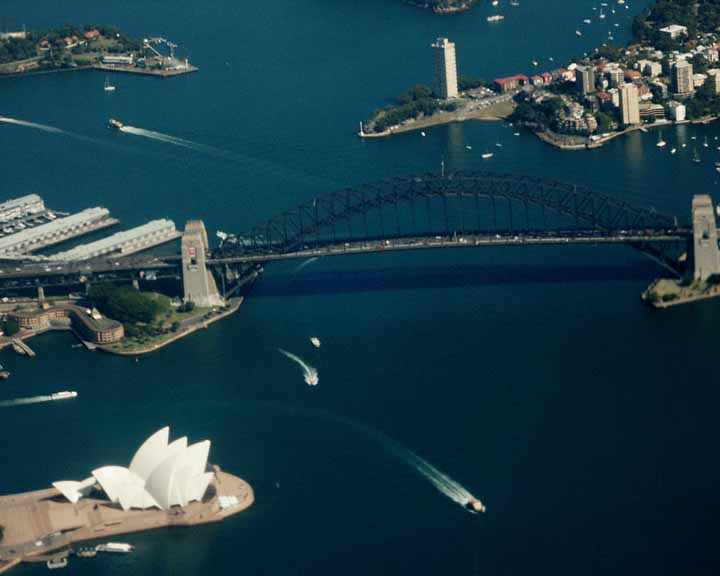 <![endif]>
The flight was very smooth and even though it was only an hour and a half long, they served a snack (some said it was more and better than they received on the flight to the west coast of the US), and beverages.
We arrived in Brisbane and took a tour of the city. Brisbane is supposedly the fastest growing city in Australia. After checking in at the hotel, we had lunch at a mall close to the hotel. Then we walked about 4 blocks to the botanical garden. It was a very nice place. It wasn't anywhere near as large as the Chicago Botanical Garden but it was certainly closer to the city.
We opted for dinner in the hotel. It was very good, and we had very friendly wait persons.
Day 6, Wednesday, March 8, 2006
Brisbane Come face to face with many of Australia's native animals at the AUSTRALIA ZOO, home of The Crocodile Hunter. You'll see a crocodile demonstration by one of the zookeepers, as well as witness the feeding of the koalas. [B]
What a day! Once again we started with a buffet breakfast at the hotel. It was outstanding and that was written by someone who doesn't like buffets. We then met at 8:00 AM to get on the bus. While the final destination was the Australia Zoo, our first stop after a very scenic drive was the little town of Montville. Until a few years ago, it was a place that people from Brisbane retired to. It's up in the mountains (not really mountains, but more like tall hills) and thereby cooler during the hotter times of the year. The picture below was taken from one of the shops in town. It isn't hard to see why people would like to retire there.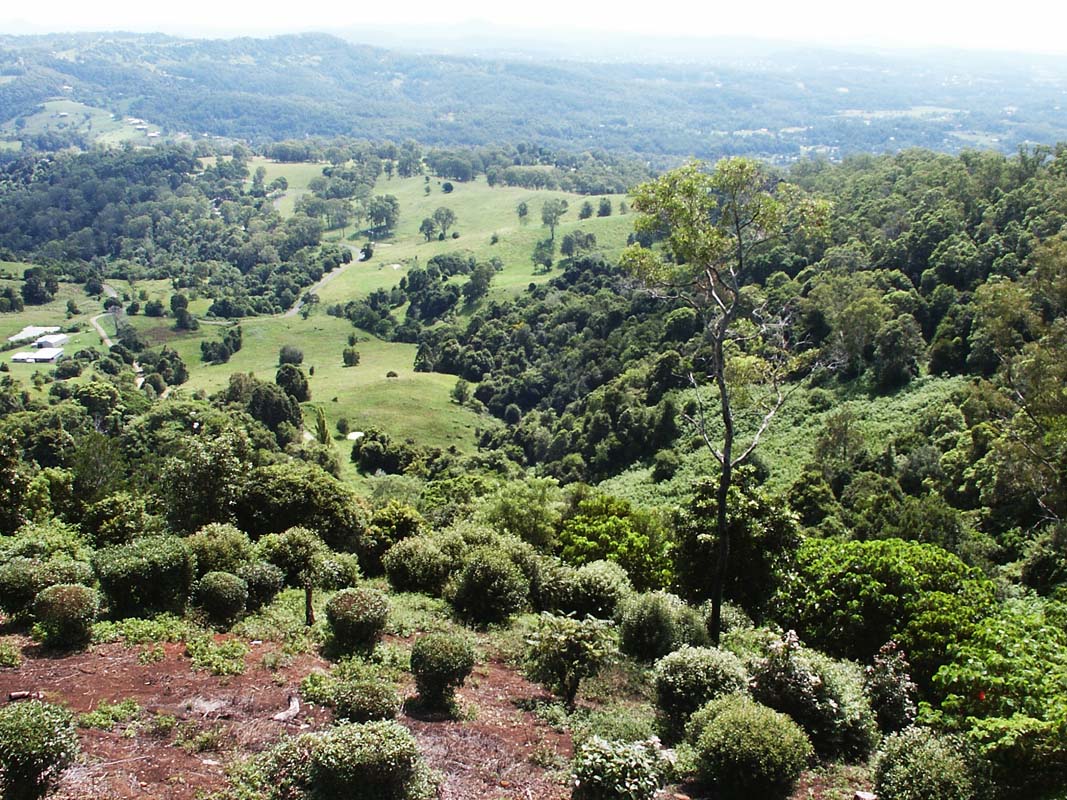 Somehow, arts and crafts stores started opening and now they are all over the main street. The ones we went in had very unique merchandise. Roy found an Australian chess set that he fell in love with because of its uniqueness and low cost. The cost became somewhat higher with shipping.
Then it was on to the Australia Zoo. It was started and is run by Steve Irwin, the Crocodile Hunter of the Discovery Channel. Roy was somewhat turned off by him the few times he saw him on TV. It seemed to Roy that he was one of those showmen types that found animals as a way showing off. It turns out that Roy was his usual good judge of character. According to our driver and Karen, all of the money he makes goes into the zoo, wildlife research, and wildlife rescue. The animals are his passion. We saw demonstrations with various animals, and Pam got to fulfill a lifelong dream of holding a koala. Roy held one, too. (The picture below will be replaced with scanned ones of Pam and Roy holding koalas, but until that happens, this one is cute. We lied. Roy liked this picture well enough to keep it even with the scanned ones available.) Before her koala encounter, Pam held a reticulated python. We did get the souvenir photo. She has now accomplished the big four in her lifetime - she was spit on (soaked) by a walrus at Brookfield Zoo, kissed by a llama in a petting zoo in Wisconsin, frenched by a wolf in Wolf Park, and now has been peed on by a koala in Australia.
<![if !vml]>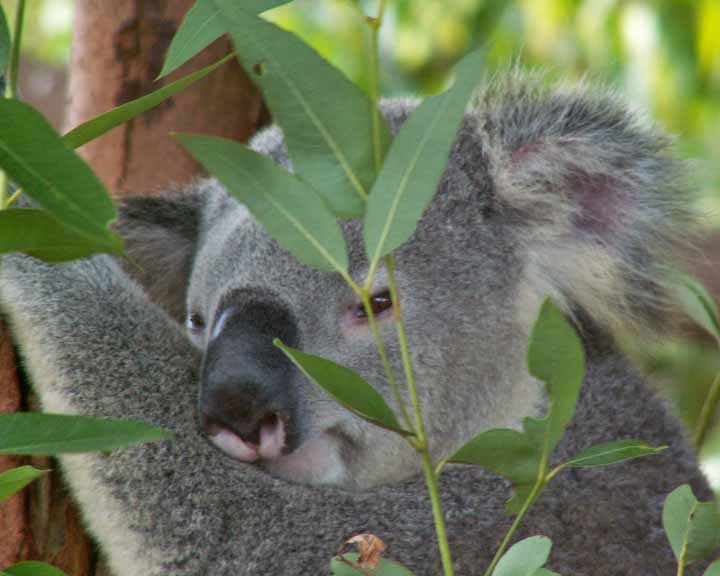 <![endif]>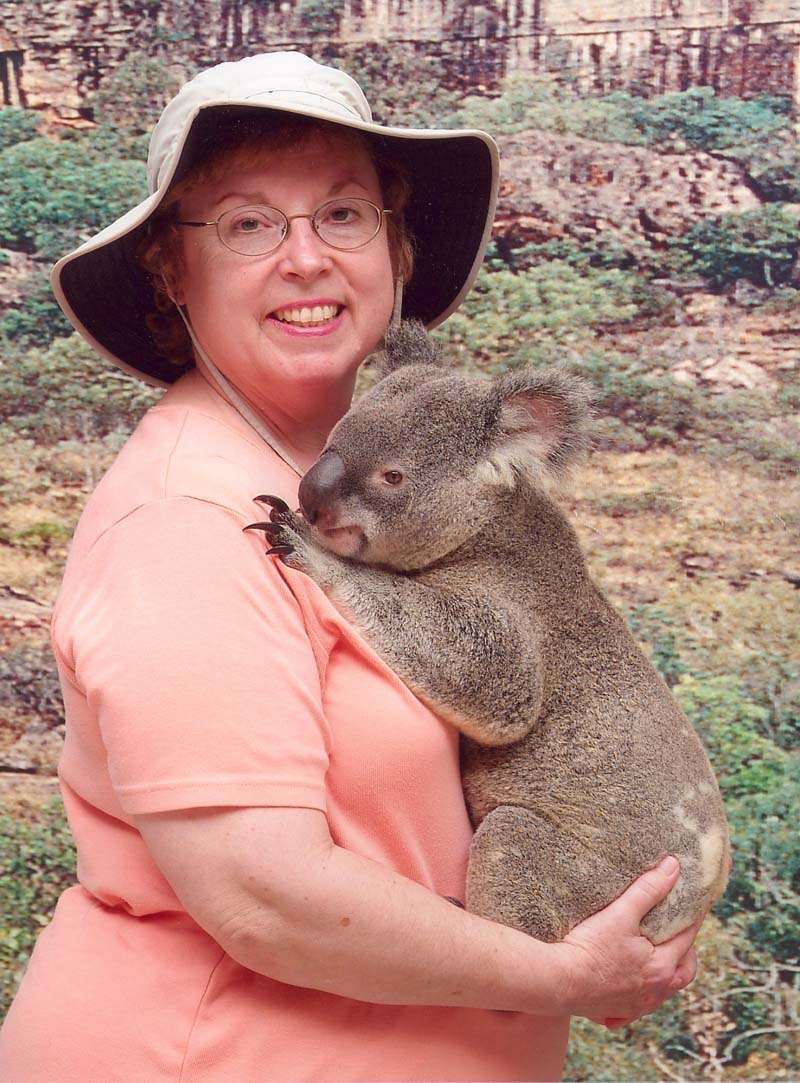 <![if !vml]>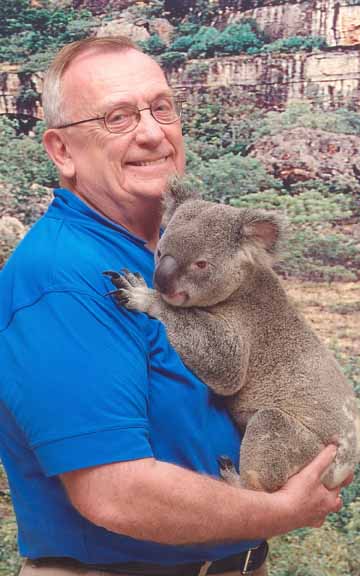 <![endif]>
We had a chance to listen to a presentation about koalas and wander around the zoo. While some on the tour commented to Karen that the time was a little too long at the zoo, Roy and Pam could have spent another day there. One of the things that did happen on the opportunity to wander the zoo was that Roy's image of the Tasmanian Devil was completely changed. He had been at a wildlife park in Australia a few years ago. At that time, he was shown how wild they were and how the keepers were completely scared of them because they were so ferocious. We went to the Tasmanian Devil exhibit and saw one wandering its outside habitat. As it then went inside we realized it had access to both inside and out. We decided to take a peek inside. Once inside, what did we find but two keepers sitting down in the enclosure. Each was cuddling a Tassie. The Tassies were so wild that one of them was a sleep in her arms. The other woke up enough while we were there to roll over in the other keeper's arms. Certainly wild and ferocious like Roy was led to believe.
On the way back to Brisbane we experienced another scenic drive with a stop at the Glass House Mountains., We ate dinner at an Irish Pub a couple of blocks from the hotel, and then to bed for an early start tomorrow.
Day 7, Thursday, March 9, 2006
Brisbane-Cairns Fly north to Cairns, gateway to the Great Barrier Reef, one of the seven natural wonders of the world. [B]
We were up early this morning to get ready for the flight to Cairns. (By the way, if you want to sound like an Australian, you drop the "r" and pronounce it as cans.) The bags had to be at the door my 6:30 and we were to leave by 7:30. Of course, that allowed us plenty of time for another one of the great breakfasts that come with the tour. Off to the airport and another group check in that Karen took care of very nicely for us. The plane was on time. Once again Qantus surprised us by providing a complete breakfast during the flight - juice, a scone, a banana, cereal and milk, plus the essential coffee or tea. As we recall it, that was more than Jennifer, our younger son's wife, got when she flying in first class from Dallas to North Carolina.
Seeing the reefs from the air was very interesting. We weren't sure what to expect, but they are the florescent green areas in the following photo.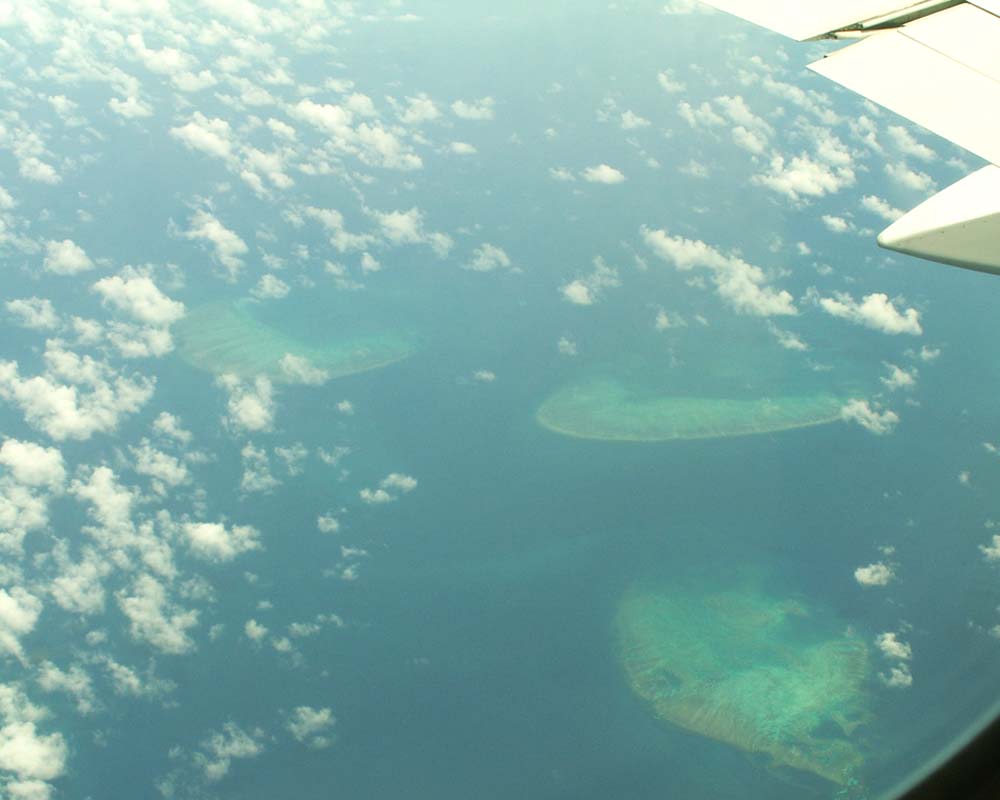 Once in Cairns, we had to wait a little bit for our rooms to be ready. (I don't think it was even 30 minutes.) We decided that since we didn't have anything planned until "dinner with an Aussie" tonight this afternoon would be a good time to do some laundry. Well, Pam decided that and Roy said "Yes, Dear." Many of the people from the tour were at the laundromat as Pam was doing the wash. As Roy's primary function was to act as sherpa, it decided to see if he could find an internet cafe. While the one he found in Brisbane, but didn't use, said there was no problem with him using his own laptop, the three he found here said he had to use their computers. Since the information he wanted to send was on the lap top it will wait.
Dinner was at Lou and Alan's, a very warm and friendly couple, who live in a suburb of Cairns. Lou is a nurse/medical receptionist and amateur tri-athlete. Alan works for Qantus and is a competitive squash player. As of this morning they were expecting 8 people for dinner. It ended up that they hosted 13 people. It was a lovely dinner with great food. Pam is going to contact Lou to get a couple of the recipes she used. The group really interacted well. All told it was a lovely evening.
Cairns. Great Barrier Reef Excursion After a spectacular drive along the coast, reach Port Douglas to board a fast catamaran for a CRUISE to Australia 's famous Great Barrier Reef where you will disembark onto luxurious three-level pontoon. Enjoy coral viewing from the UNDERWATER OBSERVATORY or cruise among the coral gardens in a modern SUB-SEA VIEWER. Snorkeling gear is available and an informative talk by a marine biologist enhances your experience. A buffet lunch is also included. This evening join the optional outing to the home of a local Aussie family for a delicious meal. [B,L]
Off to an early start with breakfast again at the hotel. Roy is living it up so well on this trip that he tried the eggs Benedict this morning. (Not Bad!) On to a bus around 8:00 AM for an hour plus drive to Port Edward. Then on to a catamaran for an hour and half ride out to the floating station above Agincourt Reef. It was about 11:30 by the time we got there and we immediately took a ride on the semi-submersible. Actually, it is a boat with a glass hull on the bottom. You sit two to a seat and look out the windows on both sides. Roy snapped away knowing that he was going to be frustrated with the results. As you can see in the picture below, he was able to catch some of the shapes of the various corrals, but the detail and color were somewhat washed out by the water. We saw many varieties of beautiful coral, many colorful species of fish, anemones, urchins, etc. We even saw a large green sea turtle munching on a jelly fish.
<![if !vml]>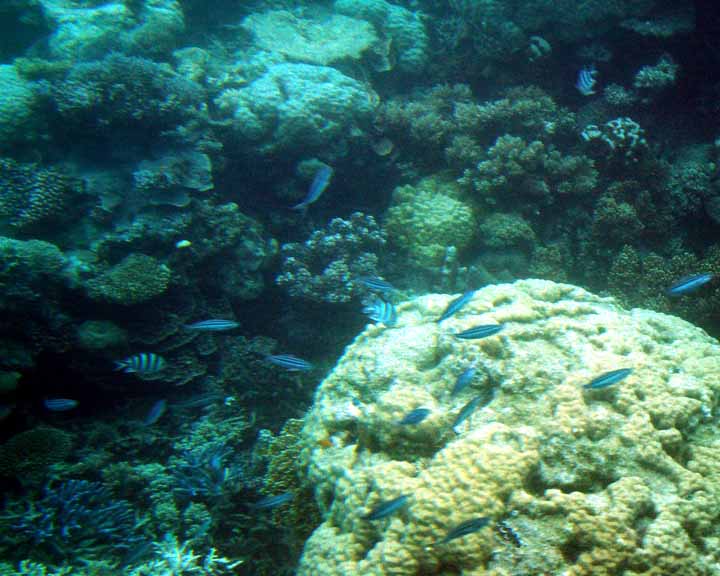 <![endif]>
Lunch was provided. It was a very tasty buffet. Many of our group took advantage of the opportunity to snorkel in the reef. For extra fees you could also scuba, snorkel with a marine biologist, or walk on the bottom with a Seven Leagues under the Sea type helmet. We didn't do any of those things but did snap pictures of those in our group doing some of those things, ride the semi-submersible again, and walk through an underwater viewing area. It's easy to see how this visit to the Great Barrier Reef would be the highlight of the trip for those fascinated by snorkeling, scuba, or aquatic things in general.
By the time we arrived back at the hotel it was after 6 PM. We opted for dinner in the hotel grill, but were too tired for much beyond that.
Day 9, Saturday, March 11, 2006
Cairns-Dawin. Morning at leisure in this tropical paradise. For a truly amazing rainforest experience consider our optional trip to Kuranda via the old scenic rail route. See magnificent scenery, lush rain forests, and twisting waterfalls from the comfort of a restored, historic mountain train. For the return journey, you may choose to take the Skyrail Rainforest Cableway. Or take a tour to Tjapulai Aboriginal Culture Park – a fascinating portrayal of Aboriginal culture, dance, and folklore. Then fly to the top end of Australia to Darwin, famous for its strategic importance during WWII. [B]
Not quite as early a start this morning. The bus picked us up for a ride to the scenic rail station at 9:00 AM. Just about everyone, including Karen, took the option of going by rail to Kuranda, returning by cable car, and visiting the Tjapukai Aboriginal Cultural Park. The ride up in the restored, historic mountain train was filled with one spectacular view after another. Of particular beauty was the Barron Falls. Roy once again took many pictures of the waterfalls - trying to capture the glory and power of the rushing water. The train passed through many bridges, tunnels, and turns on the way to the top. In fact, there was one turn that was 180o. In the second car, we could see the engine (below) and the back of the train.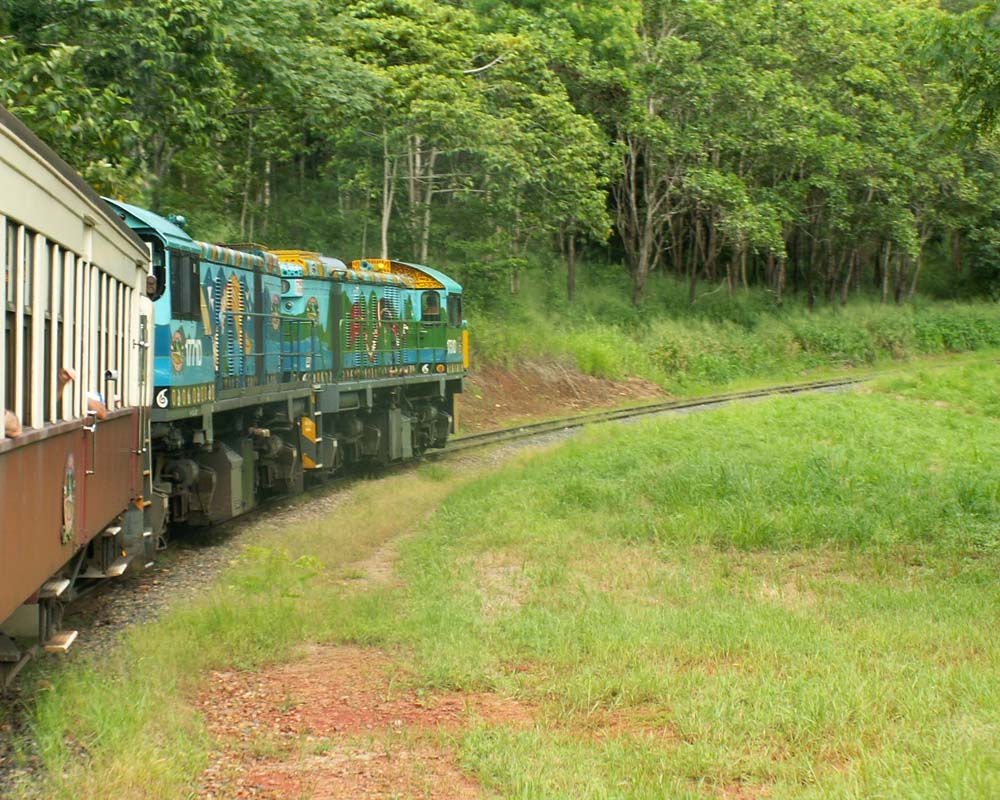 Once we reached the top, there was a little community that had many gift shops and tourist type attractions. We opted to go into a butterfly garden because Roy likes to photograph them. The staff had given the butterflies too much sugar or something. They were beautiful, but wouldn't land for long enough for Roy to get any good pictures. We had time for some homemade ice cream before starting down the mountain on the Skyrail Rainforest Cableway. The cableway is quite a trip. If you stayed on all the way down, it would take you 45 minutes, but there are two stops along the way. The picture below hopefully shows two things. First, it should give some idea of the view from the cableway. Second, it shows that it started to rain. (The audacity - who ever heard of rain in a rainforest when tourists are there?)
<![if !vml]>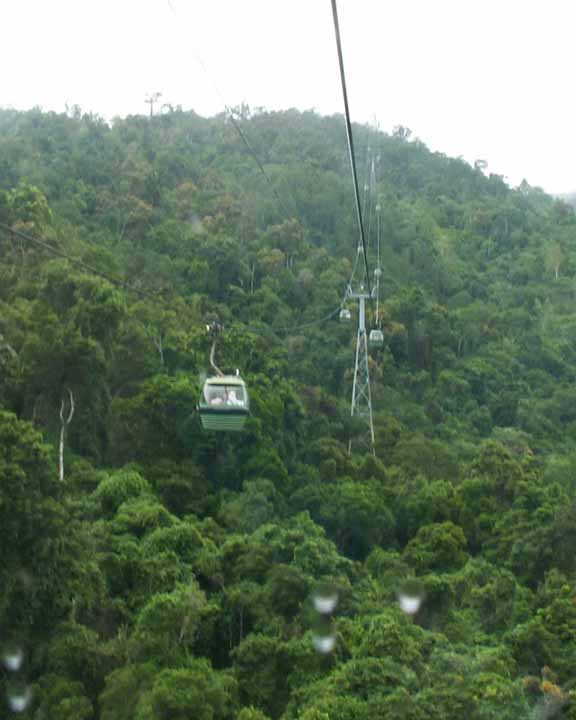 <![endif]>
The cable car down did provide another opportunity to photograph the falls. Roy still doesn't feel this comes close to showing the grandeur and power, but hopes it may give some idea.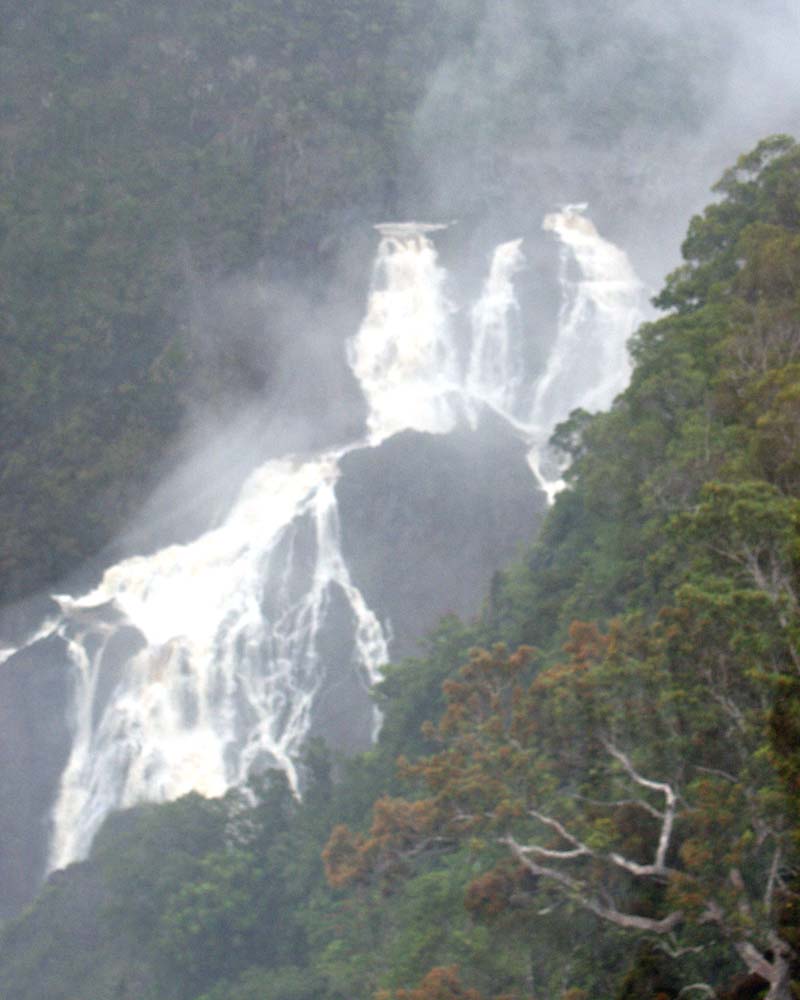 After the cable way, we walked about 100 yards to the entrance of the Tjapukai Aboriginal Cultural Center. There were numerous presentations. One depicting their dances and how to play the didgeridoo was particularly entertaining. We also enjoyed their creation story.
<![if !vml]>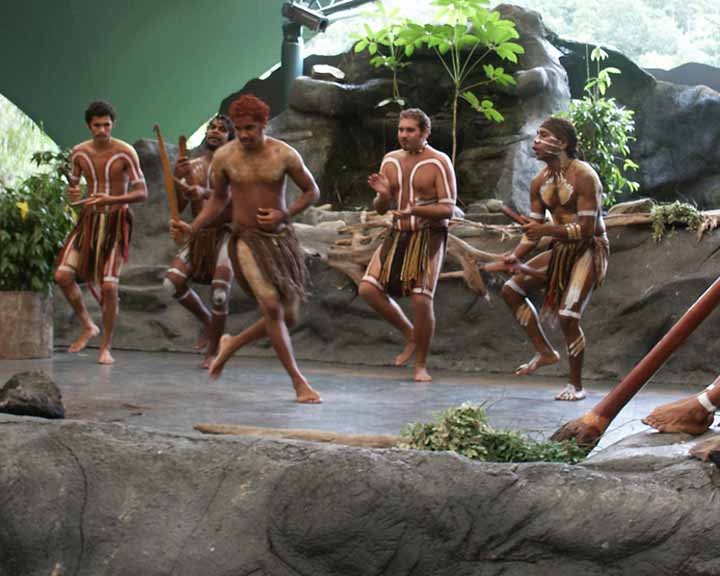 <![endif]>
It seems as if the Australian Aborigines were treated very similarly to our American Indians. The biggest difference is that it seemed to take Australia longer to catch up to the idea of the mistreatment. The Aborigines weren't allowed to vote until the 1970's
After our visit to the cultural center we boarded the bus to go to the airport. We realized that the only thing we had since breakfast was the ice cream. So, when we got to the airport we grabbed a sandwich. Of course, on the two hour flight to Darwin, Qantus served a hot meal. Even though we had just finished our sandwiches we both ate the meals. Once again, better food than we've had on airlines in coach for years. We arrived at the hotel in Darwin about 8 PM.
Day 10, Sunday, March 12, 2006
Darwin-Kakadu National Park Today you will see giant termite nests on the way to KAKADU NATIONAL PARK. Explore parts of nearly 7,300 square miles of unspoiled waterways with a rich heritage of Aboriginal culture. CRUISE waterways where you may view crocodiles, and walk ancient trails to see Aboriginal rock petroglyphs. An optional light-aircraft flight over the park should not be missed. Dinner tonight is at your hotel. Note: During the wet season, December through April it can be difficult to see crocodiles in the wild. [B,D]
We were on the bus at 8 in the morning. It rained on and off on the way to Kakadu National Park. On our journey, we saw wild Asian Water Buffalo. We were surprised to learn that there were no animals with hooves that are native to Australia. The Asian Water Buffalo was imported for some purpose that didn't work out. Instead of taking the buffalo back, they just let them run wild. They were protected and soon were causing all sorts of problems. They are now controlled through hunting. We also saw wild wallabies on the way.
We stopped at an interesting place for "morning tea." It had a few animals but appeared to us to have a very local flavor. We continued on to the national park which is huge and most of it is open only to the aborigines. We stopped for lunch at an information center that has a small museum. They were giving away a free paperback about the park. It appears to be a very complete description of the park and its inhabitants.
We then took an hour and a half boat tour of some of the waterways. It is wet season so we were told that it was unlikely that we would see any crocodiles. We spotted four different ones. The guide theorized that the cooler weather was allowing the crocs to continue hunting. While the picture below is not anywhere near as impressive as the one from Day 4. This one was taken in the wild. We learned another fact about the crocs that answered some of Roy's questions about what he had heard. While they are called saltwater crocodiles they can live in fresh or saltwater. In fact, there are many saltwater crocodiles that have never been in saltwater.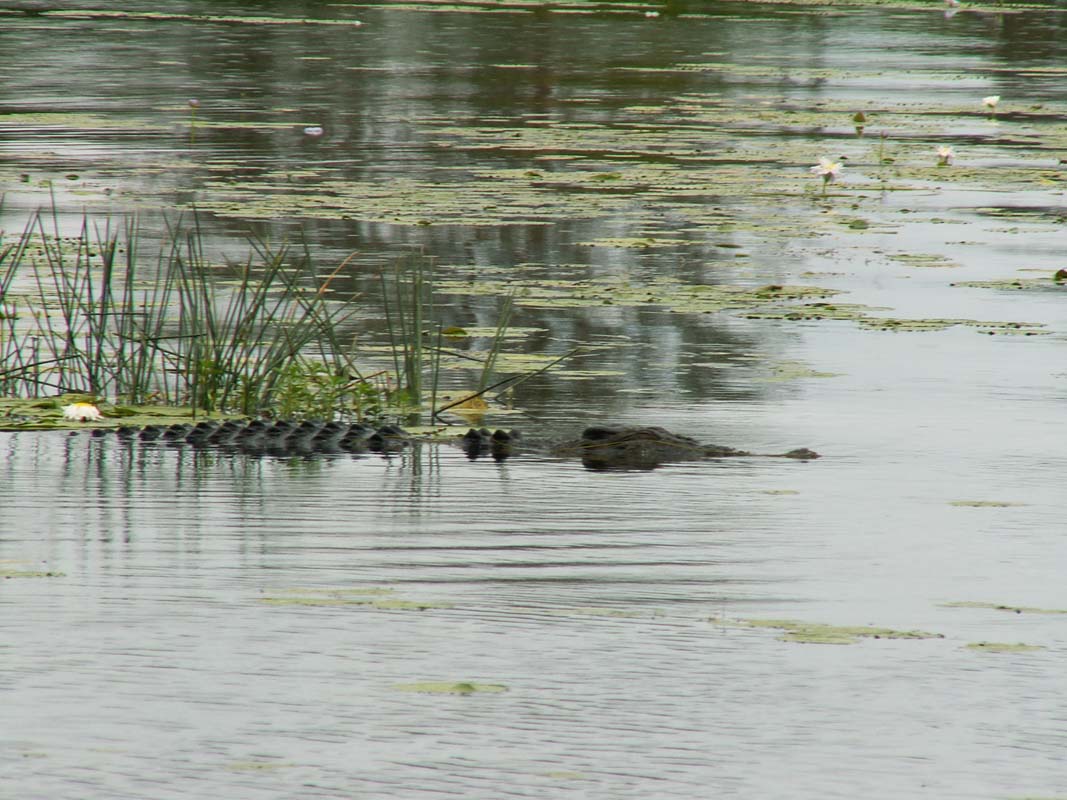 The crocs were nifty to see, but the other parts of the river were equally, if not more, impressive. The simple beauty of the water and vegetation was a joy to see. Naturally, many pictures were taken. None could really do justice to the real beauty of the area.
Some of the bird life was particularly interesting. We were particularly taken with a father Jesus Bird (Jacana) and his four chicks. (The picture below only shows the dad and one of the chicks.) The reason they are called Jesus Birds is that they look like they are walking on water. Actually, they are very light birds with big feet and are really walking on the vegetation floating on the water. The mother bird leaves after laying the eggs; the father incubates the eggs and takes care of the chicks. If he senses danger, the chicks take shelter under his wings.
<![if !vml]>
<![endif]>
We were also treated to up close views of a pair of Darters that was impressive. In the picture below the whiter bird actually sitting on the nest is the female,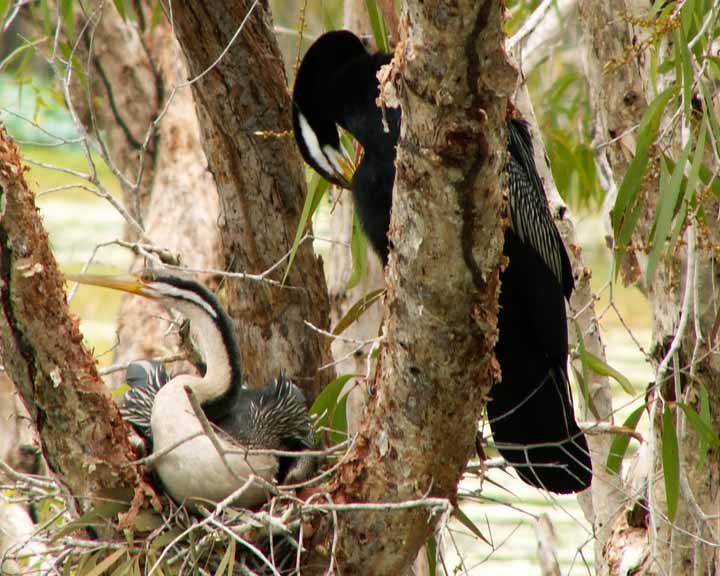 We also saw the eagles shown below in their nest as well; however this picture shows the birds much better than the ones we took of them in their nest.
<![if !vml]>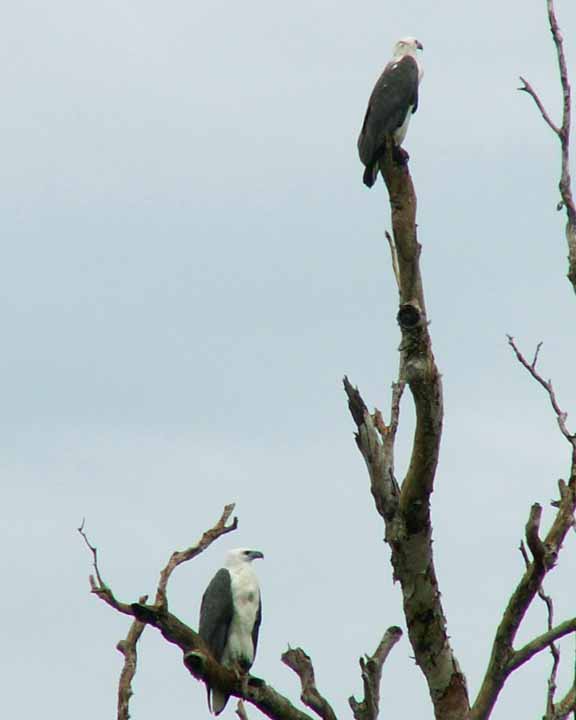 <![endif]>
Once the tour on the river was concluded we drove to the site of some petroglyphs. The scenery was again magnificent. Having seen some petroglyphs last year in Mexico, Roy was impressed with some of the vivid colors and detail in some of these.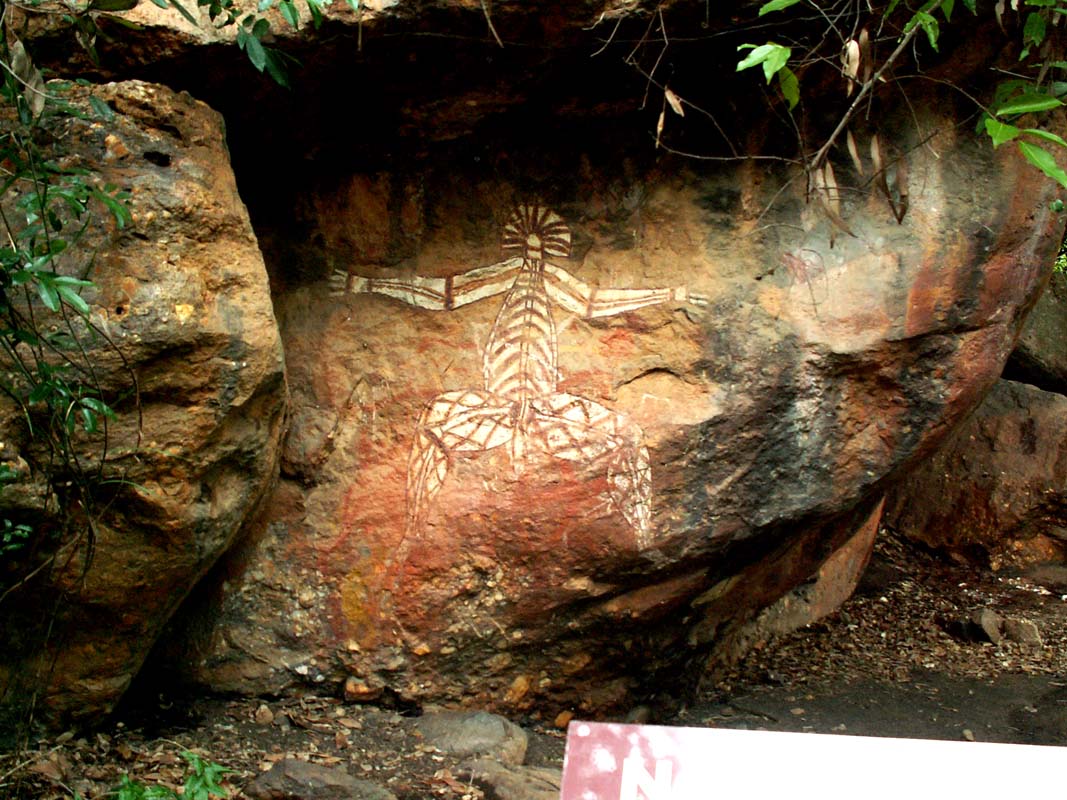 After viewing many petroglyphs, we were bused to our hotel. Something was screwed up with the hotel we were supposed to be staying. Instead we were staying in the only other one in town. It certainly wasn't to the standards of the Hiltons we've been staying in, but we've stayed in a lot worse motels in the states. Dinner was at the hotel/motel. That was good since it wasn't in a town. As a matter of fact, we didn't see a real town since we left Darwin.
Day 11, Monday, March 13, 2006
Kakadu National Park-Darwin Return to Darwin for sightseeing of this important topical northern capital. See the elegant colonial architecture of the city's historic buildings that survived the devastation of Cyclone Tracy in 1974. Visit the splendid BOTANIC GARDENS and beautiful East Point, an area rich in WWII memorabilia. Also visit the ART GALLERY to view fine collections of Aboriginal art. [B]
We got to sleep in late this morning - we didn't have to be on the bus until 8:30. While we were waiting for the bus, a wild wallaby came wandering by. Unfortunately, we had just come from our room and it was very hot and humid outside. When Roy pulled out his camera to take a picture of the wallaby in the parking lot, the lens fogged up and by the time the lens cleared the wallaby has hopped away.
Once on the bus, we had a very nice surprise. The manager of the hotel got on board and thanked us for staying at his facility. He then said that he had a thank you gift for one of us. The driver had to choose a room number, and he picked ours. We won a small decorated boomerang made in Australia and a colorful cloth map with picture highlights of the Northern Territory.
Then came the bus ride back to Darwin. We stopped again at the Bark Hut where we stopped yesterday for "morning tea." Karen provided more insights into Australian life on the way back to Darwin. It seems that taxes are a little higher than the U.S., but the medicare/medicaid is more universal. Their medical program sounds a lot likes Canada's where everything is covered, but you don't have a choice of which doctor you'll see or how soon things will be done. If people want more coverage than that, they chose to have insurance, but it is getting so costly that many have dropped out of it. Roy was particularly disappointed to hear from Karen that she believed Australia was perhaps more litigious than the U.S.
As we pulled into Darwin about 11:30, we stopped at a local museum where we had lunch and wandered through the exhibits for a while. They had a very nice display of Aboriginal art as well as other displays showing the animal life of Australia.
We then took a drive around Darwin. It's a very interesting town. It is located on a harbor that is significantly larger than Sydney's; however not as deep. It was bombed by the Japanese in WWII and almost completely destroyed by a cyclone (hurricane) in 1974. (The museum had a nice display relating to the cyclone.) Darwin has the longest runway in the Southern Hemisphere (5 miles), and it is an alternate runway for the U.S. space shuttles should they ever need to land in this area. Darwin has beautiful beaches, but they can't be used for swimming, wading, or any of the activities normally associated with beaches. The reason: jellyfish and crocodiles. There were over 200 crocs caught in the harbor last year and relocated.
The last stop before the hotel was the botanical garden. Unfortunately it was raining lightly by the time we got there so we didn't spend too much time. It is a beautiful place, and, of course, where there is interesting vegetation, Roy will try to capture it with the camera. Below are pictures of a cannon ball tree and a flower that Roy thought was unique and pretty.
<![if !vml]>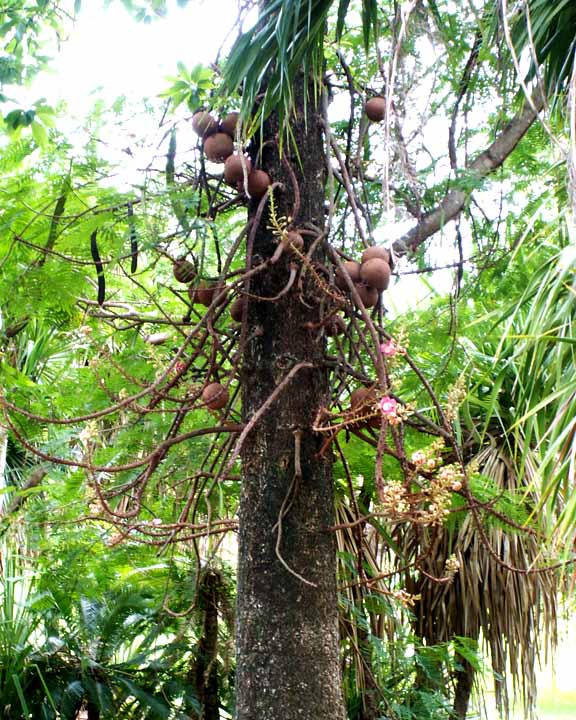 <![endif]>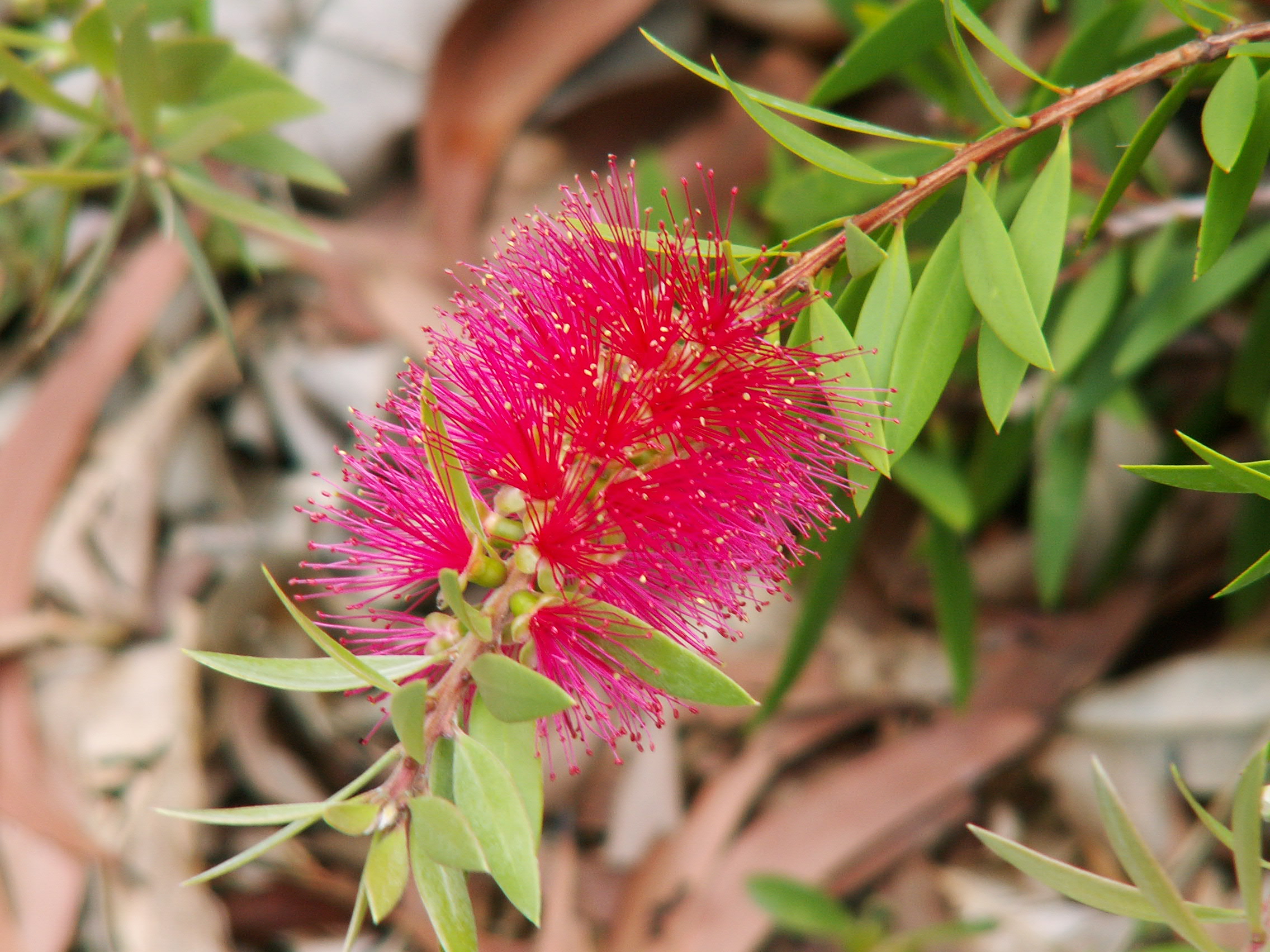 Dinner tonight was a group affair paid for, as an apology, by the hotel that messed up last night's room reservations. It was very good. The apology was accepted on our part.
Day 12, Tuesday, March 14, 2006
Darwin-Alice Springs Fly to Alice Springs in the Outback. Here visit the OLD TELEGRAPH STATION to discover how the locals live in this remote area and the history of how the early settlers developed communication. It's onto Anzac Hill, a tribute to Australia and New Zealand's war heroes. Then visit the ROYAL FLYING DOCTOR SERVICE to appreciate how medical service is provided to those living in remoter regions. A highlight is the opportunity to ride a camel, the transport of the desert, at the CAMEL FARM. For a truly unique Aussie experience, this evening consider an optional bush night out that features a meal of typical campfire fare, fascinating tales of the Outback, and Aboriginal folklore. [B]
We were up early this morning. The bus left for the airport at 5:30 AM. There was another pleasant flight on Qantus, and we landed in Alice Springs around 9:00 AM. Then it was on to a camel farm. Two things impressed us almost immediately. First was the change in climate. We had gone from hot moist to hot dry. We were far more comfortable in the hot dry. The change in the scenery also impressed us. The lush greens were replaced with rugged terrain. While it was completely different it was equally, if not more, lovely. (Roy's opinion - Pam likes it, too, but appreciates the lush rain forest more.)
<![if !vml]>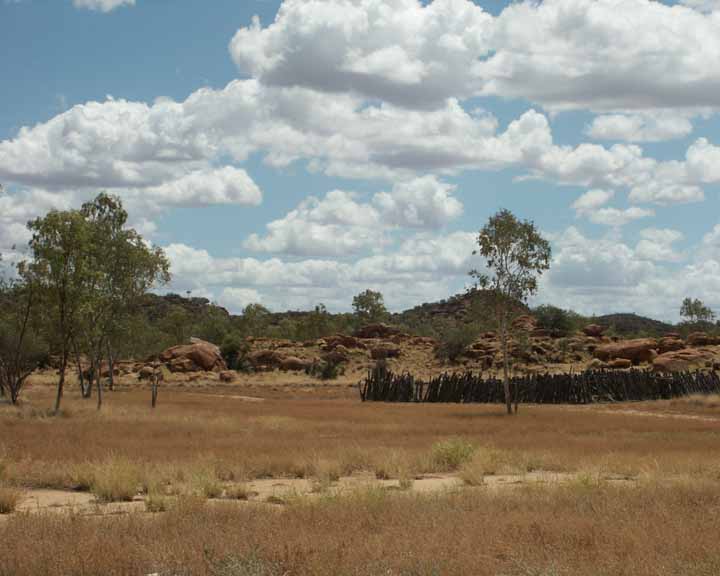 <![endif]>
The camel farm was a hoot; we all had the opportunity to take a ride on a camel. Most of us took the opportunity and found that it wasn't a very comfortable ride; however, maybe it was because our bottoms were more accustomed to coach and airline seats. They told us about the camels in Australia, and we were surprised to learn that there were more wild dromedary camels in Australia than anyplace in the world. Once again, it was a case that the camels are not native, but some were left or got away and thrived.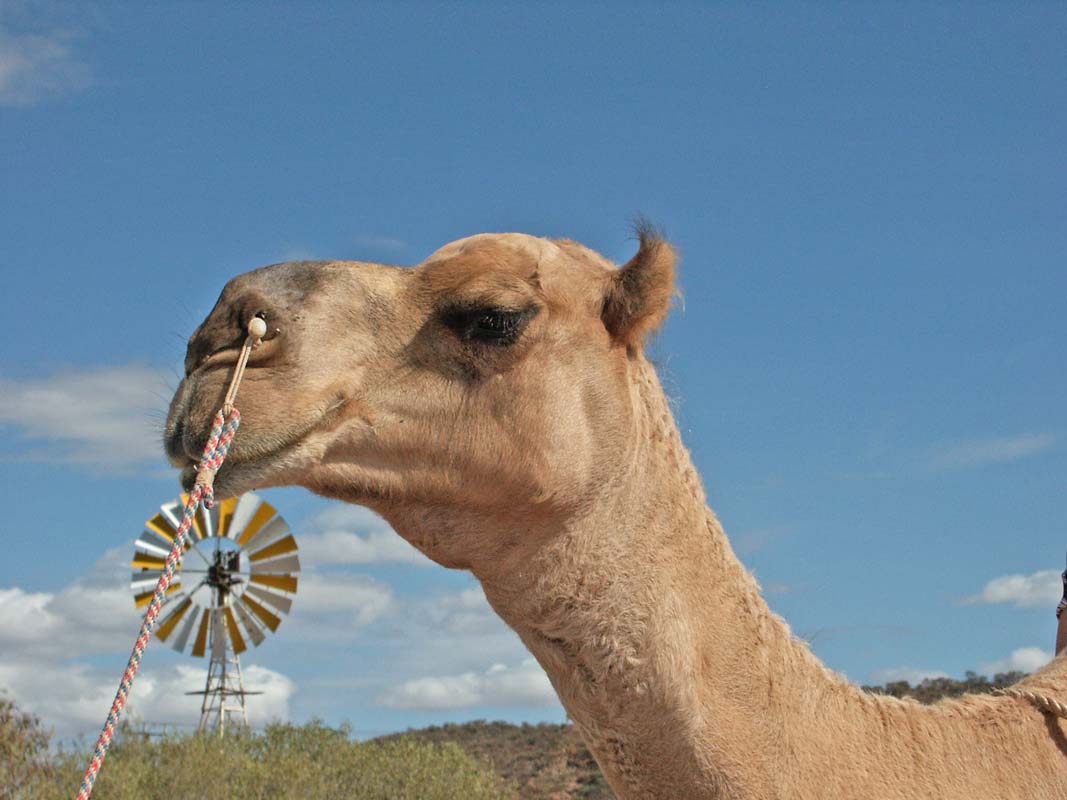 From the camels we went to visit the Old Telegraph Station which was the original Alice Springs. There was beautiful scenery around it and another sad, sad story about the treatment of the aborigines. They told of half caste children being taken from their mothers and brought here to be raised "properly." Some Aborigine mothers would sneak up to the dormitory windows at night to try to see their children. Many never knew where their children were taken.
<![if !vml]>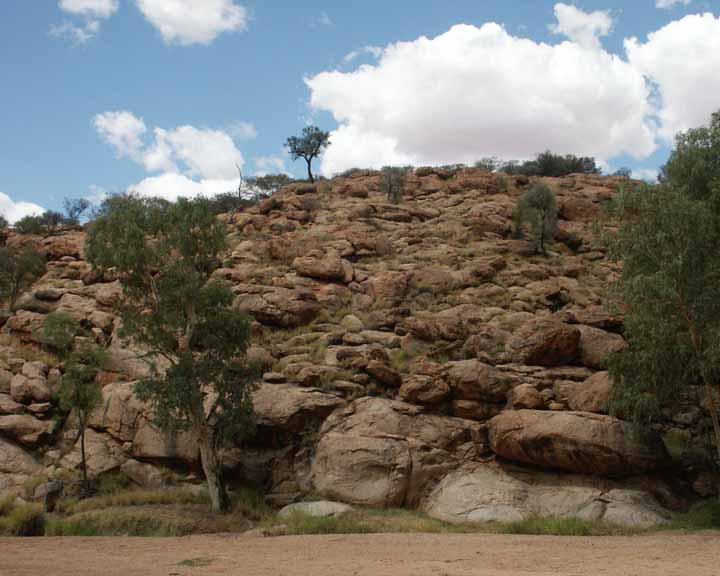 <![endif]>
Then it was on to the Royal Flying Doctor Service. It is a very impressive operation. Basically, it is the health care system of the people living in the remote outback. It was started by a Presbyterian minister and, while they get grant money from the government, is a non-profit organization.
We ate lunch at a local mall. Karen had told us of a local book store that sold mainly books on Australia. (We'd noticed previously in the cities here they have specialty book stores. This one was on Australia, but we've also seen one dealing with nautical maps and others devoted to other specific topics.) After lunch it was on to the hotel. While all of the hotels we stayed at were nice, this one was particularly lovely. We opted to catch up with laundry in the afternoon prior to our outback barbeque. The barbeque was outstanding. They drove us out of town to a location and gave us a demonstration of boomerang throwing, provided drinks, talked about the size and life on a cattle stations (some cattle stations are bigger than some of our states), told us more about aboriginal life, and then fed us one of the best tasting meals we've had. All of this was outside. After the meal there was a sing-a-long and they showed us some of the constellations in the southern hemisphere skies. Words aren't adequate to describe how great everything was, but topping it off was the scenery. The picture below was taken from our dinner table. As the sun set these cliffs/rocks changed colors and one minute was beautiful than the next.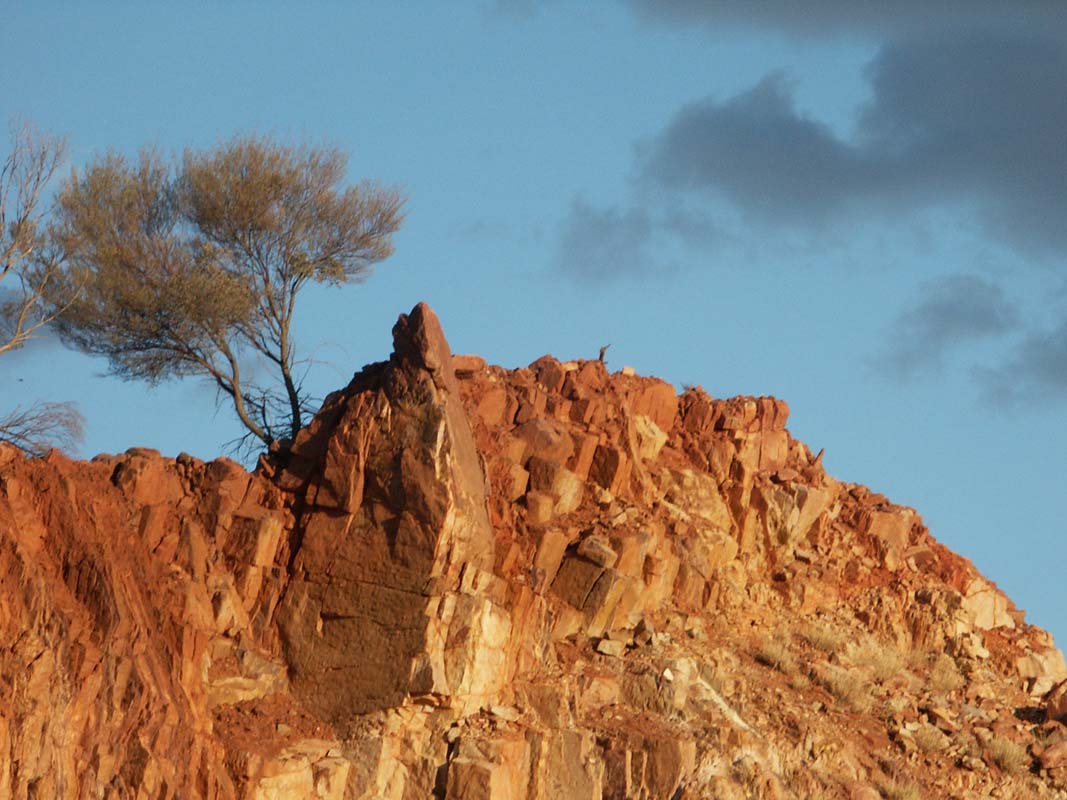 Day 13, Wednesday, March 15, 2006
Alice Springs-Ayers Rock A morning visit to experience an Aboriginal "DREAMTIME" TOUR and learn more about this important native culture from your own local guide before flying to Ayers Rock. Afternoon sightseeing travels past Uluru (Ayers Rock) to the magnificent Kata Tjuta (the Olgas, a geological splendor of some 30 brilliant monoliths. There is a time for a walk to the Olga Gorge before returning to "Sunset Strip" to stop for a drink as you witness the changing colors of the Rock. Tonight why not join the totally unique "Sounds of Silence" optional dinner? [B]
Another glorious and busy day Down Under. After breakfast we boarded the bus in Alice Springs and made a brief stop at an outlook over the city. It was a war memorial to the men and women of the Australia and New Zealand who had died in the service of their country. It was a wonderful tribute and provided a great overview of the city.
From there we went to an area close to airport for more exposure to the aboriginal culture. We were shown a map where the different groups lived. Similar to the American Indians of different tribes, the various Aborigine groups spoke different languages; therefore, couldn't communicate with one another. While they didn't have the same language, it appears they have many of the same beliefs and values. In particular, it was interesting to learn that they put no value on material things. Our driver told us a story about his wife who was selling an Aboriginal woman's art on eBay. She told her husband to take $2000 to the artist. He did and, at the artist's request, drove her around to see some of her relatives. By the time they got back to the artist's home, he thought she maybe had $200 left. She had given the rest of it away.
Between talks about Aboriginal culture, we had the opportunity to purchase paintings from local women. Another interesting aspect of Aboriginal beliefs came from the explanation of how to go about purchasing a piece. The Aborigines don't usually like to have their pictures taken (the reason for that is too complicated to go into here), but they are willing and it is recommended to photograph the artist and the art that you purchase. The artist is okay with this because they believe the photograph is really of their art not them. There also doesn't seem to be the hesitancy for little kids to have their picture taken. The little girl in the picture below is obviously not the artist, but seemed to be very happy to be in pictures.
<![if !vml]>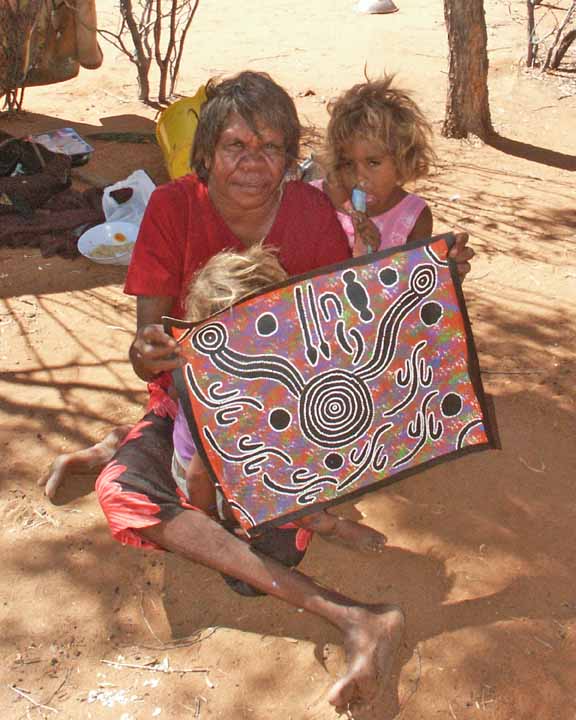 <![endif]>
After that we learned about "tucker" - outback food. There was the opportunity to sample cooked kangaroo tail and live grubs. Roy passed on both. Pam said the kangaroo tail tasted like pork, but passed on the grubs. (She prefers not having to chase her food.) In fact, no one in our group sampled the grubs.
After that it was on to the plane again for our flight to Uluru (Ayres Rock). On the flight we were told that the temperature was 40 degrees Celsius. We struggled with converting it. Roy remembered the formula, but didn't want to pull out his pad of paper to do the math. We concluded it was going to be hot. (Having had the opportunity to be at the computer, Roy calculated that 40 degrees Celsius is 104 degrees Fahrenheit) Surprisingly, the 40 degrees was not all that bad. First, as our friends from Arizona keep telling us, it is dry heat. Second, there was quite a breeze blowing.
That helped with another problem as well as the heat. In both Alice Springs and by Uluru there are flies. These flies aren't really the nasty biting kind like we have up in Wisconsin. But, what they lack in viciousness they make up in numbers. Most of the people on the tour, including Roy and Pam, ended up buying nets to put over our heads and faces. It was not much of a fashion statement, but it was certainly an aid in keeping the flies from being overwhelmingly bothersome.
After checking into the hotel we drove out to Kata Tjuta (The Olgas). We caught glimpses of Uluru on the way out to Kata Tjuta and again while there.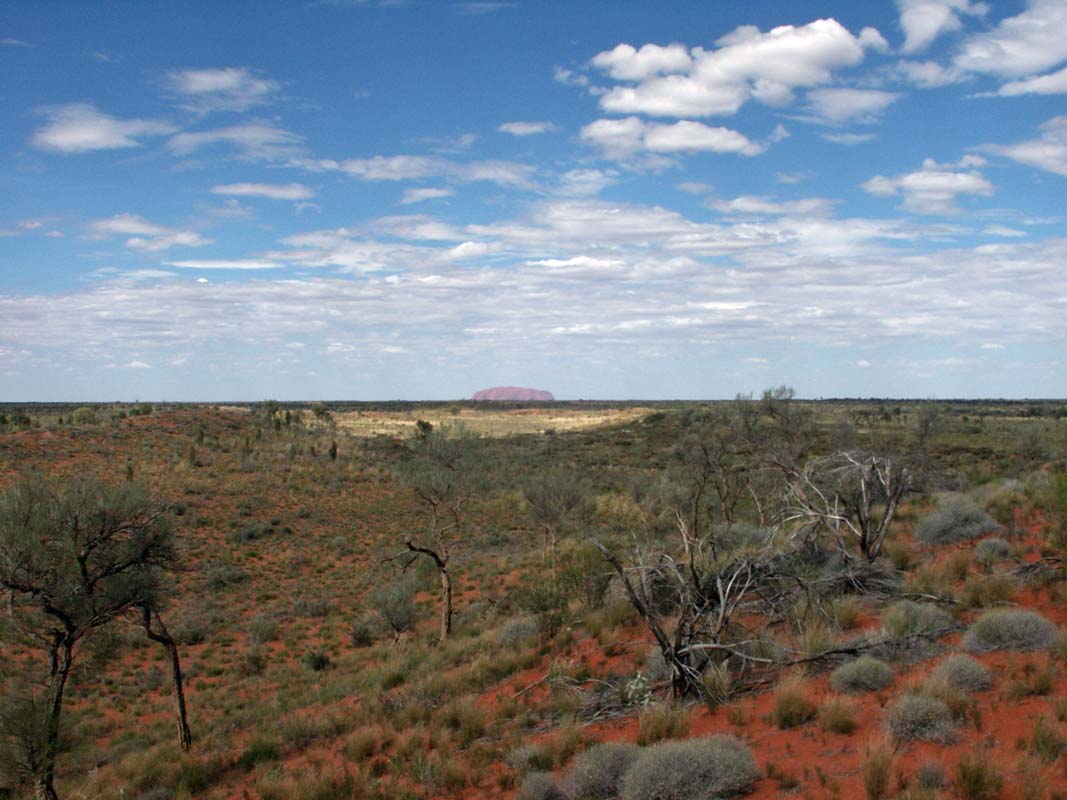 Kata Tjuta was certainly impressive, but there was something almost magical about Uluru. After going to the observation area for Kata Tjuta, we drove around Uluru. We stopped a couple of times to get up close and personal. There are some petroglyphs that we were able to see, but, in Roy's opinion, they were not as vivid as some of those we saw at Kakadu.
A tradition has evolved for tourists of watching sunrise and sunset at Uluru. We don't know how sunrise is done, but sunset observation is celebrated with champagne and "nibbles." There was plenty of champagne and nibbles for all. Orange juice, pop, and water were also available. Pam thought it was really cool partaking in this tradition. We got to the place where we going to watch the sunset about an hour before actual sunset. Karen suggested that we take a picture every 15 minutes to so that we could record the color changes. Of course, for Roy, 15 minutes was far too long between shots. The problem with taking so many pictures of the same beautiful thing is that we had to decide which to show. Below is the one that Roy likes best taken well before sunset.
<![if !vml]>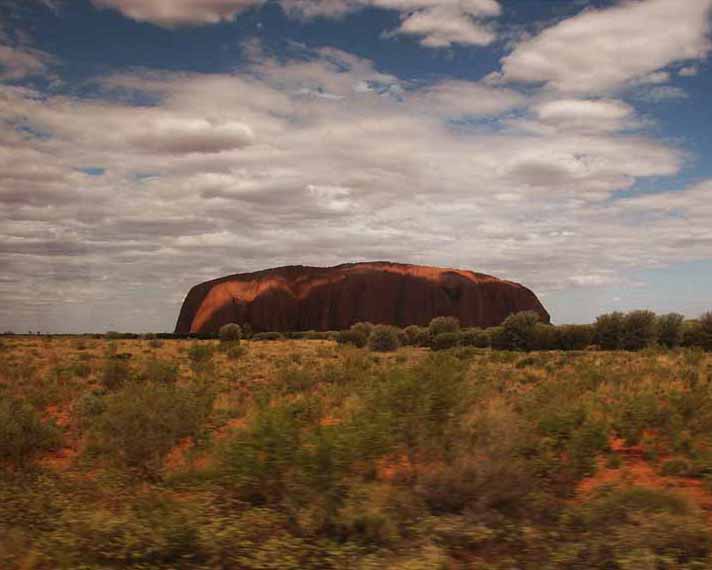 <![endif]>
After sunset, it was on to the bus and back to the hotel. We were quite tired and didn't feel like going out for supper, so we ordered room service. (It's the first time we have done that as a couple.)
Day 14, Thursday, March 16, 2006
Ayers Rock-Alice Springs-The Ghan Train An early morning TOUR around the base of Ayers Rock before flying to Alice Springs where a highlight of your vacation begins with a train journey on The Ghan, offering a fascinating perspective of the Outback. [B,D]
We did not have the early morning tour around Uluru as we had done that yesterday .Once again Qantus impressed us. It was an hour flight and they served us a light breakfast/snack and beverage. The flight attendants were hustling, but they really didn't make us feel rushed.
We did have some time between the flight landing and the time to board the train. Karen decided to drop us at the local mall to pick up some lunch. She suggested either eating it there or getting "take away" and eating on the train. Roy was pleased we were stopping there because he remembered that there was an internet cafe in the mall that accepted laptops. Unfortunately, it was a different mall in a different town. (It's also getting hard to remember hotel room numbers.) So, we did souvenir shopping.
Then it was on to the train station where the picked up "The Ghan" (rhymes with can). It is named in honor of the men and their camels from Afghanistan that helped build the initial railroad. We thought it was interesting that unlike what happened with the Chinese that were imported to help build our railroads, almost all of the Afghans went home when the railroad was completed.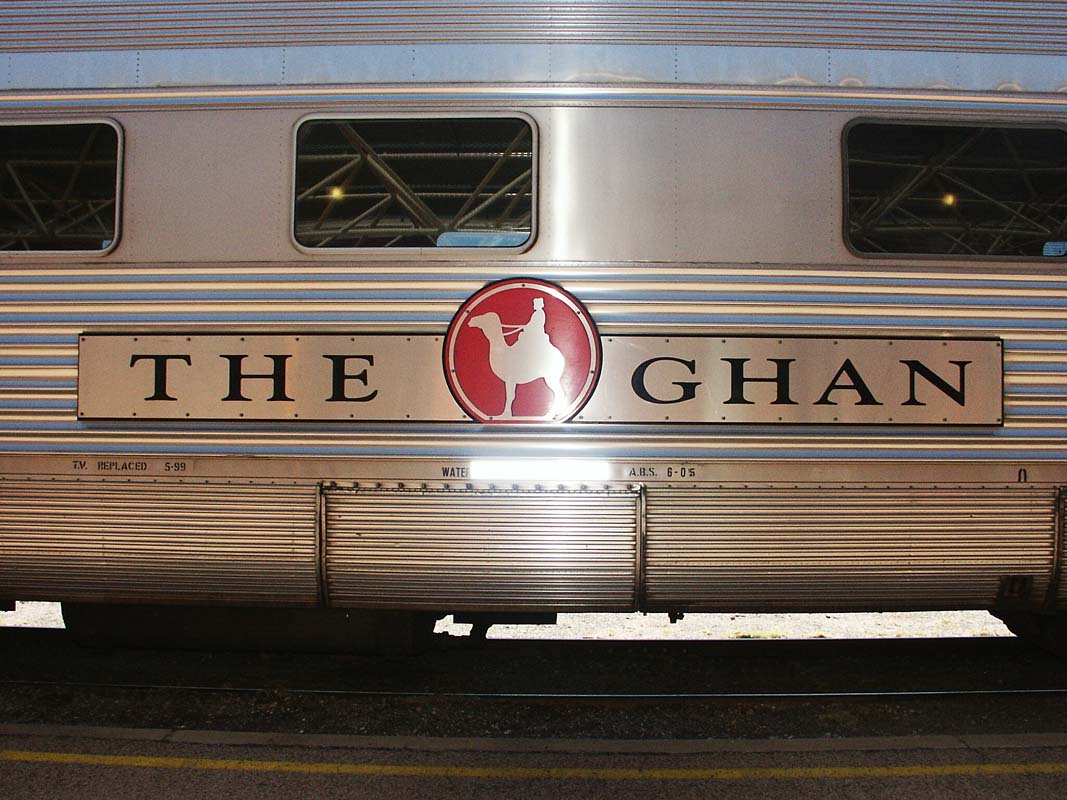 As we had never been on a train overnight, we weren't sure what to expect. We were pleased to find that our little compartment did have its own bathroom including a shower. (Because of the coziness of the arrangement and the rocking of the train while in motion, we decided not to use the shower.)
The scenery on the first part of the trip had a raw beauty but became rather redundant. Roy took a nap in the coach. When he woke up and looked out the window, he asked Pam if the train had been moving.
<![if !vml]>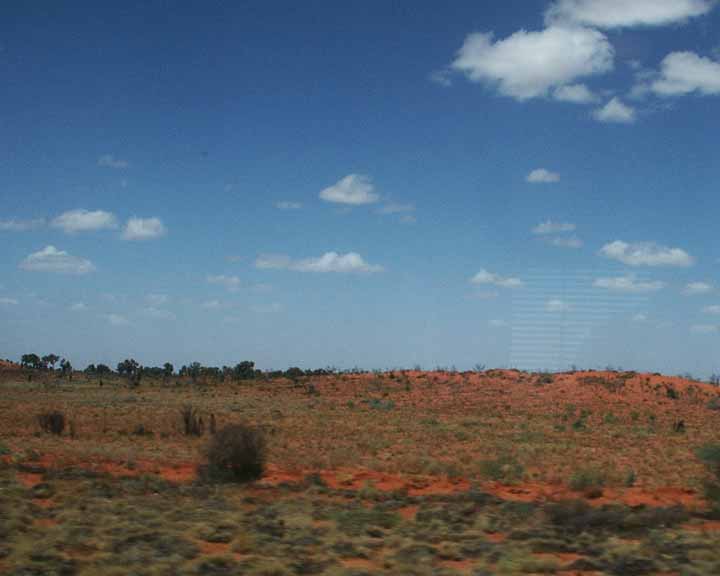 <![endif]>
We had dinner at the late seating (of two). There was a choice of two entrees (appetizers) and three main courses. The food was very good.
Day 15, Friday, March 17, 2006
Adelaide Arrive in Adelaide, for a city tour along the wide tree-lined streets and well-manicured. See Ayers House, the exotic botanic gardens, and the Festival Center overlooking the Torrens River. Finish with a visit to the NATIONAL WINE CENTER, providing a wonderful opportunity to sample some award winning wines, and learn hands-on why wine making has become one of Australia's fastest growing industries. [B]
We awoke about 6 AM, and then had a nice breakfast on The Gahn. It was very cool sitting in a railroad dining car watching the sun rise.
In all honesty, neither of us slept that well on the train. It was rockier than I expected. We heard comments from people who were on the train all the way from Darwin that the first night was a lot smoother. We arrived in Adelaide about 9:30 and in took about a half hour for the driver and Karen to get our luggage straightened away.
It appeared that we weren't the only one who had trouble sleeping. As we were pulling away from the train station, Karen commented on how special the train ride was and then asked the group how many were glad that they did it. It appeared that everyone was glad they did it. Then she followed it up by asking how many would want to do it again. The response this time once again appeared to be unanimous that no one wanted to do it again.
We did a short tour of the city stopping at a Japanese Garden and outlook giving an overview of the city. Adelaide appears to be a very clean city with numerous parks around the center of town. We checked into the hotel (another luxurious room) around 1 PM. We went to a local mall within a block from the hotel and grabbed a Subway for lunch and then went back to the room for a time while Roy took a nap and Pam read. After that we wandered to another mall that was about 4 blocks away. While the mall we ate lunch in reminded us of Pikes Market in that there were all sorts of fresh foods and flowers, the one we walked later was like nothing we had ever seen. It seemed to us that there were more stores than at Woodfield.
We ate dinner at a little Italian place. Roy had veal Parmigianino and Pam had chicken Parmigianino. It is the first time either of us have had it over french fries rather than noodles. (We think we'll stay with the noodles.)
Day 16, Saturday, March 18, 2006
Adelaide The day is at leisure. Choose from a great selection of optional excursion available: a visit to well-known Australian wineries in the Barossa Valley, or a full-day trip to Kangaroo Island, one of the world's last unspoiled habitats. [B]
Today turned out to be our first major disappointment with the trip. We had signed up for a tour of Kangaroo Island. The trip required being picked up early from the hotel, being driven to a transfer point, being driven about 2 hours more in a bus, then taking a 45 minute ferry ride to the island, taking the tour, and then doing the same process in reverse for the return trip. The estimated time of return was 10:30 PM. Everything happened exactly as planned except the things that we saw on the tour were not the things listed in the description. What made it even more frustrating was that some of the people who signed up from our Globus tour for the same tour as we did got the tour of the island that was as described. To put it simply, Greyline/Sea Link put us and another couple on the wrong tour. We were very disappointed that we missed out on what we thought we would see and do.
We did see how honey is made (processed - the bees do the making) and then had lunch. We then went to another wild life park. As Kangaroo Island is part of Australia, they had koalas and Roy found it necessary to try to capture their cuteness. We did get to pat these little darlings and also feed kangaroos that are indigenous to Kangaroo Island. The bus driver commented that there are too many koalas on the island and suggested that each tourist take one home. That would help the overpopulation of koalas!
<![if !vml]>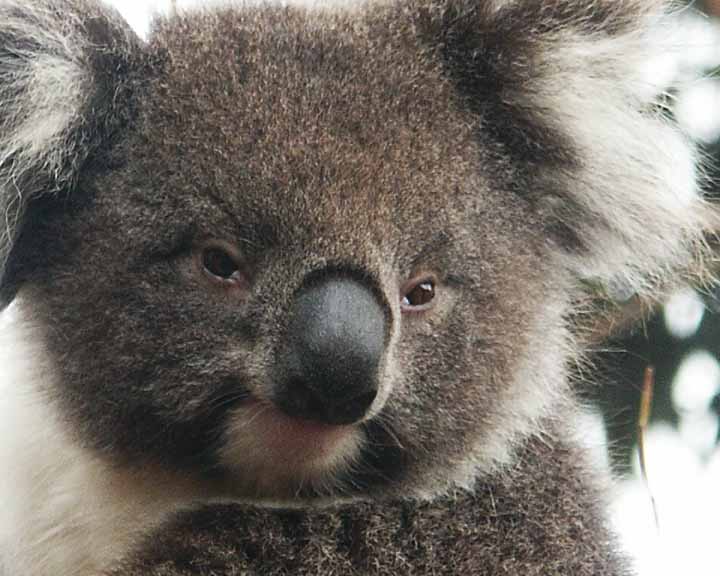 <![endif]>
After the wild life park, it was to a beach where we were told about the Australian Sea Lions (they are really seals). This was the one thing that we did that was on the tour we were supposed to have been taking and it was outstanding. There were lots of sea lions. While most of them were soaking up the rays, many of the others were doing enough to keep the viewing interesting and the picture taking worth while. The pup shown below captured our attention and hearts. He was very energetic, curious and fearless. He got to within about 20 feet of our group and was studying us as hard as we were studying him/her. Roy took a ton of pictures of our little friend, so it shouldn't be a surprise if the picture below is replaced at some point with a collage of our little buddy. (Or, we may end up with this picture and a collage.)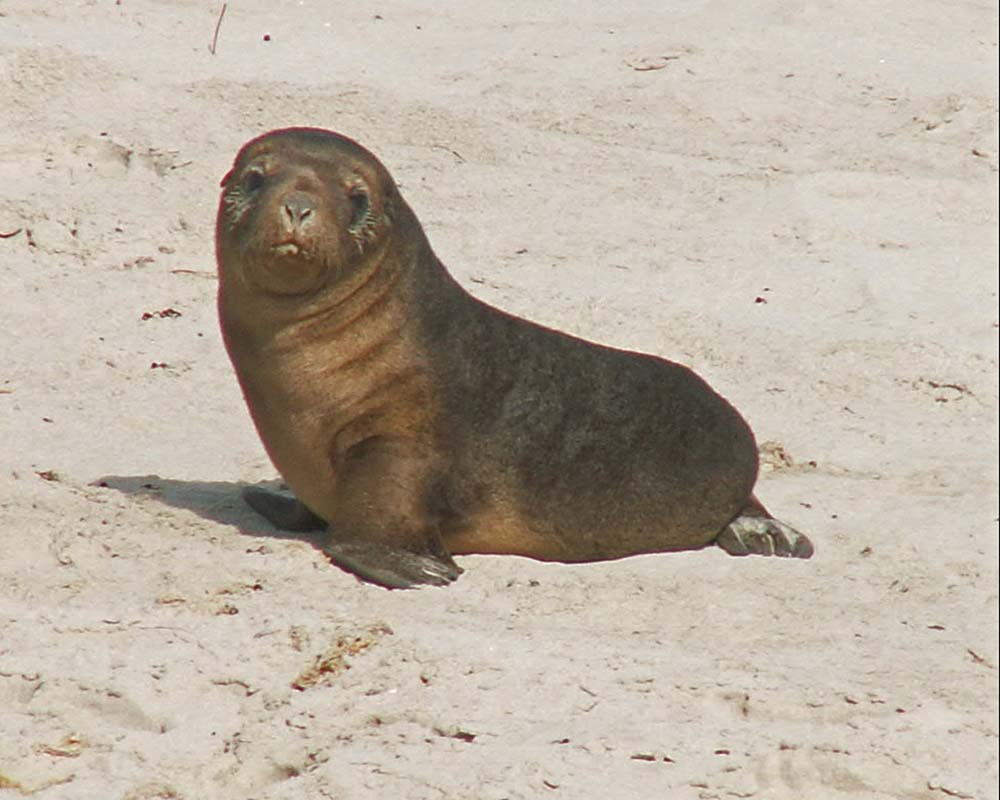 <![if !vml]>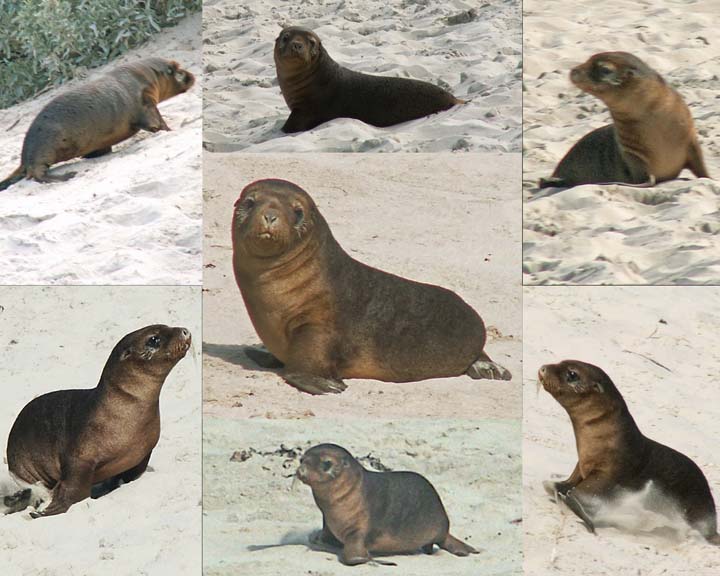 <![endif]>
After that it was listening to a gentleman talk about pelicans and watch him feed them. Then, it was time to start the trek back to the hotel.
Day 17, Sunday, March 19, 2006
Adelaide-Melbourne Today fly to Melbourne, Australia's second largest city. Today's tour includes landmarks such as Parliament House and the Shrine of Remembrance, a tribute to Australia's war heroes. Visit beautiful FITZROY GARDENS and then drive past the lush Royal Botanical Gardens. You'll soon discover the differing architectural influences of this city as you see the Victorian Arts Centre and other buildings of significance. Later this afternoon, you can join the highly recommended optional excursion to see a penguin parade. [B]
Another pleasant flight with Qantus this morning. When we arrived in Melbourne, a challenge was added to our touring of the city. The Commonwealth Games are being held at this time. To make things even more challenging for Karen and the driver, today was the day of the marathon. Naturally, it was run on the city streets. We did spend time looking at and photographing St. Patrick's Cathedral, a very impressive building and garden. It was only about two blocks from the Fitzroy Gardens, which were lovely and also is the site of the restored home of Captain James Cook. We had lunch at the Royal Botanical Gardens before going to our hotel. The room again was quite luxurious. We commented to each other that it was almost a shame how grand these rooms are when we spend so little time in them.
We had a little time to rest before we were picked up for the optional tour to see the fairy penguin parade. This was something Roy had heard of when he was in Melbourne for business. Once he told Pam about it, it became "a must" for this trip. It requires about a 2 hour drive southeast of Melbourne to get to the National Preserve on Philip Island where every night around 8 o'clock (dark) the penguins that have been at sea all day feeding come back to their nests. Usually, it starts with a few and then hundreds of them come.
Unfortunately, it was molting season so we did not get to see the hundreds come out, but we did see a few.
We had been given the suggestion to either sit up front or in the very back. Since we weren't among the first to get there, the front was out of the question. So, we opted for the back. As we waited for the penguins, we started hearing strange trilling sounds. They grew louder and more "voices" joined in. When a ranger walked by, we asked her about it. She told us that it was penguins making their happy night talk. It was wild!!
The time came for us to head back to the bus along the boardwalk that had been built by the park with soft lighting on the outside. We were surprised to see many, many of the little friends (these penguins are only about a foot tall) out of their nests/burrows. Some were just standing, others were walking right beside the boardwalk, and the penguin talking was even louder than when we were waiting for them. It was altogether cool!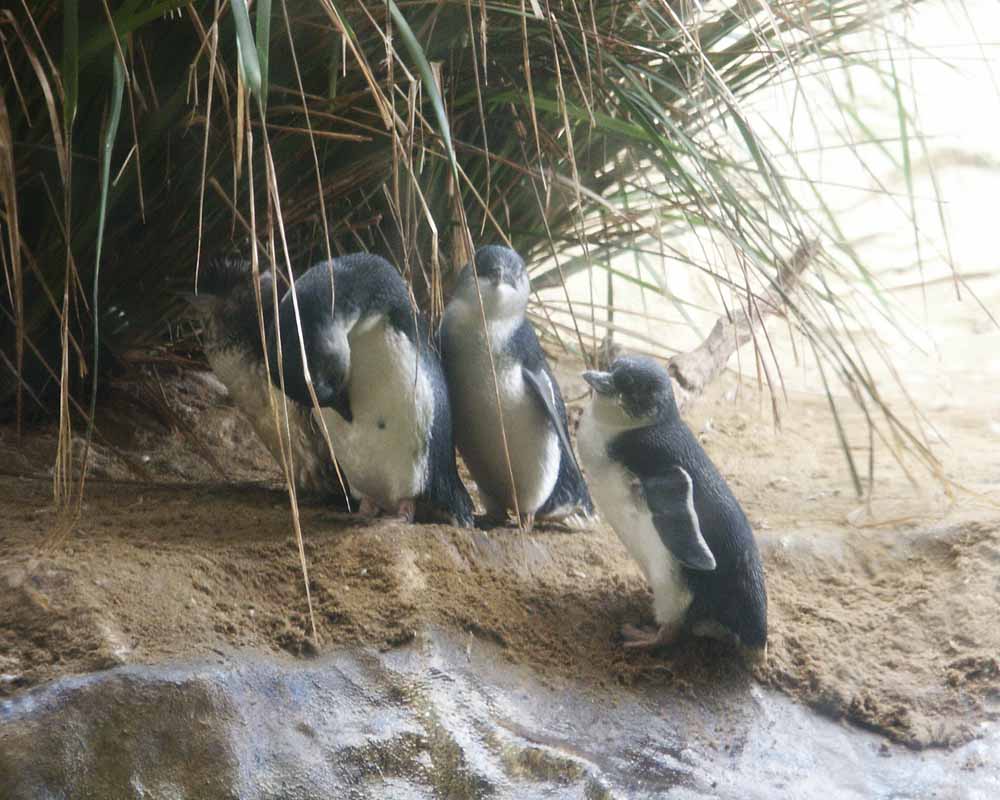 This photo is a cheat - it was taken at the aquarium in Sydney. Photography of any kind is not allowed at the penguin park and we were pleased to see it being enforced. Two suggestions if you are animal people like us and decide to go to the park (which we recommend): First, remember this is wild life. It is not a scripted show, so if the hundreds don't show up on time don't be too disappointed. Second, bring warm clothes. Even though it was a beautiful, warm fall day in town, at the park it was so cold that we ended up getting a fleece top for Pam.
Day 18, Monday, March 20, 2006
Melbourne Full day for you to explore on your own. Perhaps join our optional full day tour that takes in views of Australia's most breathtaking and unspoiled coastal scenery on the Great Ocean Road, including unusual rock formations such as the Twelve Apostles adorning the shoreline. Or, for a unique dining experience, join an optional outing on board a historic tramcar restaurant as it winds its way through the streets of Melbourne, or dine with the locals on trendy Lygon Street . [B]
It was another early start but was worth getting up at any time for the day we experienced. We opted to take the Great Ocean Road tour. A large number of our tour went with us and most importantly Karen. She made the day by suggesting we move to the other side of the bus. We were one of the first on the bus and had settled ourselves on the right side, top of the double-decker bus when she came up and suggested we move to the left side. As we traveled along, we found that just about all of the significant views were on the left side. Of course, you could see them from the right, but the more unobstructed views were on the left.
After driving a couple hours north of Melbourne, our first stop at a surfing beach was quite impressive, and there were a number of surfers testing their ability on the waves. What was really surprising was the beautiful restroom facility. The bus driver prepared "morning tea" there.
<![if !vml]>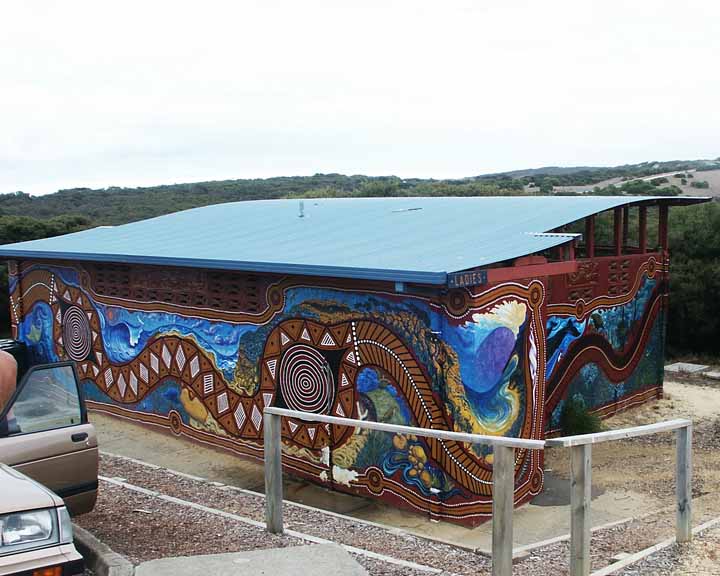 <![endif]>
You have to admit there aren't many outhouses that look like this in the USA.
From there it was on to another overlook that was even more impressive, but Pam missed the hard bodies of the surfers.
From this point it was on to Apollo Bay for lunch. On the way, we went through a forest area where the driver told us he, at times, has spotted koalas in the wild. Sure enough, we saw a couple doing what they normally do - sleep.
<![if !vml]>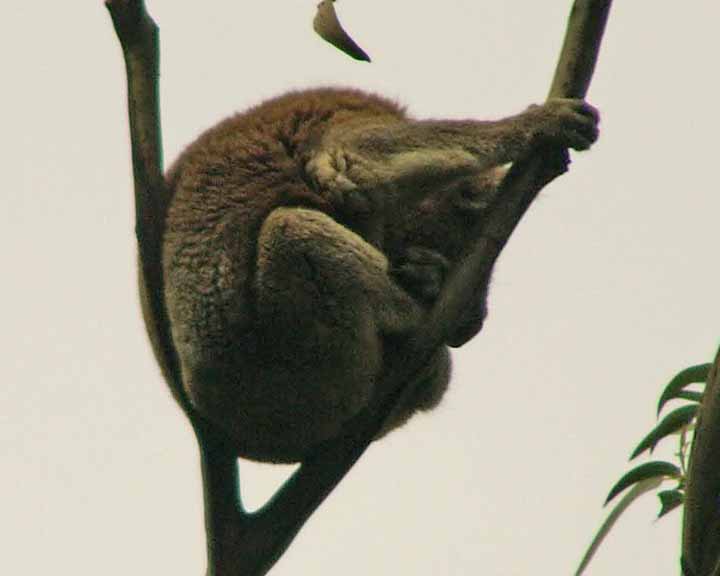 <![endif]>
Apollo Bay was a cute little town. A couple of places to eat had been recommended. Six of us opted for George's, a little place with most of their tables on the sidewalk in front. We found picnic table type seating for six of us and went to see what was on the menu. Pam and I chose the fish and chips. Each of us received a gigantic piece of fish plus fries and salad. The fish was outstanding, a very close second to Eddie's in Arlington Heights.
From there it was on to the highlight of the tour - The 12 Apostles. Actually, there were only 12 Apostles here for a brief period, it started out that there were 18 of the monoliths. Last year, one of the 9 remaining crashed into the ocean. Pam talked Roy into taking a helicopter flight over the area. Roy apologizes for anyone looking at this on a slow internet connection, but we had a hard time deciding which photos could be left out. (Believe us, this is not all that he took.)
<![if !vml]>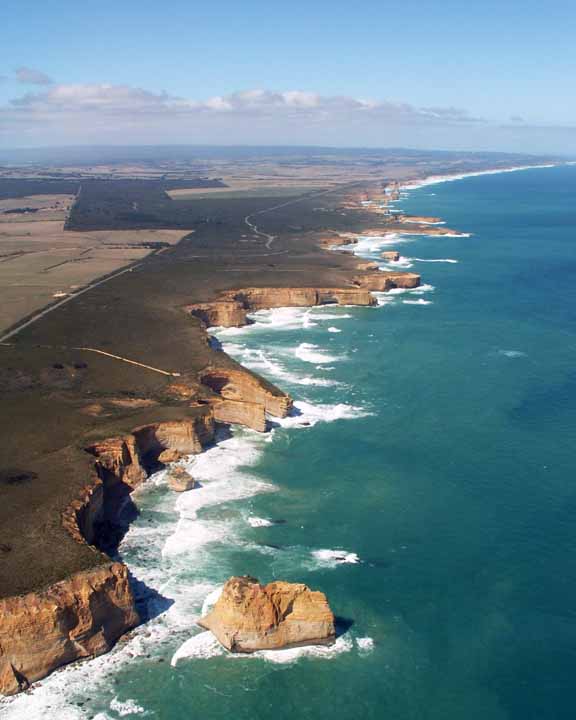 <![endif]>
<![if !vml]>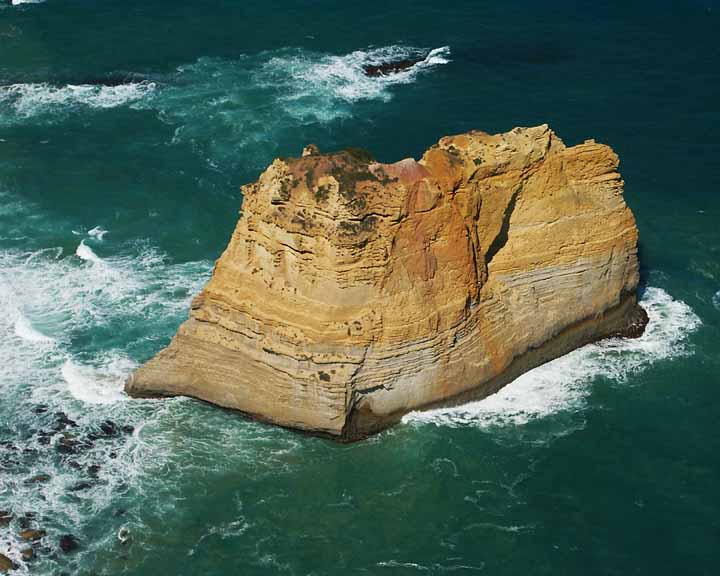 <![endif]>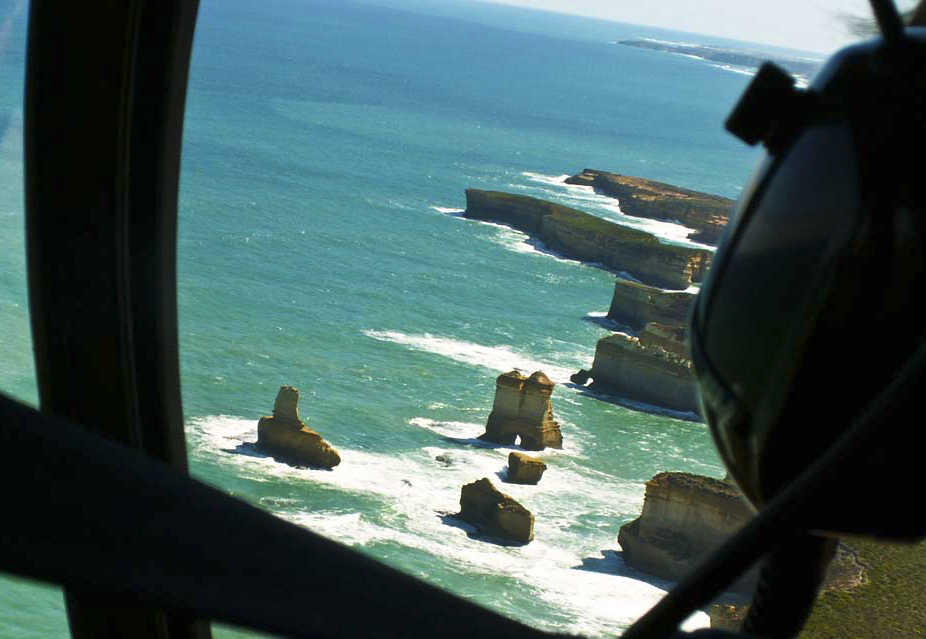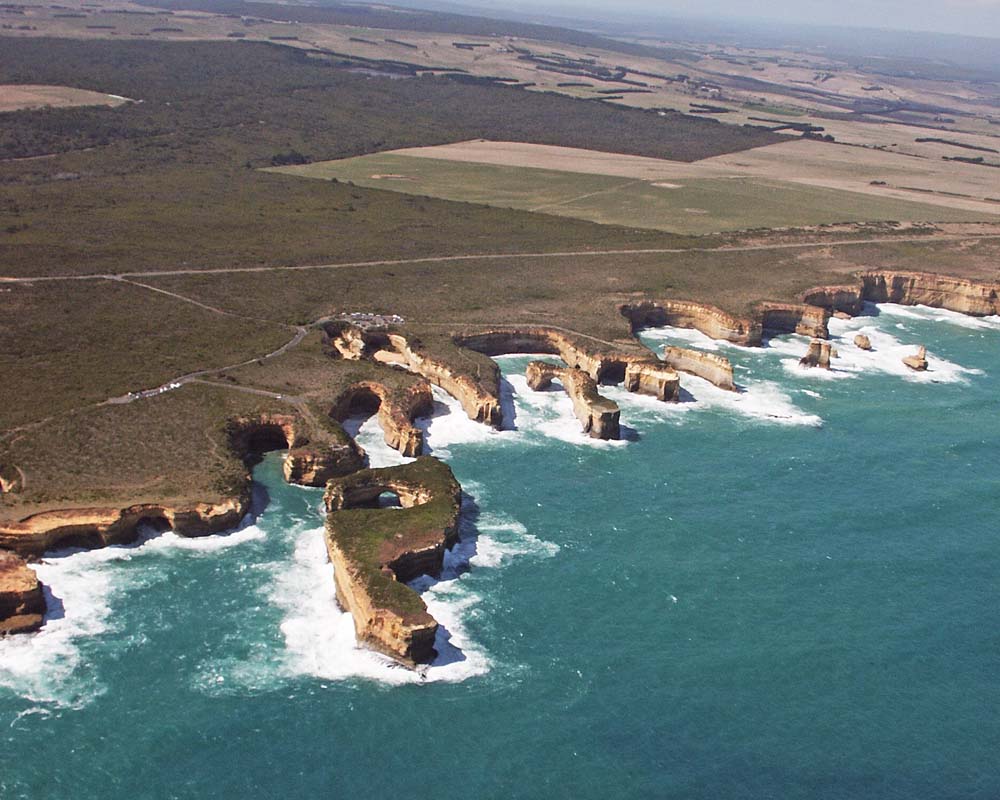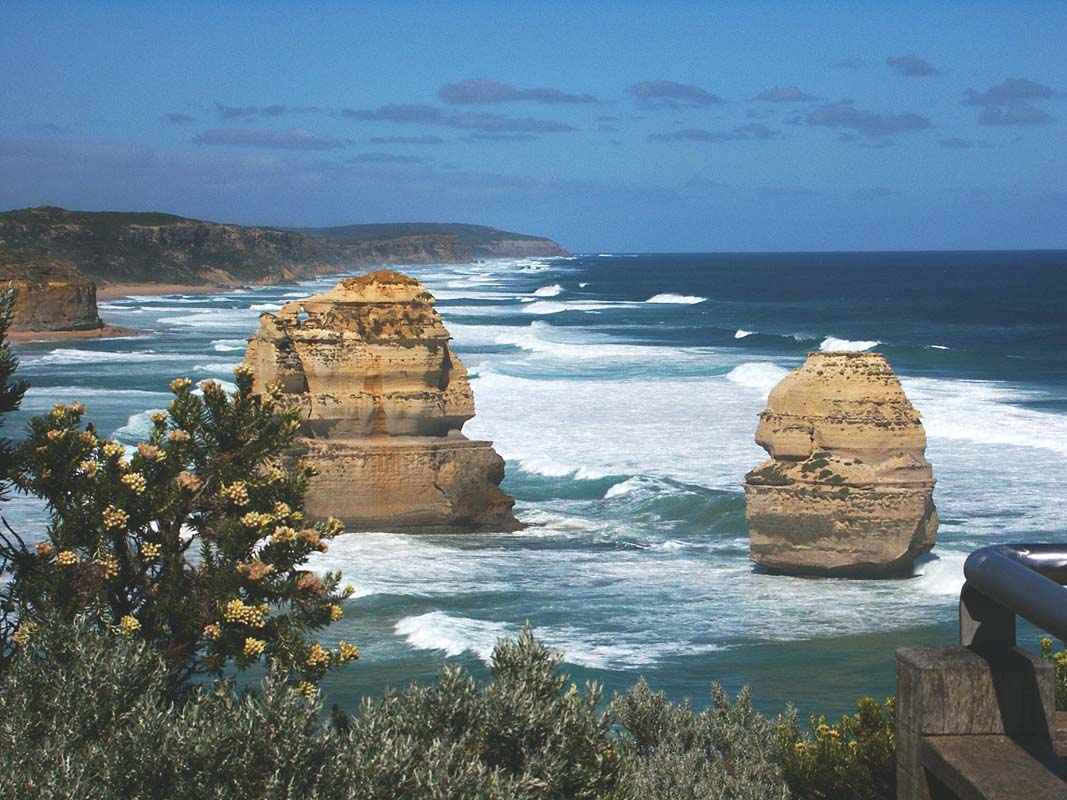 From the Twelve Apostles we moved on to overviews of monoliths named Razorback and London Bridge. They, too, were beautiful beyond description and, by appointment, Roy will show you pictures of those as well, but in order to keep downloading time reasonable, we've decided to stop with the pictures for this day.
After the final monolith viewing, it was a two and a half hour ride back to the hotel. The bus was equipped with video screens, and the driver showed a movie for the ride back since it was getting dark. We grabbed a quick bite with some of our new friends and then slept like logs. What a perfect day!
Day 19, Tuesday, March 21, 2006
Melbourne-Hobart Fly to Hobart, Tasmania, home of the infamous Tasmanian Devil. [B]
We were on the bus at 9 AM for a try at seeing some of the things that we couldn't see on Sunday because of the Commonwealth Games Marathon. One of the tidbits that we picked up on this tour was that, by law, one third of the land of Melbourne is devoted to parks. Because of traffic problems and needing to get to the airport, we still couldn't see everything, but we did get to see the Shrine of Remembrance. What a moving experience. It started as a tribute to the Australians who served in WWI, but WWII and other conflicts have been added. Can you imagine something this size in middle of an American city?
<![if !vml]>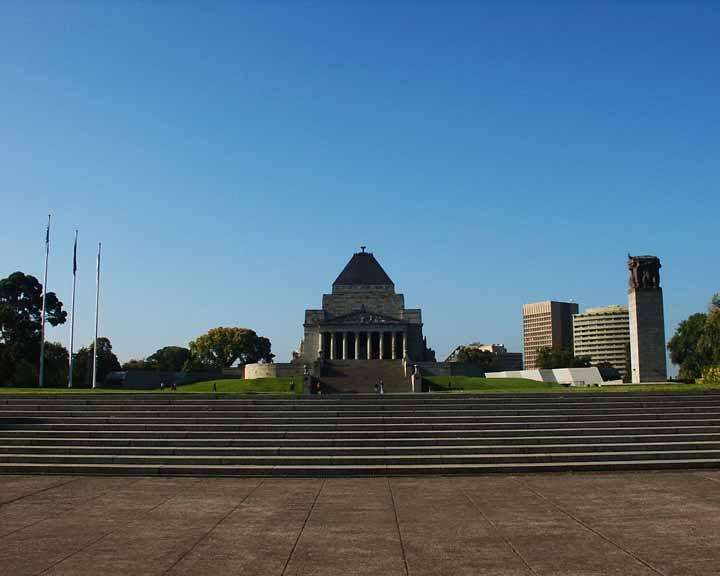 <![endif]>
There was a very moving ceremony that takes place every half hour that adds to the uniqueness of the memorial.
Then it was on to the airport and our first experience with Jetstar. It is the Australian equivalent of Southwest Airlines only they've gone a couple of steps farther. For one thing, if you want a cup of coffee on the flight, you pay for it. It wasn't that bad. The seats were comfortable, and we got to Tasmania safely. Once in Tasmania we took a short tour of the city and then went to our hotel. It was decided that this was going to be the time we did our last washing of clothes on the trip. It seems a number of our tour friends had decided the same thing. That meant that Pam got to spend the afternoon in the laundry room, and Roy got to spend his time catching up on the photos and this journal. The hotel we're in is not right downtown as many of the others have been. So, we ate dinner in the hotel. Before you feel too sorry for us, the picture below is the view out of our hotel window.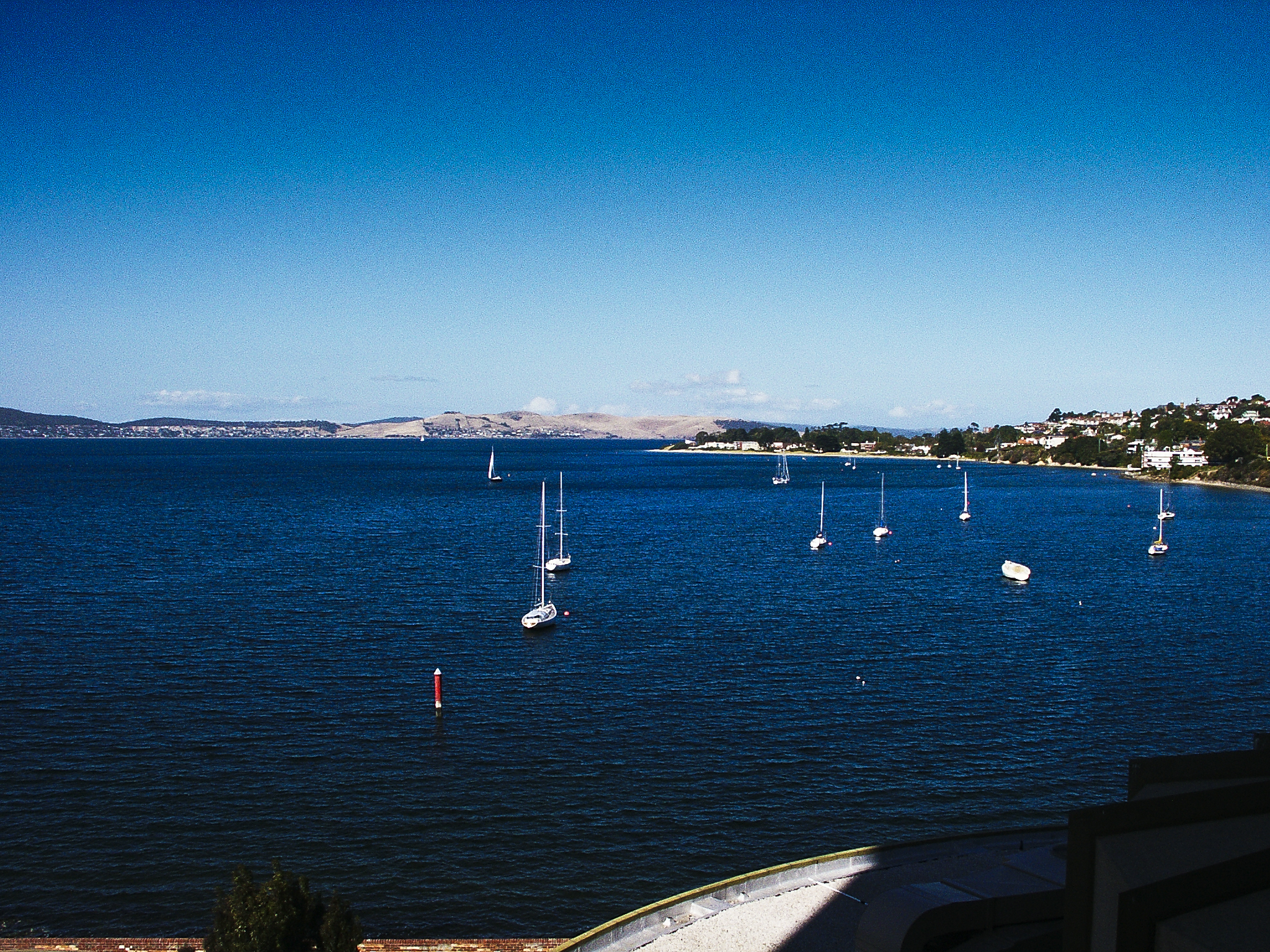 It's a tough life, but we can handle it.
Day 20, Wednesday, March 22, 2006
Hobart. Excursion to Port Arthur Today's tour of the scenic Tasman Peninsula features the blowhole, the Devil's Kitchen, and the Tasman Arch coastal formations. Visit Port Arthur, where the first convicts arrived in the 1830s. A guided tour of the PENAL SETTLEMENT shows you the ruins of the four-story penitentiary, and the model prison… grim reminders of Australia's days as a penal colony. Also included is a short stop at a nearby SANCTUARY to see the famous Tasmanian Devil, a rare marsupial wolf. [B]
Once again we had a beautiful experience today. We started our tour with a stop at the Tasman National Park Lookout. We were rewarded with some more of the spectacular sights we have come to expect.
<![if !vml]>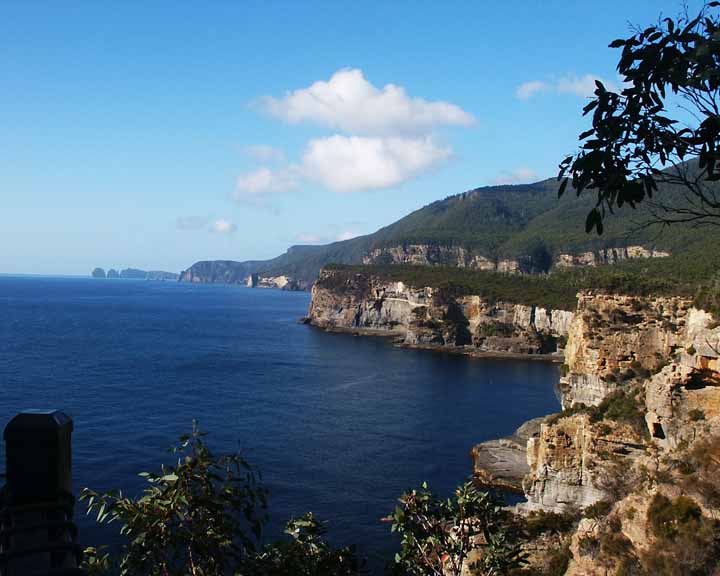 <![endif]>
From there we went to the sanctuary for the Tasmanian Devil. They have just been placed on the threatened list because of a type of cancer affecting the animals in the wild. It is particularly interesting because it appears to be transmitted by contact. The "Tassies" in the sanctuary are not threatened because they do not have contact with those in the wild. There were other animals in the sanctuary, but Roy decided he wanted to try to get a good picture of these unique animals, because so few places have them. It was a challenge because they were in constant motion. The picture below may make them look as cute and cuddly as we saw them at the Australia Zoo in Brisbane.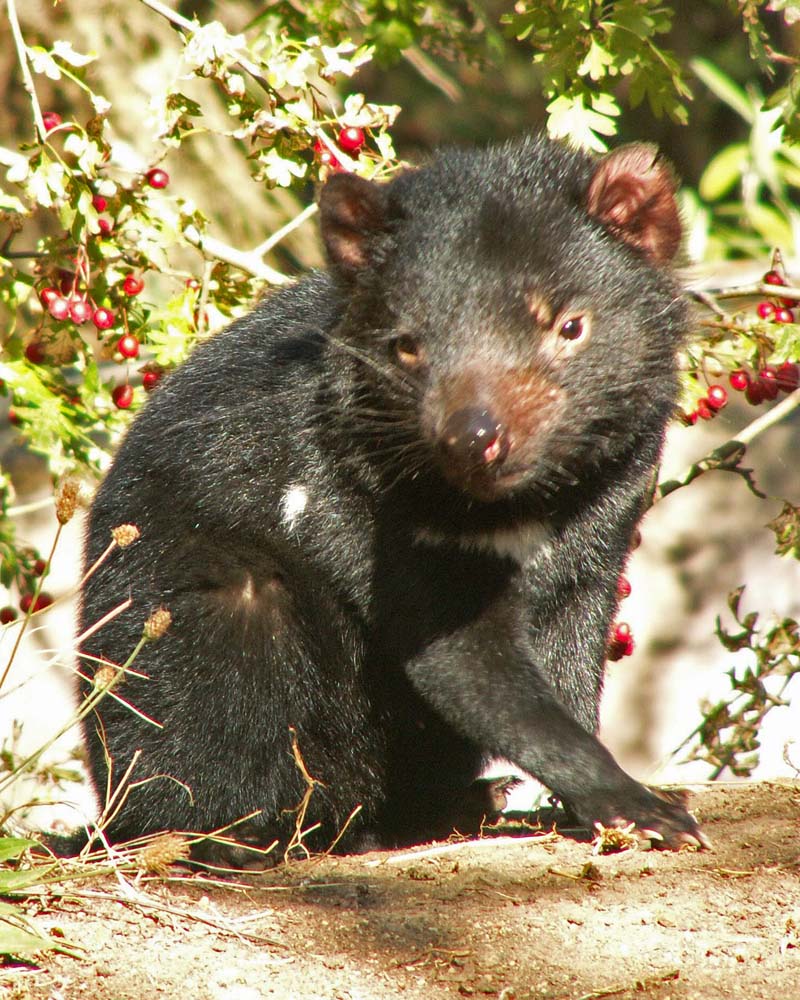 However, the picture below shows they don't always play well with others.
<![if !vml]>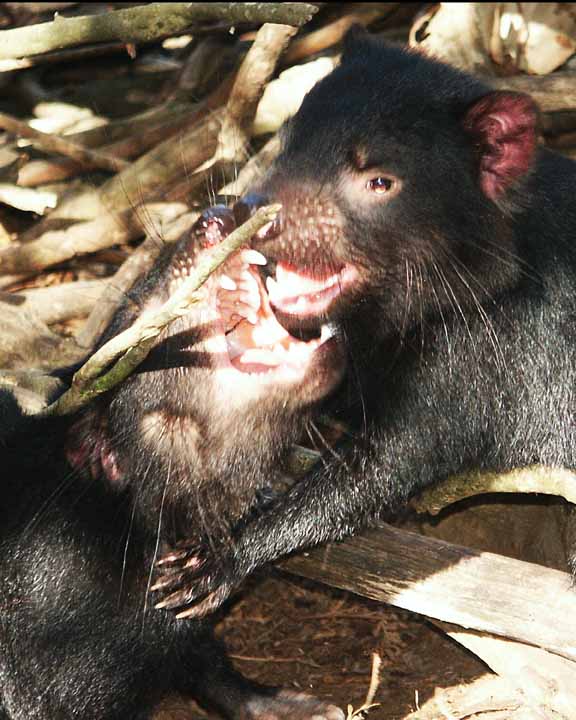 <![endif]>
From the sanctuary, it was only a short drive to Port Arthur, the penal colony that is being restored to show what life was like there. We commented that we had to pay bunches of money to come visit beautiful Australia, but the convicts were sent here. They indeed did have a magnificent view, but having heard when went on in the prison, it's unlikely they really appreciated it. We had a tour by a wonderful guide who seemed to bring the history of the place to life.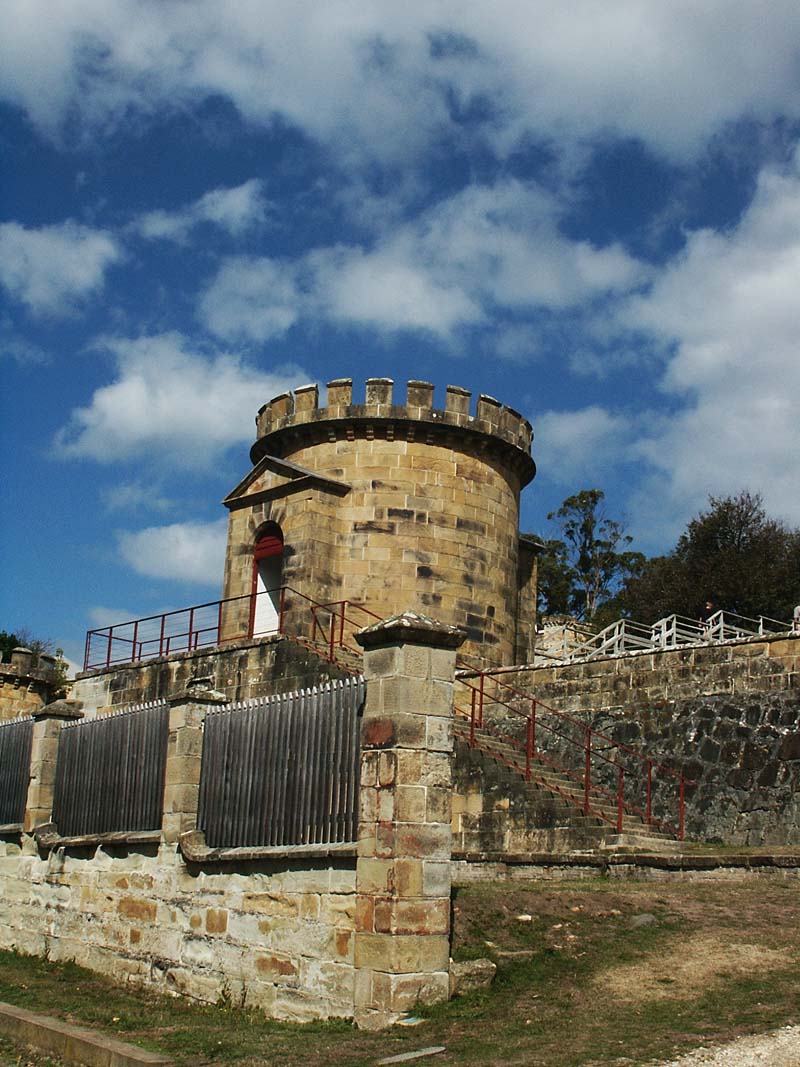 After our time in Port Arthur, we returned to our hotel in Hobart, enjoyed an early dinner, and then prepared for our very early departure tomorrow morning.
Day 21, Thursday, March 23, 2006
Hobart-Auckland Today fly across the Tasman Sea (via Melbourne) to Auckland, New Zealand.
We had to be on the bus at 4:45 AM this morning to go to the airport. The flight from Hobart to Melbourne included a light breakfast although the flight was just a little over an hour. We then had about a 4 hour layover in the Melbourne airport. The three hour flight to Auckland included not only a hot meal but complimentary wine as well. Not bad for economy class!
Day 22, Friday, March 24, 2006
Auckland Sightsee in this attractive city known as "City of Sails" situated on an isthmus between two magnificent harbors. From the top of Mount Eden you have a stunning view of Auckland as well as Kangitoto Island, the volcanic cone which dominates the inner harbor. Today's highlight is a visit to KELLY TARLTON'S ANTARTIC ENCOUNTER where you will see colonies of penguins playing in real ice and snow. Then travel beneath the ocean to see a giant stingray and moray eels, and come face to face with the awesome predators of the deep – sharks. [B].
This morning started with a bus sightseeing tour of Auckland. We visited an overview site and saw many lovely parks. One of the consistent things about the views of this beautiful city was the ever present Sky City Tower. It is the tallest tower in the Southern Hemisphere. People have the opportunity to be put in harnesses and jump off the building. Kiwis have many bungee places available, too. We chose to keep our body parts in their present arrangements!
<![if !vml]>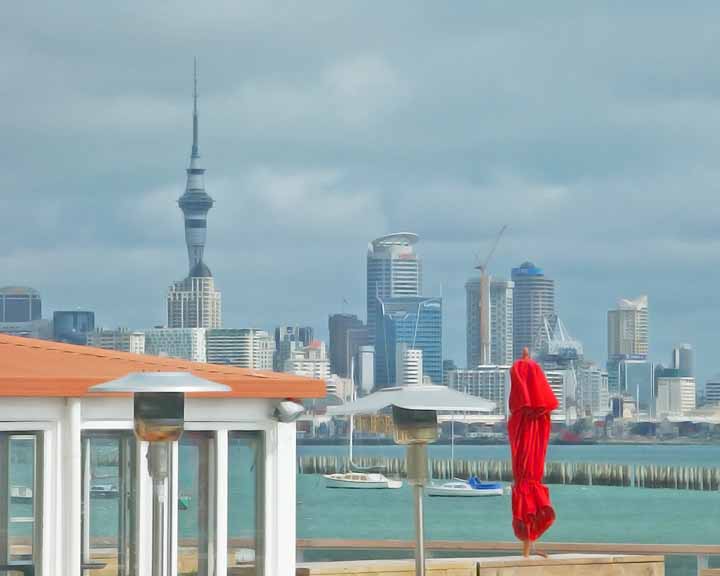 <![endif]>
The last stop of the city tour was at Kelly Tarlton's Antarctic Encounter. It is a great aquarium that specializes in King/Emperor penguins. They have a very successful breeding program. You might notice that there is one brown/young penguin in the picture below.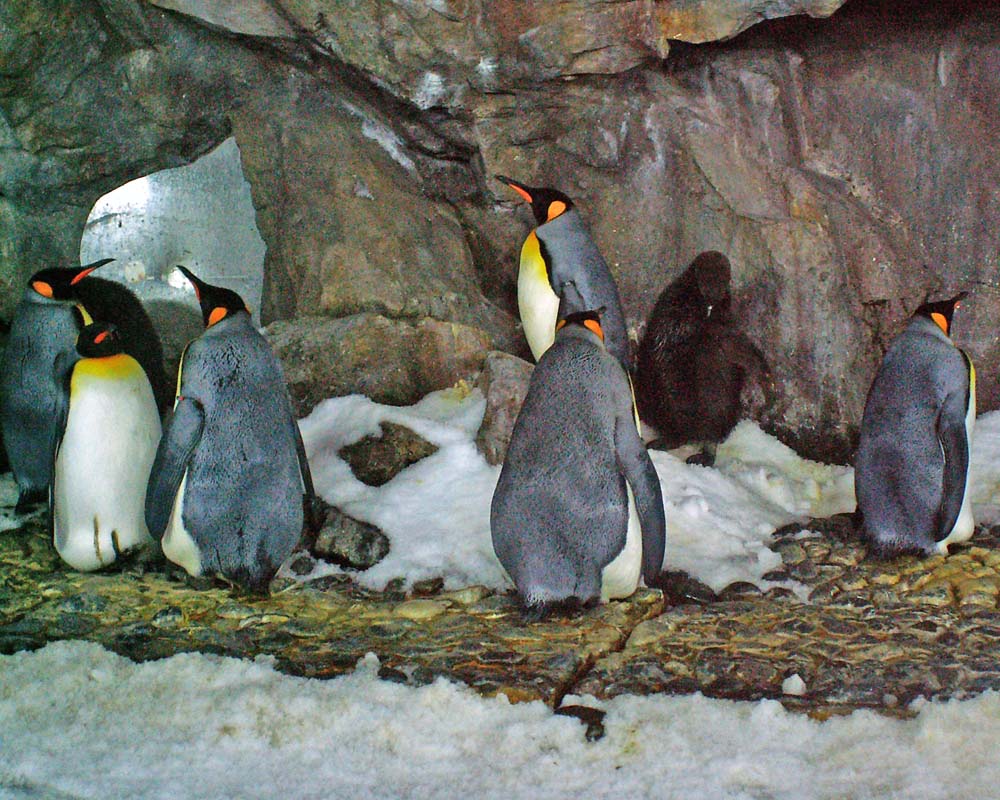 After the city tour, we grabbed a sandwich and were picked up for our rainforest tour. The first stop was Arataki Cultural Center where we learned a little more about the Maori culture. We also had a tremendous view of the Manukau Harbour. As usual, a photograph cannot do justice to the beauty that is there, but hopefully the picture below will give you a hint.
<![if !vml]>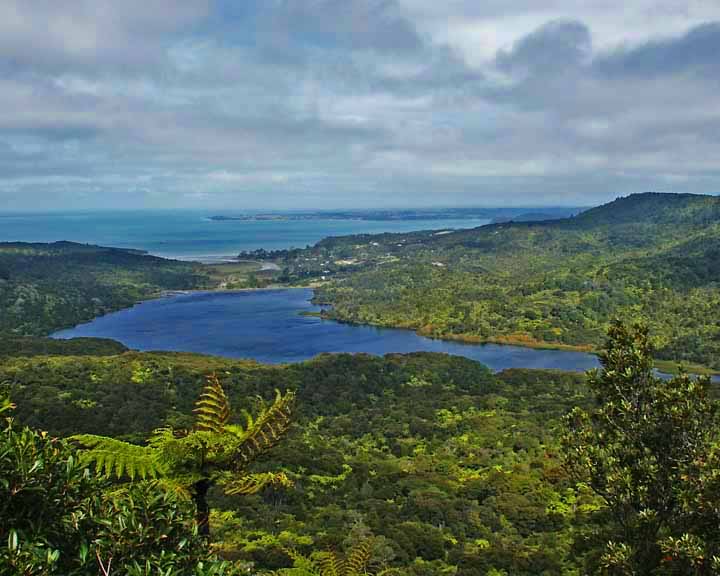 <![endif]>
From there, we visited a beautiful waterfall and then to a black sand beach. Roy found it fascinating that the sand was magnetic. He is concerned about getting old, because he can't remember which iron oxide is magnetic. At least he wasn't too feeble to recognize the beauty of the formation in the Tasmanian Sea shown below.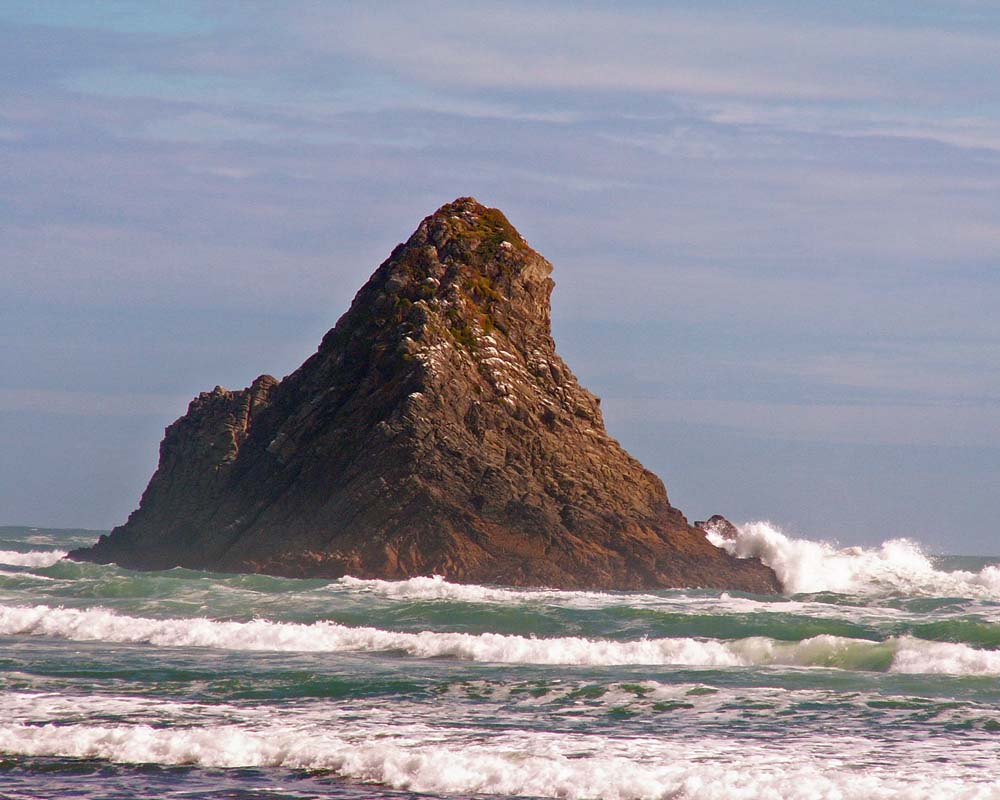 After the beach, there was a short walk in the rainforest. It didn't rain. That's not a complaint! We were prepared for rain, but our preparation apparently was enough to keep us dry. What helped make this optional tour so fantastic was the guide. It helped that she had a great name, Pam, but her enthusiasm and knowledge of what she was showing us made the afternoon a great joy!
We got back from our rainforest in time to be dropped off at our optional dinner and tour of Devenport, a suburb of Auckland. It is a very wealthy suburb. One of the reasons may be the view at sunset.
<![if !vml]>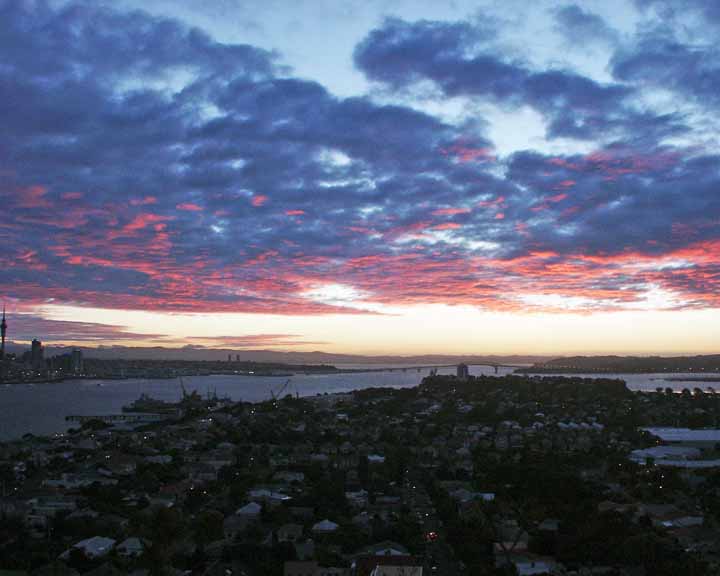 <![endif]>
Day 23, Saturday, March 25, 2006
Auckland-Waitomo-Rotorua Leaving the "City of Sails " travel through the green pastoral region of Waikato to the famous WAITOMO GLOWWORM CAVES, which has attracted visitors for over 100 years. Experience a guided tour through the limestone chambers and passages of the caverns. Enjoy a silent boat trip through the glowworm grotto as you glide quietly beneath the lights of thousands of glowworms suspended from the cave ceiling. In the afternoon continue over the Mamaku Ranges to Rotorua. On arrival experience TE PUIA, Rotorua's most prominent thermal area with New Zealand 's largest geyser, boiling mud pools, and silica terraces. Enjoy a traditional HANGI DINNER this evening, followed by an authentic MAORI CONCERT. [B,D]
We started the day with a lovely bus ride through the countryside of the north island of New Zealand before reaching the Waitomo Glowworm Caves.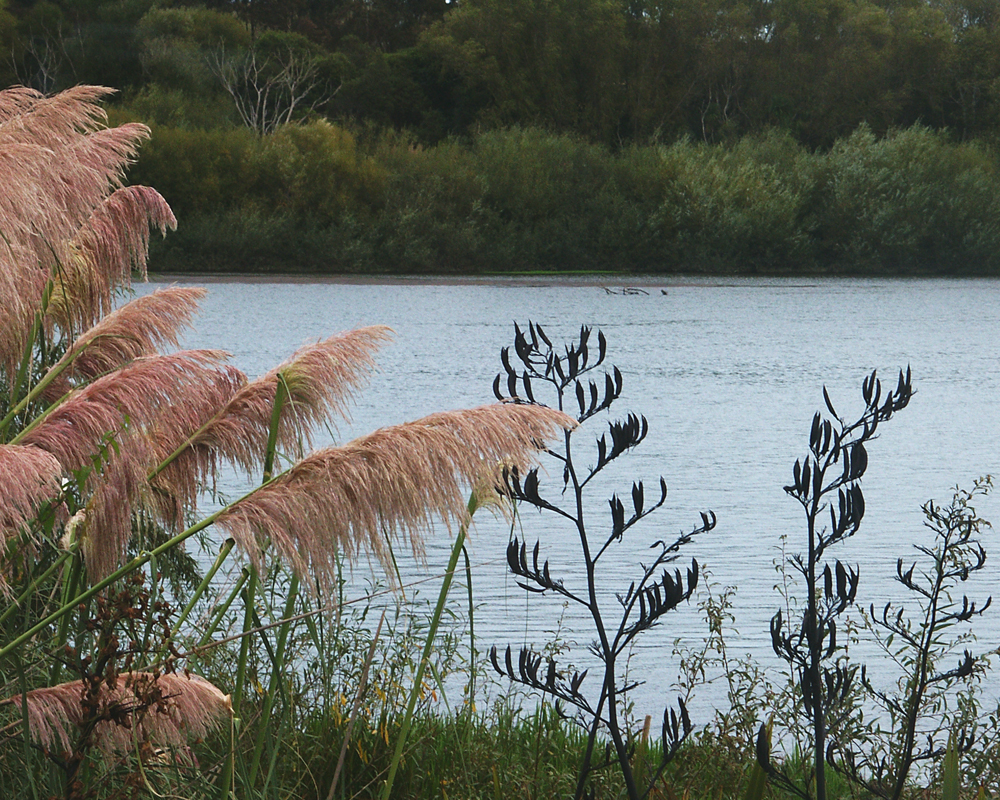 We spent some time exploring the caves (beautiful) and being told a little about the glowworms before getting into a boat to see them. It wasn't a long boat ride, but it was fascinating to see them. Roy had expected to see little strings of light, but instead it was points of lights. It was like looking up into a clear, starry night. The glowworms suspend sticky "strings" from their bodies to catch their food. The glowworm is a larval phase, the second of four stages. We were asked to be very quiet while we floated along watching the glowworms. Everyone cooperated!
After a stop for lunch, we had more scenic travels as we made our way to Rotorua. We were fortunate to have a really great guide of Te Puia, a park showing Maori culture and the geothermal activity. The cultural part of the park was called "Te Whakarewarewatangaogaoteopetauaawahiao." While our guide could pronounce that with ease, she also provided a translation: The gathering place for the war parties of Wahio. (But, I bet you knew that already.) Then it was on to the geothermal area. Actually, you could tell that you were in the area all along because of the slight sulfur dioxide aroma in the air. Roy found trying to photograph the geysers challenging, but finally got something that sort of shows the activity.
<![if !vml]>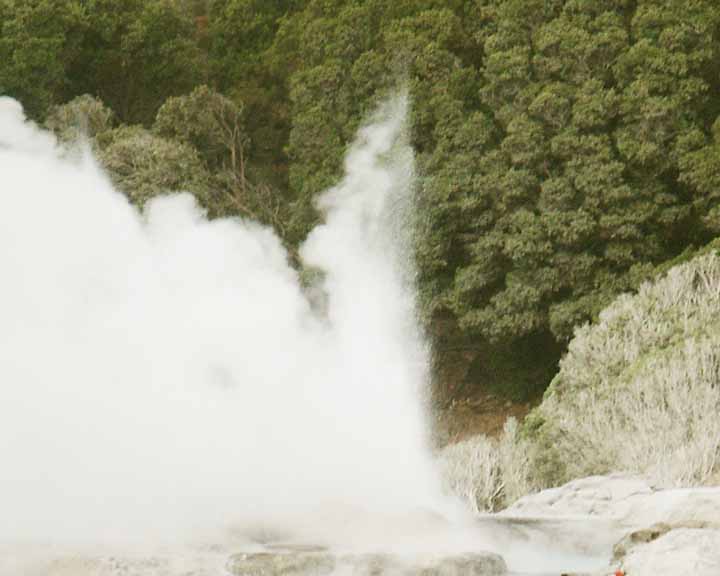 <![endif]>
After visiting Te Puia, we went to the hotel for a short rest and then out to a Hangi dinner. The Hangi dinner is the Maori equivalent of a Hawaiian luau. The food is even cooked the same way - in a pit. The food was very good. Roy was happy not to find the equivalent of poi in what he selected.
Following the dinner, there was entertainment consisting of Maori songs and dances. It was quite fascinating. Toward the end of the program there was an opportunity for the ladies to learn one of the Maori women's dances using poi balls on a long string. No women from our group chose to participate in that. (Pam pictured the long string wrapped around her neck instead of twirling in a coordinated fashion and decided not to volunteer.) Then the men were given the opportunity to learn to do the Haka - the Maori war dance. It appeared that no one from our group was going to participate. Roy figured that since he had part of the dance down pat already, he'd show the rest that our group was capable. In case, you don't remember, the Haka is that dance where, among other things, the Maori men stomp there feet, bug out their eyes (that's the easy part for Lobenhofers), and stick out their tongues. After completing this exhibition, Roy was very happy to learn that Don, a gentleman on the tour who has been doing a lot of video taping, left early.
Day 24, Sunday, March 26, 2006
Rotorua-Queenstown This morning visit the AGRODOME to learn more about one of the country's major industries-sheep. Then onto RAINBOW SPRINGS, home to rainbow trout and the flightless kiwi bird in its nocturnal "Kiwi House." A flight takes you to Queenstown in the South Island , home base for discovering every type of adventure sport imaginable. After arriving see the sights of this popular resort town, nestled on the shores of Lake Wakatlpu and surrounded by the rugged peaks of the Southern Alps. This evening why not take our optional dinner at the top of Bob's Peak on Queenstown's Skyline Gondola for breathtaking panoramic views while dining in a relaxed atmosphere? [B]
The first stop this morning was Rainbow Springs. One of the primary functions of this facility is the protection of the Kiwi. Many of the native birds of New Zealand are flightless. That was fine until man started bringing in many non-native species of animals. While young, the Kiwis are vulnerable to many of these animals and their number has been declining. Kiwis are nocturnal and, therefore, very difficult to photograph.
Rainbow Springs had many wonderful habitats in rainforest settings. Roy found a pair of Mute Swans of particular interest.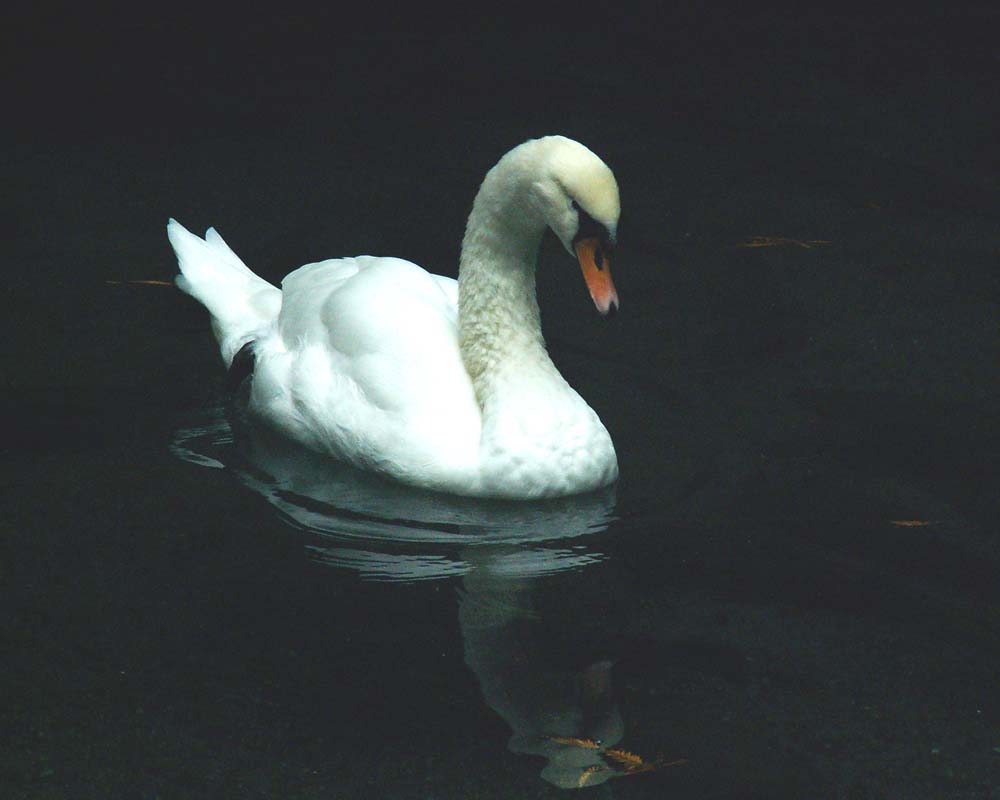 After Rainbow Springs, it was on to the Agrodome for a very humorous demonstration of the different types of sheep, how the sheep are sheared, and how dogs are used to herd them. It was interesting to learn that there are basically two types of dogs used for sheep herding. One does not bark at all; it uses eye contact only. We had the opportunity to touch 19 different kinds of sheep, some with impressive horns, particularly the merrino.
<![if !vml]>
<![endif]>
Then it was on to the airport in Rotorua for our flight to Queenstown. This was our first experience with New Zealand airports - very cool - no metal detectors or anything. The flight was interesting. It was Pam's first flight on a prop plane in quite some time. She likes jets better.
Upon landing in Queenstown, we noticed the difference between the south and north islands immediately. The south has the mountain majesty while the north was more of the rolling hills. We took a cruise on the TSS Earnslaw a steamship built in 1912. We docked for a fabulous dinner at the Walter Peak homestead. Not only was the food wonderful, but the views were outstanding. After dinner, there was another sheep shearing and dog handling demonstration. This gentleman shared more details about how to shear a sheep as well as training the dogs. The return trip on the steamship featured a sing-a-long of old tunes.
Day 25, Monday, March 27, 2006
Queenstown-Milford Sound Today journey into FIORDLAND NATIONAL PARK through the Homer Tunnel to Milford. Boasting of some of the most breathtaking scenery in the world, this region of New Zealand has the elite status of belonging to the World Heritage Parks, Cruise overnight on the fiord with sheer rock walls rising thousands of feet from the water's great depths. Dinner tonight is on your Milford Sound Cruise vessel. [B,D]
The bus didn't leave until 10:00 giving us an opportunity to sleep in, but we really didn't. We walked around Queenstown a little before the bus was ready to depart. It was about a two and a half hour drive from Queenstown to Milford Sound. It certainly was a beautiful drive. On the first part of the drive, one of the things that caught our attention was how the clouds seem to hang in one place on the mountains. It looked as though they were painted in place.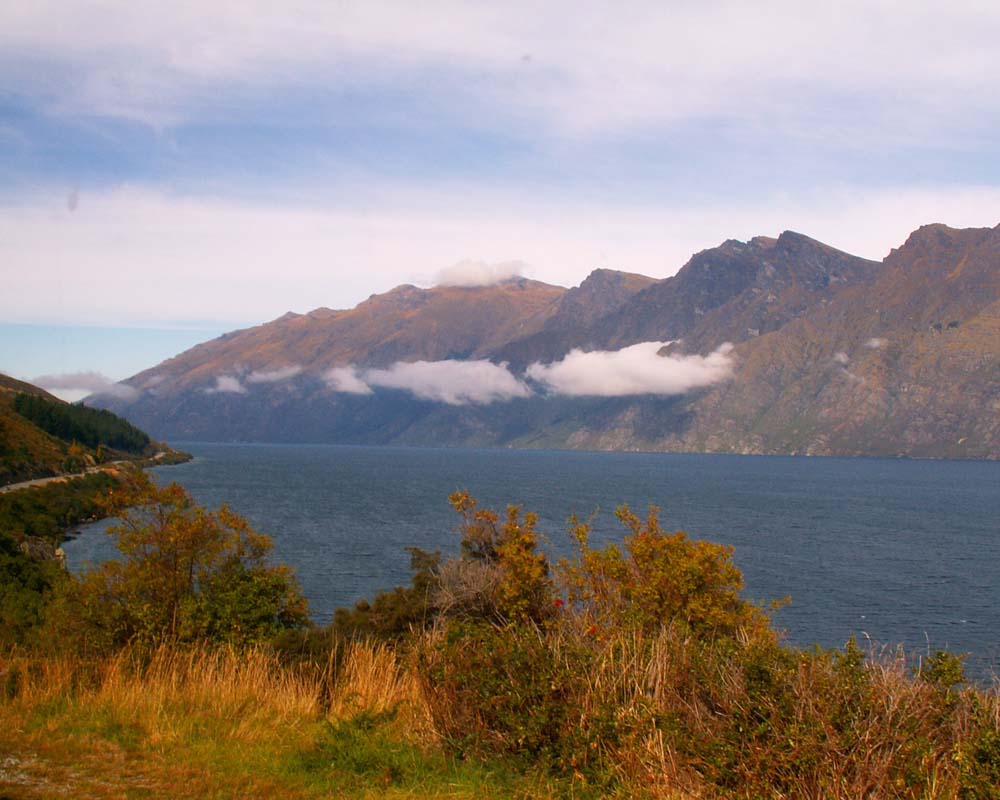 The scenery was at times rolling pastures with mountains in the background. Other times, we got closer to the mountains as shown in the picture above. As we rode along, we expected to see sheep, and we weren't too surprised when we saw some good sized cattle herds, but we didn't expect to see large red deer herds. They are a viable farm product here; used for their hides and meat.
The scenery changed once we went through the Homer Tunnel and entered the Fiordland National Park. Gone were the rolling hills, the mountains were everywhere.
<![if !vml]>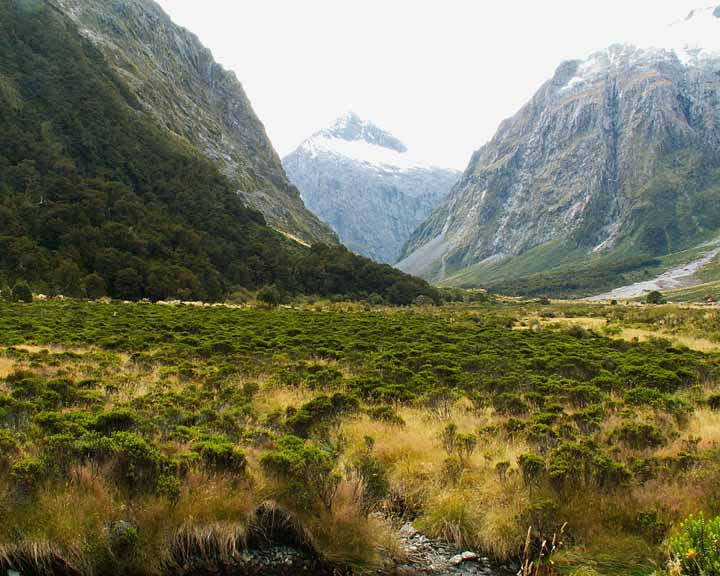 <![endif]>
We boarded the little cruise ship in the late afternoon and sailed to the middle of Milford Sound. They provided us the opportunity to travel around Harrison Bay in a tender with a naturalist. We learned some fascinating things from Ree, our guide. She told us that New Zealand is right over the meeting of two tectonic plates and that there is an earthquake about every hour; however most are so small they aren't felt. It has been about 40 years since a significant one. Another thing we found fascinating was that because of this coming together of the two plates these mountains are actually still growing.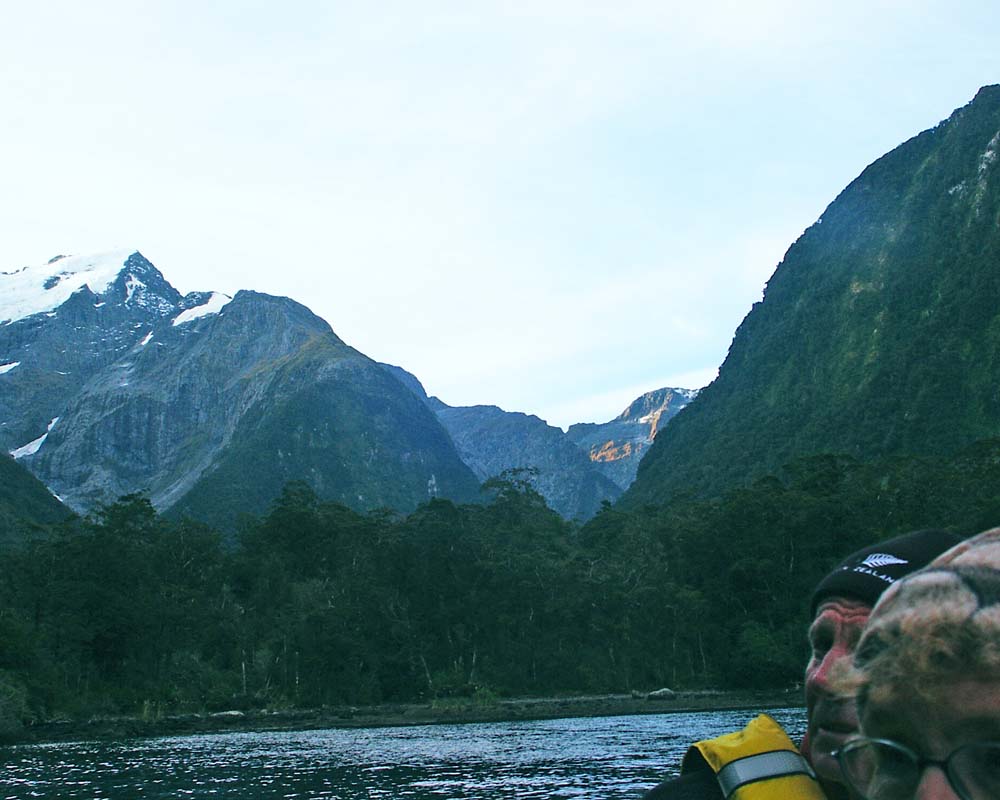 Of course, such a day would not be complete without a beautiful sunset.
<![if !vml]>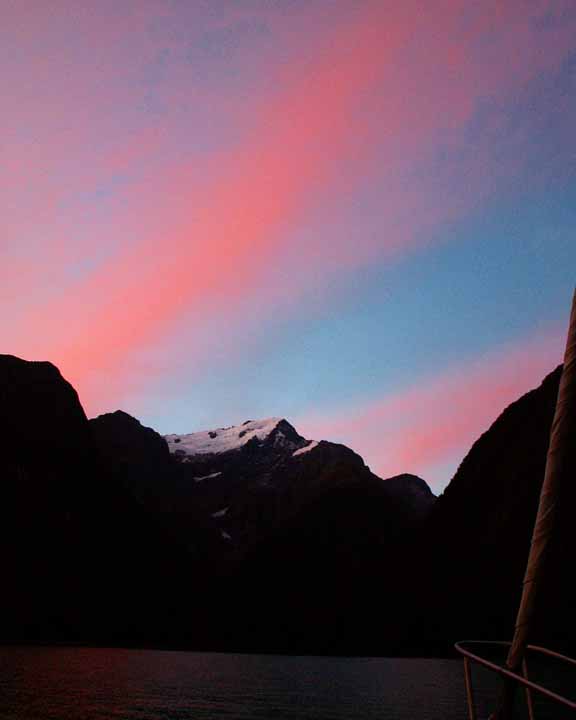 <![endif]>
Dinner was buffet style on board and was quite good. Our cabin was certainly more spacious than on "The Ghan" train, and we had a restful sleep (no rocking and rolling that we experienced on the train).
Day 26, Tuesday, March 28, 2006
Milford Sound - Queenstown After disembarking your cruise, return to the popular resort area of Queenstown. This afternoon will be at leisure for your own discoveries. Your Tour Director will have suggestions to help plan the remainder of your day. [B]
One of reasons for staying overnight in Milford Sound was to be able to go where it meets the Tasman Sea. We had a very fortunate experience after breakfast. Occasionally, cruise ships come into Milford Sound in order to unload passengers for special experiences. We met a Princess ship coming in as we were heading for the Tasman Sea. We were surprised to learn that it is so tall that it cannot fit under the Sydney Harbour Bridge.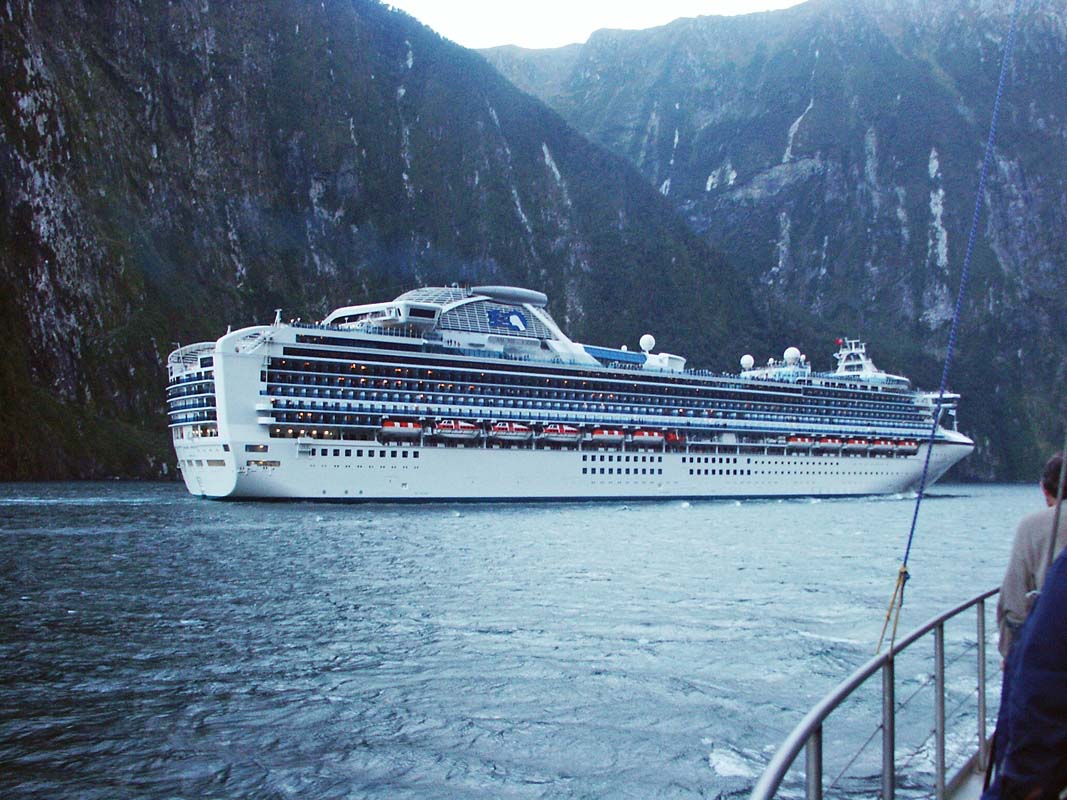 We didn't really think too much about it at the time other than it was kind of neat to see such a big ship which didn't seem so big when compared to the surrounding mountains. We did make it to where Milford Sound and Tasman Sea meet. It is denoted by the little point of land shown below and, especially in the morning, is quite windy. It seems the cold glacier water of the sound meeting the warmer Tasman Sea causes some fierce winds. According to the captain of our little ship, this morning they weren't too bad. They were only 42 knots. (For those, like us, who don't know what that means, it is almost 50 mph.)
<![if !vml]>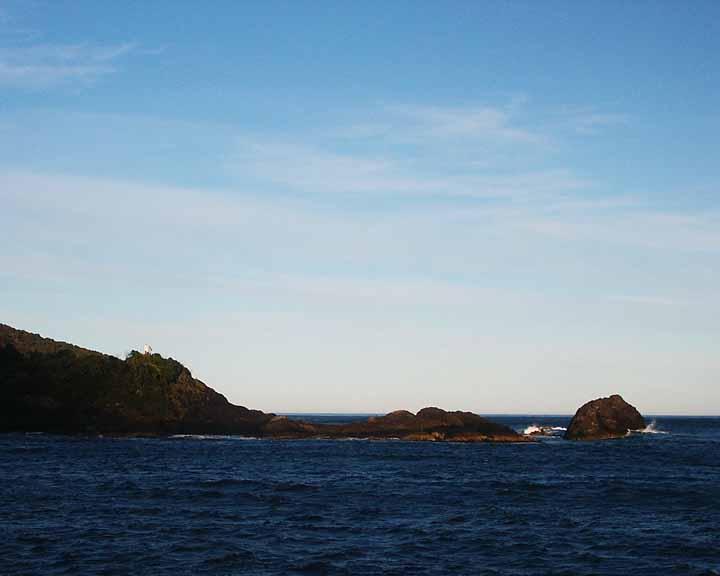 <![endif]>
On the return our captain pulled in quite close to the waterfall shown below for picture opportunities. As you can imagine, Roy took full advantage of the opportunity. A surprising piece of information given was that this waterfall is three times higher than Niagara Falls. We, at first, thought that was just some Kiwi bragging.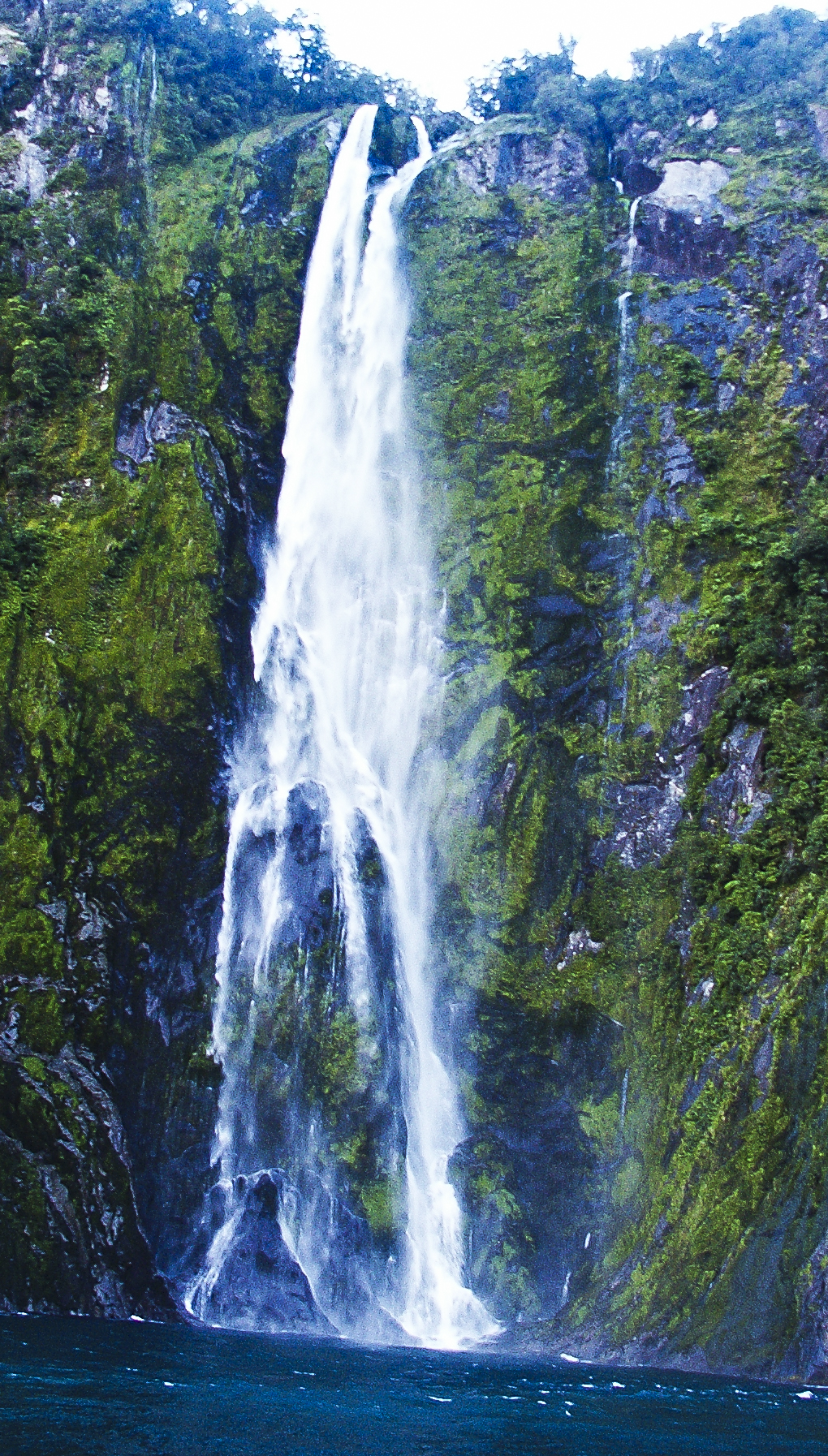 Then we turned around and looked at the Princess Cruise Ship that had passed us. If you look very close in the center of the picture below you can see it. Those cliffs are tall!!
<![if !vml]>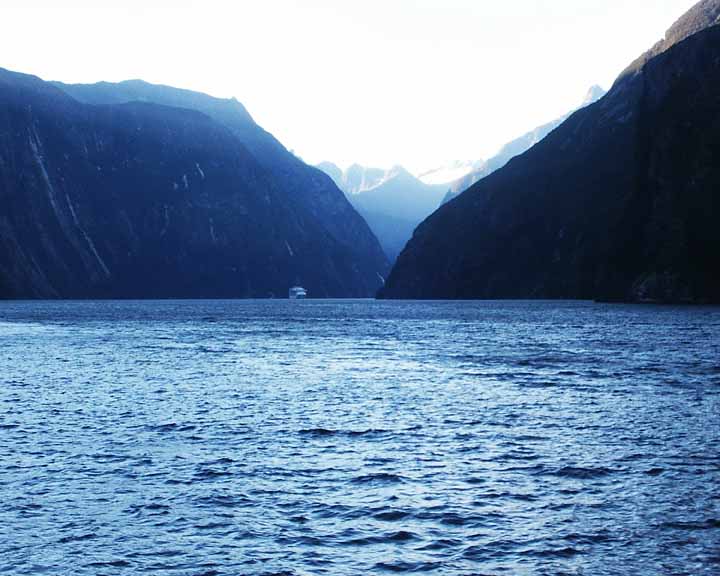 <![endif]>
When the cruise ended, we traveled by bus back to Queenstown. Along the way there was more of the "boring" scenery like that shown below.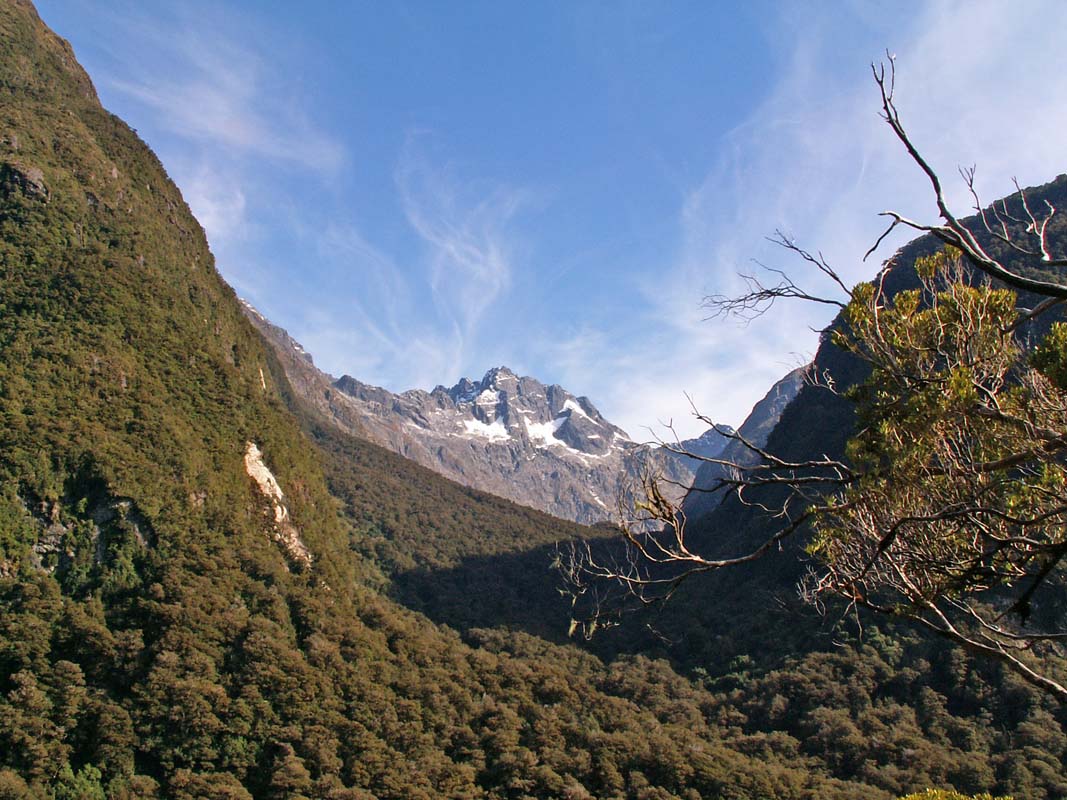 Once back in Queenstown, we walked in the botanical garden and snapped more pictures of this beautiful area.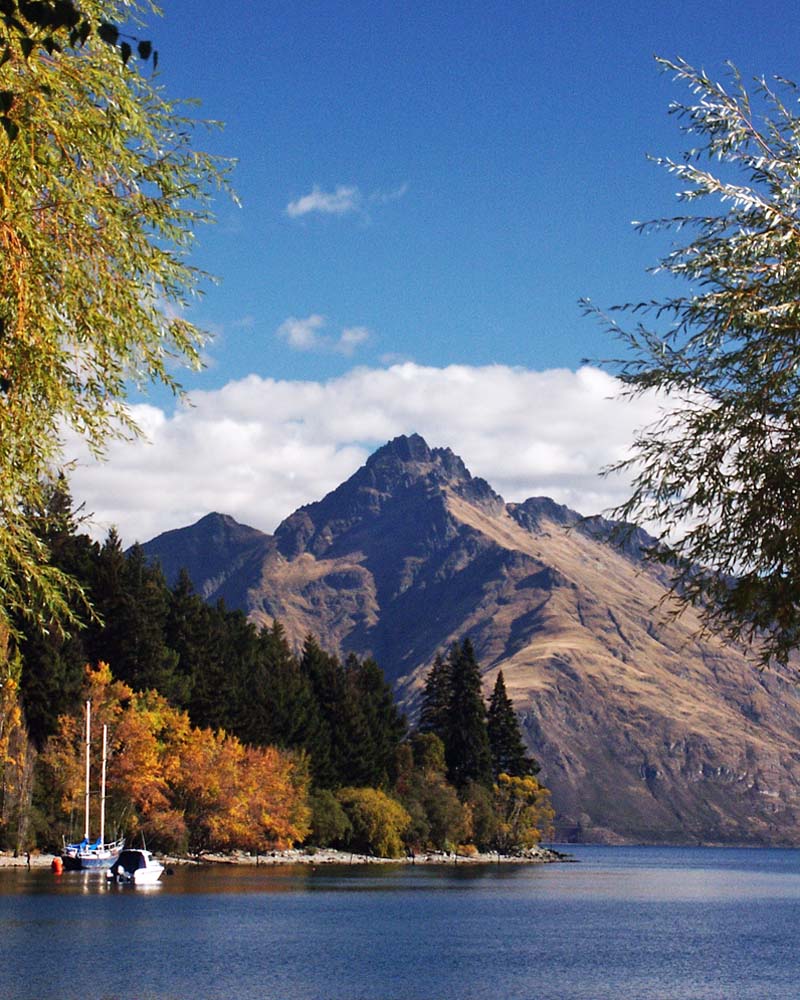 We had dinner by the water at a pleasant little fish restaurant. It was the time for another sunset.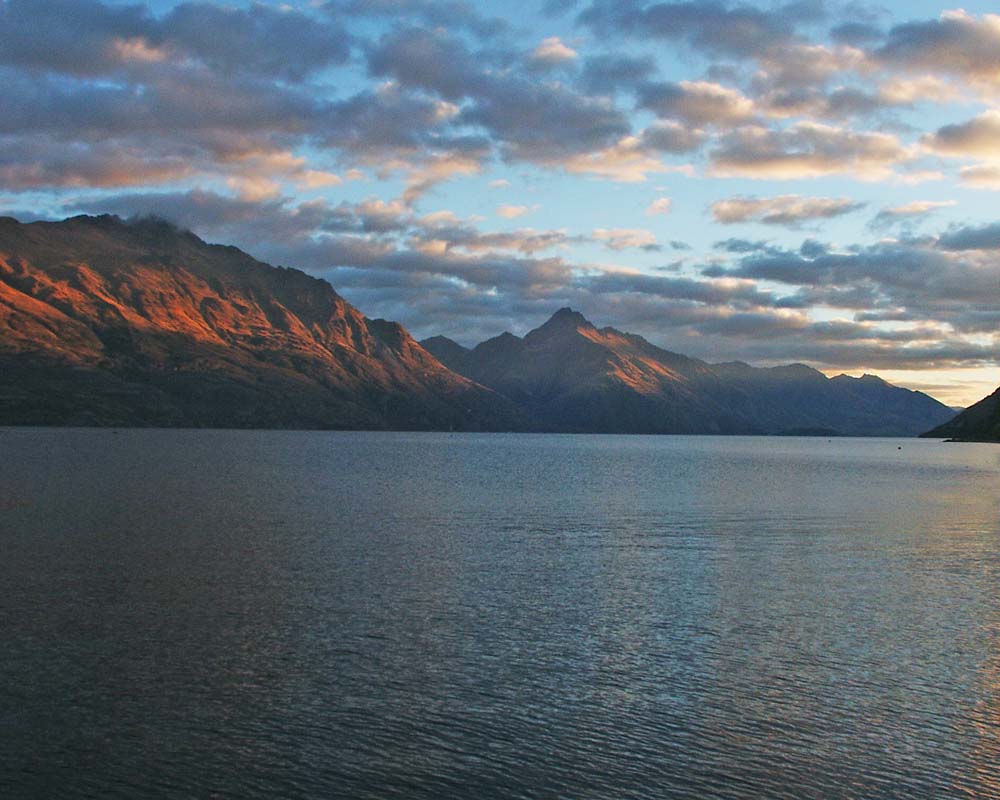 Roy started working on pictures, but at 8 PM he decided he was just too tired and knowing he'd be awake at 3 AM he went to bed. Pam lasted until about 8:15.
Day 27, Wednesday, March 29, 2006
Queenstown-Mount Cook. This morning journey through the alpine scenery of Mount Cook National Park , named after the highest peak in New Zealand. Weather permitting, don't miss the chance to take an optional ski-plane flight that actually lands on the 18-mile long Tasman Glacier. It is an unforgettable experience. Dinner tonight is at your hotel. [B,D]
We slept until 6AM; I guess we had a "catch up on sleep" night. It was time to leave Queenstown even though it was hard to leave the view from our hotel window.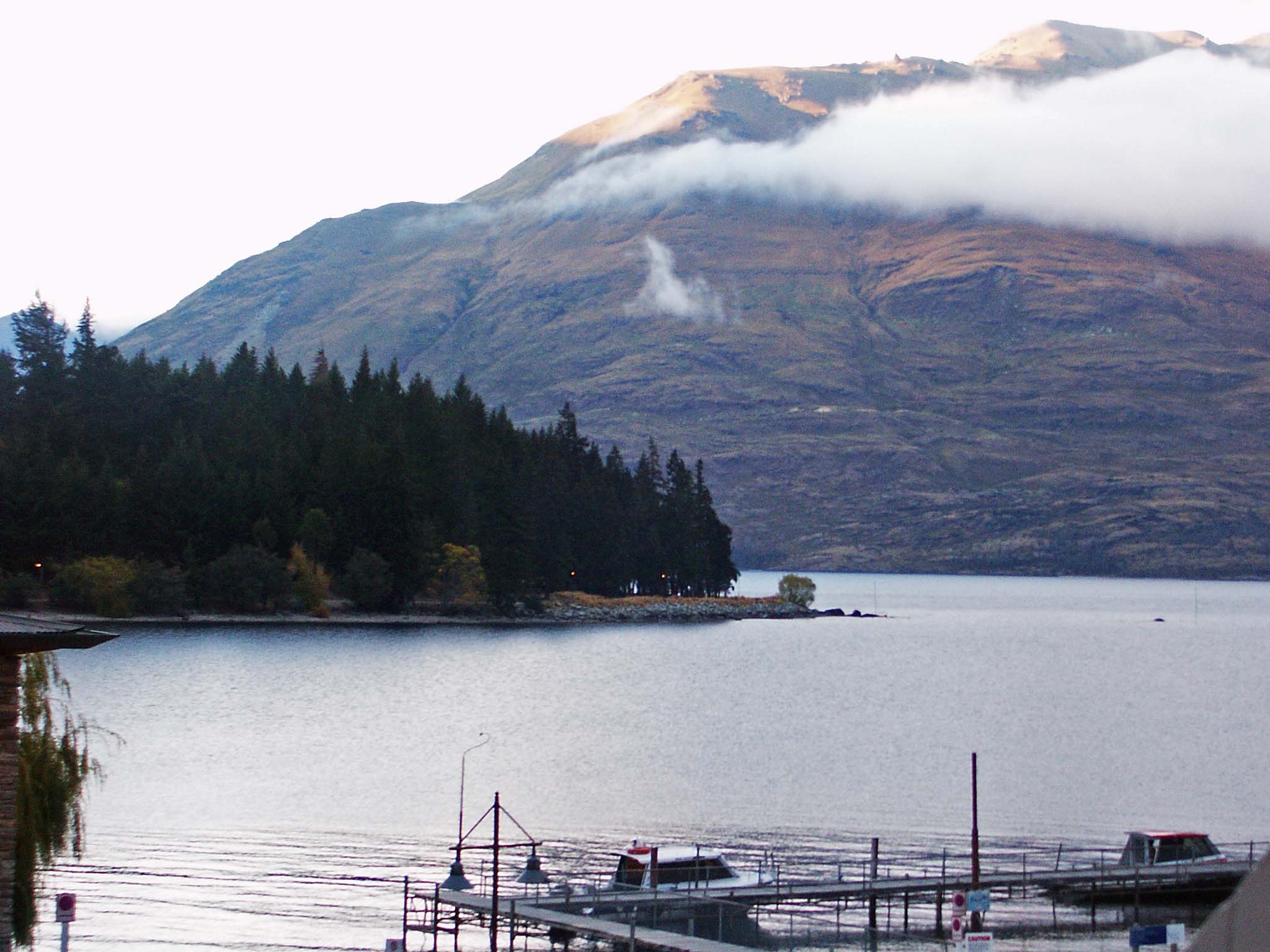 The clouds were doing interesting things with mountain peaks in the morning before we left. Roy thought the shot below was dramatic.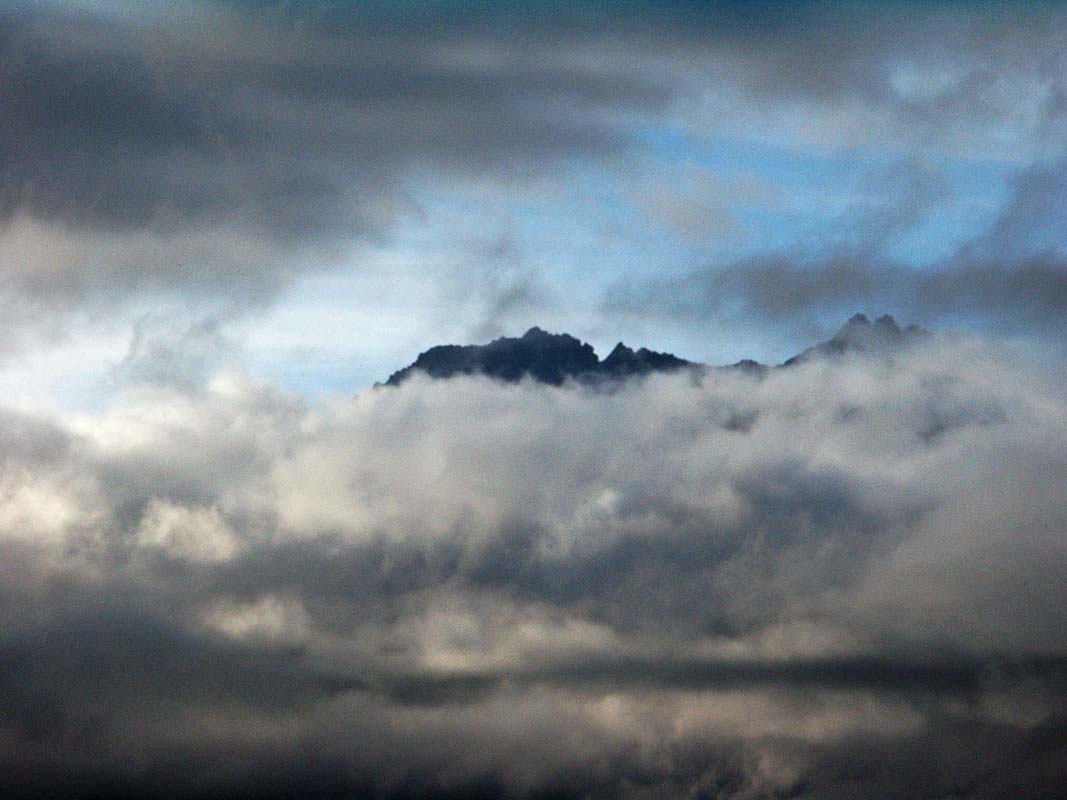 The bus ride toward Mount Cook was filled with beautiful scenery, similar to what we saw previously. It wasn't until we started seeing Mount Cook that Roy's camera trigger finger started getting twitchy. He took many photos from the bus and generated some interesting shots because of the reflections. We stopped before reaching the hotel for the night so that some of our new friends could take a helicopter ride up to the Tasman Glacier. That resulted in Roy burning more electrons taking pictures of the mountains. One of them is shown below.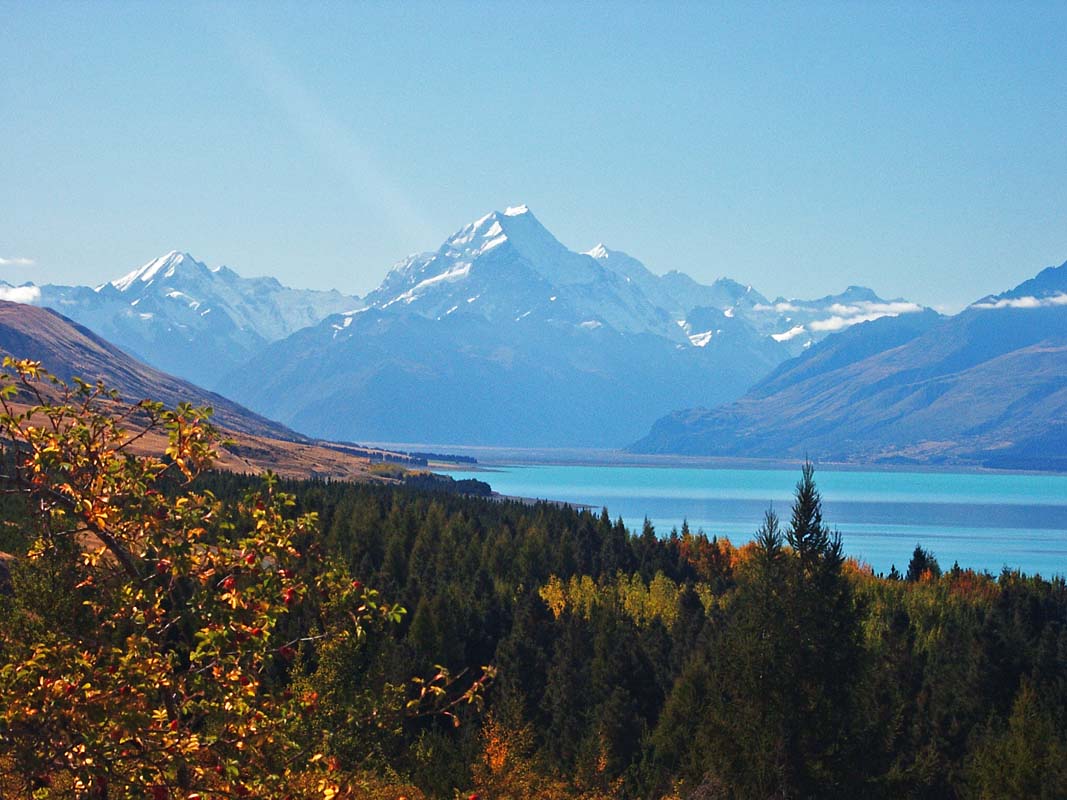 It wasn't too long after that we reached our hotel. The view out our window was beautiful this morning in Queenstown but so was it this evening as can be seen below.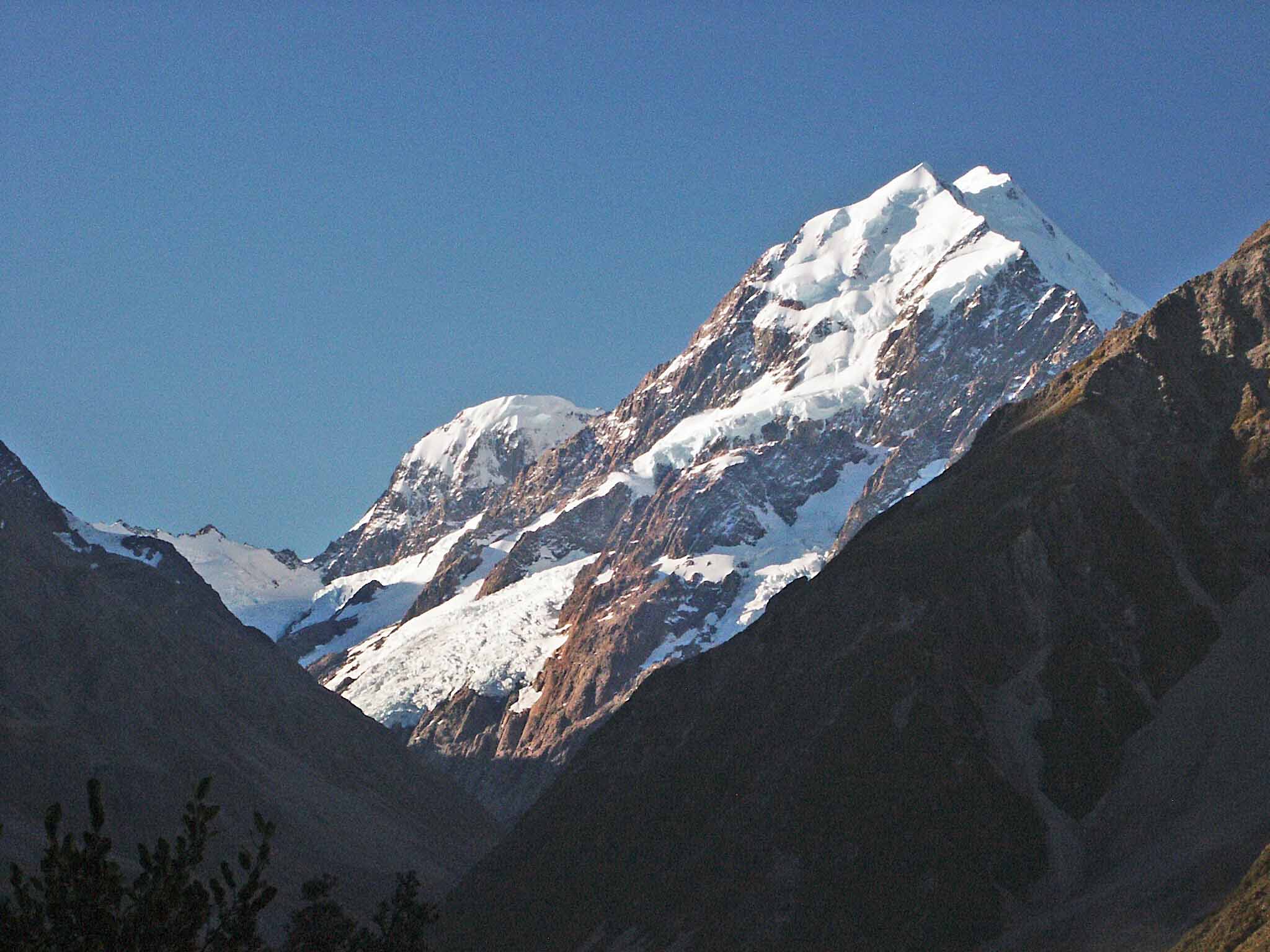 We took a walk on a short trail. It was supposed to take twenty minutes round trip. Nobody mentioned that it was practically straight up. (Well, not really, but at the elevation we were at it seemed to be.) It did result in a picture that Roy liked.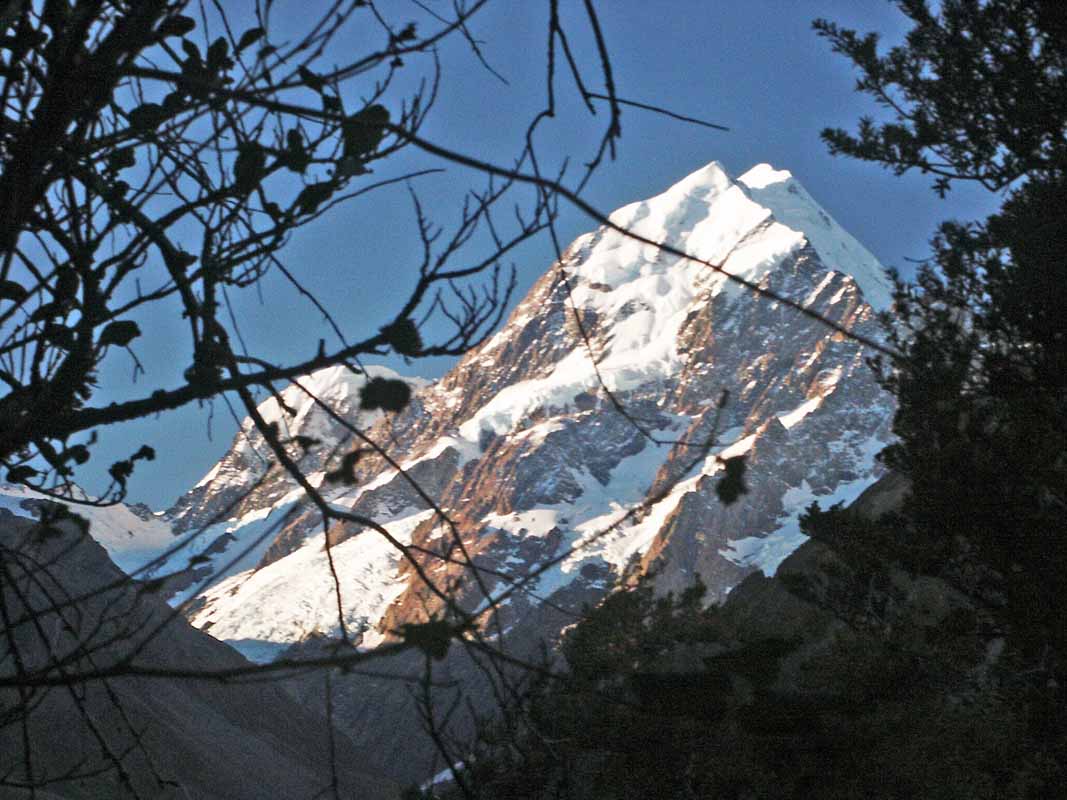 The tour group enjoyed a delicious buffet dinner. Then it was time to head back to the room for the night.
Day 28, Thursday, March 30, 2006
Mount Cook-Christchurch. Leave this alpine wonderland, ringed by 17 permanently snow-capped peaks, and drive to Lake Tekapo to view the Church of the Good Shepherd. Then cross the patchwork Canterbury Plains to reach Christchurch, the "Garden City" of New Zealand. [B]
We awoke this morning and peaked out our window to see another inspiring view of Mount Cook. Instead, we saw fog. We couldn't see ten feet from our window. Fortunately, the fog lifted enough so that our coach driver could safely get us on our way. It wasn't until we were on our way that we learned how lucky we were to get the weather we had the day before. One of our group had been talking to a young person from the night before. The youngster (it's all relative - supposedly in their 20s) had now been to Mount Cook four times and yesterday was the first time she saw it. Previously, if it wasn't foggy, like this morning, the mountain top was covered with clouds.
With the fog finally giving way to heavy clouds, the drive was uneventful. We did stop after "morning tea" to view the Church of the Good Shepherd. It is a non-denominational church with a large picture window behind the altar.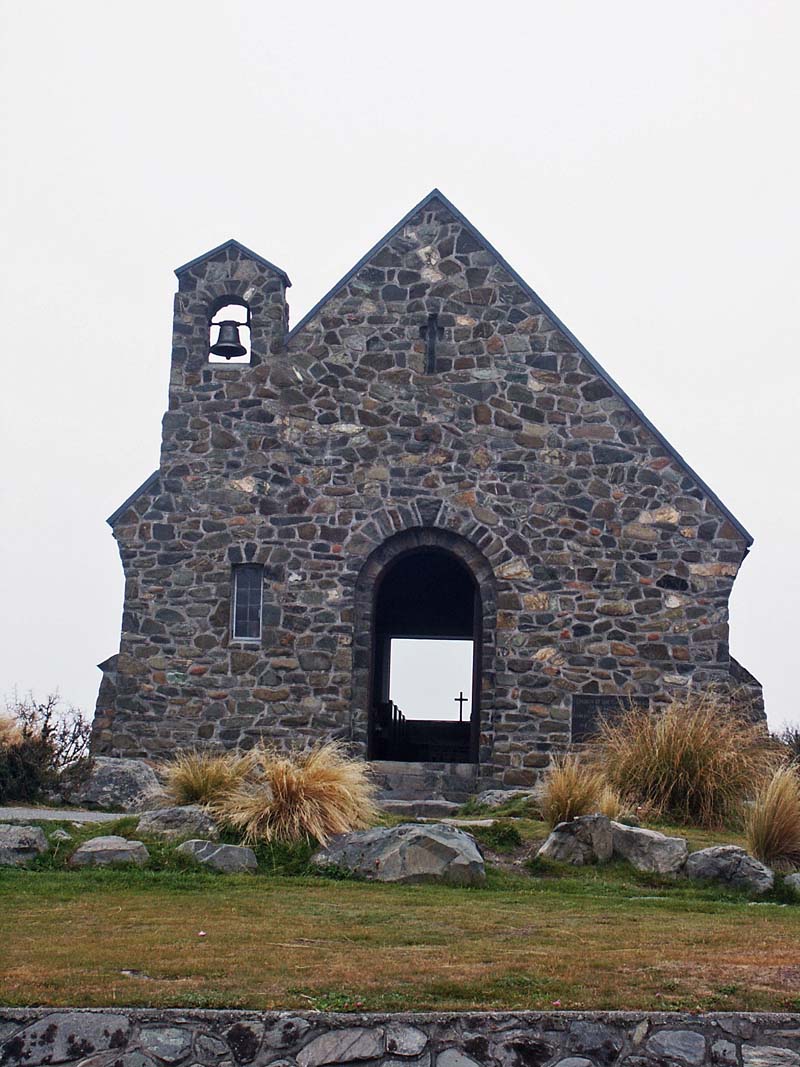 We thought the small stone church was quaint and cozy, but the view out the front window was not all that spectacular. Later on we found a post card at our lunch stop of what the view looks like without the clouds. (You'll have to take our word until we get home and scan the postcard. We wonder how the parishioners are able to stay focused on the sermon.)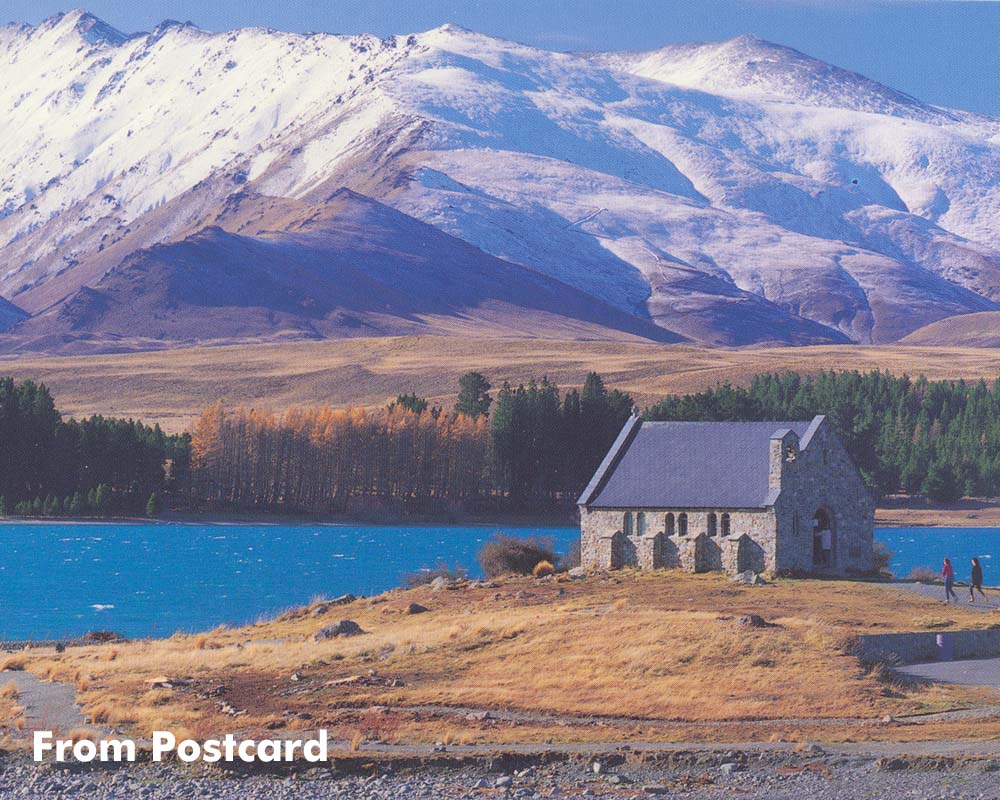 (from postcard)
After taking a brief ride around Christchurch to get our bearings, we arrived at the hotel about 2:30. After taking a little time to settle in, we took a walk around the city. Much of the city is centered around Cathedral Square, the sight of an impressive Anglican Church.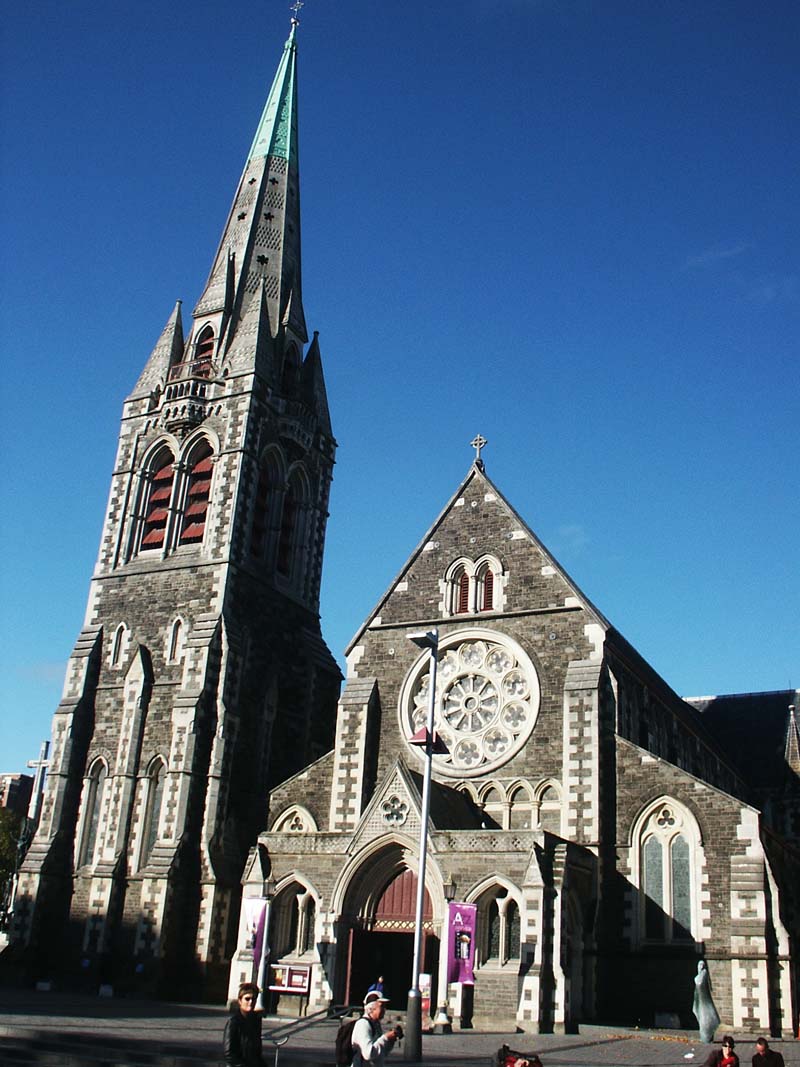 Dinner tonight was on our own at the "Sticky Fingers."
Day 29, Friday, March 31, 2006
Christchurch Sightseeing starts with a drive up the winding Summit Road for views of Lyttleton Harbor, then past Christchurch's old stone buildings, the charming Avon River, and acres of green parks. The remainder of the day is free to explore this beautiful English "Garden City." This evening your Tour Director hosts a FAREWELL Dinner, the perfect finale to a great touring adventure. [B,D]
We were on the bus at 9 AM for more of the city tour. First stop was a huge rock on a beach. Some of the group climbed to the top. We thought the following picture was rather amusing. It seems that the U.S. isn't the only place where the laws that are followed are rather selective.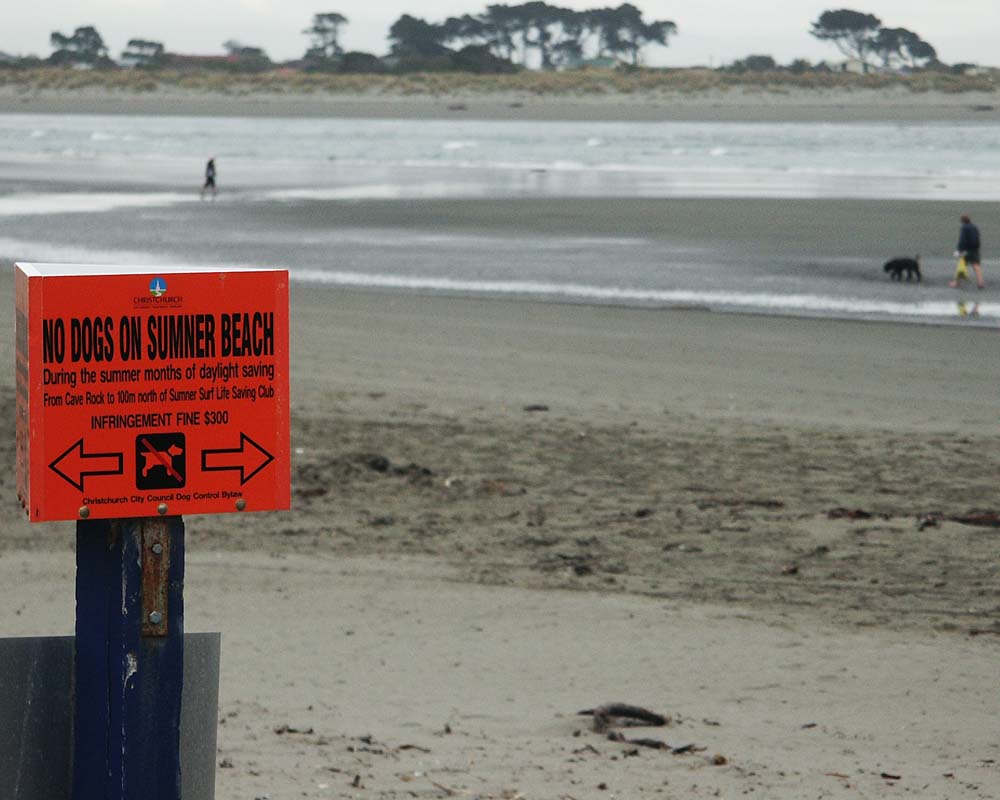 After seeing a number of other sights in the city, we stopped at the museum and botanical garden. We were given the option of coming back to the bus in an hour or making our own way back to the hotel. The museum looked so interesting that we doubted we would see enough of both in an hour so we opted for making our own way back to the hotel (only a matter of a few blocks).
The museum was very interesting. Christchurch is the jumping off city for most Antarctic scientific expeditions. The museum had a rather large section devoted to the history of those explorations. We've all read about and seen movies depicting the conditions of Antarctica. When you see some of the equipment of the early explorers, you have to wonder how any of them survived.
The botanical gardens were beautiful. Unfortunately, this was one of the few days on our trip that remained cloudy all day. For Roy, cloudy days usually mean he doesn't get the kind of pictures he likes. However, close-ups of flowers are not dependent on bright sunshine. He found the flowers below to be unique. Their common name is the Celtic Cross.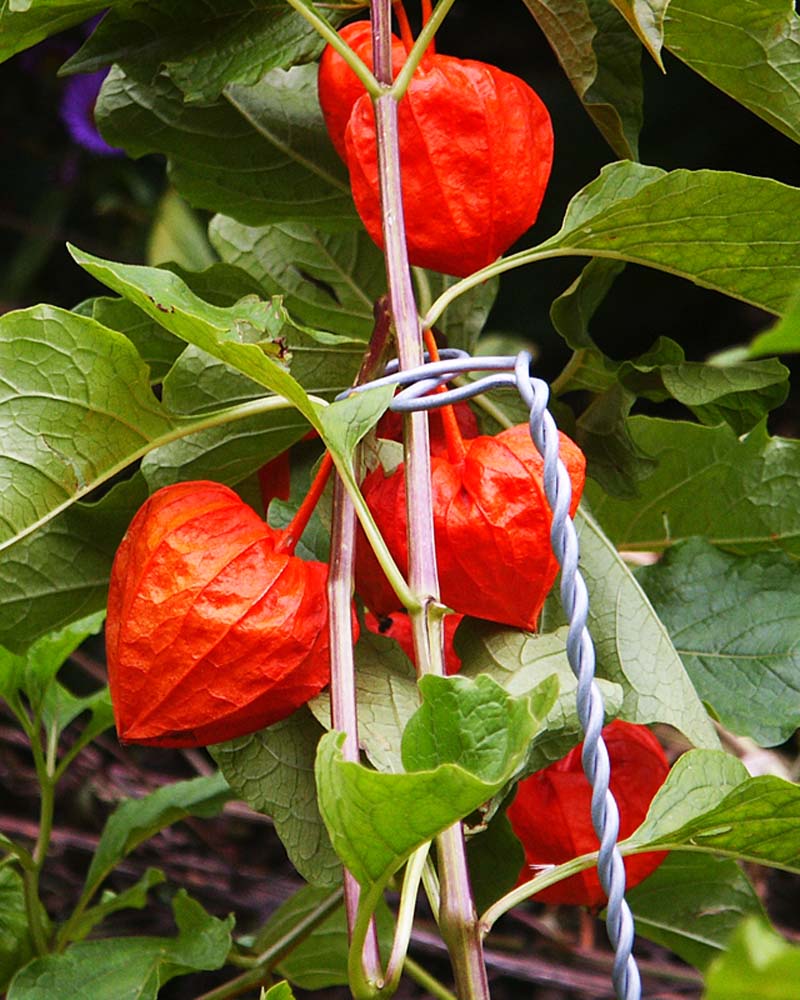 After wandering the gardens for a considerable length of time, we decided it was time for lunch. We found a pub style restaurant close to the hotel and had a nice meal. For those of you who don't know what a pub style restaurant is (we didn't), you order your meal at the bar, they give you a number for your table, and the meal is brought to you when it's ready. They seem to be quite popular in both Australia and New Zealand.
After lunch, we headed back to the hotel to start putting things together for the trip home. In so doing, we got involved in a movie on TV. We were a little disappointed in ourselves, spending our last afternoon in New Zealand in a hotel room, but we were kind of worn out.
The evening dinner was hosted by our Globus guide, Karen. It was a nice time to say goodbye to all of our new friends. In doing so, we had a good chuckle over the number of people who ended up watching the same movie in the afternoon.
Day 30, Saturday, April 1, 2006
This afternoon board your homebound flight which arrives the same day. [B]
Contrary to the description above, we did not board our homebound flight in the afternoon. Because we had used frequent flyer miles, we had different arrangements. We had to board a shuttle to the airport at 4 AM. Of course, much to our delight, there was our Karen not only seeing us off but making sure we had a box breakfast. The 4 AM may have been a little earlier than needed, but it did insure that we were there the required extra time for an international flight. The flight from Christchurch to Sydney was nice and uneventful. We had about a seven hour layover in Sydney. Roy was disappointed that the shopping was not as good as he had remembered from his previous visits, but we did find enough things to spend the last of our Australian money.
The flight to Los Angeles was as expected, long and uneventful. Once again, Pam reiterated a number of times that she liked the extras that come from flying in business class. We were able to get some sleep during that flight.
In L.A. the trip through immigration and customs went very smoothly. We were standing at our gate about five minutes before boarding time, when Roy noticed Hill and Sarah, two of our new friends coming down the corridor toward their flight to the east coast. They had left in the afternoon, but had gone from Christchurch to Auckland to L.A. All we had time for was a quick hello, and some more of the goodbyes we said the night before.
Roy did see an attractive view when flying over the west. He doesn't know what mountain it is, but thought it looked neat.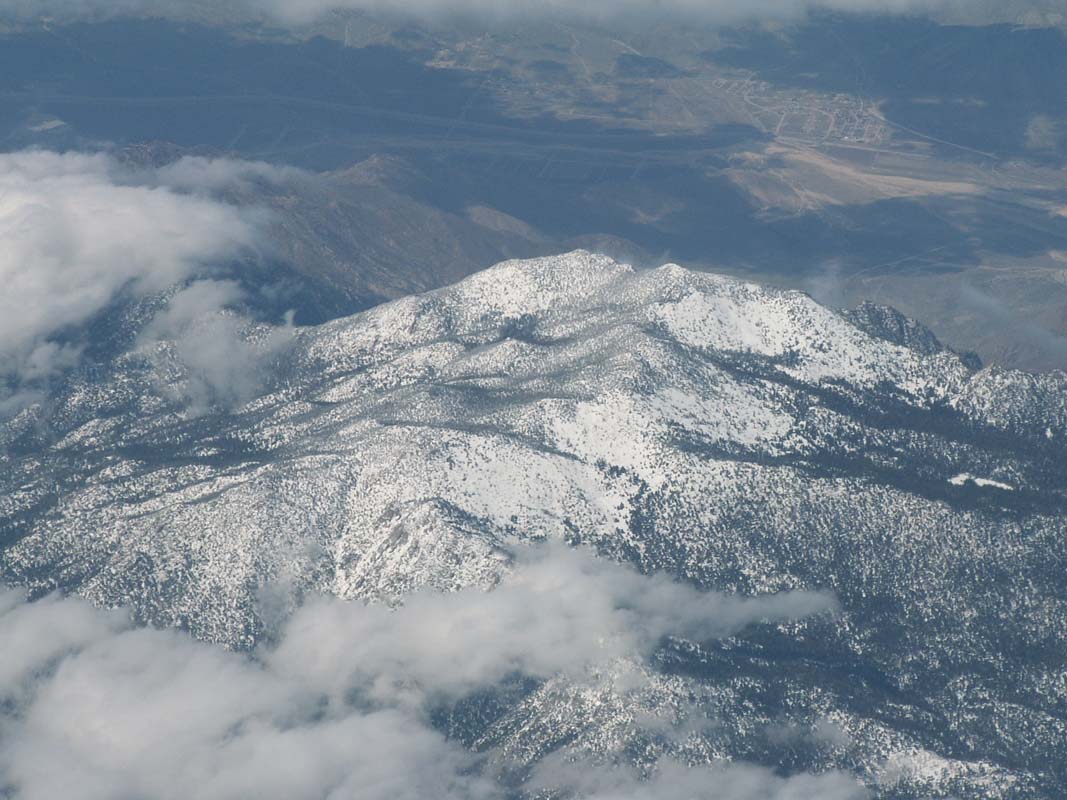 And there was one more sunset to photograph.
<![if !vml]>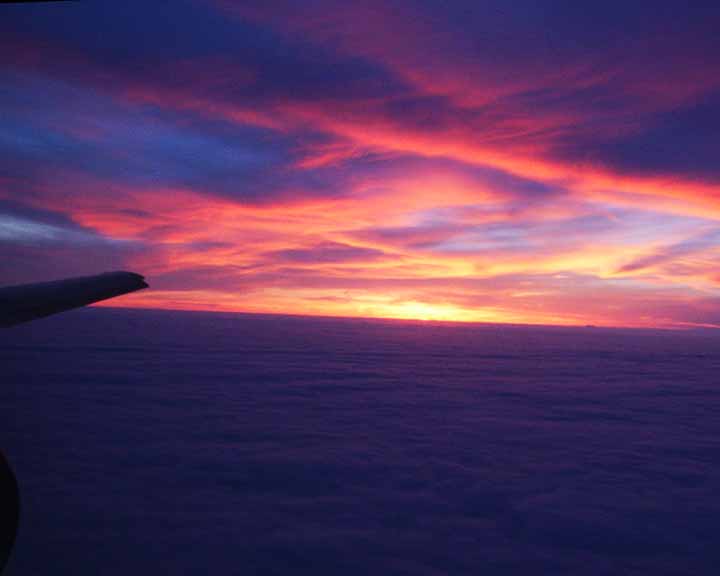 <![endif]>
Arrival at O'Hare was on-time; baggage seemed to take forever, but really wasn't that long. As had been previously arranged, a call to Paul and Maxine Palmer led to our meeting at the Kiss-and-Fly for the drive home. We arrived home about 8 P.M. It was still April 1st as it was when we left New Zealand, but it was almost 35 hours after we waved goodbye to Karen.
What a great adventure/trip/vacation/experience/holiday/ or whatever you want to call it! Hope you enjoyed the journal.