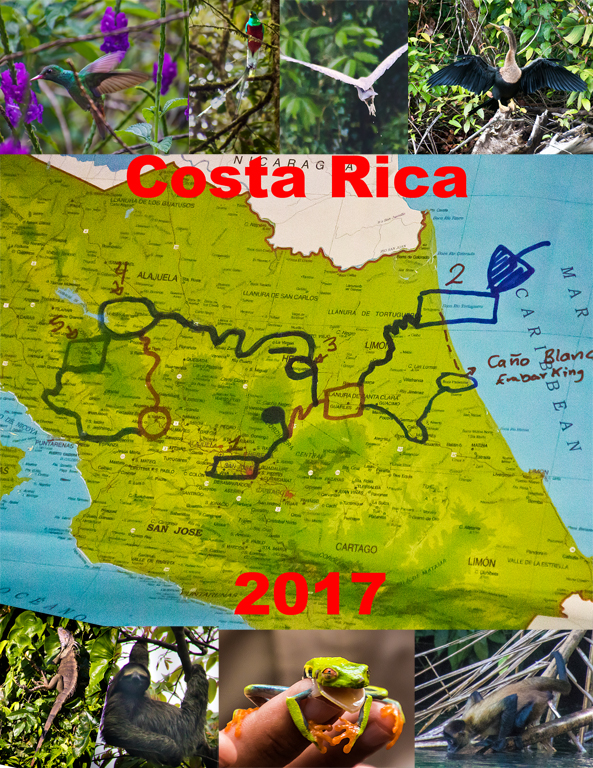 DAY I ARRIVE SAN JOSE
Welcome to San Jose where your journey begins with a warm greeting from a local host at the airport and a transfer to your hotel. Al 6 p.m.., gather at the hotel with your Travel Director and traveling companions for a Welcome Reception.
Our Costa Rican adventure started with an early morning American Taxi pickup. The Palmers had already been picked up and we were off to our United Flight non-stop flight to Costa Rica. The pickup at the San Jose airport went off without a hitch and one of our Trafalgar guides met us as we entered the hotel. There was a shopping mall across the street from the hotel and we opted to try the food court for dinner. Pam and I opted for splitting a Quiznos sub. (I know - not very daring in sampling the native cuisine. The 6 PM reception was nice. The wine/mixed drinks flowed freely and the hors d'oeuvres looked good. All of the attendees gave where they were from and what they were looking for from the excursion. As an interesting twist for a mixer, as we had registered we had filled out nametags with only our first name on them. These were passed out randomly to the other travelers and then we were given five minutes to find the person that went with the name tag we were given.

I received the name tag of a young lady from New Orleans. She and her sister, both high school students, were on the trip with their grandparents. I really thought that that was a nifty idea and told the grandmother so. (The grandmother is younger than I am.) The grandmother replied that the problem was that there were seven other grandchildren back home that can't wait for it to be their turn.
DAY 2 SAN JOSE -TORTUGUERO NATIONAL PARK
After breakfast, head toward the small town of Son lsidro de Heredia, where you are welcomed by master chocolatiers, Julio Fernandez and George Soriano, for a taste of gourmet chocolate, a Cultural insight. Learn about the history of chocolate and how it is produced at this small workshop. Afterward, continue to Siquirres and embark on a river journey through the protected wetlands. Later, stroll the streets of Tortuguero Village and explore the fascinating Green Turtle Research Station. Enjoy dinner at the hotel this evening.
I'll admit the visit to the master chocolatiers was not on my list of great anticipations for this trip; however, it turned out to be one of the highlights. (Not particularly from a photographic standpoint.) These two gentlemen were able to take a subject I wasn't particularly interested in and make it not only interesting but entertaining as well.
After the chocolatiers we drove to a combination butterfly exhibit and lunch stop. To allow some flexibility in time to set up the lunch, our guides set up a little photography contest to see who could get the best picture of a Blue Morpho. (I certainly did not win the contest. To say that the Blue Morphos were hyper would be a drastic understatement.) I was, however, able to snap this picture of a flower leading into the butterfly exhibit. There was something about the way the light was hitting it that I liked.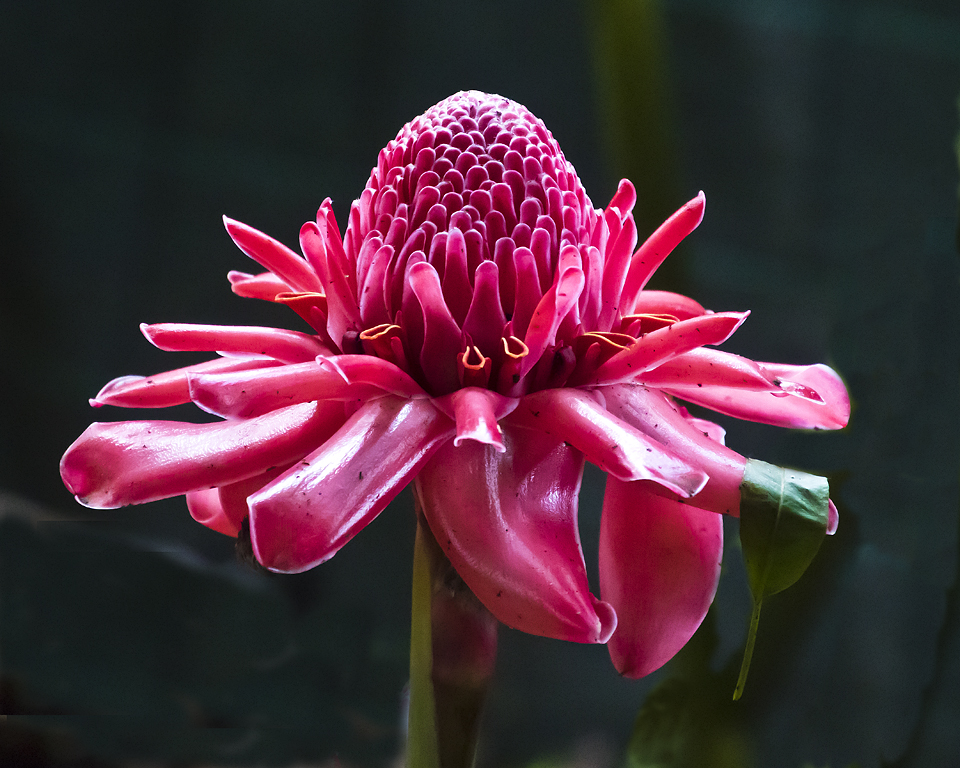 After lunch, we drove to the launching place for the boats to take us to the National Park stay. Before launching, there was an opportunity to see this rhinoceros beetle. My estimate is it was 6 to 8 inches long. It was not very active which is something that I was grateful for.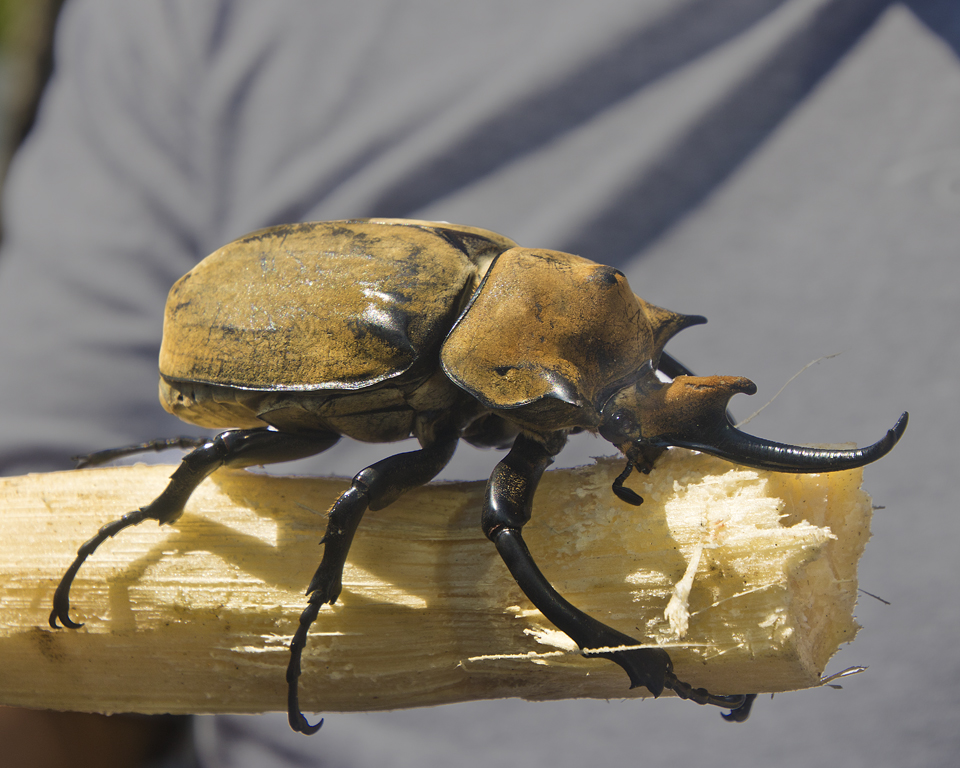 Once on the boat going down the river, the flora and fauna became rather evident. Certainly a beautiful opportunity! Our guides Fabian and German were tremendous at pointing out things along the way, most of which I have forgotten by now. It was our first opportunity to "see" howler monkeys. I must confess that while I took the picture below, I couldn't verify that it was a howler monkey until I actually saw the picture on the computer screen. Between the distance they are from the boat, the backlighting, and their rather monochromatic appearance most of the time I was taking pictures of dark blobs and hoping for the best.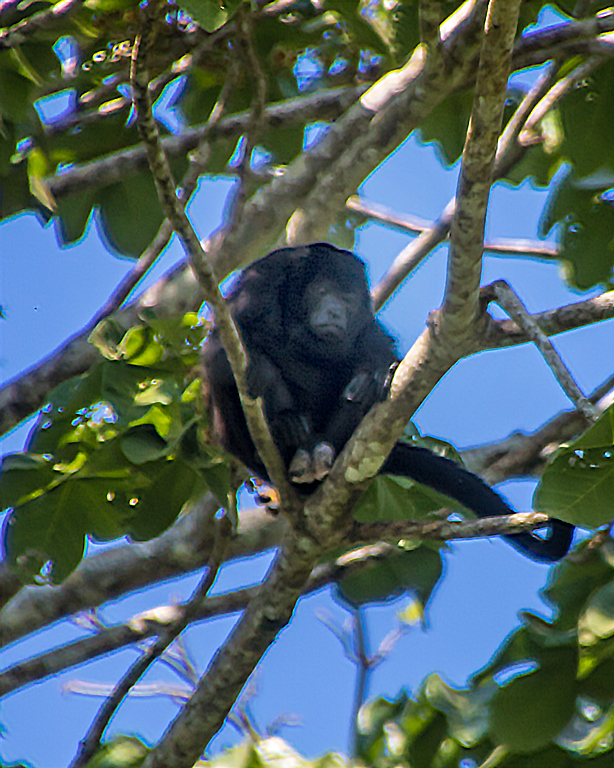 DAY 3 TORTUGUERO NATIONAL PARK SIGHTSEEING AND FREE TIME
Glide through the canals and waterways of the park today as howler monkeys watch from the treetops, toucans and egrets fly through the air, and crocodiles ply the cool waters.
Day 3 consisted of a morning and afternoon ride through the canals of the Tortuguero National Park with a visit to a small town to see what the culture was there and, of course, a lunch break. The guides were very successful in proving that if we were still a hunting society I would be a lot skinnier. The basilisk below looks like it would be easy to spot and it was to our guides it wasn't for me. Fortunately our guides had laser pointers which allowed us to track to where the animal in question was hiding. (I, at times, even had trouble see the laser pointer.)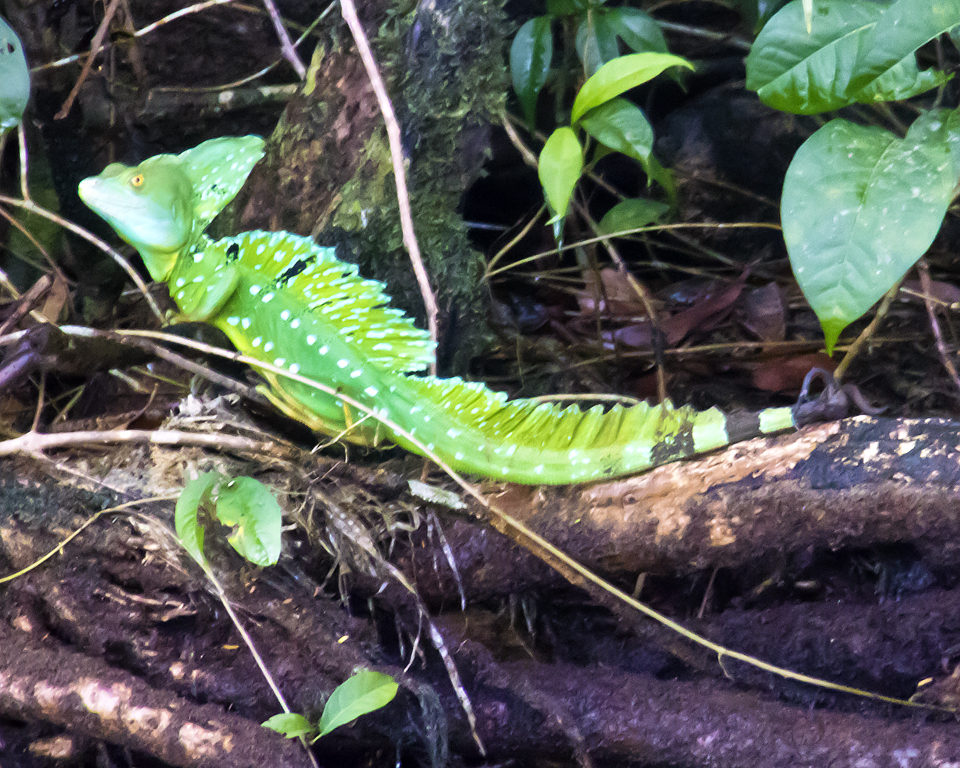 Of course the sloths were like the howler monkeys from the day before - dark blobs in the tree tops. I suppose I would have seen more detail if I used binoculars instead of depending on my camera lens. But, I shot/photographed the blobs and hoped enlarging the blobs would allow some detail. As can be seen below it did work to a degree.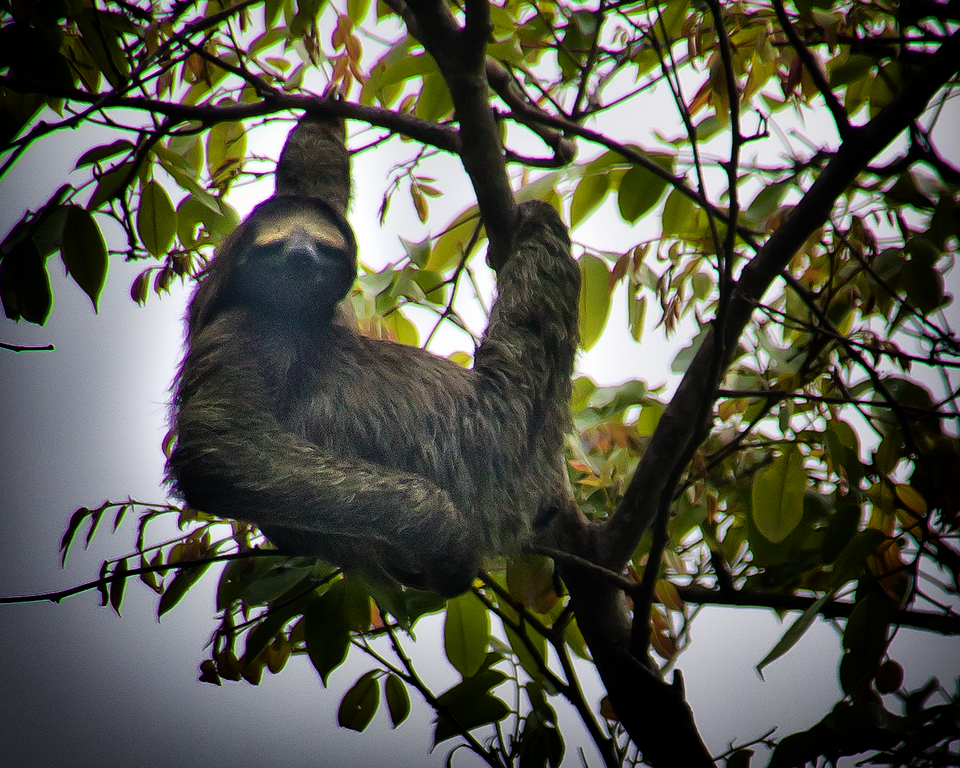 Some of the birds were not that shy and allowed us to get close enough to decently sharp photographs.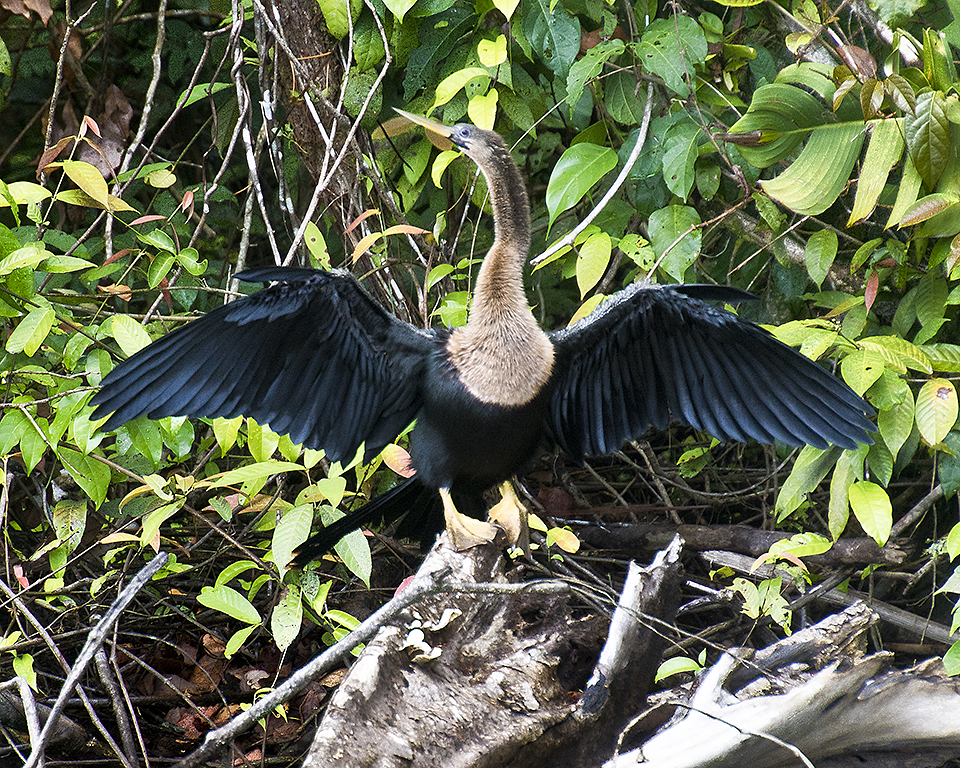 Of course, the really colorful ones knew if we would take their photos even if they were way far away. Unfortunately, from a photography perspective, they were right.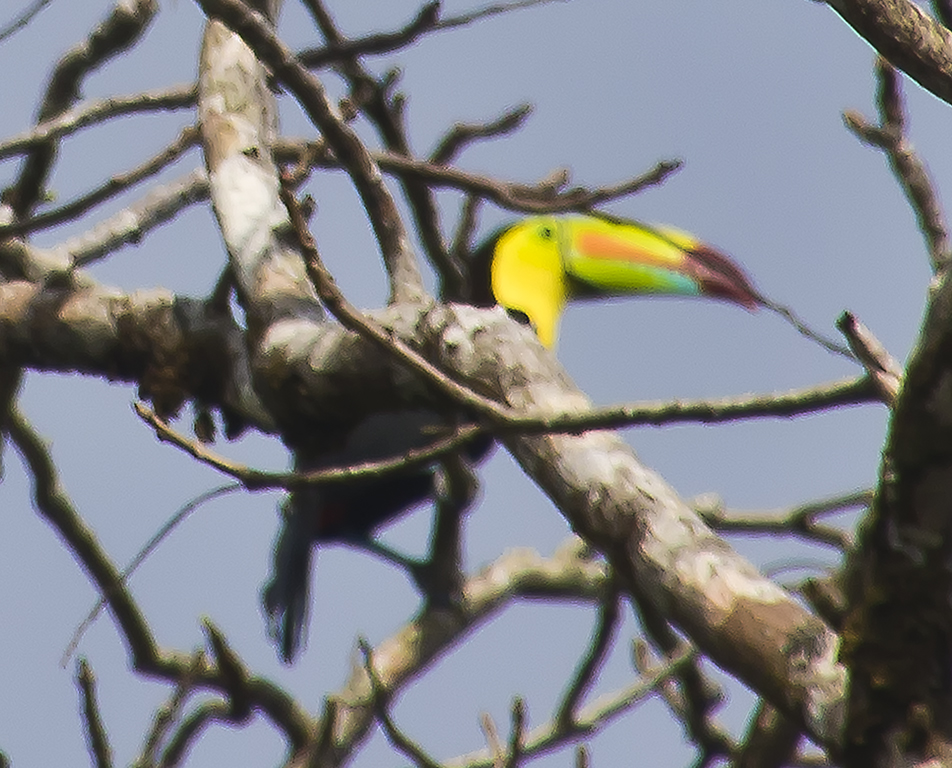 You may notice that I'm not trying to give the names of these birds. That's because we didn't spend a long enough time to get on a first name basis, and if you really care what their scientific name is, you have a better chance at being right than I do.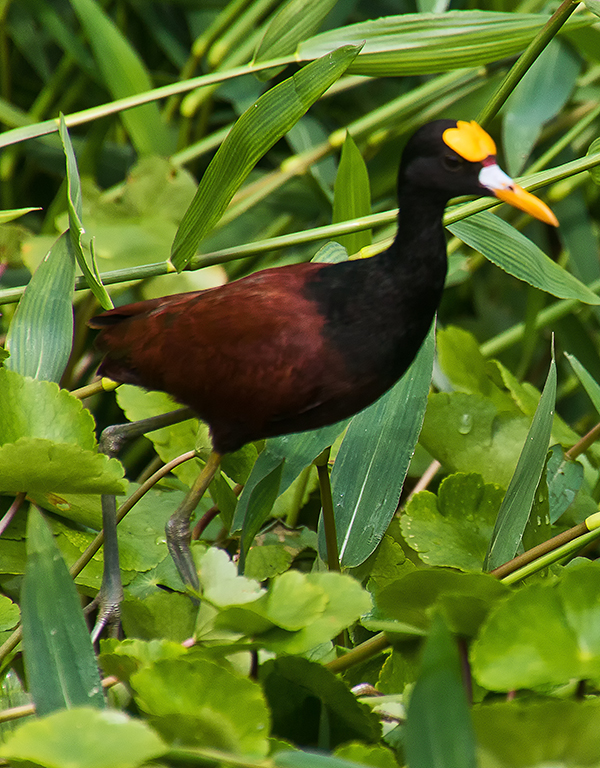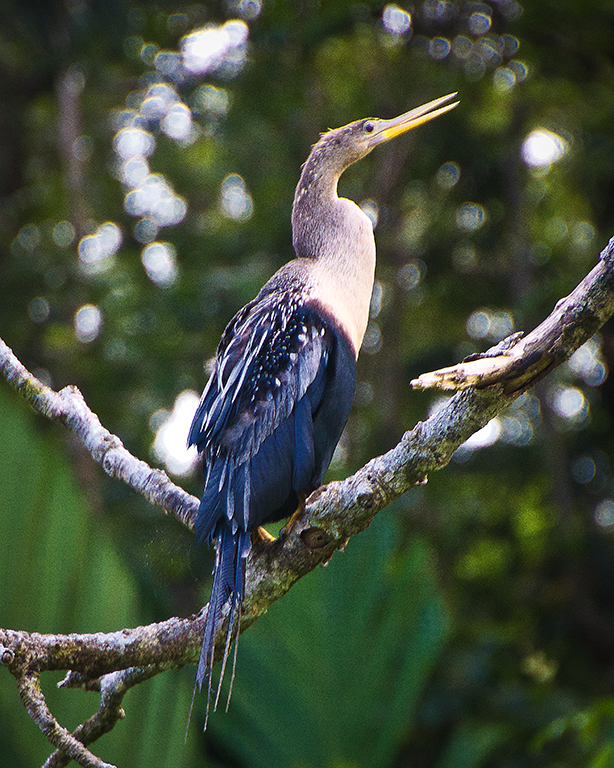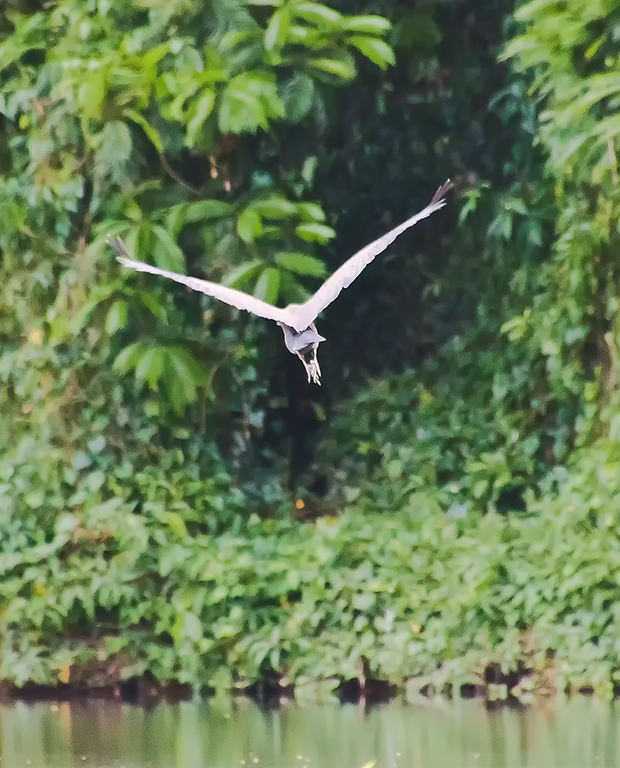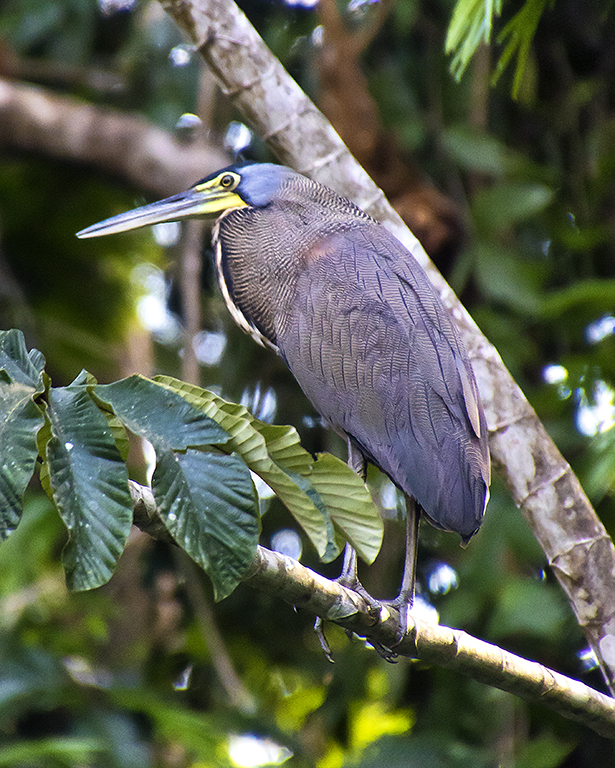 We did get to see iguanas up in the tree frequently. The Costa Rican iguanas are well trained to make sure they keep their heads on the other side of the branch or behind large leaves. I was finally fortunate enough to find one that hadn't finished his/her training.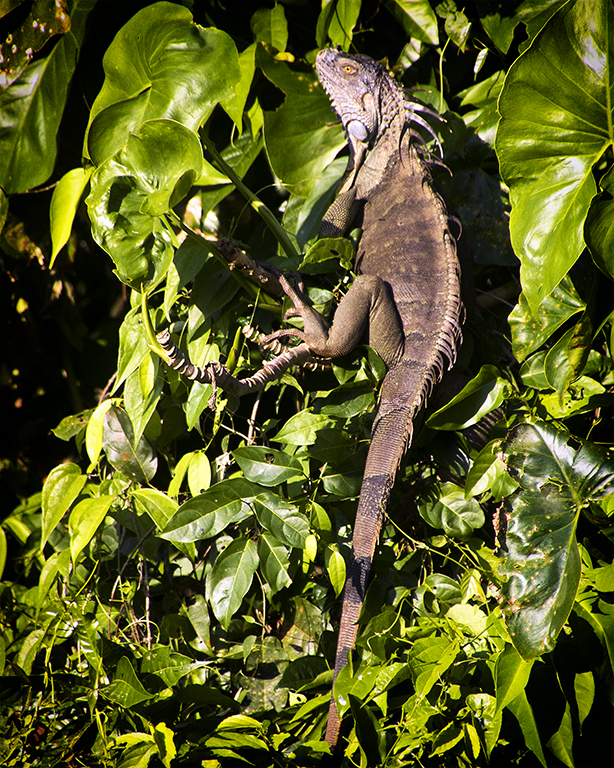 Then we were even lucky enough to spot a spider monkey that was close enough that I could tell it was a monkey before getting it on a computer screen.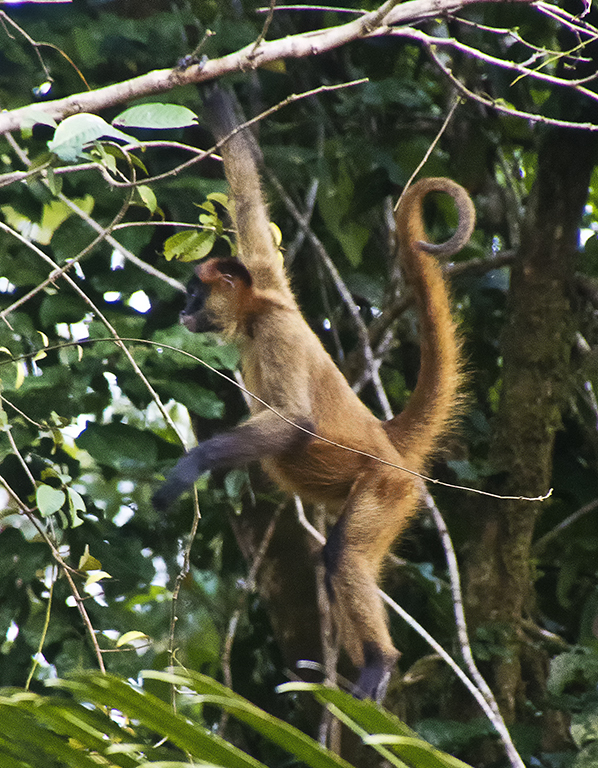 DAY 4 TORTUGUERO -SARAPIQUI
Board your boat and bid adios to the park. Enjoy lunch along the way. Then visit a Tico family's palm plantation to learn about and sample the delicate heart of palm, a Cultural Insight, After a mid-afternoon arrival al your hotel, join your Travel Director on an easy hike looking for the exotic birds of this region. With a little luck, you may spot the endangered great green macaw. Your evening is free.
After two nights at the picturesque Tortuguero National Park it was time to take the boat back to the bus. I was kind of disappointed I hadn't been able to get a picture of a crocodile, my grand daughter Danielle's favorite animal. As we left we were surprised to see a bottle nose dolphin there to wish a safe trip. (That's what a tail slap means, doesn't it?). Shortly after that our guides spotted a spider monkey which had come done to the lagoon for a drink. They said doing so put him/her at risk as compared to being in the tree tops, but when thirsty they will do it. What ever the reason it made for a nice photo opportunity for me..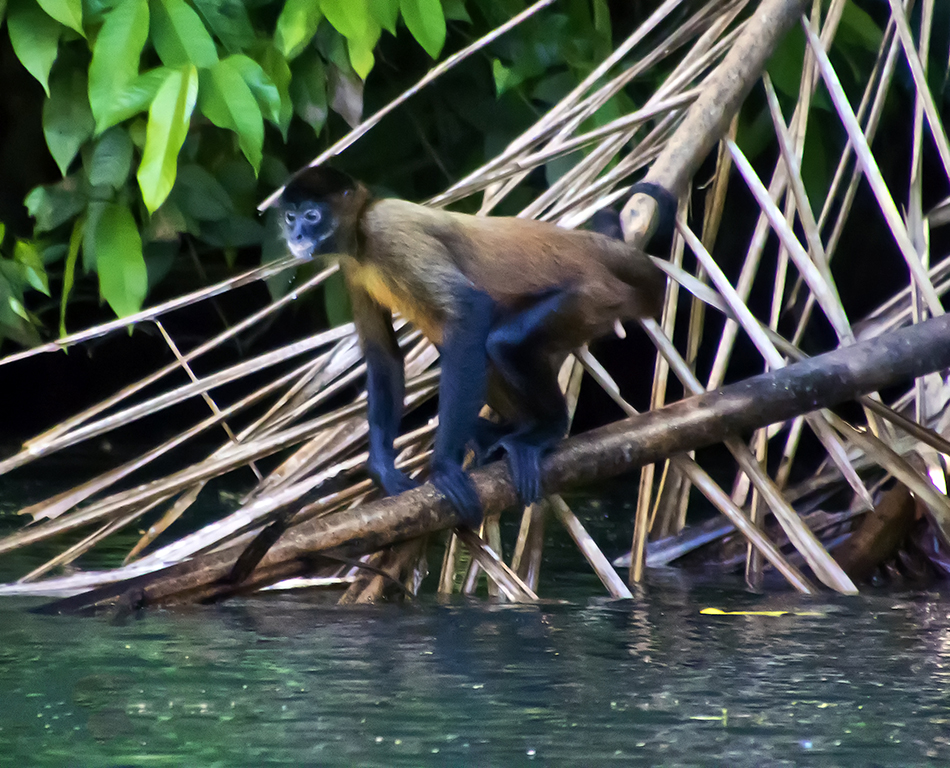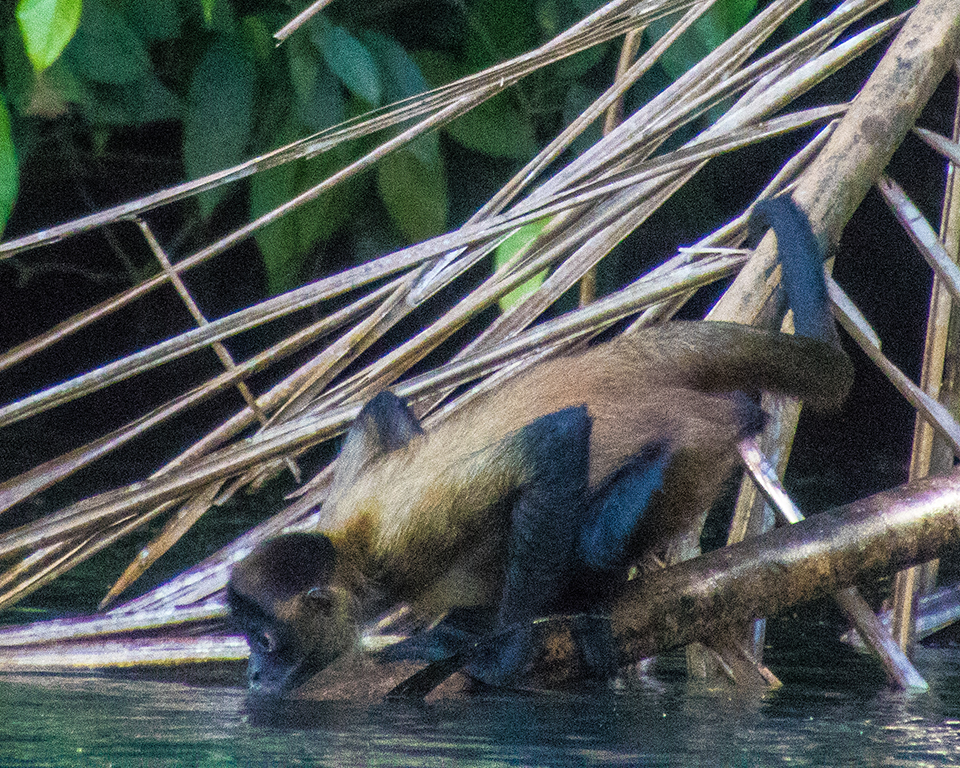 A few minutes later we spotted the crocodile I was hoping we would find. While he wasn't the monster size we saw when in Austrailia, he/she was a good 6 to 8 feet long and was posing for us nicely.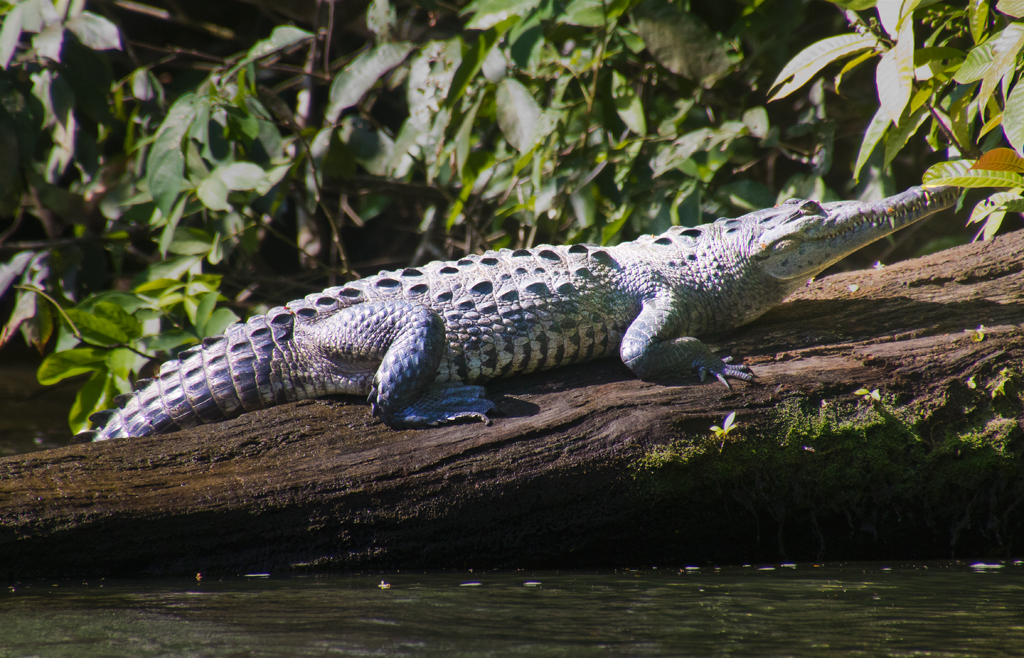 That goal it was back on the bus. Lunch that day was back at the same place we had lunch before going to the National Park. This time instead of having us try to take pictures of the Blue Morphos, Fabian was able to find a "Blue Jean Frog" to photograph. Being a good guide, he even set the "beast" on a leaf so we could get better photographs. (I use the term beast because as large as it may look in the photo below, it was only a little larger than a thumb nail.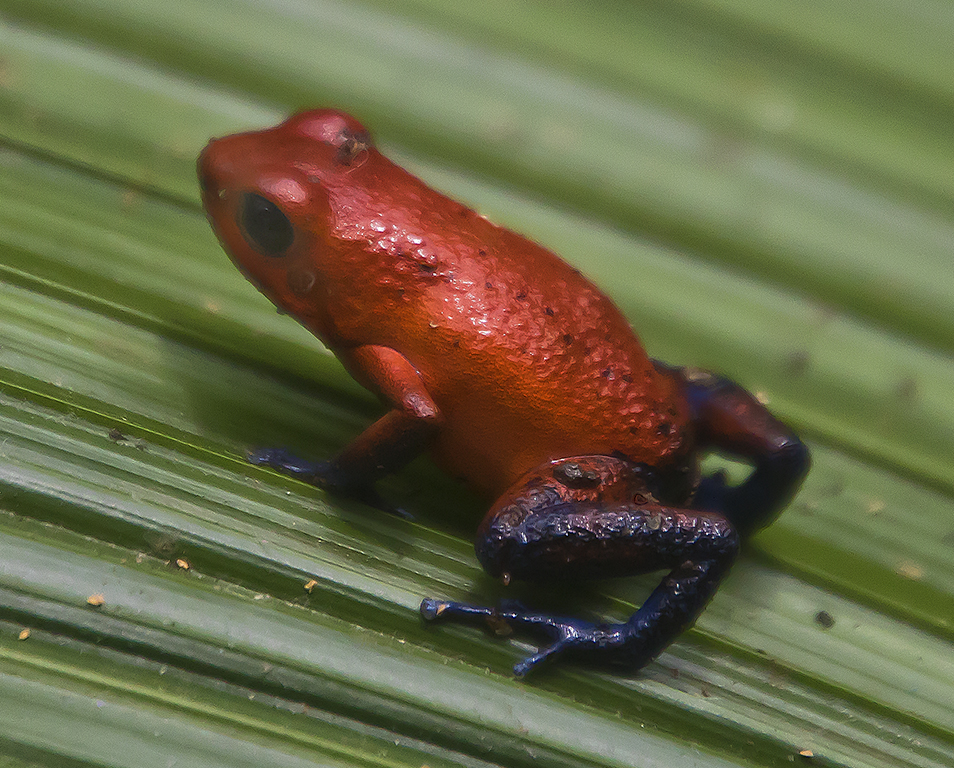 DAY 5 SARAPIQUI - ARENAL
For the early risers, there is time for an optional rafting trip. Or relax, sleep in and immerse yourself in the natural beauty of the area surrounding your lodge. Later, enjoy a special Be My Guest experience at an eco-friendly hacienda built by the Quintana family as a retirement project. Today, it is home to an organic farm, restaurant and related eco-adventures. The family welcomes you with lunch and shares stories of how their retirement dreams have benefited the local community. Afterward, depart to the town of La Fortuna de Son Carlos, home of the colossal Arenal Volcano. Late this afternoon, spend time in the thermal pools of your resort as well as the gardens with beautiful birds. In the evening, relish some of the best views of the volcano as you enjoy a leisurely dinner.
The visit to the organic farm was far more interesting than I expected. The owner is a retired exec from Coca Cola and impressed me as being somewhere way up there on the genius scale. The projects he conducted on the plantation while running Coke down there were amazing. He had the best tasting pineapple I've ever had (could be it was "vine ripened) and served us an abolutely delicious lunch. That being said I was most likely most pleased with the shot of the humming bird below. It's most likely the best one I've ever taken and it was shot looking out from the porch while waiting for lunch.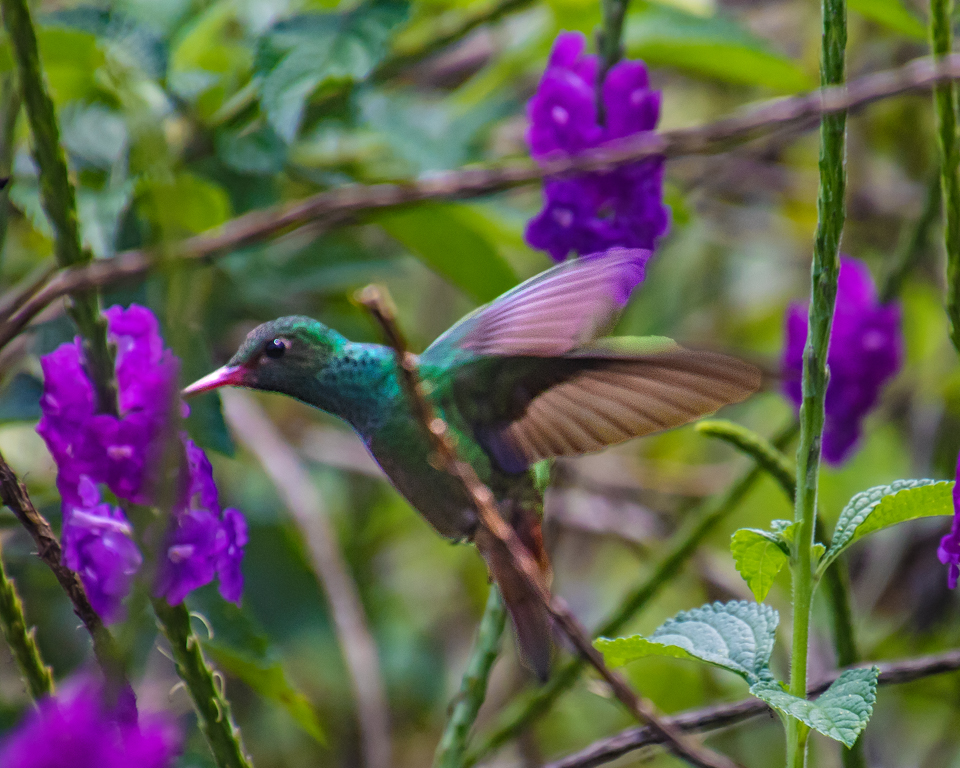 DAY 6 ARENAL - MONTEVERDE FOREST
Enjoy a free morning to sleep in or take an optional outing including a hike around Arenal, kayaking on Lake Arenal or visiting an ecological park and terrarium with over 200 species of reptiles, rare frogs and other amphibians as well as butterflies. Early this afternoon, head to the Monteverde Cloud Forest, straddling the Continental Divide, home lo luxuriant vegetation, abundant wildlife, coffee plantations and spectacular views. Tonight, you'll meet a native Quaker, and Local Specialist, who will share stories of Old Town Monteverde
Knowing our love of zoos and the like it wasn't surprising we opted for the ecological park. It appears the natives refer to the frog below as the red eyed frog; however, from the book on the wild life we got the official name is Gaudy Leaf Frog. What ever the name, you can certainly see, since those are two fingers holding him up, they aren't very big.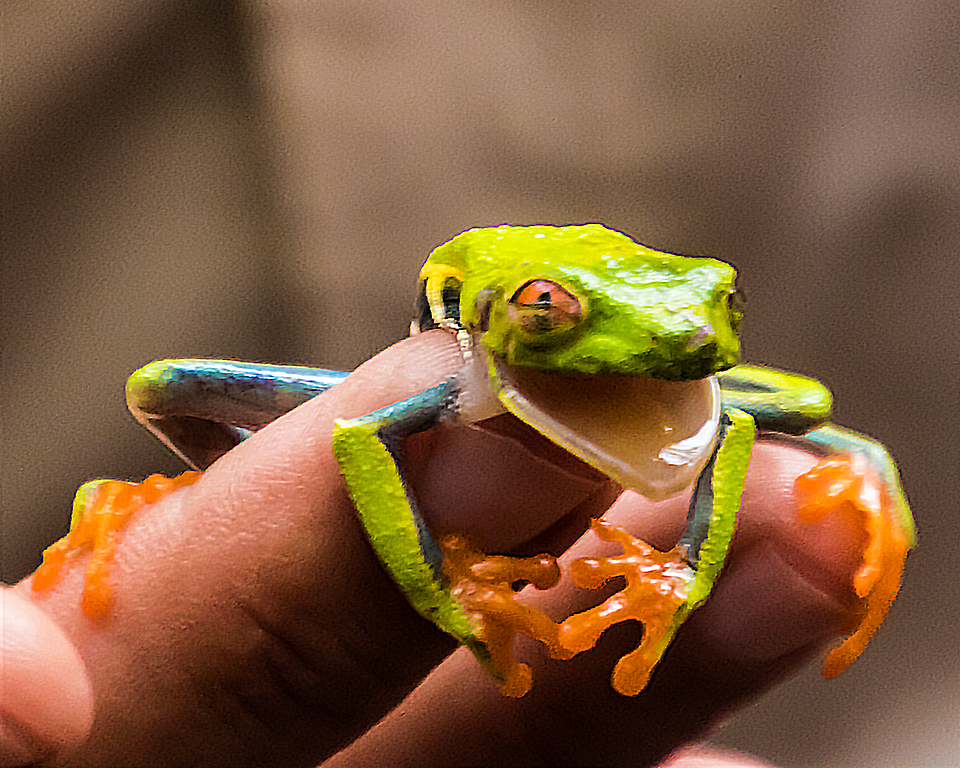 On the other hand, the Blue Morphos we saw there were large (and fortunately not as active as the other place.)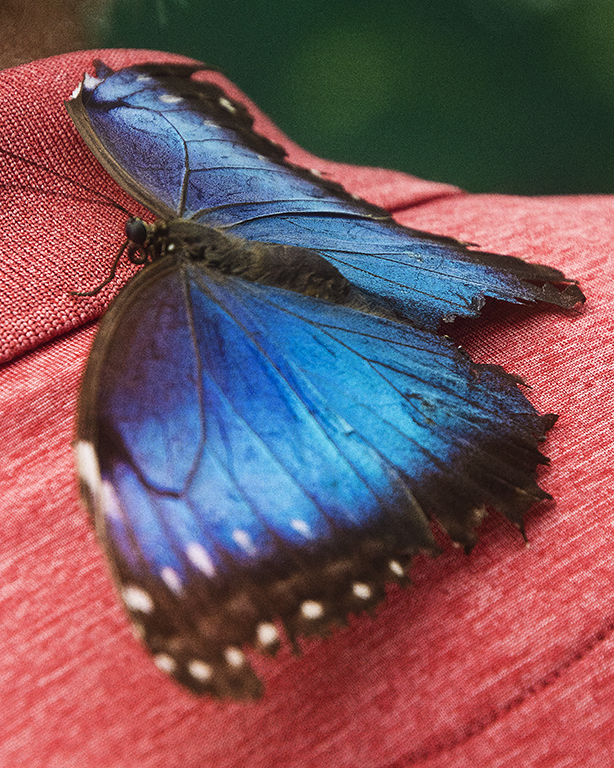 DAY 7 MONTEVERDE CLOUD FOREST SIGHTSEEING AND FREETIME
Join your guide for an excursion through the Monteverde Cloud Forest Reserve. Covering 26,000 acres of tropical rain forest, the Reserve consists of 6 ecological zones and offers extremely high biodiversity, consisting of over 2,500 plant species (including hundreds of orchid varieties),loo species of mammals, 400 bird species, and 120 reptilian and amphibian species. Later, ascend to the treetops for a bird's-eye view of the forest on the unforgettable Sky Walk, a chain of 6 suspension bridges at canopy level. Tonight, trade stories of your experiences at a festive Farewell Dinner.
Pam's visit to Costa Rica was complete when our guides spotted these Resplendent Quetzals on our morning walk. She had heard how rare it was to see them and how beautiful they are. Needless to say, I would have liked them much closer, but you take what you can get.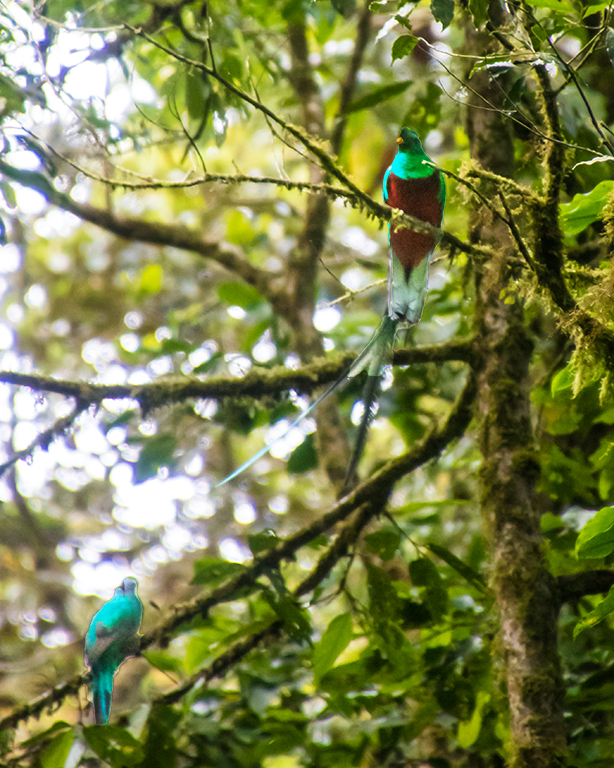 After visiting the top of the cloud forest by tram (Paul ziplined down), we were greated by this coati in the parking lot. While I doubt he was domesticated he was socialized enough to not be afraid of humans and to have been named by the staff - Zachary.
Sadly every trip is faced with an end. We were fortunate to have this beautiful sunset as we had cocktails with Paul and Arlyle before our farewell dinner.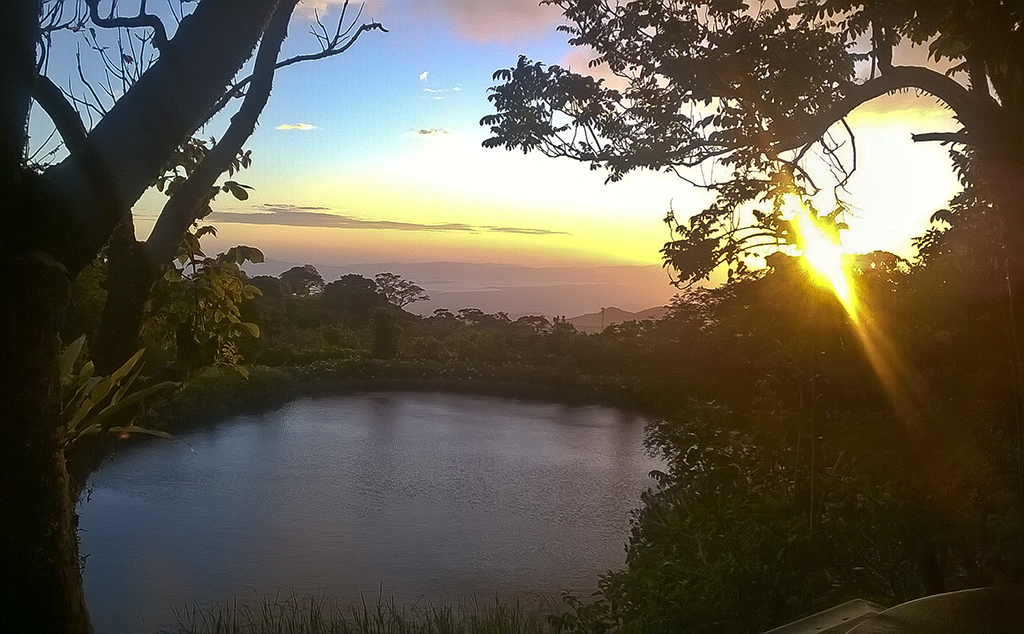 DAY 8 MONTEVERDE -DEPART LIBERIA OR SAN JOSE
Transfer to either Liberia or Son Jos6 International Airports or travel on to Guanacaste Beach for those extending their stay. Meals: Full Breakfast