New Orleans - French Quarter
April 17 - 21, 2017
Day 1: Flight to New Orleans * Arrive at the elegant Hotel Montelone, in the heart of the French Quarter for 4 nights. * Royal Carriage Tour of the French Quarter * Dinner in French Quarter at Cafe Giovanni.
As has been the case when we get picked up for an American Classic tour, the driver arrived early and we were off to O'Hare. Check in was uneventful. We were a little disappointed that Pam and I were not seated together, but we have been separated for longer periods of time than that before. Transfer to the hotel also went off without a hitch. We were very impressed with the hotel room. It had a desk for me to do my computer stuff and a comfortable chair for Pam to read. (As the days past we also found that it was very quite as well.)
The first thing on the agenda was the carriage ride through the French Quarter. I was surprised to learn all of the carriage rides were pulled by mules, not horses. I don't think we were ever told why. This is a shot I took of the carriage that was following ours.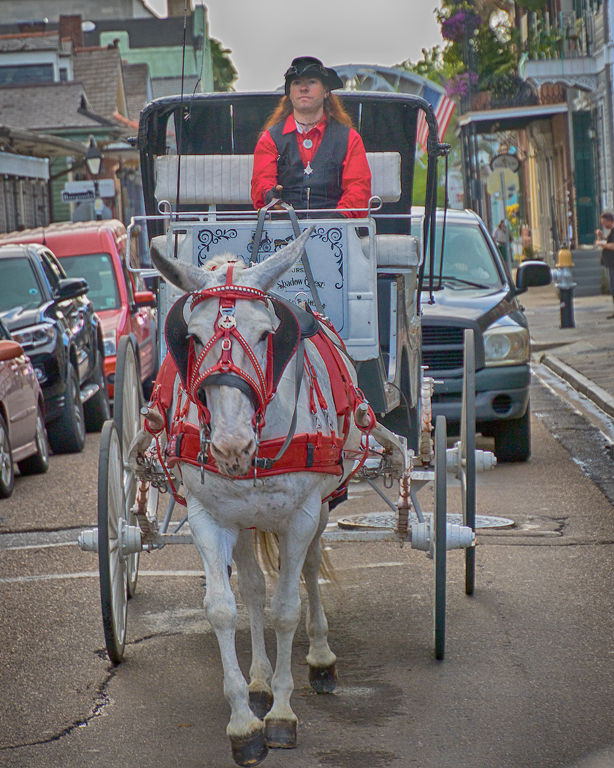 It was nice to see that images in my mind from seeing pictures of the French Quarter on TV were pretty accurate. The balconies, flowers, and people were all there. (Fortunate for me, not as many people as shown on TV.)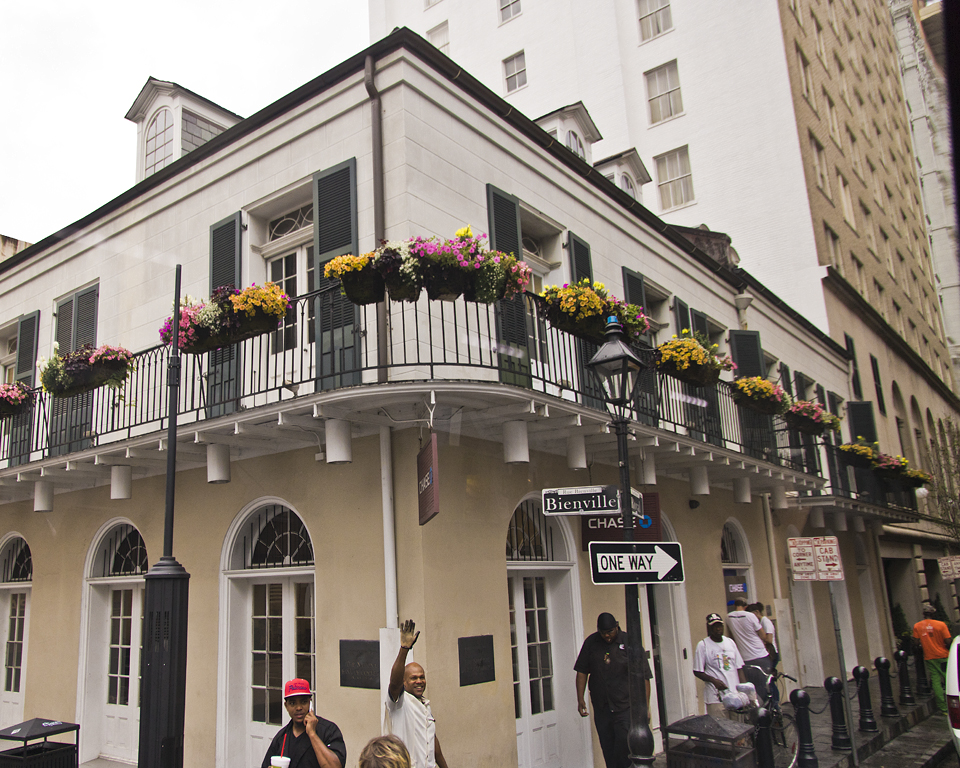 Dinner at Cafe Giovanni was absolutely delicious!
Day 2: * Breakfast. * Guided tour of New Orleans includes Jackson Square, Bayou St. John, Garden District, above ground cemeteries & more * Free afternoon to enjoy the French Quarter. * Mississippi River Cruise aboard the S.S. Natchez sternwheeler.
The guided tour of New Orleans provided a great over view of all of the city.

The above ground cemeteries have fascinated me when I saw them in movies and they did prove interesting when we saw them in person.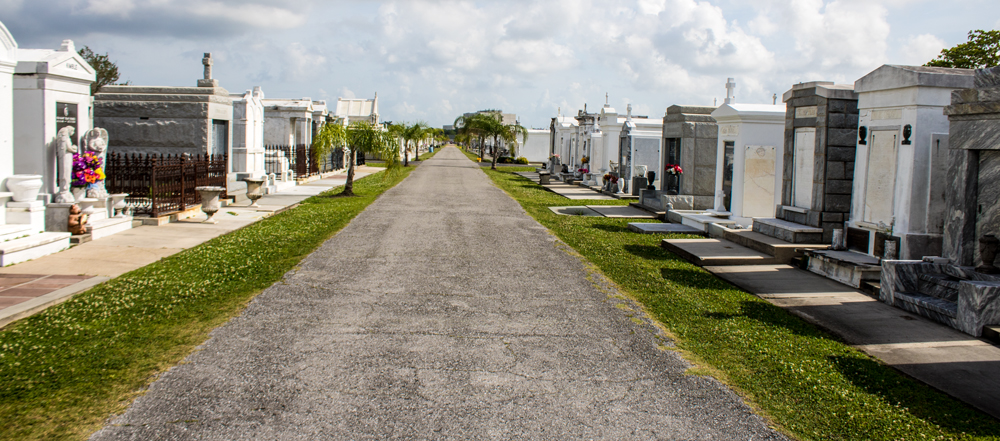 It appears to me that cemeteries may be the last time people can discriminate between the haves and have not's.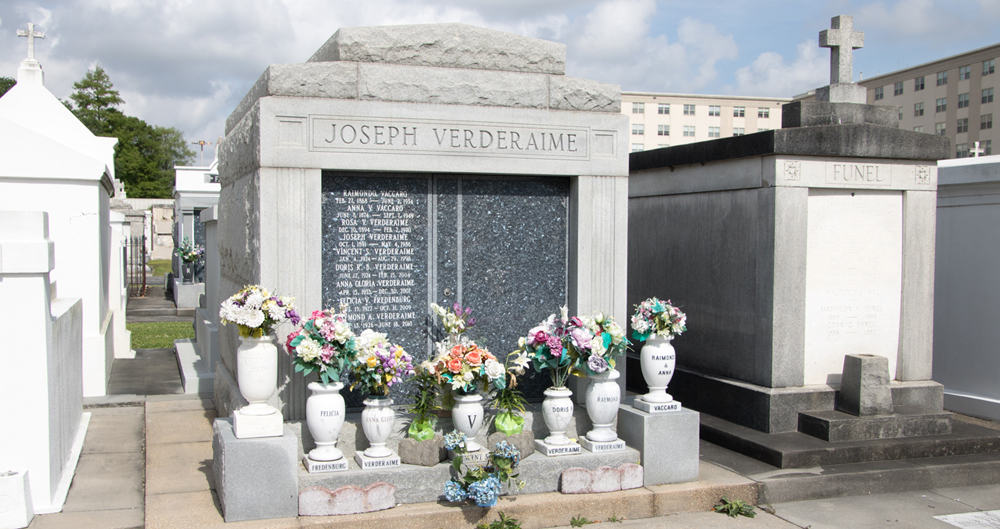 Have's

Have Not's
The guide was certainly knowledgeable and presented many very interesting tidbits of information about the city and its history. Once the tour was over Pam and I started wandering the French Quarter. It gave me a chance to photograph this mule that I found particularly handsome(/pretty?).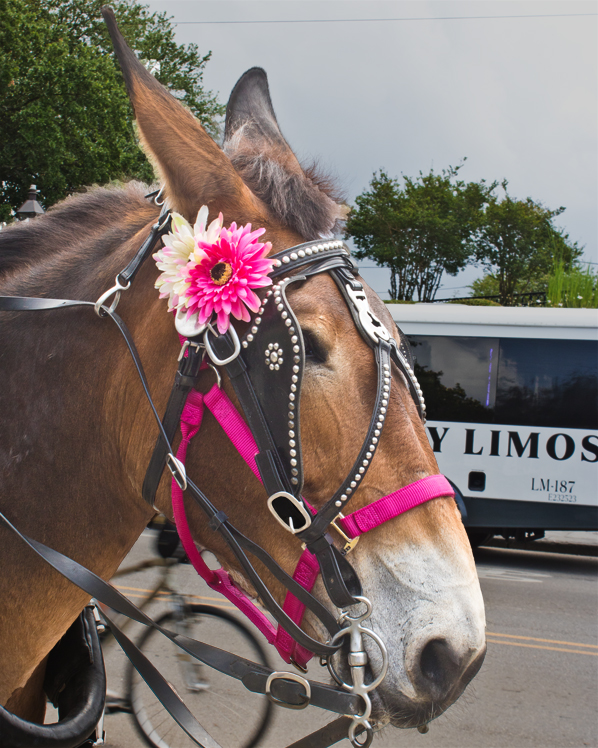 It then turned interesting. We had checked the weather forecast and it appeared didn't have to worry about rain. That was the appearance, in reality we got soaked. Well not soaked but we would have if it hadn't been for our ducking into a tavern for lunch. It was some kind of soup that sounded good (gumbo?) and it was except it had all sorts of things in it with their shells still on. While that's not my thing, it was good and it kept us out of the rain.
The Mississippi River Cruise provided me with some great opportunities for night photography; however, I was somewhat disappointed with the meal served on board. Seating was very crowded and everything that was supposed to be hot wasn't.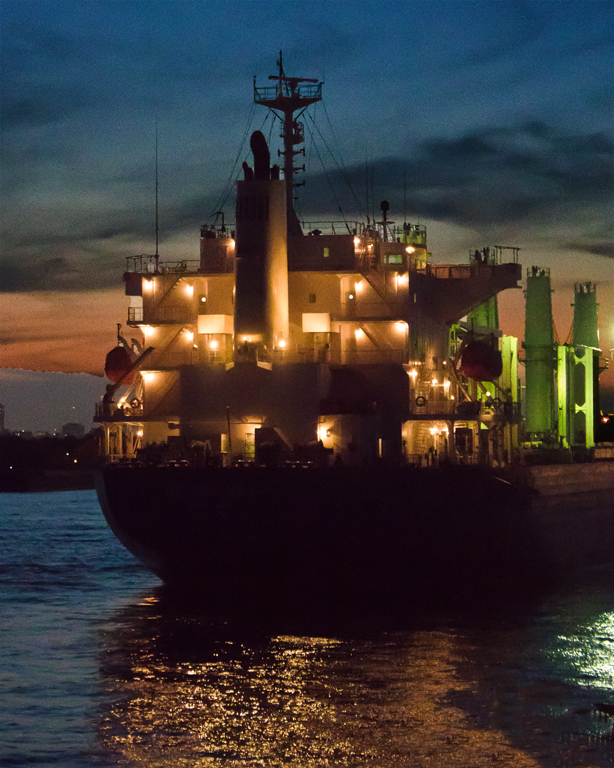 Day 3: * Breakfast * Behind the scenes tour of the famous parade at Mardi Gras World. See the colorful Carnival sculptures & floats as well as the technology & artistry. * Honey Island Swamp Tour - narrated cruise to see cypress & gators. * Dinner at famous Court of Two Sisters.
I should most likely mention the breakfast because I really appreciated how this tour handled it. While it is rather typical for the hotel to provide breakfasts, most of the time it is a buffet, which I do not like. These hotel breakfasts this time were off the menu. I really appreciated that!!
Mardi Gras World was a surprise to me. While I knew Mardi Gras and the parade was a big deal, I didn't realize there were actually about 25 parades. They are all put on by different organizations and on different days. Of course, that means someone has to make the floats and store them. Thus Mardi Gras World that is quite an impressive operation.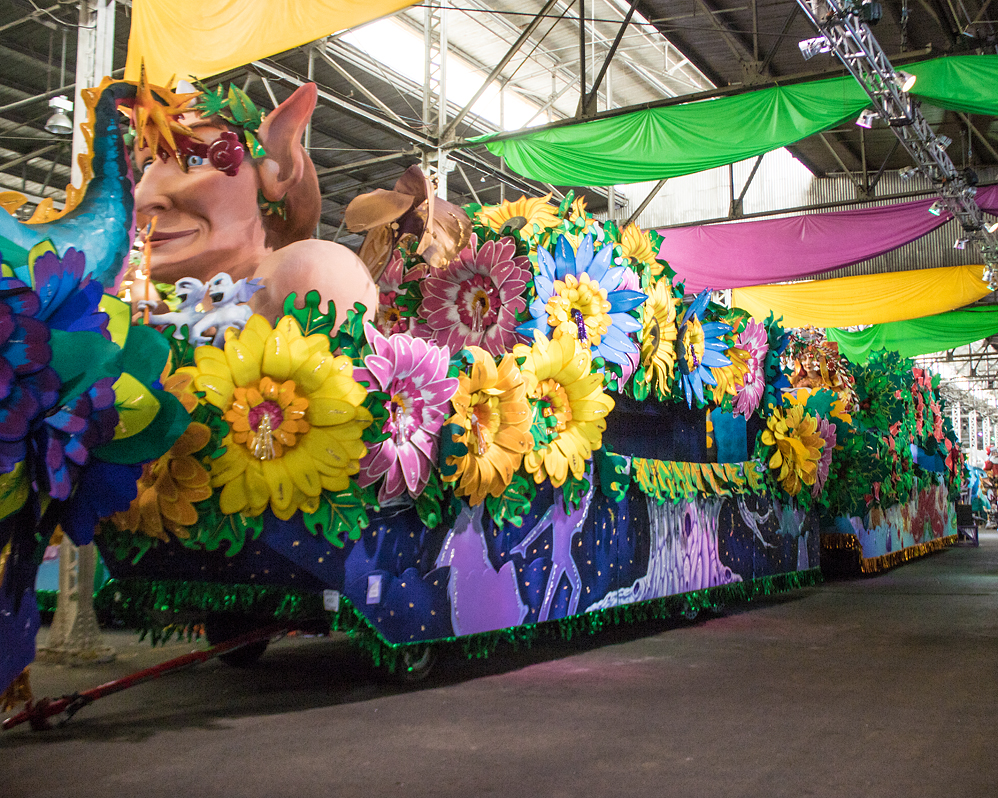 Then we did the swamp tour which to me was the high light of the trip. Of course, it seems no matter where you go in the world there are always egrets of some type. I don't remember what we were told the type of this one was.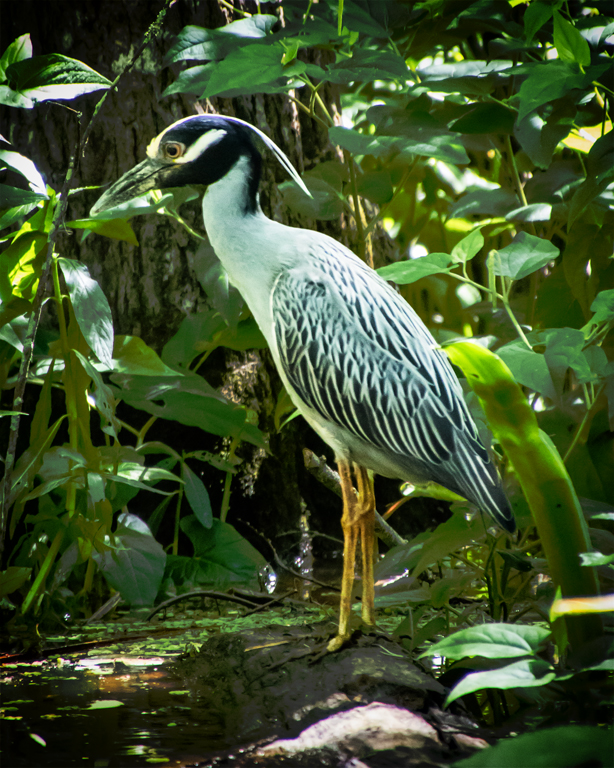 One of the appeals of New Orleans was the Spanish Moss I'd seen pictured. I felt it would provide many wonderful photo opportunities. The ethereal properties of the moss seemed to be a natural. It may be, but not in the light we happened to see it. Since I couldn't get a good picture of the flora type of Spanish Moss, I named this raccoon Spanish Moss.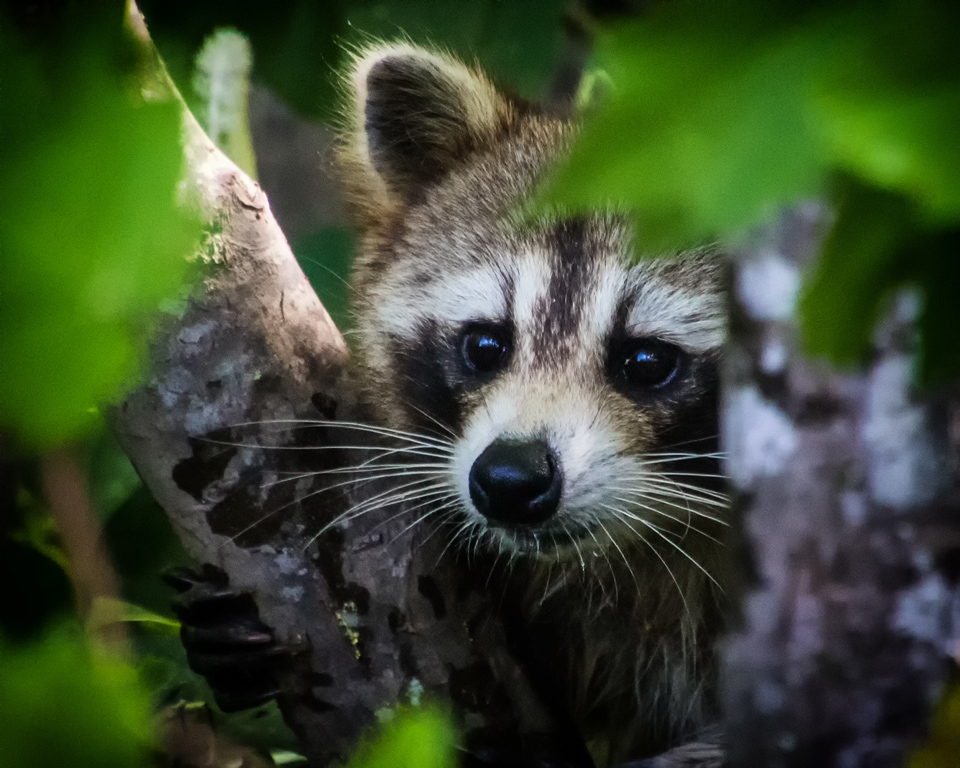 And we did see 'gators.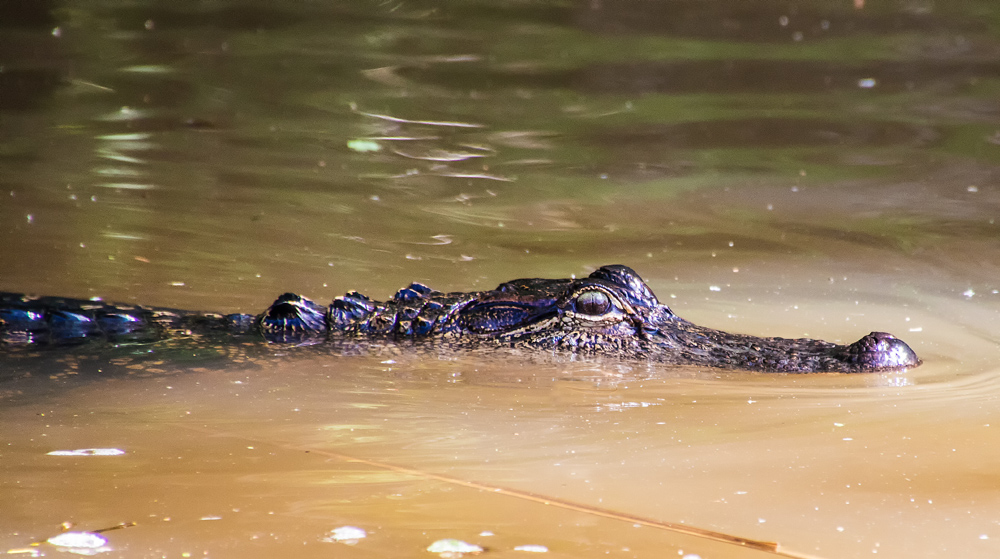 Dinner at the Court of the Two Sisters was again outstanding!
Day 4:Enjoy a New Orleans tradition, cafe au lait & beignets at famous Cafe' du Monde. * Visit New Orleans School of Cooking and learn the basics of Louisiana cooking. Experts demonstrate New Orleans specialties & season them with histories, tall tales and trivia. Enjoy the lunch they have prepared & take home the recipes! * Guided tour of the Housmas House Sugar Plantation.
While returning from our beignets at Cafe' du Monde, we came across this scene with the famous Mardi Gras beads.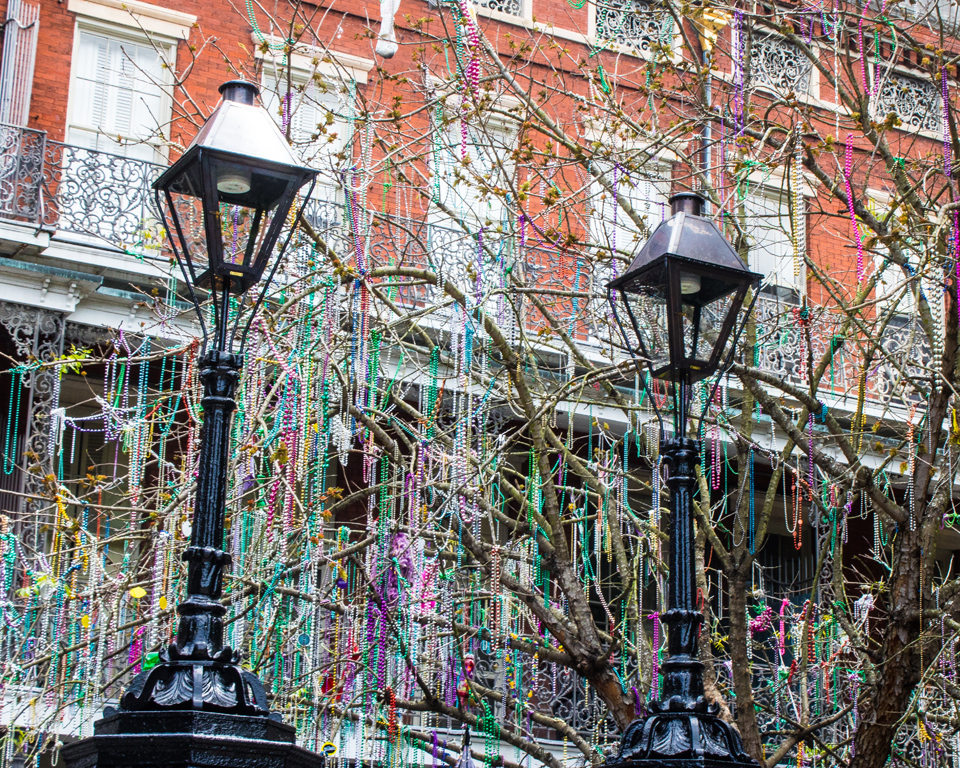 The cooking school was very interesting but did not really present many photo opportunities, but what it lacked in photo opportunities, it made up for in taste.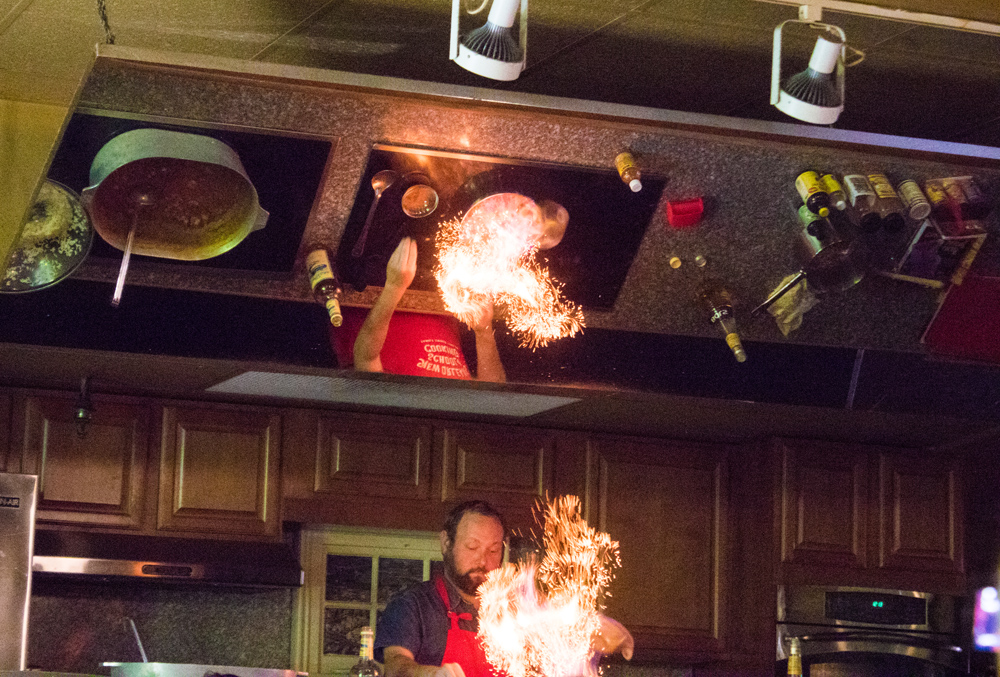 The sugar plantation was very photogenic but I settled on this one shot because of the story behind it. The photo below was taken from the main house of the plantation. It shows the "boy's house." It seems that boys were deemed too rambunctious to remain in the main house once they became teenagers and were sent to live in this house; however, meals were taken in the main house.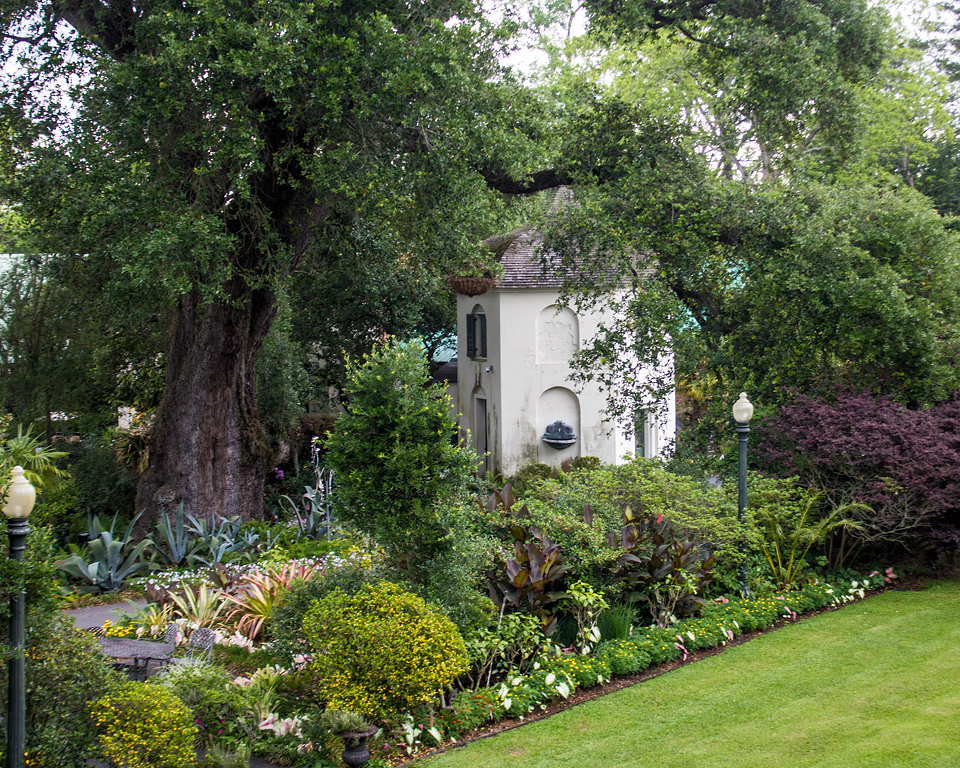 Dinner was on our own and we found a bar/restaurant close to the hotel. We were surprised when we ordered "hurricanes" and were carded. Obviously, they were carding everybody. The steak was very good. As were the hurricanes..
Day 5: * Breakfast. * Visit the World War II National Museum in New Orleans. * Flight to Chicago.
The World War II Museum was something special. It certainly reminded my of a few things about what was happening at home during that time.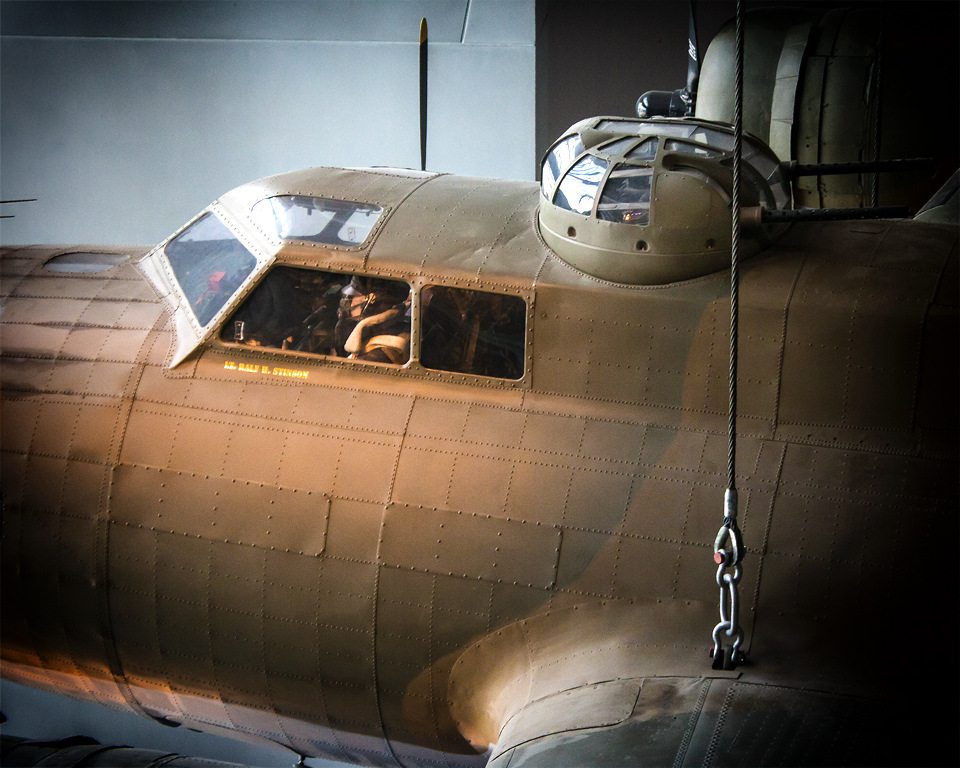 The trip home was uneventful (just the way I like it). All in all, it was a very good trip. I was impressed with what I saw of New Orleans. I still don't think I want to be there for Mardi Gras, but I'm not as opposed to it as I was before I went down there.