Southern California with Death Valley and Joshua Tree National Parks
October 5 to October 17, 2016
The time period from October 5 to October 8th was not really part of the Globus tour. The tour itself started October 8th but we had decided to go out and visit Ed, Jen, and the boys before the tour started because it started so close to them. That brief visit with the California Lobenhofer's was marvelous in that it gave us an opportunity to see the landscaping changes to their property, see our grandsons and even our grand puppy,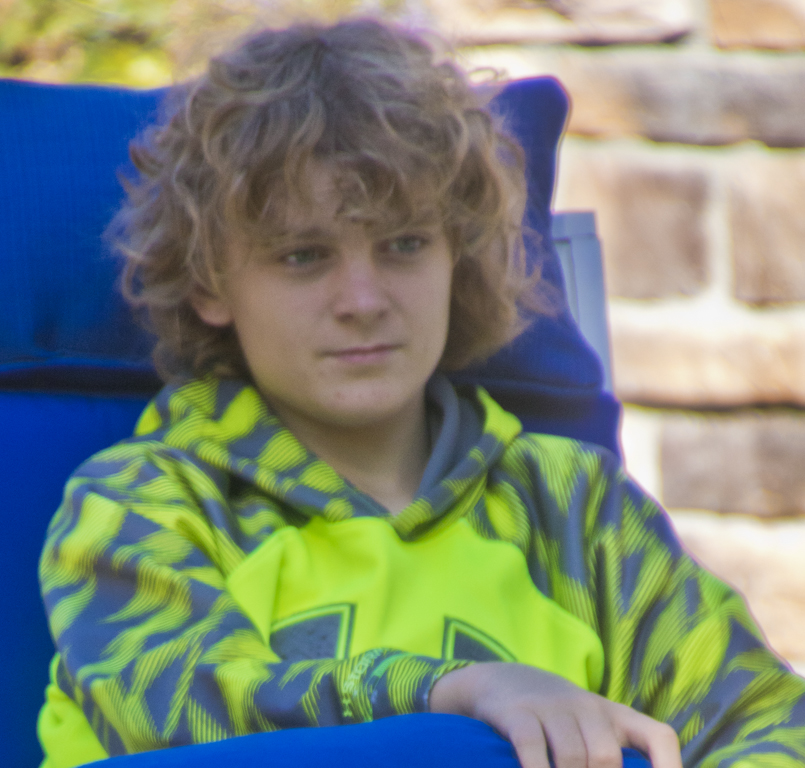 Kyle was battling some kind of bug during the time we were there and certainly wasn't his usual happy, energetic self.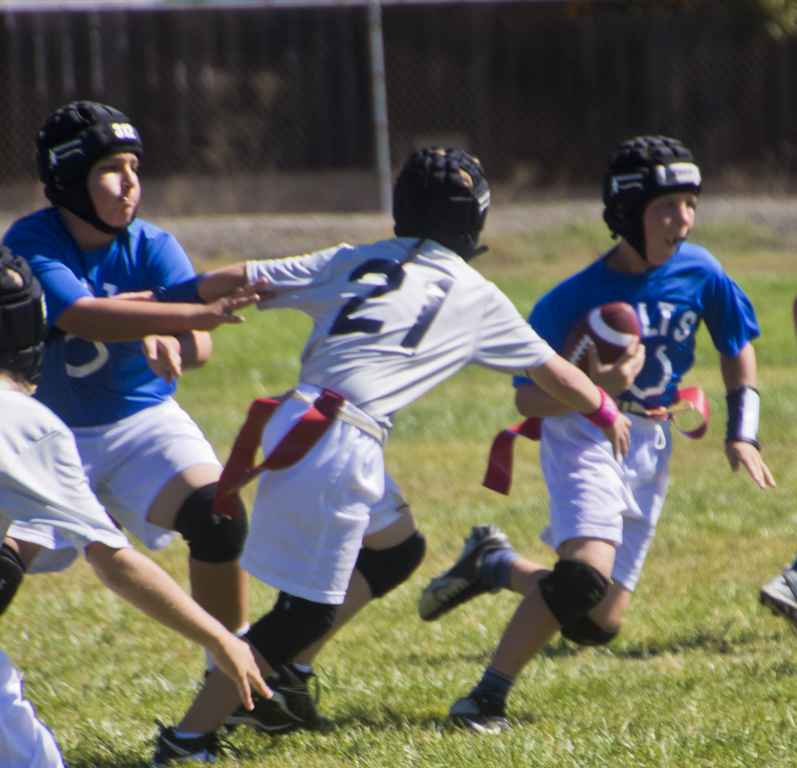 We had the opportunity to watch Zach's flag football game on Saturday. Zach (he's 21) had a great game on defense grabbing a bunch of flags. On offense I was surprised to see how well he could block much bigger kids than himself.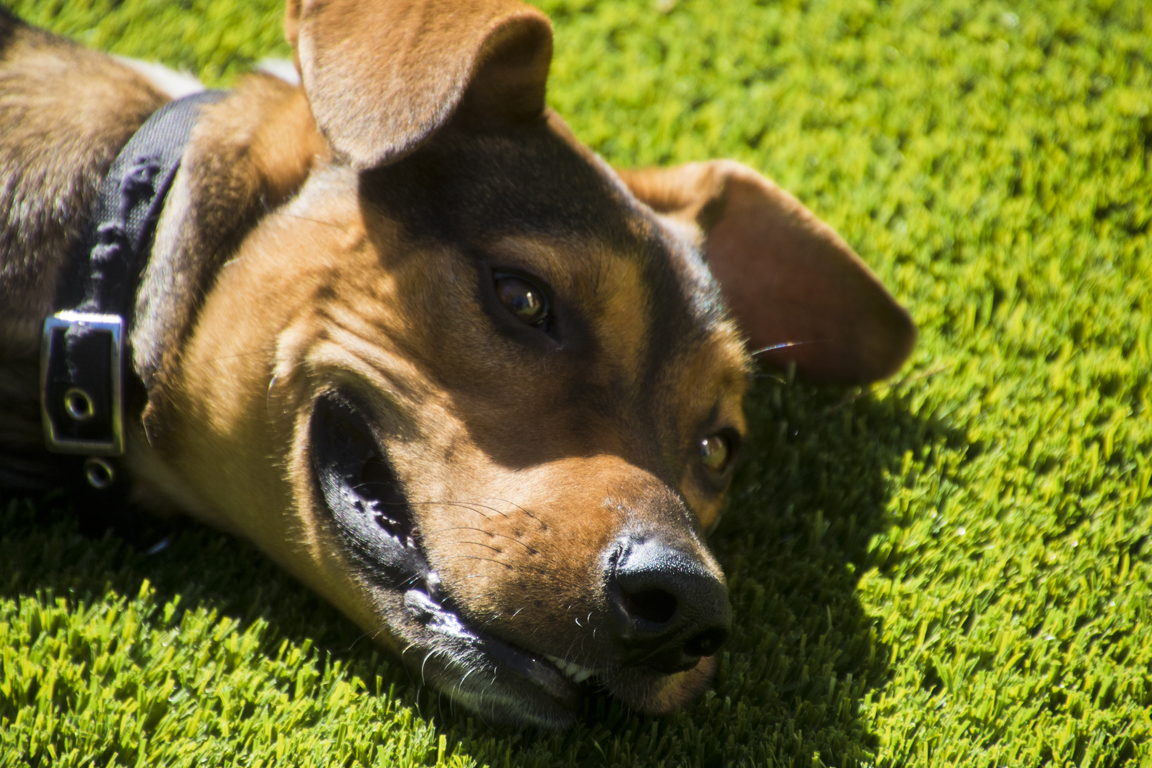 Chewie was his normal energetic self and really enjoyed the new landscaping including laying on the new "grass."
Day 1, Saturday, October 8, 2016
ARRIVE LOS ANGELES – TRANSFER TO LONG BEACH

Welcome to sunny California! At 6 PM meet your traveling companions for a welcome drink. Your tour director will appear you for your upcoming adventure.
We tend to forget how much more spread out Los Angeles is as compared to Chicago. We had thought that Long Beach would have been a lot closer to Thousand Oaks than it really was. We felt bad we had asked Ed to drive us to the hotel, but as usual, Ed didn't seem to mind.

The "drinks" with the tour director were not really ideal. Where we met was not really conducive for getting to know our fellow tour members. It was long and narrow. There was little hope that I would ever remember names and where the others were from based on this get together.

We did meet with Peter a gentleman from Australia. Somehow or another as he learned we were going out for dinner and asked if we would mind if he joined us. Of course, we didn't mind at all and had a very nice alfresco dinner across the street from the hotel.

As far as the hotel goes, the room as can be seen in the photo was really very nice! However, I am never happy with a hotel that does not offer free Wi-Fi.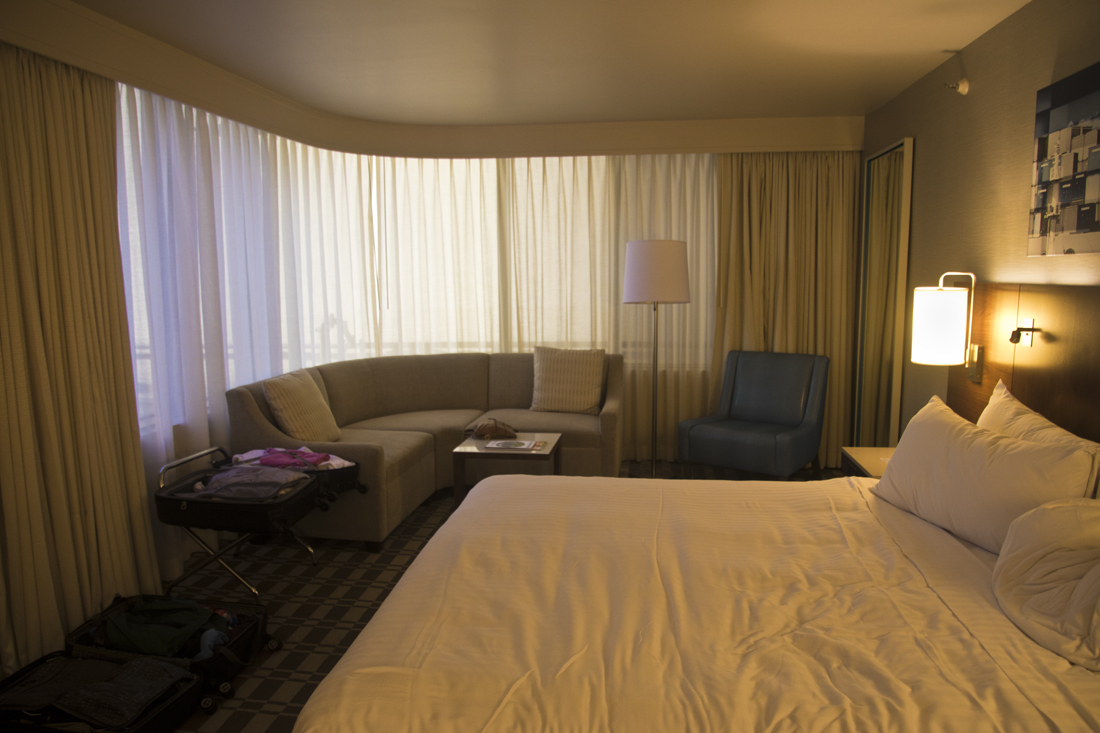 Room at the Long Beach Renaissance Hotel
Day 2, Sunday, October 9, 2016
LONG BEACH EXCURSION TO CATALINA ISLAND

This morning, board a high-speed ferry for beautiful Catalina Island. Located just 22 miles off the coast of Southern California, the island has a rich and colorful past. On an island TOUR, you'll learn the history of this unique place, admire beautiful scenery, and perhaps see some of the island's most famous residents: bison. Afterward, there is time to explore on your own. Stroll along Townline streets, shop for unique island gifts, or enjoy a delicious lunch at a seaside restaurant. Later this afternoon, return to Long Beach and have dinner at a waterside restaurant. (Breakfast, Dinner)
The morning got off to a challenging start for our bus driver and tour director. It seems there was a marathon being run in Long Beach that morning as well as a number of other events resulting in a number of streets being closed. Getting to the ferry to take us over to Catalina was a challenge because of closed streets. But with a few loops and going over the same route a couple of times, we were finally able to get there.
Once we got there boarding took place without a hitch and we were off to Catalina. As we were leaving the dock we came across the painting/mural/graphiti shown below. I tried to picture/understand how it was done (much less why). I guess I'm too pragmatic to understand.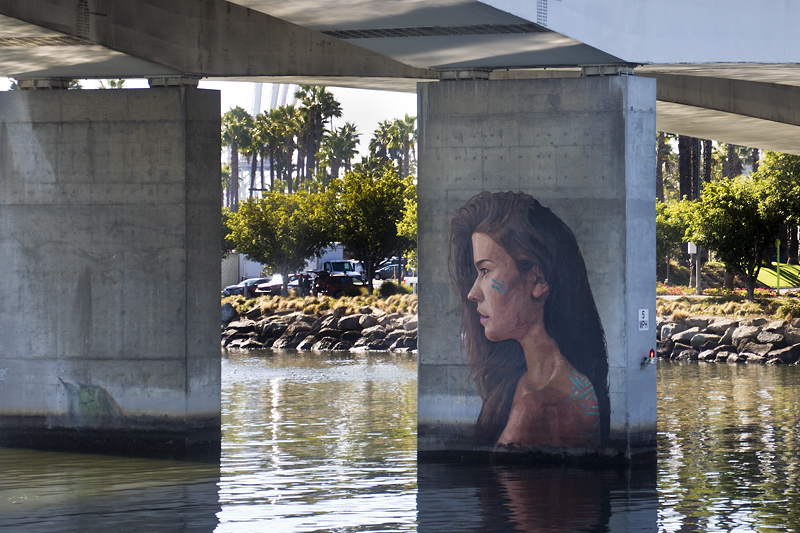 Fortunately for me, before my mind could get too muddled thinking about why and how we passed the Queen Mary.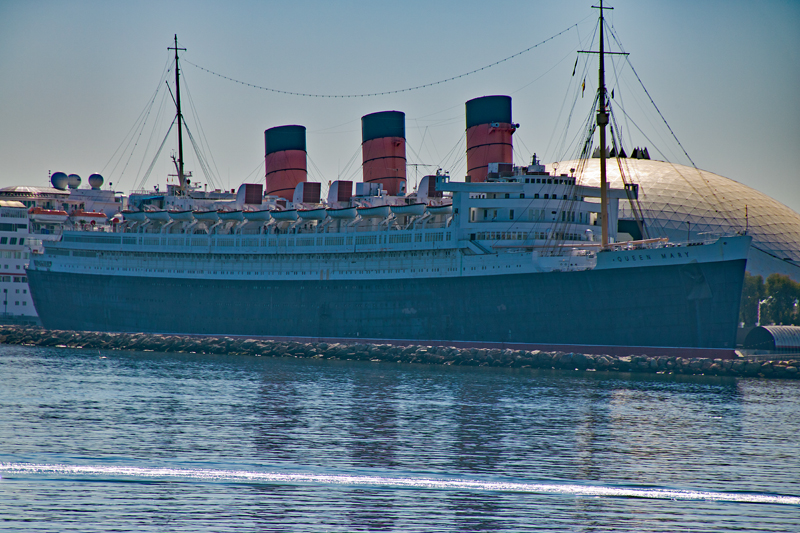 I was then left to wonder what the big deal was about an old ship. Pam explained the number of times it had crossed the Atlantic and about the famous people who had been on it. Of course, with my very limited interest in old "stuff," I didn't get it, but to each his own. The trip to Catalina was uneventful. Once we got there it didn't take long to see what drew people here.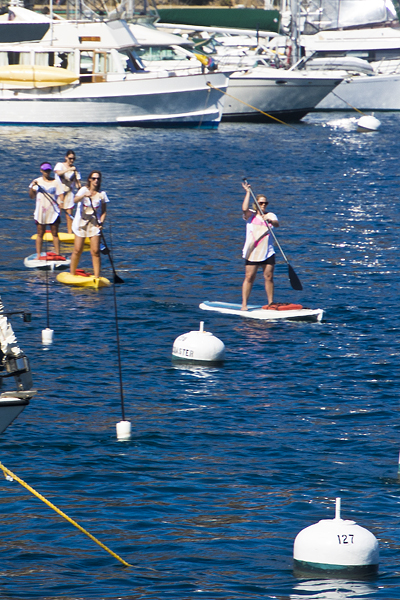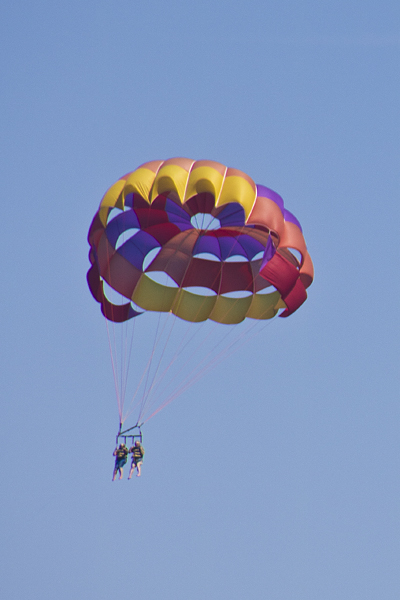 Once ashore we were supposed to take a bus tour of the area, but that got a little delayed and we were able to kill a little time in the shops before taking the tour of Avalon. The tour was memorable from two aspects. First, the driver/guide was a lady who was approximately my age. Second, was the cost of property on the island (or at least in Avalon). Of course, one of the highlights was seeing the Wrigley mansion that is now somewhat of a B & B.
After the tour Pam and I had some chowder while looking out at the bay/harbor and then did a little shopping. There wasn't enough time to get further back into the island where we might have seen some of the famous bison, but then again we've seen them before. It certainly was a pretty place.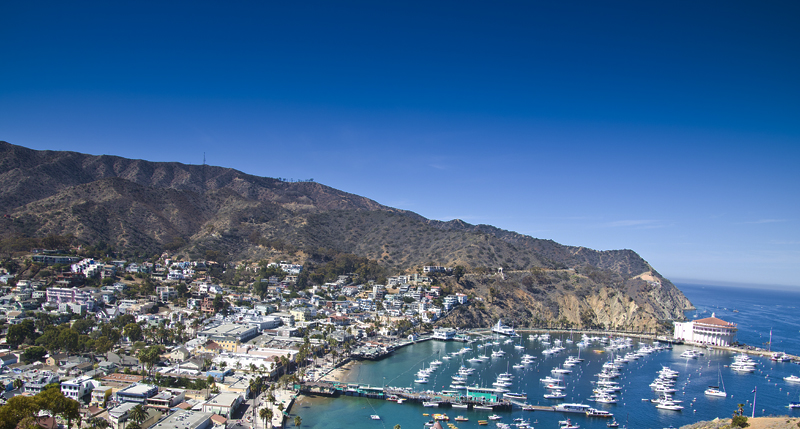 Our return to the mainland was uneventful and in time for us to freshen up before going out for what I remember as a very nice dinner, Unfortunately, neither Pam or I can remember the name of the place where it was served.
Day 3, Monday, October 10, 2016
LONG BEACH - SAN DIEGO
Travel this morning along the stunning California Coast to San Diego. Upon arrival enjoy a city SIGHTSEEING tour featuring Old Town, Balboa Park, Gaslamp Quarter, and CABRILLO NATIONAL MONUMENT. End your tour in Coronado, home to beautiful beaches and elegant mansions. Lunch will be served at the impressive HOTEL DEL CORONADO, San Diego's legendary seaside resort. Afterward a scenic ferry ride brings you back to San Diego.
After the drive down from Long Beach to San Diego our first stop was the historic light house at Old Point Loma. Not only is it historic and pretty. It provides some great views.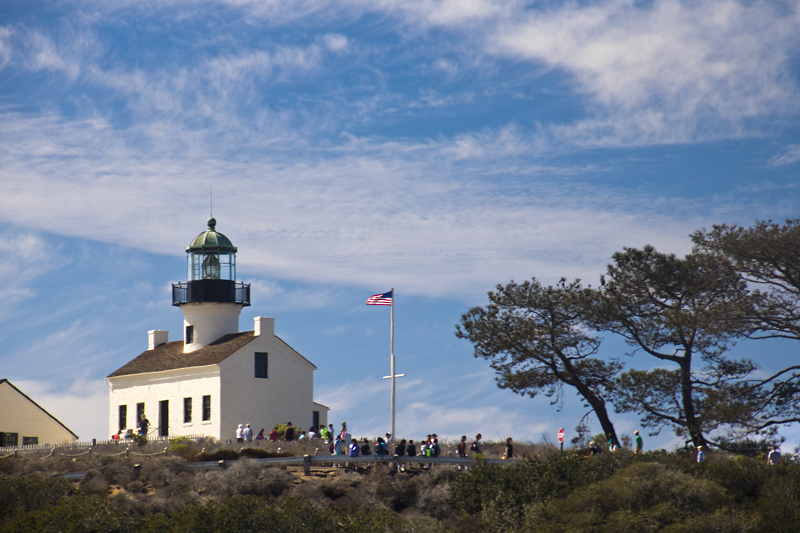 While we were there we had the opportunity to see an aircraft carrier coming in to port. It may have only been out for a morning cruise, but it was fun thinking about the crew's anxious return home after a long sea voyage.

Lunch was at the historic Hotel Del Coronado. (I'd never heard of it but remember I'm not the history buff.) The lunch was quite good and the hotel was certainly impressive!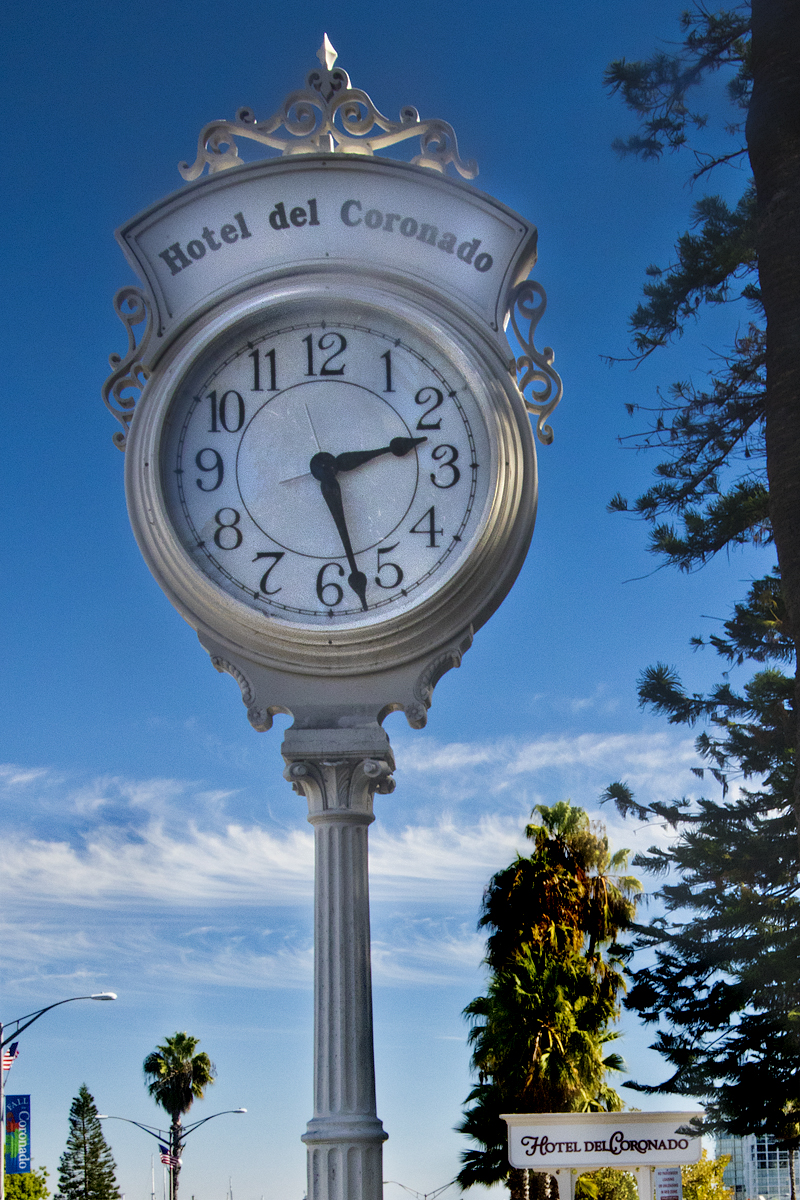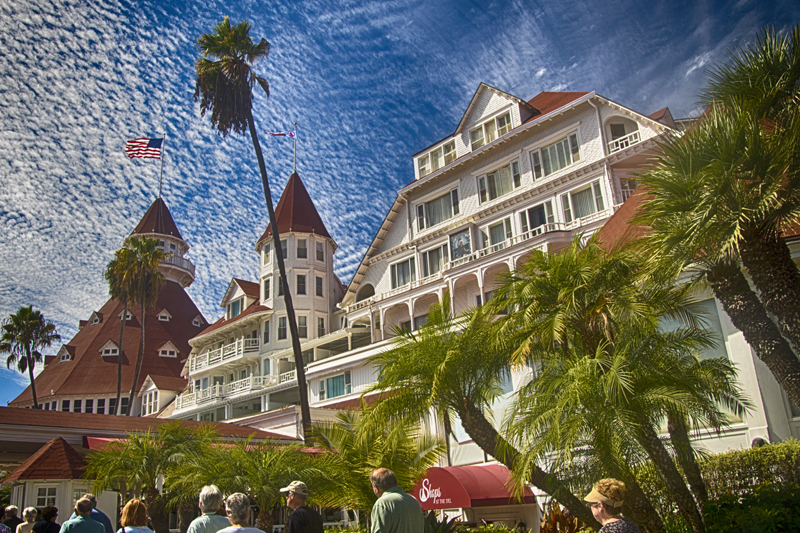 After lunch there was a cruise on the harbor followed by a bus tour of the city. Dinner was on our own and I'm afraid I can't even remember what we did in that regard. I sort of remember that we decided we weren't hungry.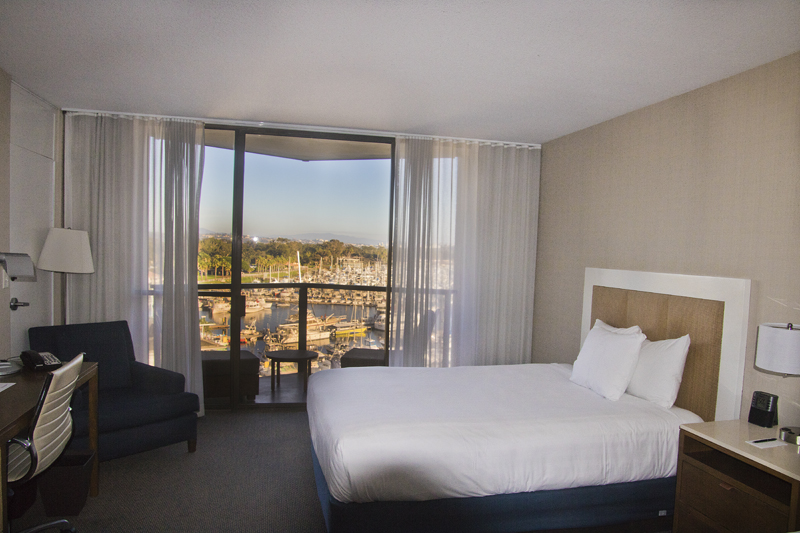 Our room wasn't quite as large as the previous one; however, there was nothing about the view to complain about.
Day 4, Tuesday October 11,2016
SAN DIEGO
A full day to explore San Diego on your own. You may wish to explore the world-famous San Diego Zoo, relive history on the USS Midway Aircraft Carrier. spend time at Mission Beach, San Diego's sun-'n'-fun playground, enjoy an Italian Feast in the Little Italy neighborhood, swing a 9-iron at one of the area's 90 golf courses, or do some window shopping in one of the city's neighborhood shopping districts. Your Tour Director will have additional ideas for sightseeing, shopping, and dining. This evening, why not join our optional dinner cruise, taking in some of San Diego's most famous sights.
As Pam and I had been to San Diego previously and done some of the things previously, it was difficult to decide what to do with our time. The zoo won. Pam always loves zoos and I was able to burn some electrons with my camera.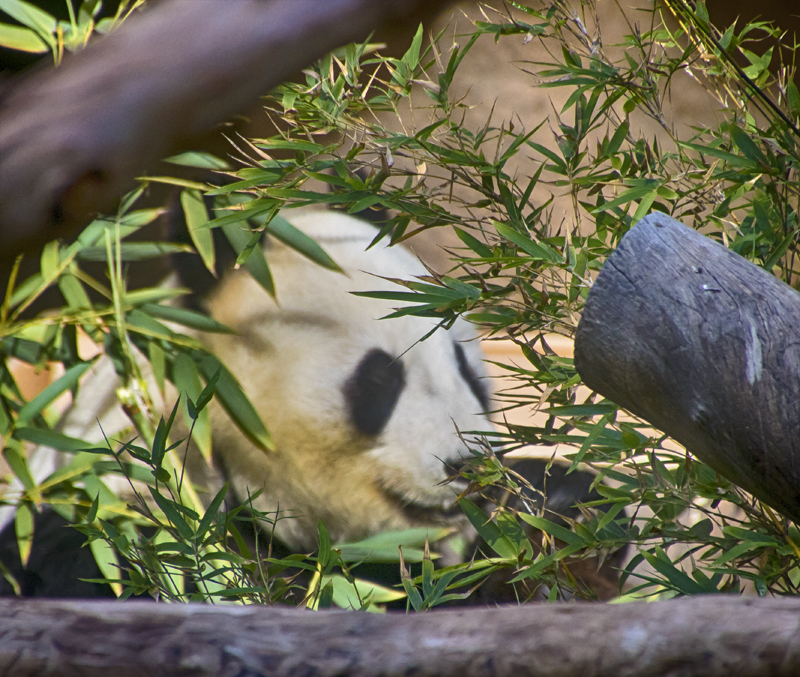 First stop at the San Diego Zoo has to be the Giant Panda if you get there early as we did.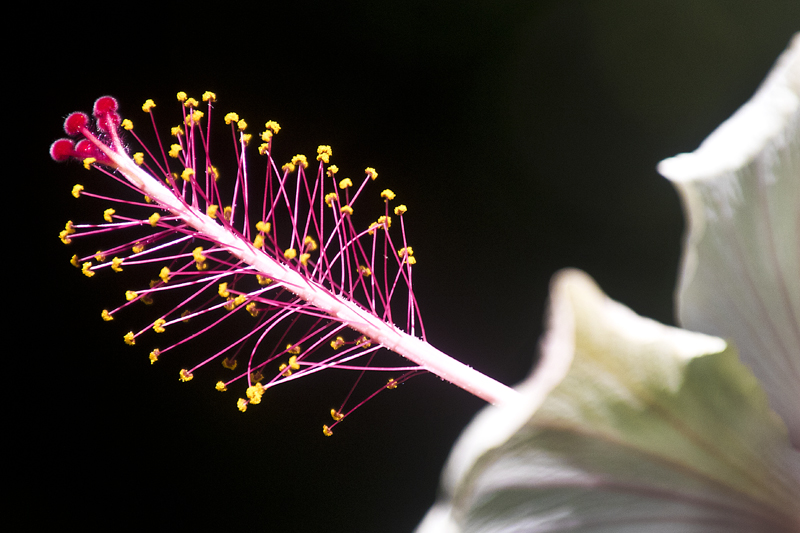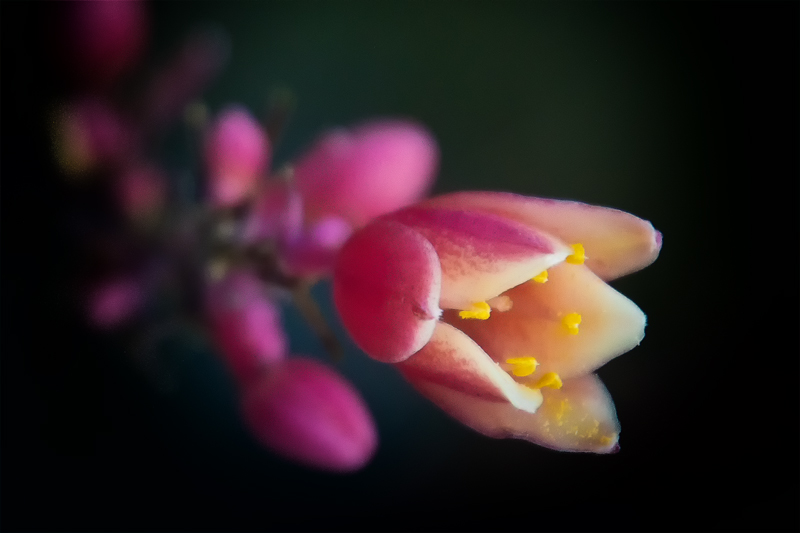 While the zoo is famous for it's animal collection, it is also a world class botanic garden.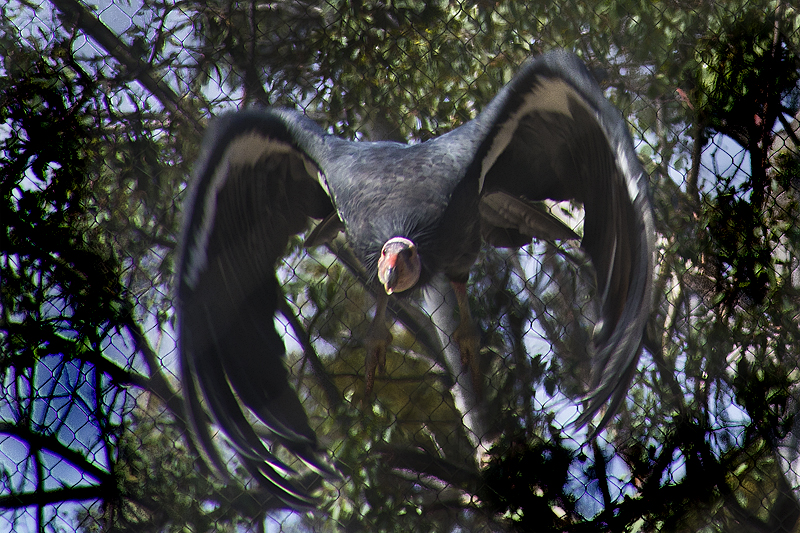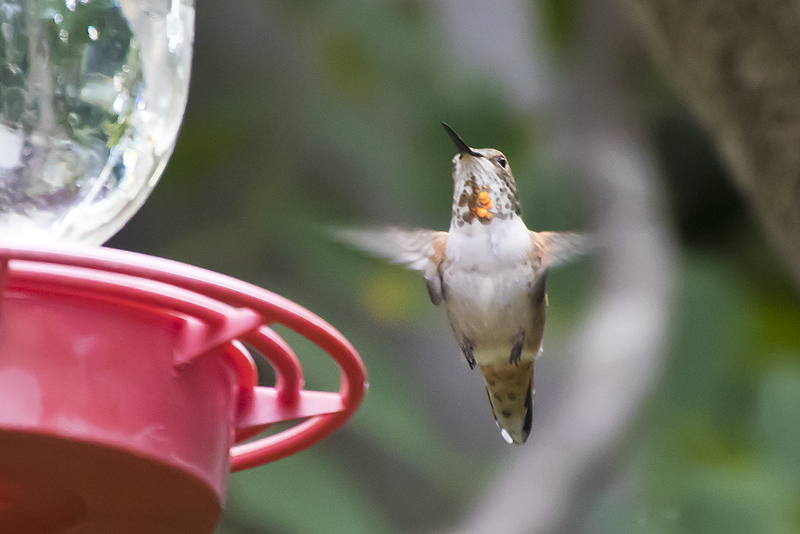 Of course there are all sorts of birds as well.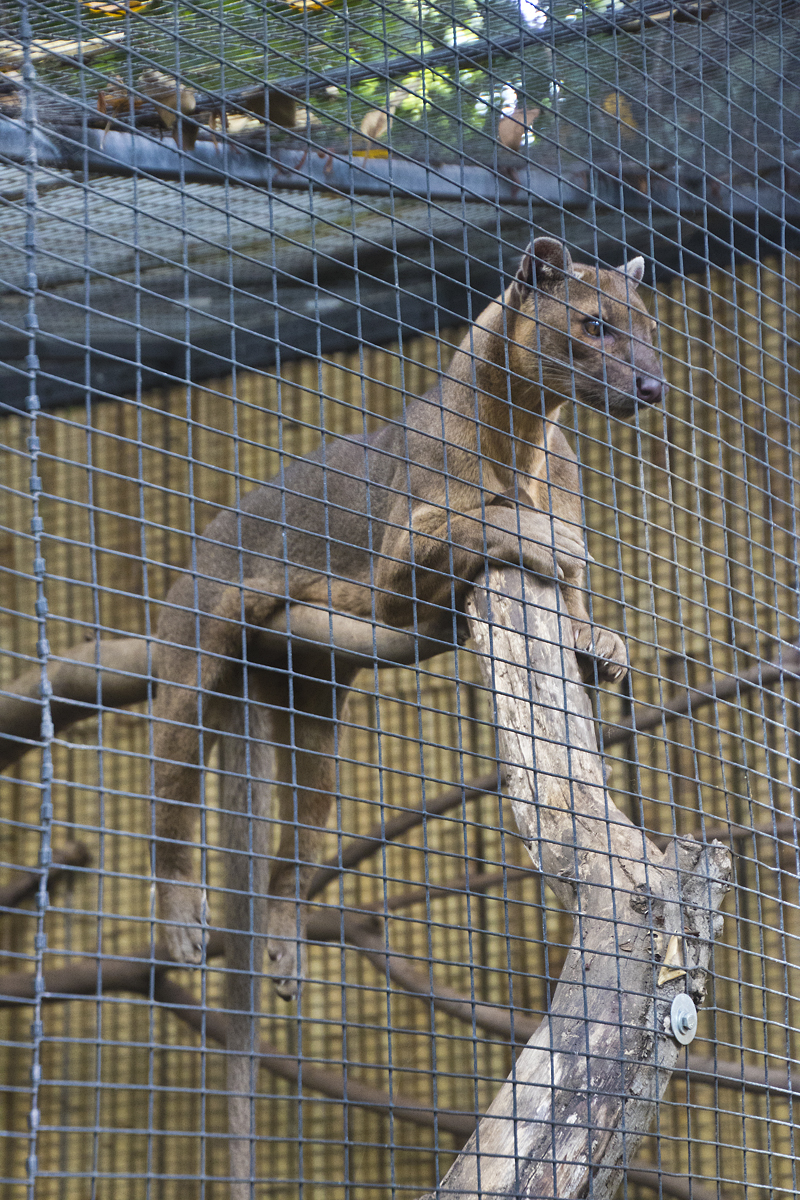 With all that, the San Diego zoo is most famous for unusual animals. The above is a terrible picture because of the wires, but as I had never seen a Fossa before I decided to include it here. It's neither a cat or dog but belongs to a small family of carnivores called Eupleridae that are found only on Madagascar.
DAY 5, Wednesday, October 12, 2016
SAN DIEGO-TEMECULA – PALM SPRINGS

Today, head into the interior of California, stopping in historic Temecula for a tasting of some of the regions best wines at a local VINEYARD. Continue to the desert playground of Palm Springs. Take the Palm Springs AERIAL TRAM to the top of Mount San Jacinto for amazing views of the valley below. Then, sit back and relax as you hear tales of the towns famous celebrity residents, past and present, and learn about the city's colorful past on an orientation tour.
Who said wine is tasted best after noon. Our visit to the Wilson Creek Winery was before noon but we certainly enjoyed ourselves.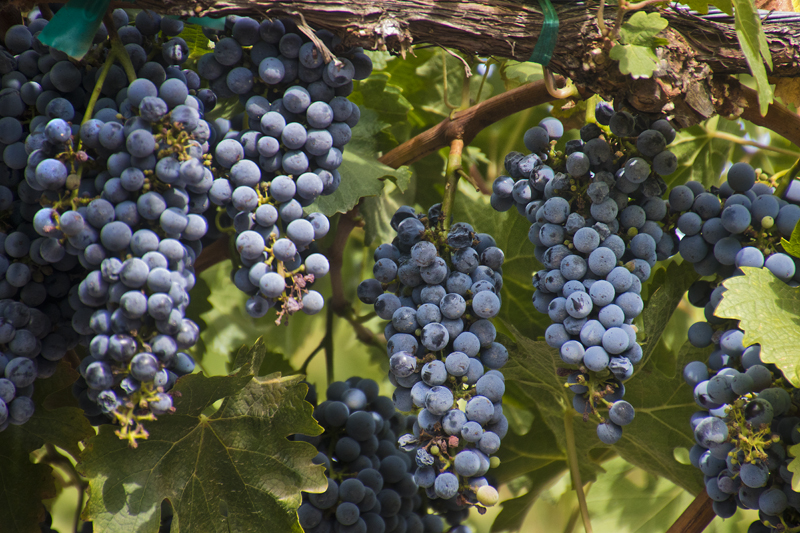 The vineyards themselves were beautiful, the surroundings superb, and the wine was delicious. (Sorry, I'm not enough of a photographer to produce a photo of how great we thought the wine tasted.)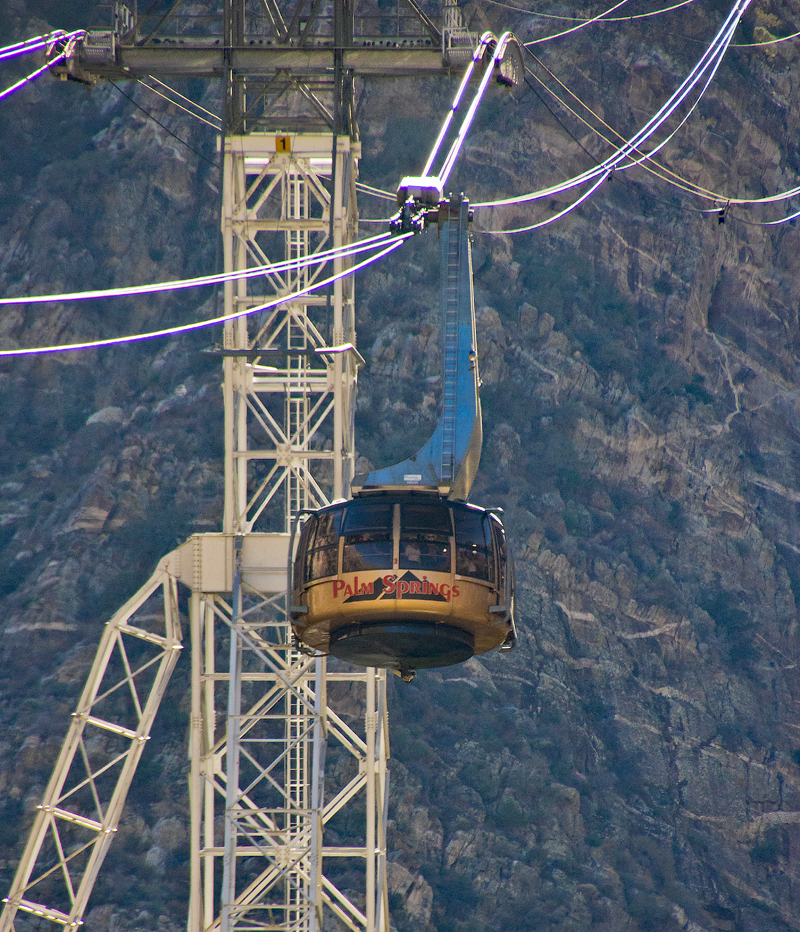 It was then on to the Palm Springs Aerial Tramway. The ride was unique in that the floor of the "car" rotates. Supposedly that gives everyone a 360o view. We've been on a number of such "rides" in the last view years and I must admit they don't do all that much for me. I find they are usually very crowded (I don't like crowds) and have dirty windows (not great for photographs).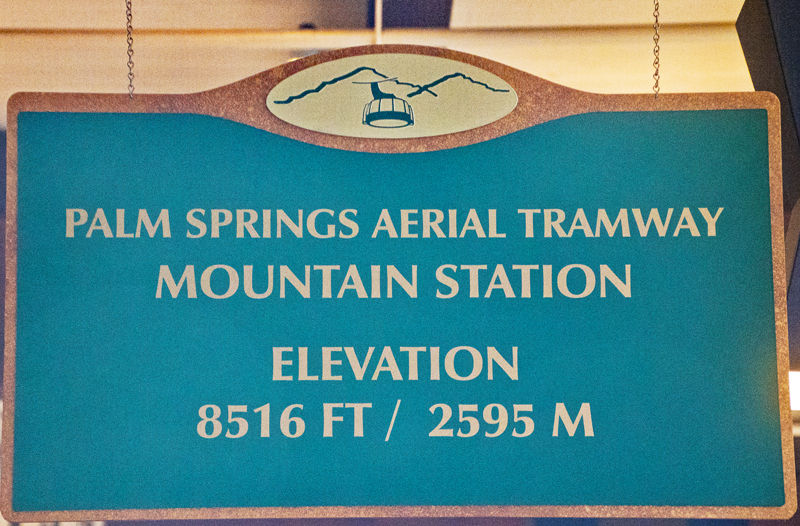 However, they sure beat "walking" as a way of getting to the top. Especially, when the top is about a mile and a half up.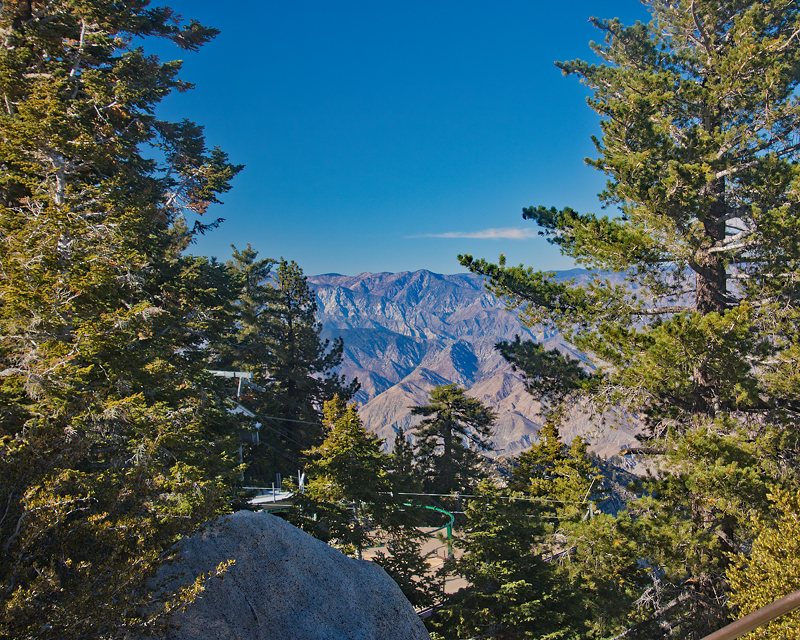 and when you do get to the top, the views are usually worth it.
Day 6, Thursday October 13,2016
PALM SPRINGS-EXCURSION TO JOSHUA TREE NATIONAL PARK
Adventure awaits today as we explore the fascinating landscape of JOSHUA TREE NATIONAL PARK. The park contains more than 700,000 acres, two deserts, two ecosystems, and unique habitat including the agent Joshua trees. See the park on a JEEP TOUR and learn about the area's rich history, as well as the geology, flora, and fauna of the California desert. Return to Palm Springs, where the remainder of the day is yours. Relax by your hotel's pool, stroller Palm Springs Walk of Fame, or join the locals at the popular Villagefest, offering more than 200 booths of beautiful art, handcrafted items, and unique food.
The trip to Joshua Tree National Park lived up to or surpassed our expectations. The "Jeep Tour" was really a "Hummer Tour," but it was made something special by our driver. He not only knew the area well but could talk about the features of the park so eloquently we wish we could have taken notes. Since I couldn't/didn't take the notes, you'll have to just see some of the pictures I took.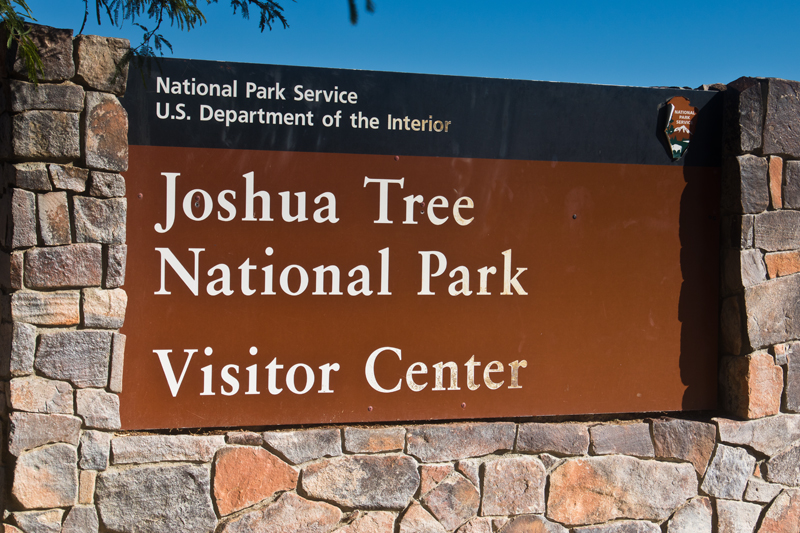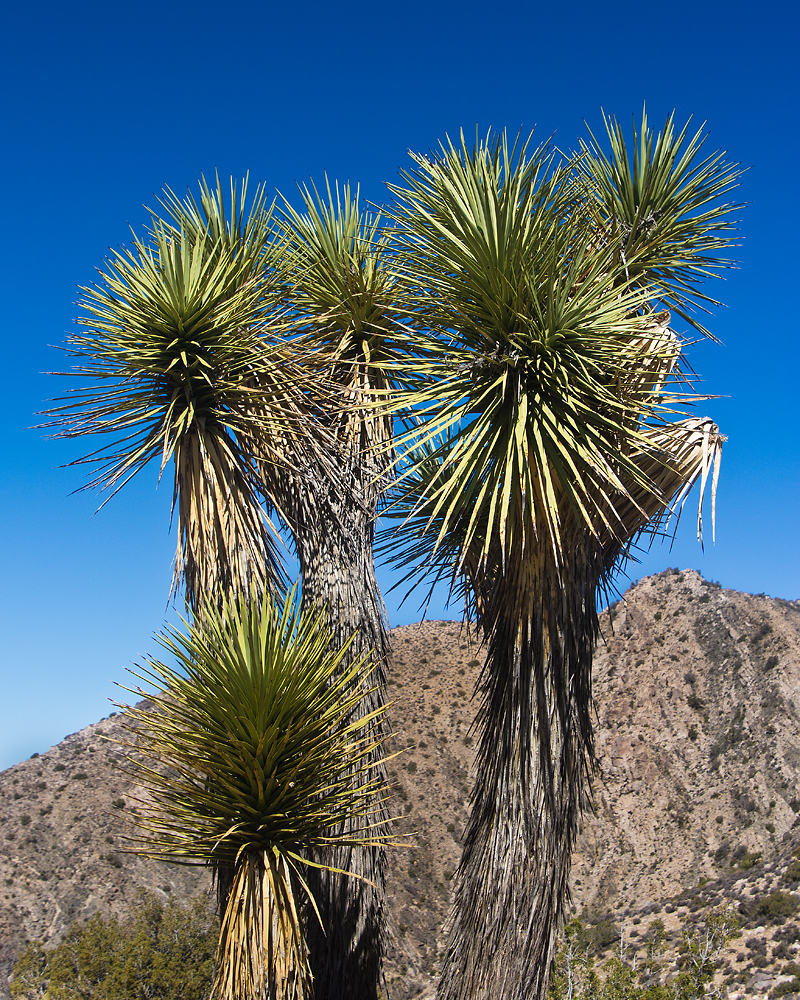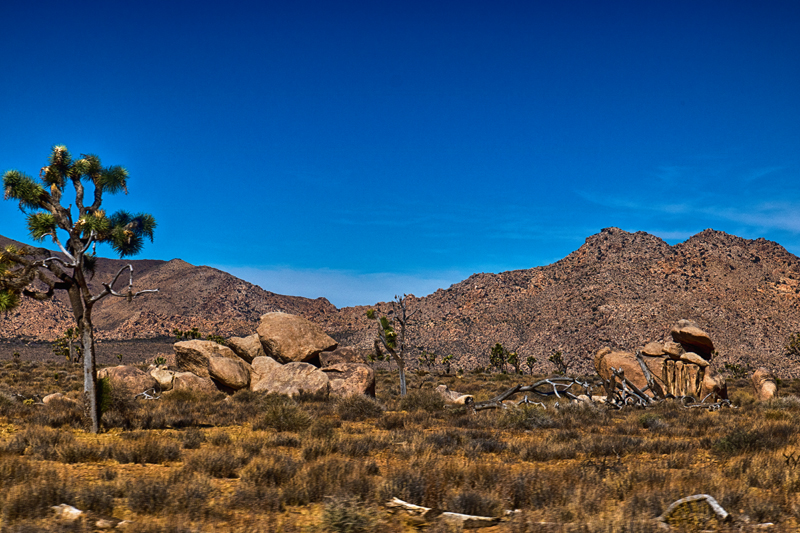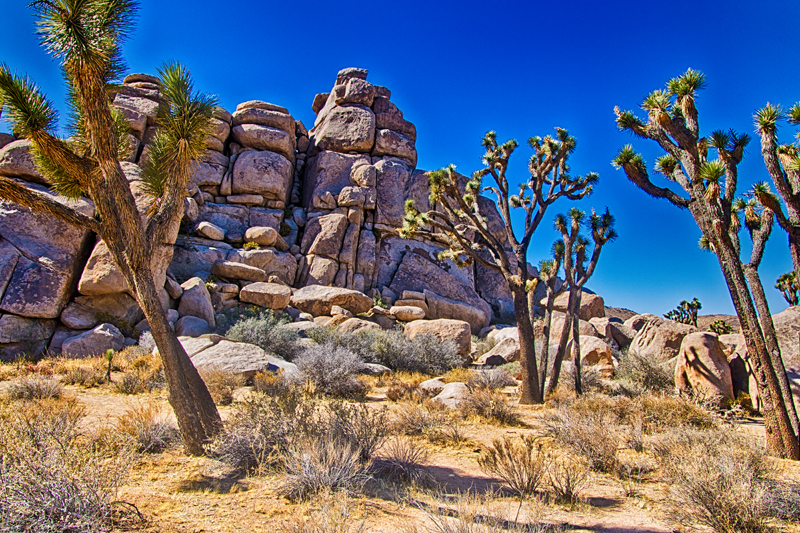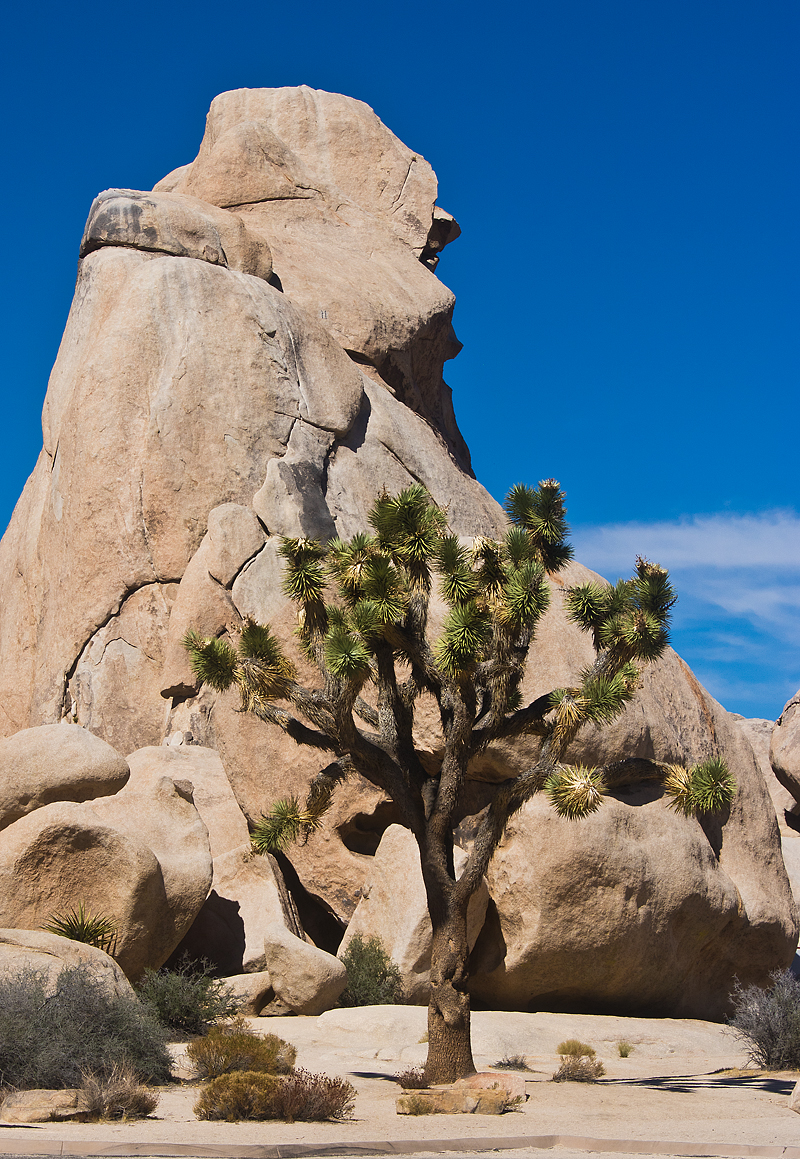 DAY 7, October 14, 2016
PALM SPRINGS – BARSTOW – DEATH VALLEY NATIONAL PARK

Leave the desert oasis of Palm Springs and travel to Barstow on the famed route 66. Take a step back in time with a visit to the ROUTE 66 MOTHER ROAD MUSEUM, home to vintage cars, signs, photos, and other memorabilia. Continue to DEATH VALLEY NATIONAL PARK, the hottest place on earth and the driest, lowest place in North America.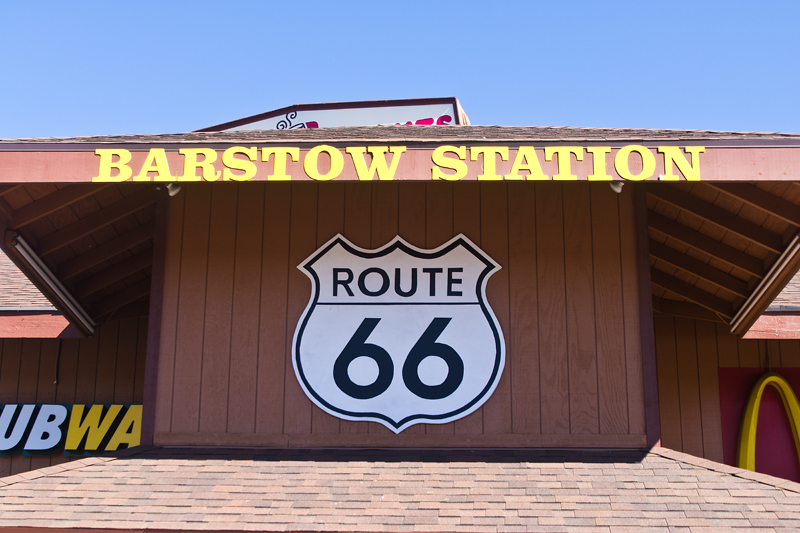 The trip to the Route 66 Mother Road Museum didn't work out. The owner/operator was sick and was not able to open the museum for us. We did, however, get to Barstow.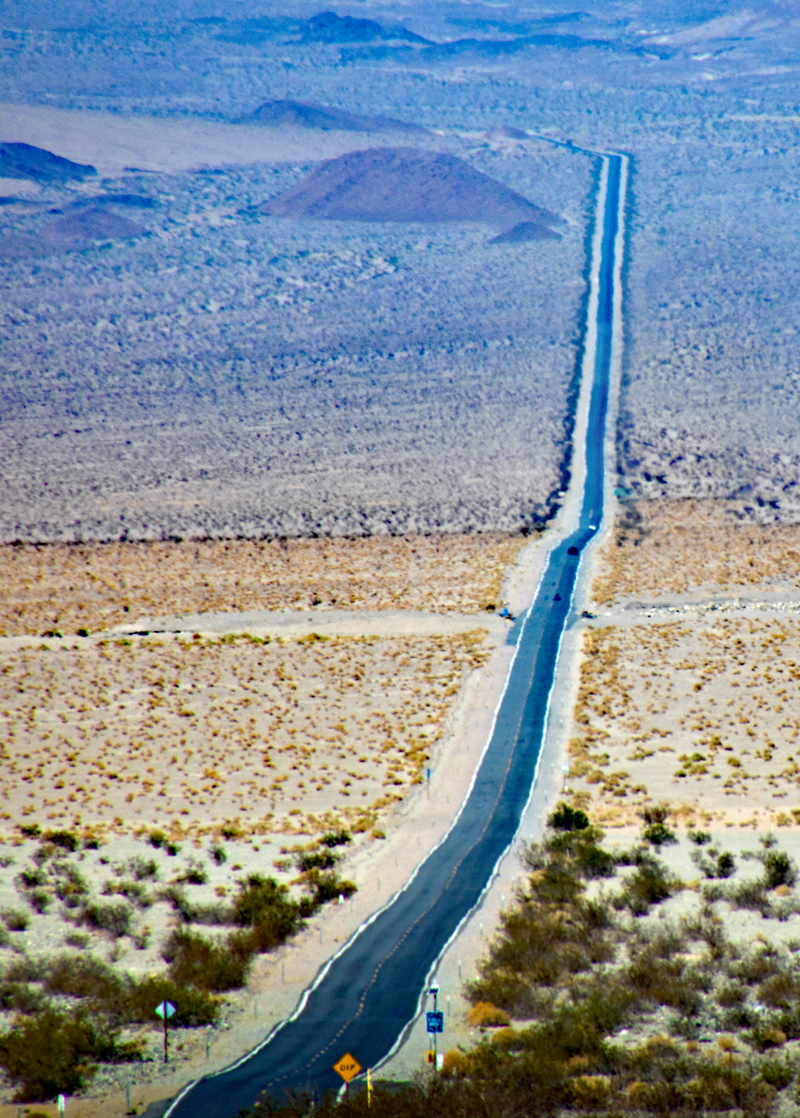 The road was long!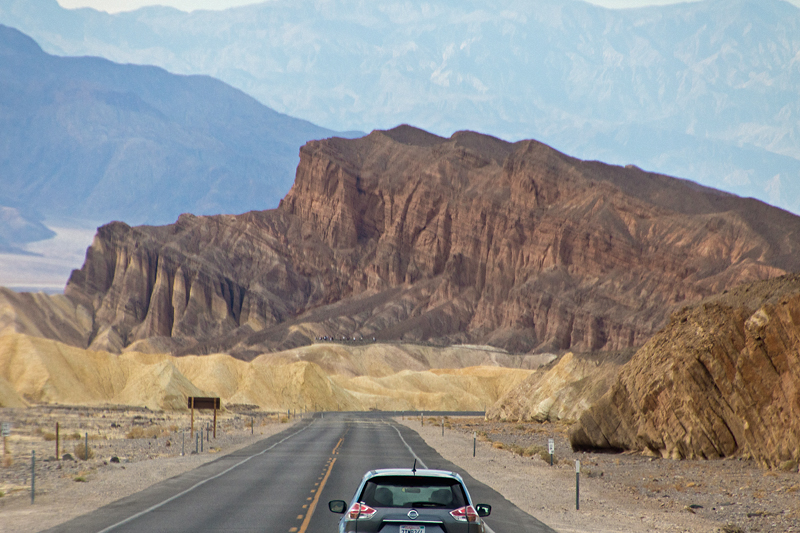 But, some of the views were spectacular!
Day 8, Saturday, October 15, 2016
DEATH VALLEY NATIONAL PARK

A full day to explore the wonders of death Valley. Visit Badwater Basin, the lowest point in North America (282 feet below sea level) and home to a surreal landscape of vast salt flats. At Stovepipe Wells, witness the ripples and patterns of the breathtaking sand dunes that rise 100 feet above the Mesquite Flat. This afternoon is yours to explore on your own, enjoy a dip in the pool, or play a round of golf. After a BBQ dinner this evening, enjoy a STARGAZING PROGRAM with a local expert. Due to its vast area in the absence of man-made light. Death Valley National Park is the world's largest international Dark Sky Park and one of the best places to Stargate. Stand in awe as daylight fades and the planets, stars, and constellations come into view.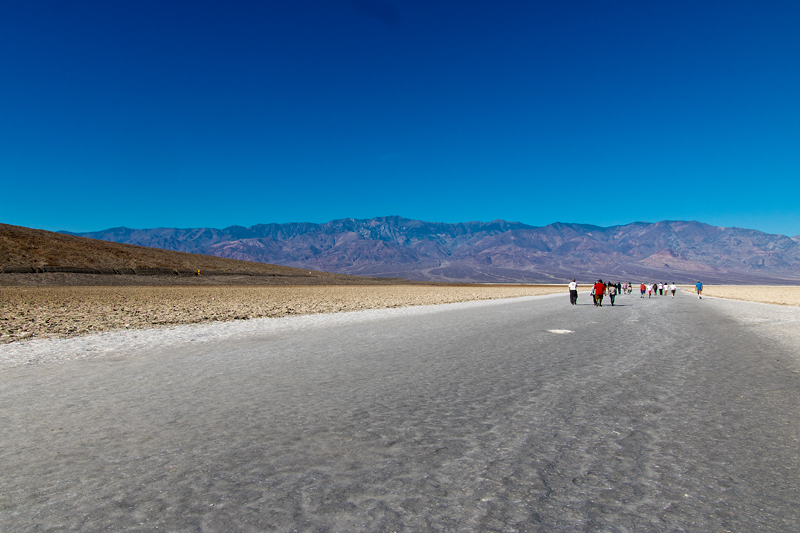 I must confess that Death Valley surprised me. I was expecting something that was flat as far as you could see. While the size of the National Park is 5219 sq miles, according to what we were told and saw, you can always see the mountains. (It is a valley!) Supposedly the appearance that the mountains aren't all that far away is an illusion. You can walk and walk and they don't get any closer.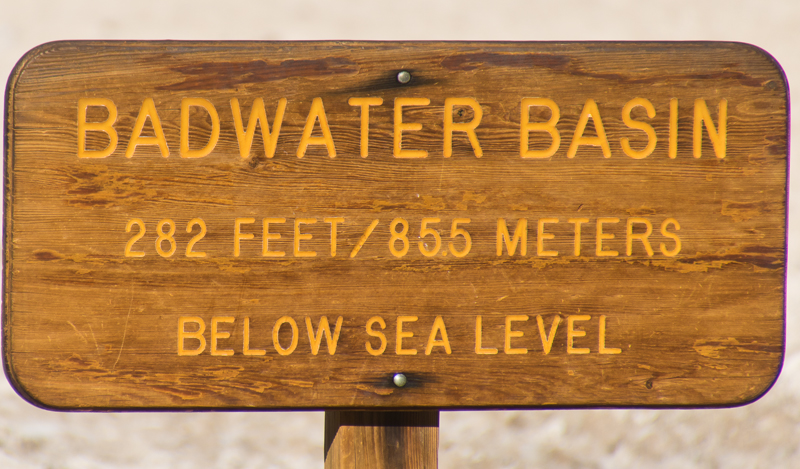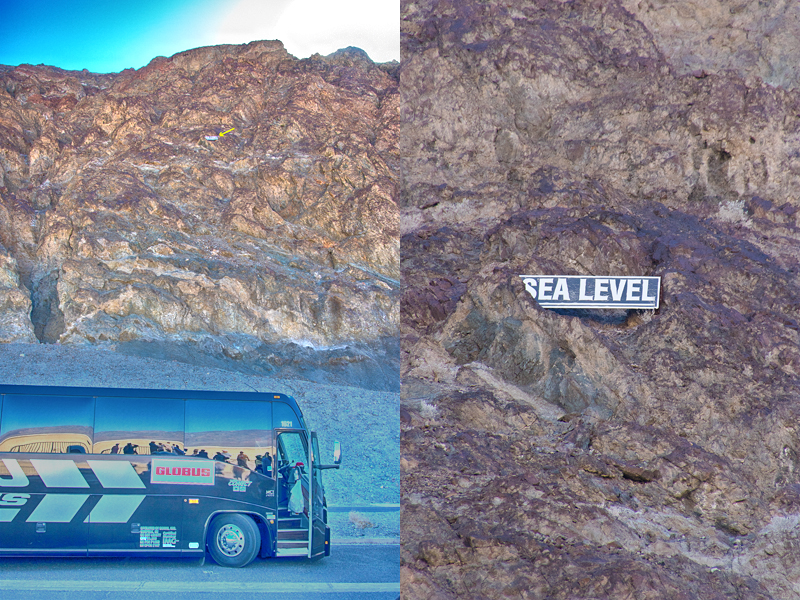 Of course, being at the lowest point in North America is kind of neat, but difficult to show in photographs. Notice the arrow I drew on the left photo. The right photo is a close up of the sign where the arrow is pointed.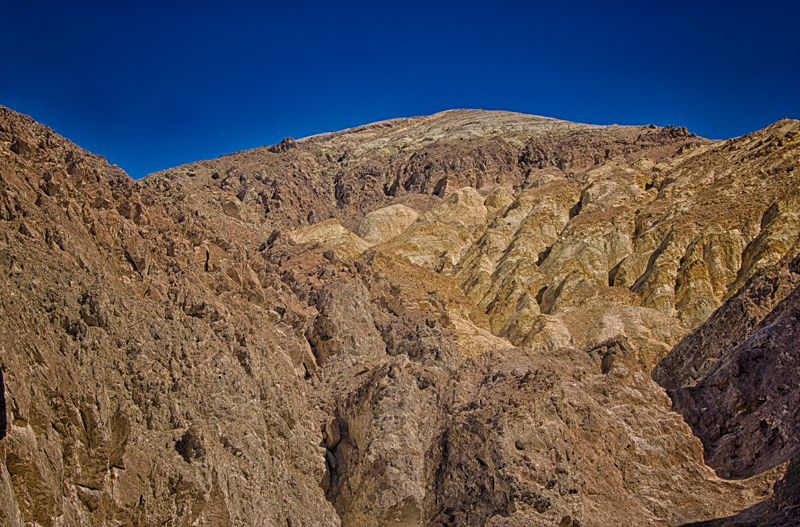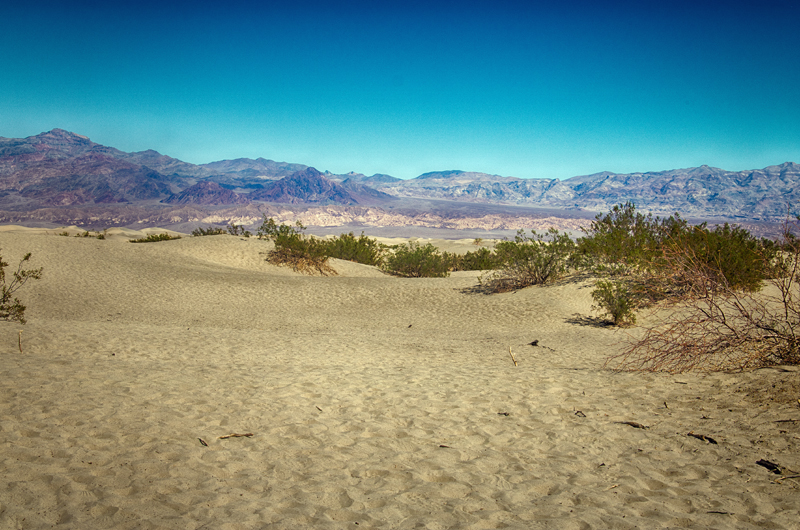 The natural beauty of such places because of their vastness is virtually impossible to capture for someone with my photographic skills. I took scads of pictures that I liked but going by the axiom, "If you want to be considered a good photographer, take lots, show few." I settled on the two above.
Pam was truly disappointed the stargazing program had to be canceled, but the wind had kicked up to 30-40 mph. The professor who was going to lead the program said it would be impossible to set up the telescope so that anything meaningful could be seen.
Day 9, Sunday, October 16, 2016
DEATH VALLEY NATIONAL PARK – ASH MEADOWS NATIONAL REFUGE – LAS VEGAS

A morning stop is made at ASH MEADOWS NATIONAL WILDLIFE REFUGE, a desert oasis with a rare and unique ecosystem. That refuge is home to nearly 30 species of plants and animals that do not exist anywhere else on earth, including desert fish that have existed since the time of the man must. Stroll the boardwalks and learn about the early pioneers, gunslingers, and mysterious Devils Hole that has never been found. It's then on to the bright lights of modern Las Vegas. Your tour director hosts a festive farewell dinner this evening – the perfect ending to your vacation.
We woke this morning to a unique event for us. Pam peeked out our room's window and commented what a beautiful sunrise it was against the mountains. As I had missed a beautiful sunset two nights before because I hadn't taken my camera to dinner, I immediately grabbed my camera and headed outside. I quickly snapped a picture and then pivoted a little further to the west and saw that the moon was setting over the mountains. Therefore, what you see here is a reflection of the sunrise (our initial target) and the moon setting.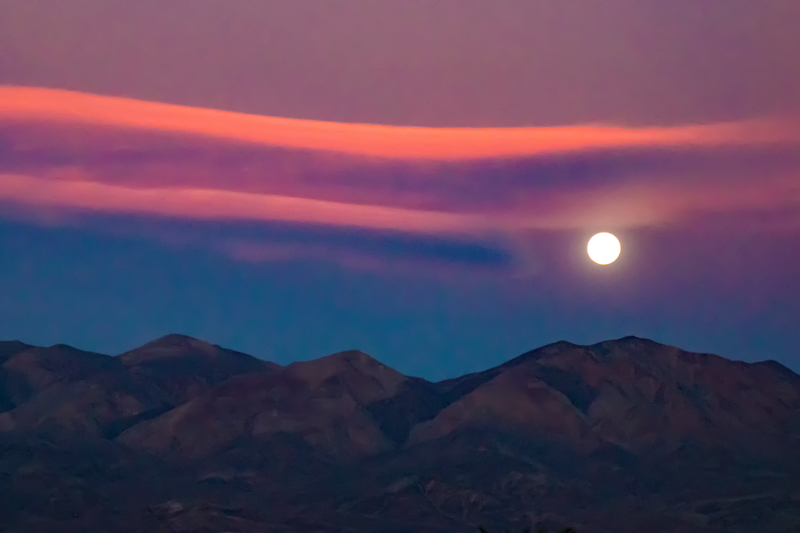 After breakfast we were on the coach again. We had passed Zabriskie Point on the way into the park but our tour director had said that we would stop on the way out because the lighting would be better, He was right!!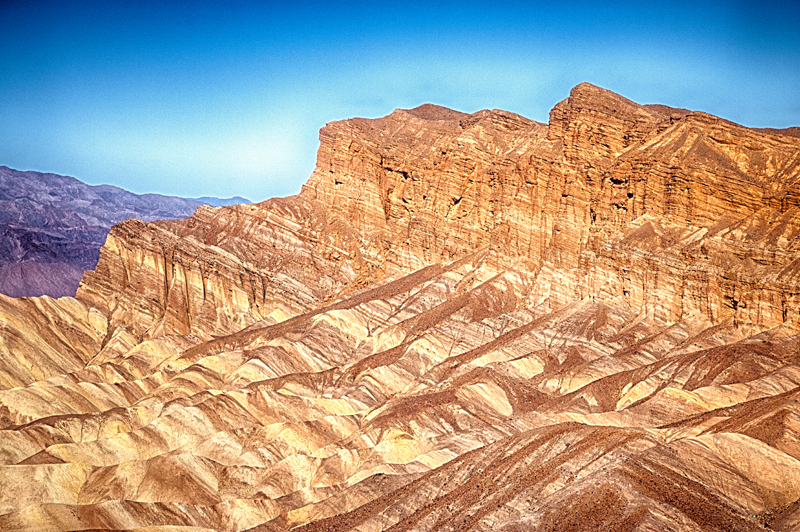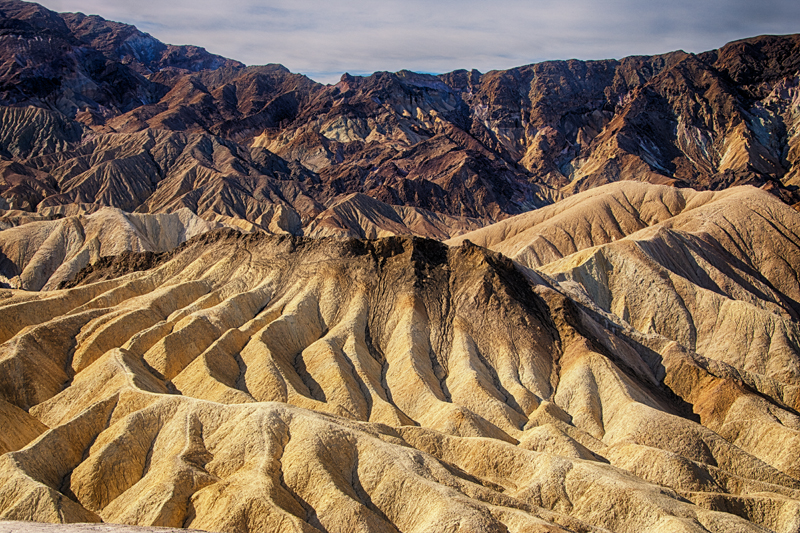 Ash Meadows National Wildlife Refuge is a beautiful facility (certainly off the beaten path). Unfortunately, due to the lighting, or that it was getting too close to the time to go home I didn't find it very photogenic. I'd be willing to bet if we had been there earlier in the vacation I would have found more photogenic subjects.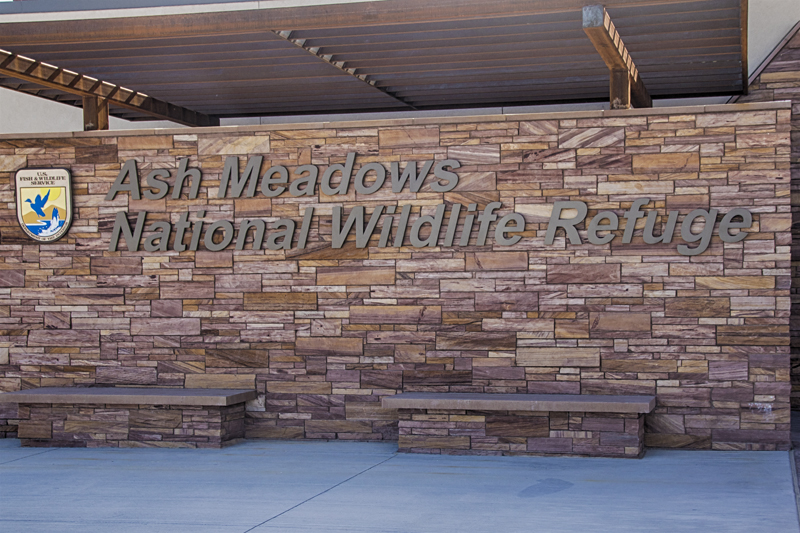 After that it was on to Vegas and home.
It was a very enjoyable trip. From a photographic standpoint I certainly could have spent more time at Joshua Tree and Death Valley.